Lenovo IdeaCentre Horizon Brings 27-Inch Android Gaming With BlueStacks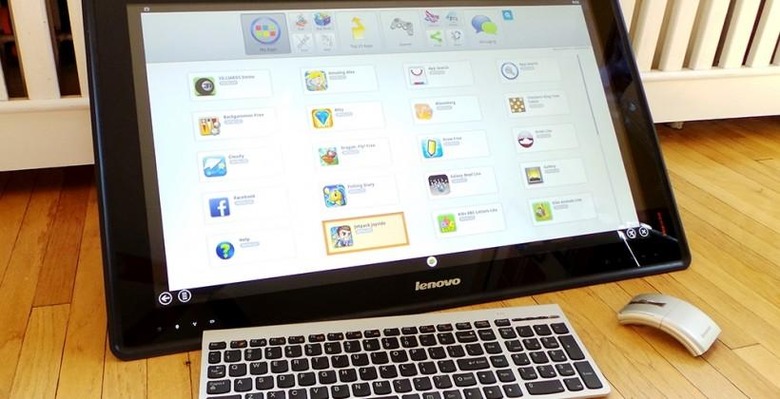 If you were wondering about the app and game limitations of the Lenovo IdeaCentre Horizon gaming table before today, you'll be glad to know that BlueStacks is in full effect. SlashGear has this massive oddity in the house here in its first week of launch, and amongst the surprising number of pre-loaded touch-friendly games included with the unit we've found BlueStacks, right out of the box. BlueStacks is an app interface which allows Android apps and games to be used on a Windows or Mac machine, here expanding the world of the Lenovo IdeaCentre Horizon with essentially every app an Android user works with on a daily basis.
When you first encounter the Lenovo IdeaCentre Horizon, you'll find yourself mystified at how such a device was ever put into production. It's certainly not a traditional sort of PC. Such is the atmosphere we're in here in 2013 with Windows 8, touchscreen hype, and Lenovo's current freedom of creation.
In our past encounters with this machine you'll find connections to accessories (that do, indeed, come in the box), up and down usability, and Windows apps galore. Today we're having a look at BlueStacks specifically – down the line we'll have a full review of this machine for you in SlashGear's main review hub. It's all about Android right this minute.
What we've done is to side-load the Google Play app store to download some games that certainly aren't optimized for this device to show right along some that are. This means you're going to see games that look nice as well as games that work, but just barely. You'll quite likely find the native Windows apps – some optimized for this device specifically – much more engaging.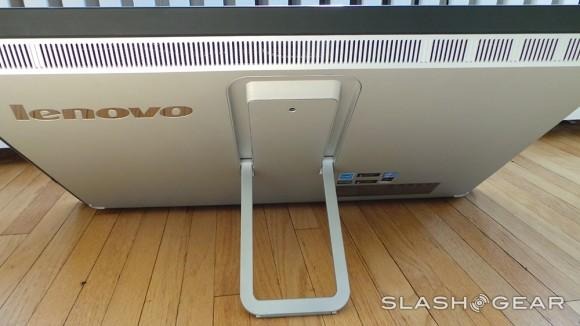 The back of the Lenovo IdeaCentre Horizon has a support bar stronger than any we've seen on a tablet or PC, able to hold the entire device up at a variety of angles. Push the device flat and Lenovo brings up a touch interface made for multiple users – more on this in our full review.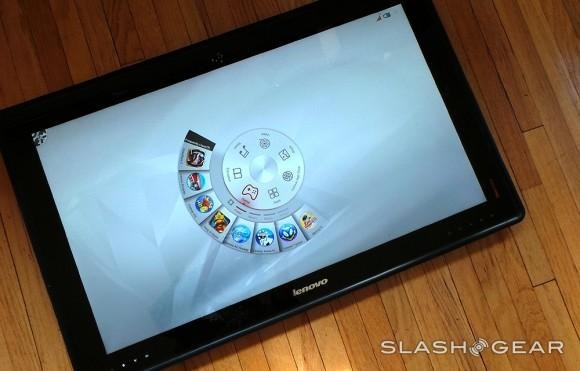 That said, it's important to show the versatility of this device through BlueStacks, an app interface that just this February arrived for Windows 8 and just this May passed 10 million downloads. You'll find BlueStacks on Mac with a wireless interface app on Android for your smartphones and tablets as well.
The Lenovo IdeaCentre Horizon is here with SlashGear for a full review aside from this BlueStacks peek, so make sure to let us know if you've got any questions on its inner workings before we get there! Stay tuned to SlashGear's Lenovo tag portal for more information on this device as we reach that point!