The 4 Best Star Wars Cars Ever Made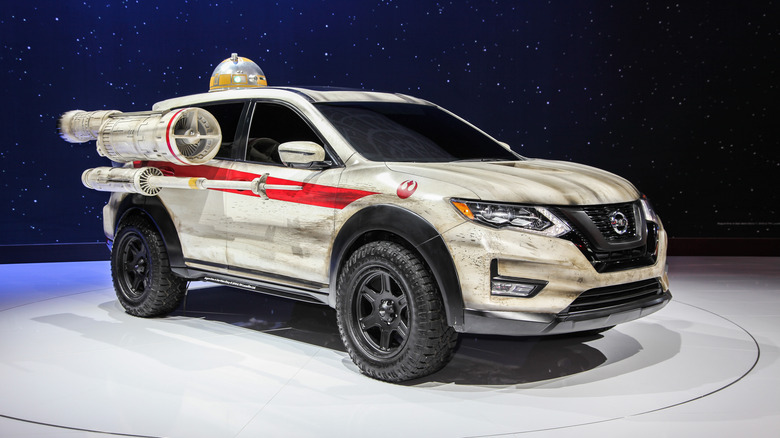 Miro Vrlik Photography/Shutterstock
Star Wars cars represent some of the most expensive movie tie-in products in the history of the film, and today we're running down the four best. Some of the entries on our list are one-off models, some were made by car companies to replicate toys, and at least one has yet to be made. That one, the Star Wars Nissan Rogue One Edition, was announced to be being made as a production vehicle the week this article is set to go live. The following list of vehicles is presented in no particular order.
Nissan Rogue One Edition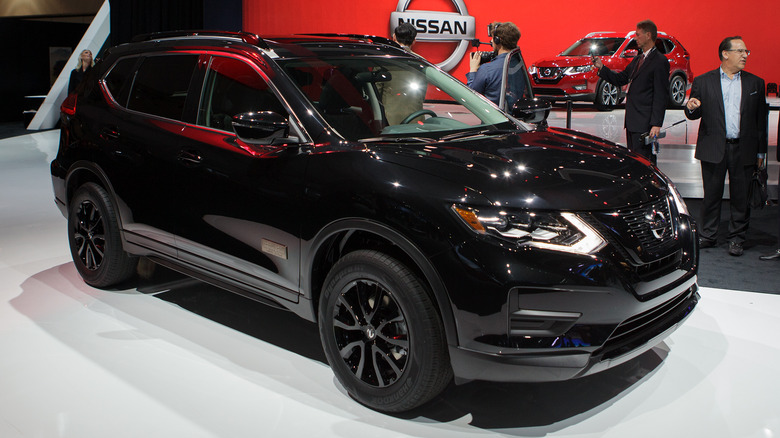 Bloomberg/Getty Images
Above and below you'll see Nissan's presentation of the Nissan Rogue One Edition at the LA Auto Show 2016. Nissan has announced that they'll be producing 5,400 of these vehicles in a limited run. That may not seem like a lot for a production-level vehicle, but compared to most Star Wars branded cars, it's an impressive number.
If you're in the market for a brand new Star Wars car, you're in luck. The Nissan Rogue One Edition will come to the United States in a wave of 5,000 vehicles, while the remaining 400 will be available elsewhere in the world. Both the exterior and interior are accented with Star Wars: Rogue One aesthetics – simple and classy.
Every single one of these vehicles will be delivered with an official replica Death Trooper prop helmet from Star Wars: Rogue One. This is not the sort of helmet drivers will be legally allowed to wear while driving, but it'll be really neat to display. This specific special edition version of the Death Trooper helmet will be made by Gentle Giant Ltd.
For those looking for the helmet on its own: this version of the helmet will be limited to this vehicle, but brands like Anovos will be bringing heat to 3rd-party builds. Those looking for the helmet for a costume party will find them appearing at department store toy shelves right this minute.
Of the five entries on our list, the Nissan Rogue One Edition is by far the least extravagant to behold. The TIE fighter image below show how Nissan brought big-time props along to the auto show to make sure it was clear that they had a more traditional vehicle with Star Wars branding, too.
Because of the professional auto-maker-made nature of this vehicle, it'll cost the most of all vehicles on our list. The positive side is that it'll require the least amount of time and dedication to attain. This is the vehicle a Star Wars fan will want if they want a Star Wars car, but don't want all the attention that generally comes with it.
Boba Fett's Hyundai Veloster
This may be the "easiest to actually own" vehicle on our list – for those not in the market for a brand new car or truck. The Hyundai Veloster with custom Boba Fett vehicle wrap started rolling back in late 2014 and was the work of several groups in the state of Wisconsin.
The design for the wrap was made by Knuthart Studios. They designed these graphics digitally, including full-scale textures to make certain the end result was tight as possible. The vinyl was printed by and applied by the folks at Fastsigns of Appleton Wisconsin.
This vehicle also has its own name: Ivor Fett. With the I from the end of the Hyundai and the V, O, and R from Veloster. The music playing in the video above comes from the cartoon show Star Wars Rebels. This video was created by Joshua Knuth of Knuthart Studios. To get your own vehicle like this, seek out your local Car Wrap business, and either have them make something for you, or see if they'll give you a template to work on yourself.
All-custom X-34 Landspeeder
While the "real" version of this vehicle might have ben able to float over the land on a cloud of air, this vehicle has wheels. Like the vehicle George Lucas and crew used to make the landspeeder appear in the film, this one is relatively street safe. Not that we'd actually drive this one on the street – it's not entirely street legal at this point.
This magnificent amalgamation of vehicle parts was constructed by Daniel Deutsch all the way back in 2007. While the original presentation page for the vehicle is now down, remnants exist in the form of Deutsch's comments. "We built this fiberglass replica landspeeder last spring from the ground up on a custom aluminum chassis, said Deutsch, "The electric drive system is capable of a top speed around 25 mph. The speeder is the same size as the original, and can travel several miles on a single battery charge."
The windshield and body mold were made in California and constructed in Orlando, Florida. The chassis and body were made in Orlando – as were the electronics inside. The entire build, said Deutsch, took six weeks, pieces in-house to finish.
UPDATE: Another landspeeder from TheRPF member Pwrsrce has been found in Texas. This vehicle was completed in 2009, after having been in-construction for two years straight. This vehicle was transferred to R2-D2 builder Dana Powers in 2010 and blue car lights were added to make it look more awesome. You can follow the life and times of this unit at The RPF.
If you're thinking about making your own X-34 landspeeder, get ready to put in a LOT of work. These vehicles are generally built from the ground up, and require dedication for either 6-months (if you're not worried about how long it'll last) or several years. Even then it won't likely be street legal – but who cares?
Honda Civic Del Sol H-Wing by Shawn Crosby AKA Obi-Shawn
This vehicle was created by Shawn Crosby before the turn of the decade, coming to prominence in fan forums first in around the year 2010. This vehicle's base is a Honda Civic Del Sol – not the most conventional car to customize, to be sure. On the outside is a mix of metal, glue, bolts, and plastic of all sorts. If you look real close you'll see LEGO parts used, as well.
The crowning bit on this vehicle is the aft-mounted R2-unit. What better way to keep one's own Star Wars-themed vehicle in working order than the have your own astromech at work? Don't bother looking, there is none.
Then, just when you think there's no way to top an R2 unit at the back of one vehicle, Crosby made another. Fast forward a few years and this same creator has his own "Z-Wing". This vehicle is ever-so-slightly more modern, but used for the same purposes: driving to charity events and comic book conventions.
These vehicles were made with a lot of love and years of dedication, much like the landspeeder above. The plus side of a unique vehicle like the H-Wing or the Z-Wing is the ability to add on whenever one wishes. No worries about sticking to the movies' original models!
Wrap-Up
While the five vehicles above are each excellent in their own way, there's a whole world of custom Star Wars vehicles to explore. Like the First Order Stormtrooper Dodge Charger – with Hot Wheels branding. Vehicles like that also have their own Hot Wheels-sized vehicle available for people who like the look, but don't want the full-sized car.
See also: the Hot Wheels Darth Vader Car. As Chris Davies said when it was revealed back in 2014, this vehicle is "as subtle as a lightsaber to the face."
Have you seen a Star Wars-themed vehicle with chops more impressive than what we have listed above? Let us know!