Brabus Teamed Up With KTM To Create This Limited-Edition 1300 R Sports Bike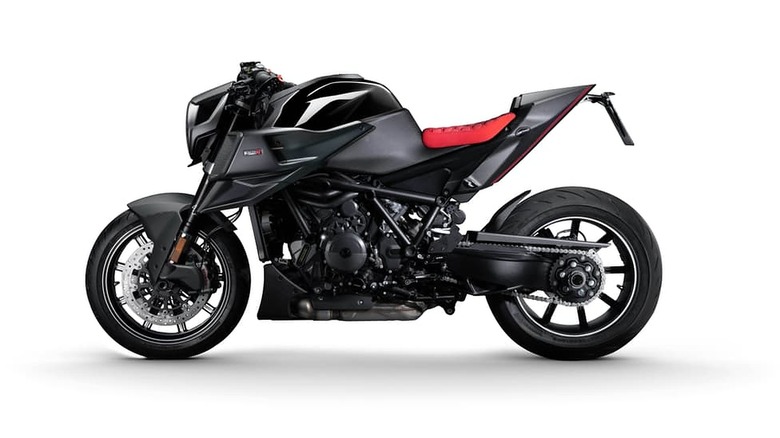 Brabus/KTM
German tuning expert Brabus usually tinkers with high-end luxury cars, crossovers, and SUVs. However, it's entering the motorcycle world with its latest creation: the Brabus 1300 R. Developed in collaboration with Austrian motorcycle and racing car manufacturer KTM, the Brabus 1300 R starts with KTM's 1290 Super Duke R Evo sports bike and heads to the stratosphere.
Well, not exactly. You see, the Brabus 1300 R has the same power output as the stock bike's 1.3-liter V-Twin engine. Pumping out 180 horsepower and 103 pound-feet of torque, the 1290 Super Duke R Evo is not a slow bike. Still, we're expecting the Brabus name to come with crazy horsepower figures to accompany insane styling and an astronomical price, and we're not complaining. But alas, there's substance behind the Brabus 1300 R's "badass" and "one-second wow factor" styling. It inherited the stock bike's Semi-active WP suspension technology with new electronically controlled solenoid valves and variable damping.
One-Second Wow Factor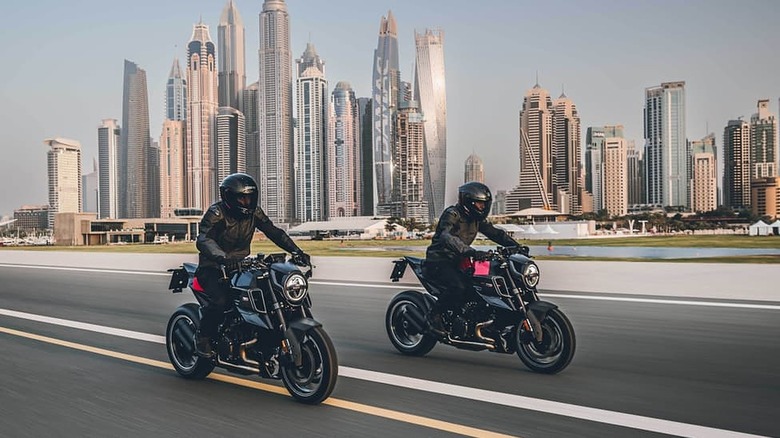 Brabus/KTM
The suspension has an AUTO mode that automatically adapts to prevailing road conditions. Still, riders can choose various adjustment options to suit quiet cruising or aggressive racetrack handling. Other nifty features include traction control and an anti-wheelie functionality for a safer ride.
Other unique Brabus signature elements include a headlight mask, an adaptive LED taillight, CNC-machined triple clamps, adjustable footpegs, and a CNC-machined adjustable front brake and clutch lever. Also standard is a custom-made heated seat, a display screen with bespoke Brabus start-up animations, and a custom Brabus Slip-On double-pipe exhaust system.
Strictly Limited Edition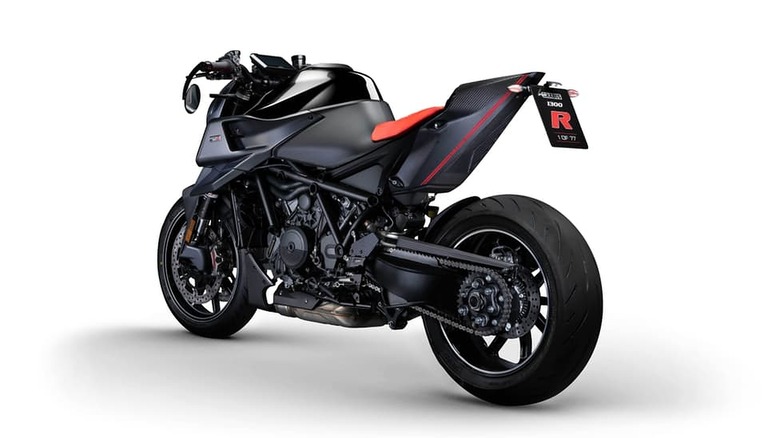 Brabus/KTM
Brabus and KTM are only making 154 examples of the 1300 R (77 in Magna Red and 77 in Signature Black), with base prices starting at about $58,396 (€51,466). However, all 154 units are sold out, but you can get on the waiting list for a chance to own Brabus' first foray into two-wheeled, high-performance machines. Pre-orders began last February 14, 2022, and interested clients need to fork down a $3,405 deposit (€3,000) to reserve a build slot.