4G LTE Test Code Revealed in iOS 5 Developer Build

It appears that an iPhone 5 4G LTE is still in the works as a 4G Long-Term Evolution testing code has been discovered in beta builds of Apple's next version of their mobile operating system iOS 5. This is but a single one of several reports, leaks, or otherwise rumors that have been reported over the past year of an iPhone 5 running the next-generation mobile connectivity, the most recent of which appeared August 15th when the report was that LTE iPhone 5 carrier testing had begun. Code referring to 4G LTE mobile connections testing inside the device documents relating to the situation supposedly appears amid iPhone 5 firmware in this case as well – does this mean we're looking at a 2011 iPhone 5 LTE?
We've also heard just the opposite as far back as October of 2010 when we were still waiting for a Verizon-carried iPhone. In that report it was simply stated that no version of an iPhone would be released with LTE inside 2011. Meanwhile a May 2011 report noted that there may well be an LTE iPhone in 2012 while 2011 would only contain the supposed iPhone 4S with an 8-megapixel camera. One of the stranger reports came just a few weeks ago in June where LulzSec leaked a document that contained a hint that AT&T would be releasing an LTE iPhone inside August and September of 2011. Of course this past March was the last time this LTE iPhone rumor was at its peak, Chris Davies creating a roundup of all the related info at the time.
The most tantalizing news bit before this developer build business was a photo taken just this past week, one that appeared very much to be inside an Apple store showing some LTE-related equipment installed behind the counter. That photo has since been retracted at the request of the source, but I assure you, it looked like the real deal.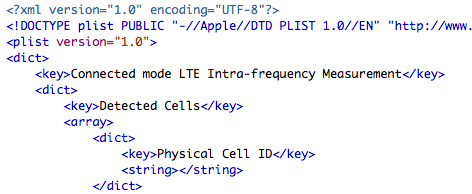 What today's news appears to be is the same or a similar code to what was reported on August 15th. This LTE plist file has been found in "at least the last couple" of developer builds of the still unreleased mobile operating system iOS 5. This LTE.plist file has only been located in a couple of builds: GSM iPhone 4, CDMA iPad 2, and was connected to Apple's internal "Fieldtest" application according to MacRumors, they also questioning whether or not the internal iOS test build was simply mirrored in the general developer release.
What do you think? Are we looking at a 2011 iPhone 5 with LTE? Your humble narrator's view is that LTE may well be in testing for LTE, and certainly you'll remember the rumors that the iPhone 4 was going to be LTE when it was released on Verizon, but inside 2011? Especially since AT&T's LTE network isn't entirely ready for business either, I'd call it at least 2012.
[via MacRumors]