2020 Cadillac CT5 and CT5-V first drive: Context matters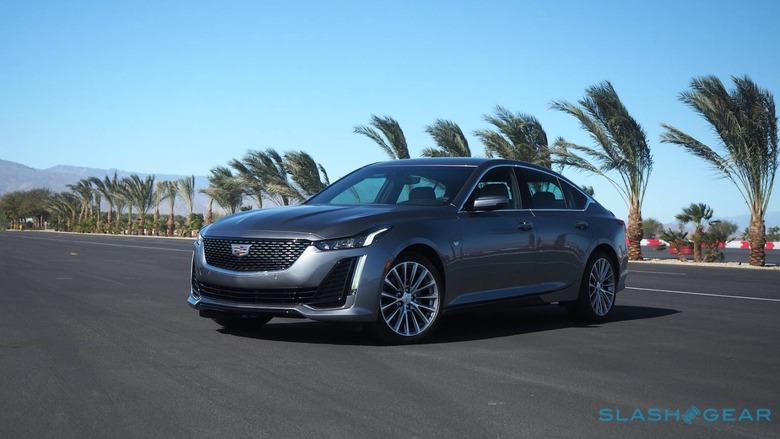 You could call it folly, launching a new luxury sedan at a time when SUVs are swallowing sales, but Cadillac would argue the 2020 CT5 isn't short of potential customers. True, utilities are where the biggest growth is, but there's still a not-insignificant cohort – either the SUV-averse or simply sedan-lovers – who haven't given up on the traditional four-door. Cadillac hasn't given up on them, either, but is the new CT5 – and its hotter CT5-V range topper – worthy of their affections?
Two gas engines but where's the EV?
Cadillac has two engine options for the CT5. The entry-level is a 2.0-liter turbocharged four-cylinder, with 237 horsepower and 258 lb-ft of torque. Optional is a 3.0-liter turbocharged V6, which kicks things up to 335 horsepower and 400 lb-ft of torque. The CT5-V coaxes out a little more again.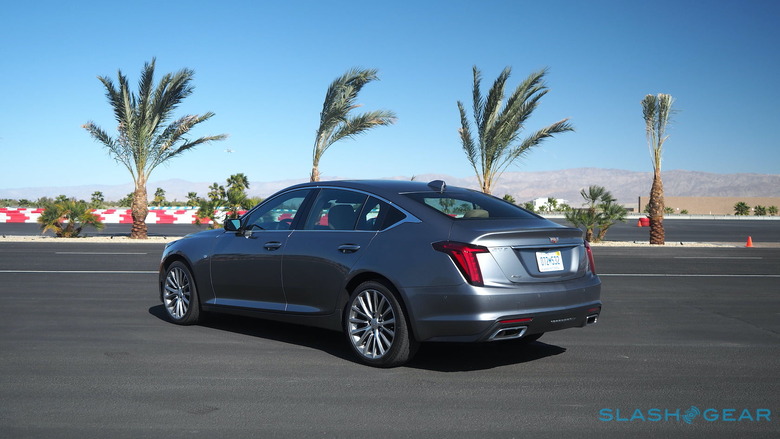 Either way you get a 10-speed automatic transmission and a choice of rear-wheel drive or all-wheel drive. Caddy uses MacPherson front suspension and five-link independent rear suspension, along with variable-effort electric power steering. Magnetic Ride Control is offered, but only if you step up to the CT5-V top trim.
Conspicuous by its absence is any sort of electrified powertrain. Cadillac may be at the vanguard of GM's big talk about upcoming EVs, but right now there's not even a mild hybrid in the CT5 line-up, never mind a plug-in. That's a shame, as the plug-in hybrid system briefly offered in the CT6 pleasantly smooth.
One CT5, two families
As with other recent Cadillac models, the 2020 CT5 is split into two configurations. The range starts off with the CT5 Luxury RWD, priced from $37,890 (plus $995 destination), before dividing into Premium Luxury and Sport lines. You can have the CT5 Premium Luxury with either the 2.0-liter or the 3.0-liter engine – from $41,690 and $46,540 respectively – or the Sport with the 2.0-liter engine for $42,690. At the top of the pile is the $48,690 CT5-V, with the 3.0-liter engine.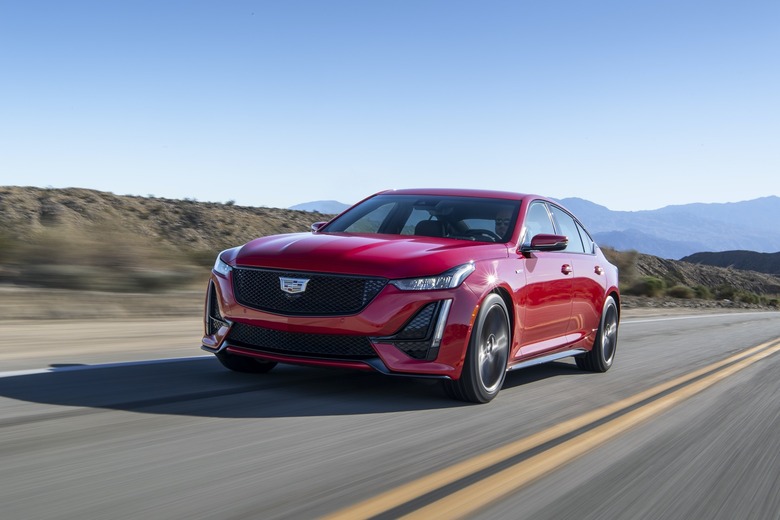 Rear-wheel drive is standard, all-wheel drive being a $2,600 option across the board. Cadillac also has a Platinum package which can be added to the Premium Luxury and Sport trims.
The distinction between the luxury and the sport lines are more than just badging, too. There are differences in the bodywork and styling, unique wheels, and in the cabin the color schemes and materials are changed too. The CT5 Sport looks more purposeful and aggressive, while the CT5 Premium Luxury is a little more classically refined.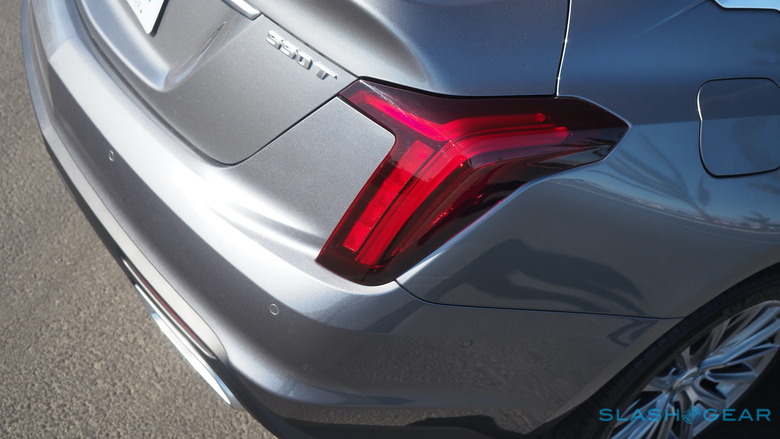 As standard, the CT5 Luxury gets LED lighting front and rear, and all-LED cabin lighting. There's automatic emergency braking and forward collision alert, plus forward pedestrian braking; you'll need the Premium Luxury or Sport if you want blind-spot warnings and lane-change alerts. Those trims can also add the Driver Awareness Plus package, which adds an 8-inch cluster display, head-up display, lane-keep assistance, auto headlamps, and following distance indicator.
Cadillac User Experience, the fairly bland name for the automaker's latest infotainment system, is standard across the board. That gets a sizable 10-inch touchscreen, Apple CarPlay and Android Auto – sadly wired-only, not wireless – NFC for easier phone pairings, Bluetooth, and three USB ports. A 4G WiFi hotspot is standard too, and wireless phone charging is available on the Luxury and standard on higher trims.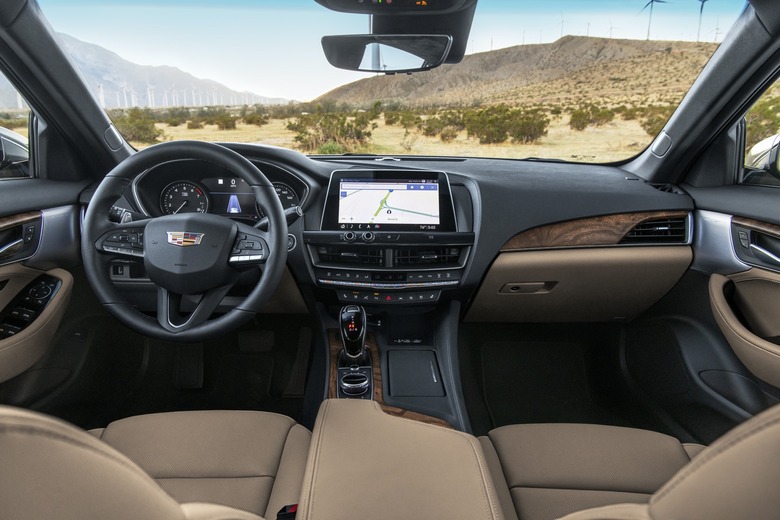 Add the Platinum package and you get special semi-aniline leather with a unique perforation pattern and piping, heated and ventilated massage seats up front with extra adjustability, and leather-trimmed armrests and center console. There's also a thicker-rimmed steering wheel with magnesium paddle-shifters and alloy pedals, and unique carbon fiber cabin trim.
A welcome cabin and tech upgrade
The interior of the CT5 is a clear evolution of what we saw in the CT6, but Cadillac has thrown in a lot more physical controls. Maybe too many, in fact: the center stack bows down as if from the weight of its black plastic buttons. Being able to reach out and hit an actual key to adjust, say, temperature or the heated seats rather than dig around a touchscreen interface is great, but other automakers do a better job of clustering their controls to make it easier for muscle-memory to build. Adding to that is Cadillac's inexplicable decision to bury some of the controls you'll probably want to use most often – like the drive mode switch – in awkward places.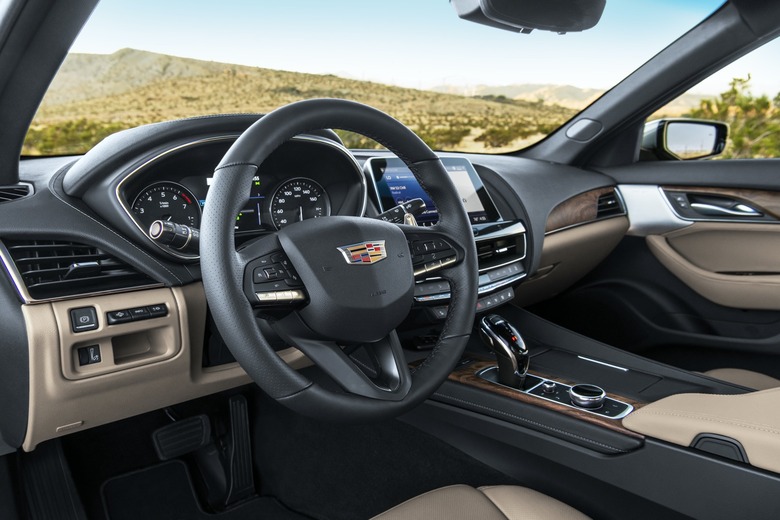 At least it all feels sturdy, and some trim pieces – the metal speaker grilles, for example, and the seat leather – are downright pleasant. That's offset with other switchgear feeling like it came straight from GM's parts bins, as well as some underwhelming plastics. The color-scheme will depend largely on which route you took down Cadillac's luxury/sport walk. The company says it intentionally limited the combinations so as to give the cabin a distinctive personality.
The new infotainment is a vast improvement over awkward CUE systems of old. It's better laid-out and more intuitive to navigate; Cadillac doesn't stint on ways to interact with it, echoing the button overload by having touch, a scroll wheel, a combination jog-wheel and joystick, steering wheel buttons and wheels, and voice control, all to work your way through the interface. I suspect most drivers will pick their favorite early on and subsequently ignore the rest.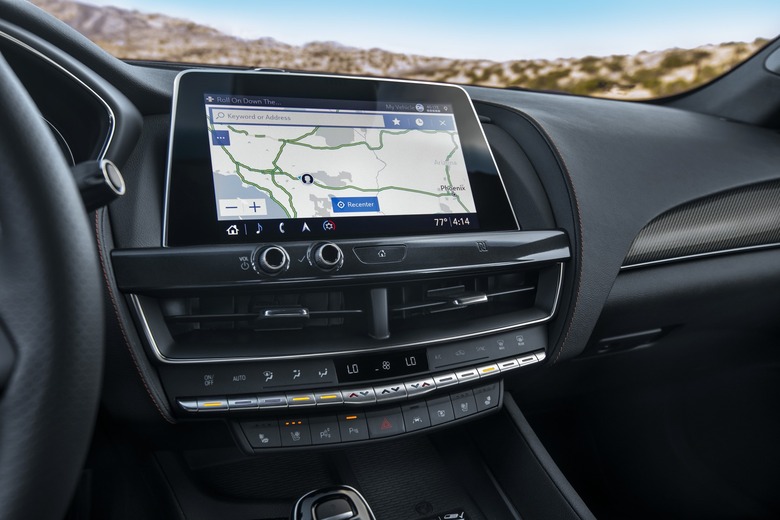 I wish Caddy's appetite for bigger screens had spread to the driver's instrumentation. Even if you opt for the larger 8-inch display, it's still flanked by analog gages. At a time when rivals are embracing fully-digital clusters, the CT5's feels outdated.
Rear space is a particular bright spot, Cadillac using the CT5's lengthy wheelbase to good effect. Legroom and headroom are both excellent, and a clever cut-out in the rear doors gives a little extra clearance for your head as you slide inside. A shame, then, that more of Cadillac's design flourishes didn't work their way back from the front. It's spacious but lacks some of the detailing that premium buyers expect to see and feel.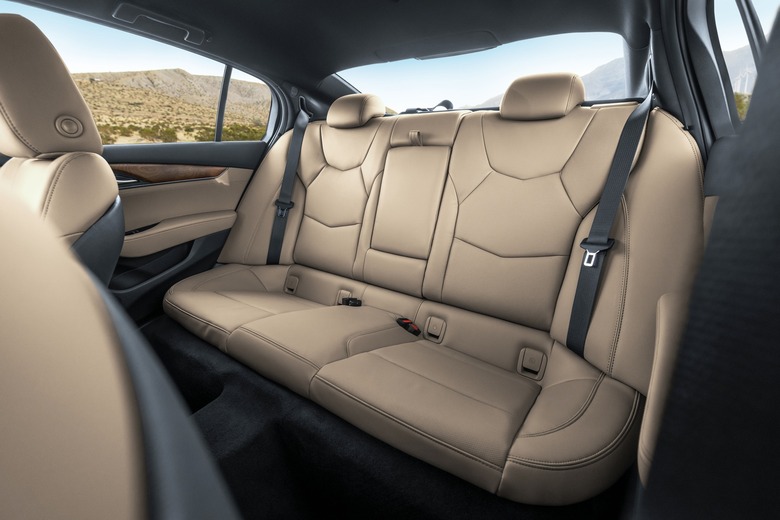 In the not too distant future, the CT5 will be one of Cadillac's Super Cruise cars. The driver assistance system won't arrive until later this year as an option on select MY2021 trims, but I think it's worth waiting for. As well as keeping pace with highway traffic and staying dead-center in the lane, Super Cruise uses a driver attention camera mounted on the steering column to make sure you're watching the road. That way, you don't need to keep your hands on the wheel. It's a difference to most other assistance systems that, once you've tried, you don't want to give up.
2020 CT5 on the road
For the moment, then, piloting the new CT5 is a hands-on affair. I made what subsequently felt like a minor mistake of starting out the day in a Magnetic Ride Control-equipped CT5-V; going from that to a regular CT5 Premium Luxury with the turbo V6 highlighted its more mainstream body control.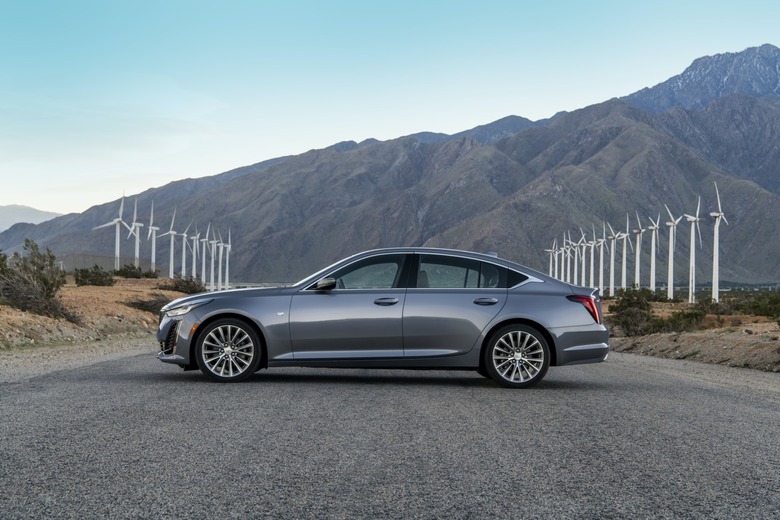 It's not that the CT5 rides badly. More that there's just not a huge impetus to push on. It's smooth and compliant, and I could absolutely see this being a car-of-choice for long road-trips – though its 11.9 cubic foot trunk will undoubtedly seem small – with Cadillac's engineers doing a great job of keeping out road and wind noise. If there's a "luxury sports sedan" scale, then the CT5 skews closer to cosseting.
Cadillac's latest design language is capable of turning a few heads, borrowing liberally from the Escala concept of a few years back. Whether in luxury or sport form, the broad front grille and horizontal lights still look distinctly Cadillac and still look great, too. Opinions are divided on the CT5's C-pillar flourish, but the overall stance and the hood sculpting leave the car looking muscular and confident.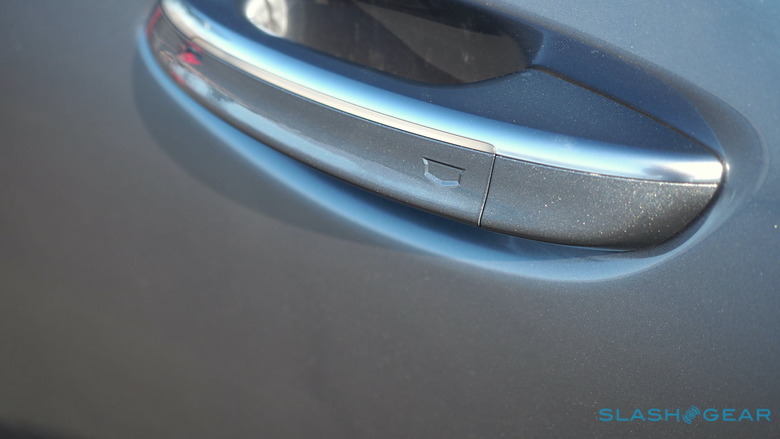 The 2.0-liter entry-level engine wasn't available for testing, so we'll have to wait to see how Caddy's inline-four holds up.
Then there's the 2020 Cadillac CT5-V...
Enthusiasts have known to look to Cadillac's V-Series for speedy sedan action for some years now, and the automaker is looking to capitalize on that with more V-branded options and more attainable prices. As well as the CT5-V, for example, there'll be a smaller CT4-V later on. They're not, however, just regular cars wearing a bodykit, even if the CT5-V does look good.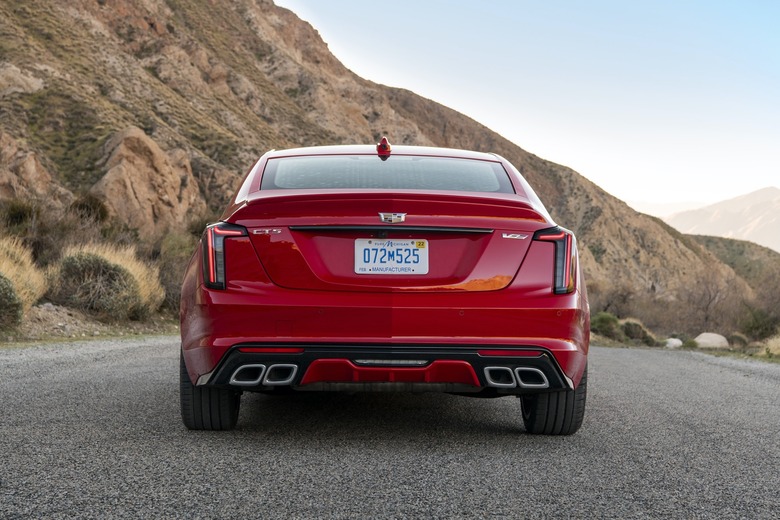 The CT5-V gets a 3.0-liter turbo V6, tuned for 360 hoseepower and 405 lb-ft of torque. It's combined with a 10-speed automatic transmission, an electronic limited-slip rear differential, and Magnetic Ride Control 4.0. That, in combination with Cadillac's Performance Traction Management and drive mode system, tracks the road and automatically adjusts the dampers for the best possible ride, whether you're in a comfort or a sport setting.
Perhaps most welcome is the addition of all-wheel drive to the options list. The CT5-V is rear-wheel drive as standard, but AWD is available. Now, I have fond memories of the tail-wagging CTS-V struggling to put its 640 hp down through the back wheels alone, but what's charming on the track can actually be an impediment on the road. Are sky-high power numbers actually worth anything, if you can't really use them for fear of spinning out?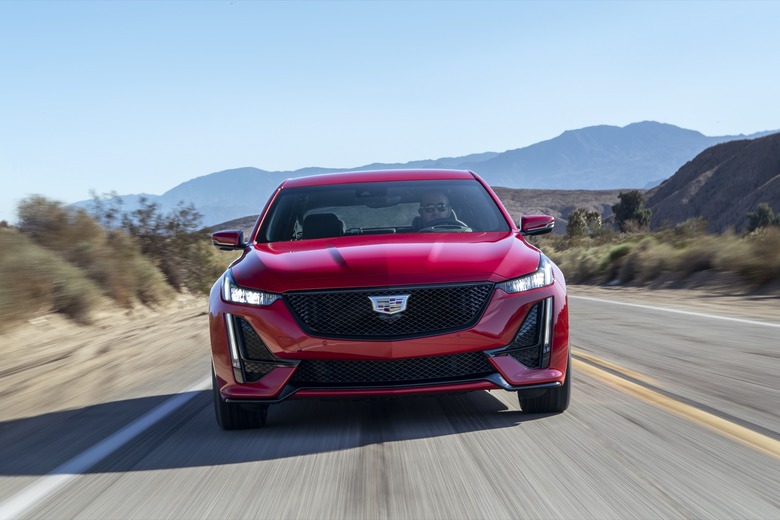 The CT5-V doesn't have sky-high power, but it's nicely usable. Out on public roads, winding my way through the mountain twists that rise above Palm Springs, the all-wheel drive car proved to be a capable partner. The V6 spins up swiftly, with minimal turbo lag, and the power never threatened to overwhelm the grip. Cadillac's brake-by-wire system is generally predictable, though grabs hard as you reach the full depths of the pedal.
On the track, you notice the difference between the RWD and AWD. The former is a little looser, a touch more playful; it's willing to let a more confident driver edge the rear out as they attack each corner. All-wheel drive, unsurprisingly, tames some of that eagerness in the name instead of efficiency. You can feel the power being shunted to where it's most effective. While you can overrule the transmission with the paddles, in Track mode it does a decent job of picking its own cog, and avoids some of my on-road suspicions that there were one or two speeds too many.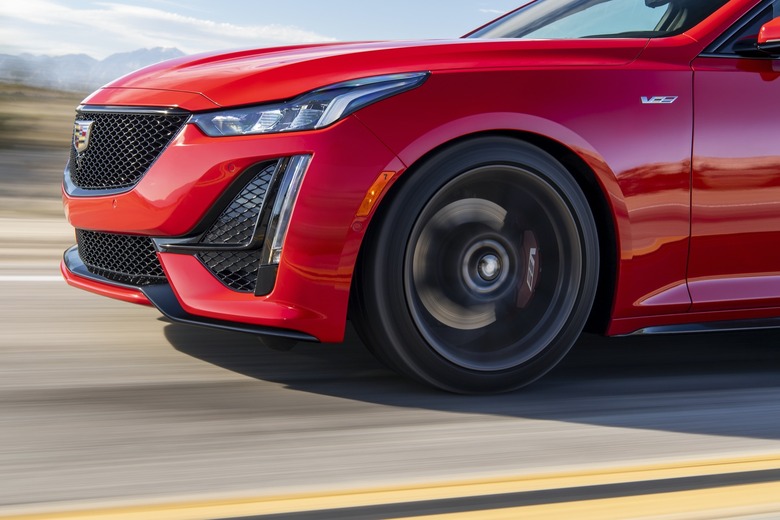 You'd get the best lap times in the AWD, but over time you'd probably have more fun in the RWD. The thing is, I can't imagine anybody is going to buy a CT5-V solely for track use. Out on regular roads the consistency of the AWD make it feel more usable and driver-friendly. That'll be doubly important if you ever have to drive in ice or snow.
If 360 hp and 404 lb-ft aren't enough for you, meanwhile, never fear. Cadillac is teasing that this is only the start of new things in the V-Series, and there's even hotter fare in the pipeline.
2020 Cadillac CT5 Verdict
Regardless of the existence of sedan loyalists, Cadillac's strategy in the segment has seemed a little adrift in recent years. The CT6 was launched to great fanfare, but the generally positive pundit reception wasn't matched by sales. For all it voiced commitment to passenger cars, its seemingly relentless mission to fill every possible SUV niche with a different model left us wondering whether Caddy's heart simply wasn't in it any more.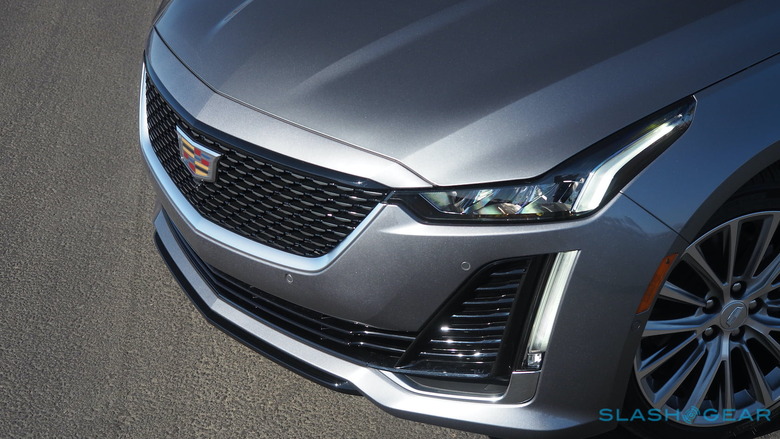 The 2020 CT5 swings the needle back a little. It's more memorable than the CT6, and aeons ahead of the ATS and CTS it falls somewhere in-between in overall size. Competitive pricing – in some cases undercutting comparable German rivals by several thousand dollars – won't hurt, either. Meanwhile sportier versions like the CT5-V feel better integrated into the overall range than previous V-Sport cars have, the path from entry-level through to performance more clearly signposted.
That's not to say it's an automatic home run. Audi, BMW, and Mercedes' cars may be more expensive, but in most cases you can see where your money has gone in the cabin design and tech. I'd rather take an A4 or a 3 Series out if I knew there were going to be entertaining roads, too.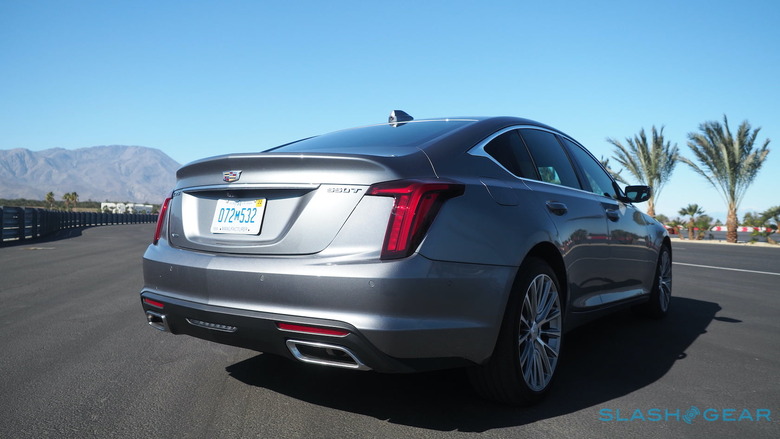 Salvation may be in the parts you don't see. Cadillac has switched to a brand new electrical architecture – that's why the CT5 will get the updated Super Cruise with auto-lane-change, while the CT6 will miss out – and that opens the door to more comprehensive over-the-air updates and easier tweaking of things like the steering, brake, and engine response, along with the infotainment and transmission behavior. I don't think Cadillac is going to go full-Tesla and start making sweeping changes to owners' cars as they sit in the garage overnight, but it does pave the way to a more modern car.
Combined with the aggressive pricing and there's a lot to like about the 2020 CT5. As always, context matters. Expect a straight CTS-V replacement and you'll be scratching your head; similarly, ignoring some of Cadillac's bigger boasts about driving dynamics sets the scene far more accurately for what the CT5 delivers today. Down the line? Super Cruise remains my pick of the driver-assistance systems, and the CT5's Alpha platform seems more than up to dealing with more power. Let's consider this an appetizer, then, and a reminder that the sedan segment still has legs.