There's good news today if you're a fan of potent American luxury sedans, with Cadillac pulling the wraps off not one but two new V-Series cars: the 2020 CT4-V and 2020 CT5-V. Expanding the line of Caddy's most sporting models, the pair promises up to 355 horsepower and high-tech features like Super Cruise.
Aesthetically, both cars share similar hallmarks. Dark exterior accents sit alongside the traditional V-Series mesh grilles. At the rear, there are quad exhaust tips and a unique rear spoiler. The CT5-V gets a special rear diffuser, too.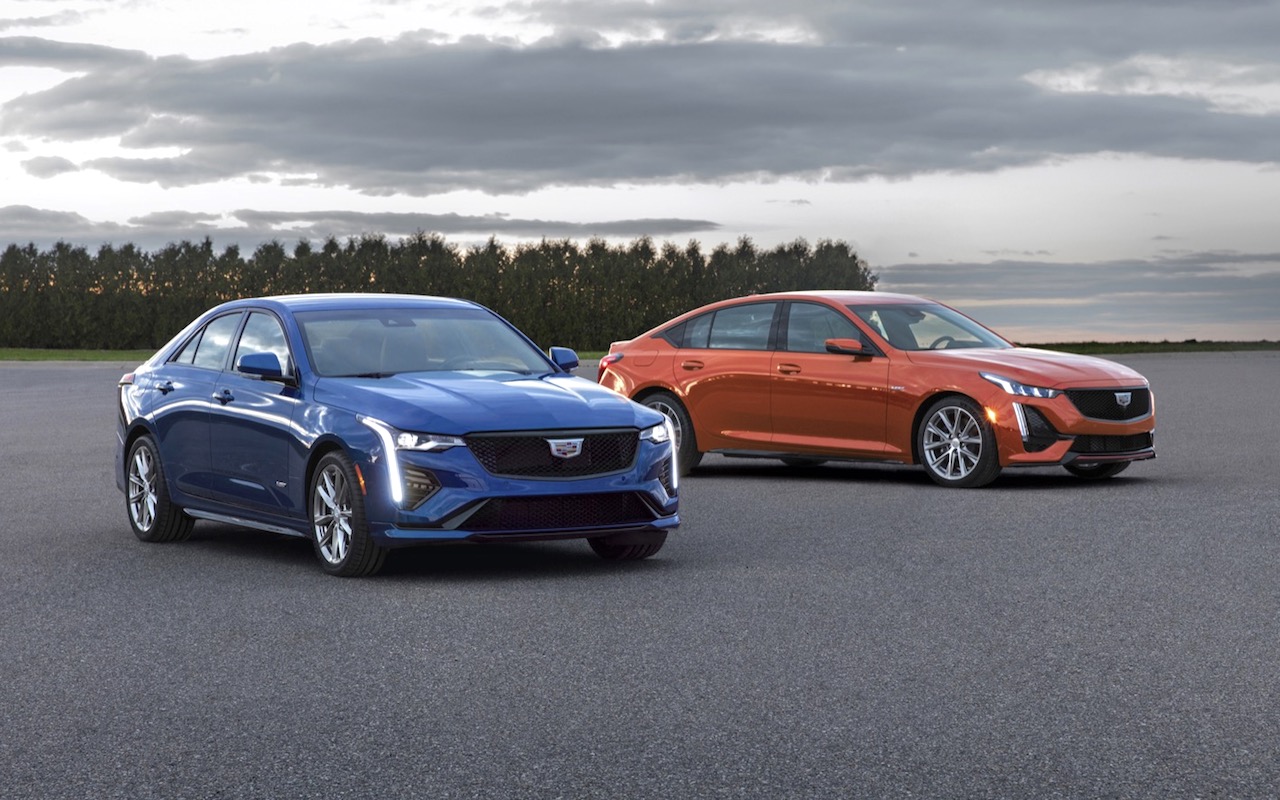 Inside, there'll be a unique instrument cluster with performance-focused details. A V-Mode steering wheel control is also included, for quickly accessing the most potent settings.
2020 Cadillac CT5-V
The new 2020 CT5-V builds on the standard sedan, which Cadillac unveiled earlier this year. It replaces the regular engine with a 3.0-liter twin-turbo V6, with 355 horsepower and 400 lb-ft of torque. 90-percent of torque arrives from 1,800 rpm, the automaker says.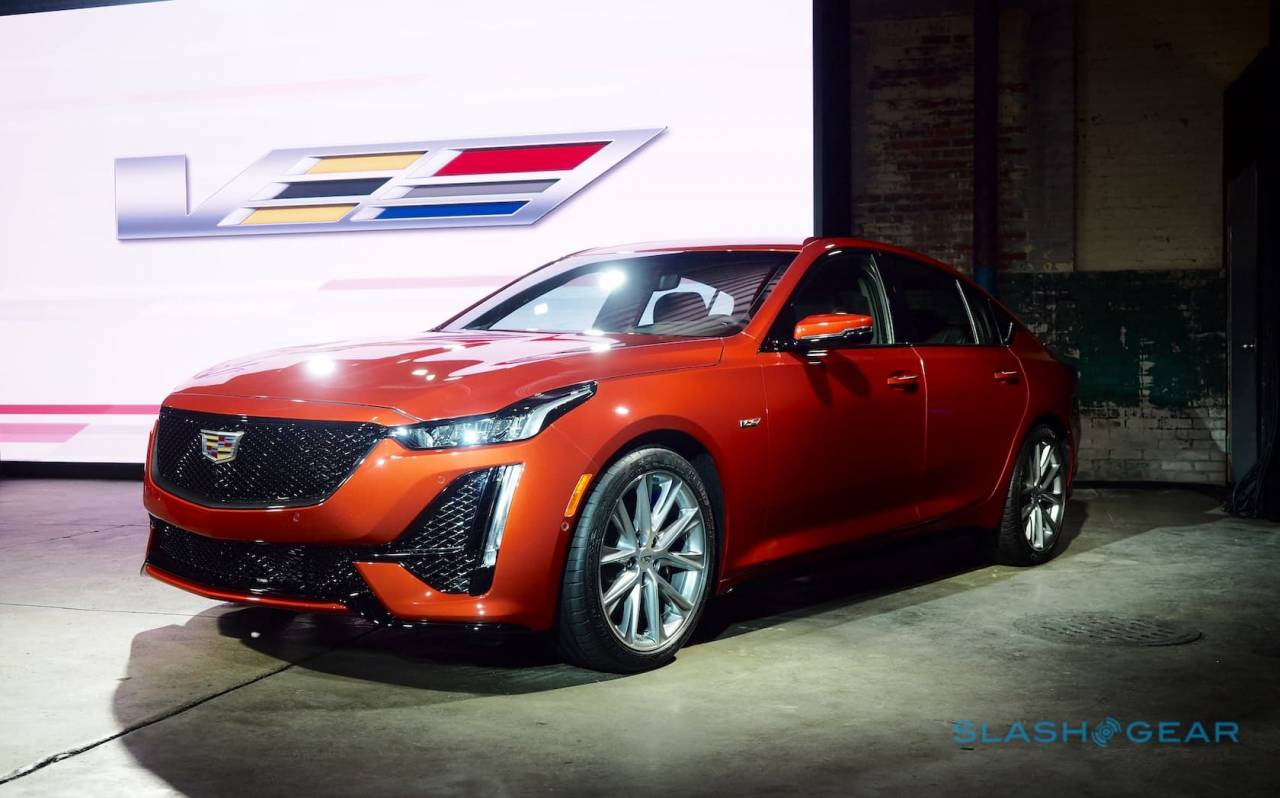 A 10-speed automatic will be standard, and there'll be the choice of rear-wheel drive or all-wheel drive. An eLSD – electronic Limited Slip Differential – will be standard too, capable of infinitely adjusting the clutch engagement between the rear wheels within 0.15 seconds. Brembo performance front brakes will be fitted.
19-inch wheels will be standard-fit, with summer-only run-flats on the RWD. All-season run-flats will be offered on the AWD. The car will have Magnetic Ride 4.0, the latest iteration of the clever adjustable damping system that has been a hallmark of V-Series cars for some years now. There's faster damping response, and a four-fold improvement in relative motion sensing resolution.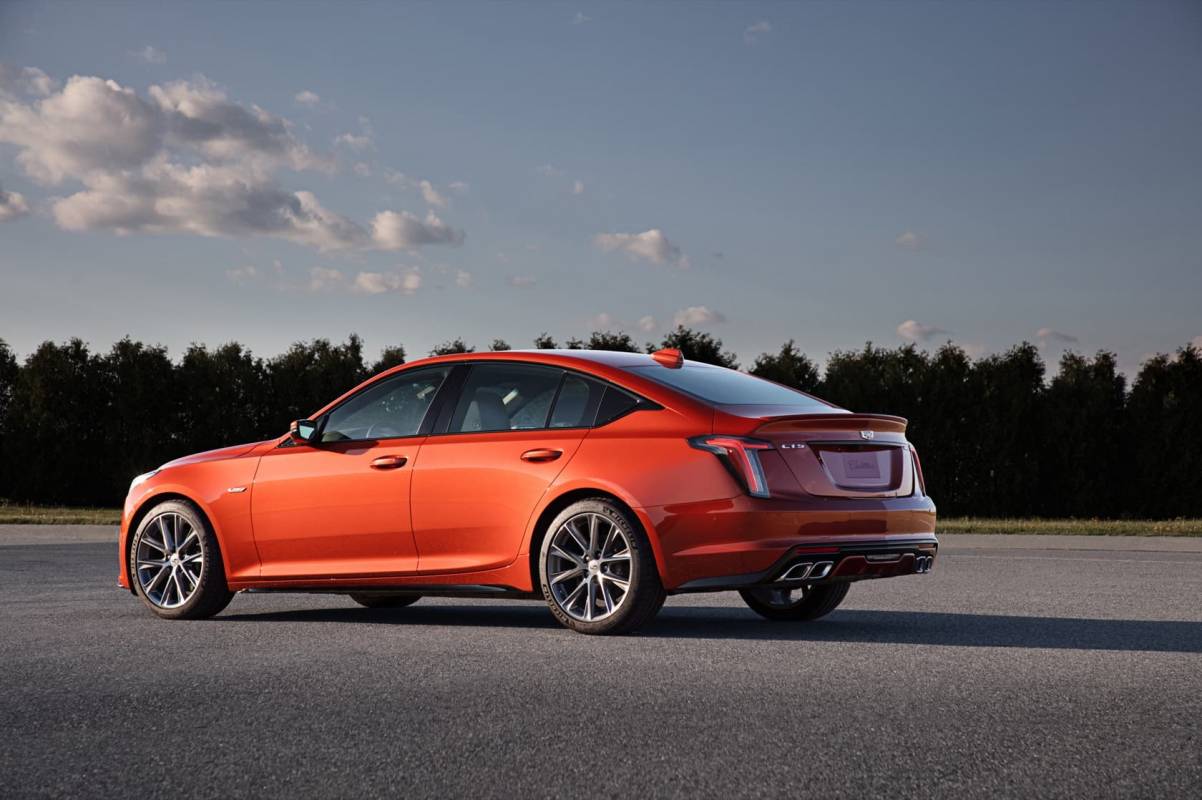 Its settings will be adjusted through the Vehicle Control Mode system, complete with customizable V-Mode, which will adjust things like steering brakes, and sound performance. Cadillac will be able to dynamically adjust brake pedal feel, too. A five-mode Performance Traction Management system, meanwhile, will change the settings for tire slip, yaw rate, slip angle, transmission speed, and more. In a first for V-Series, there'll be Launch Control too.
2020 Cadillac CT4-V
Unlike the CT5-V, which is based on a sedan we've already seen, the CT4 is making its debut in V-Series form. A regular version of the four-door will follow in due course. That won't get the V-Series car's 2.7-liter turbo four, which Cadillac expects to offer 320 horsepower and 369 lb-ft of torque.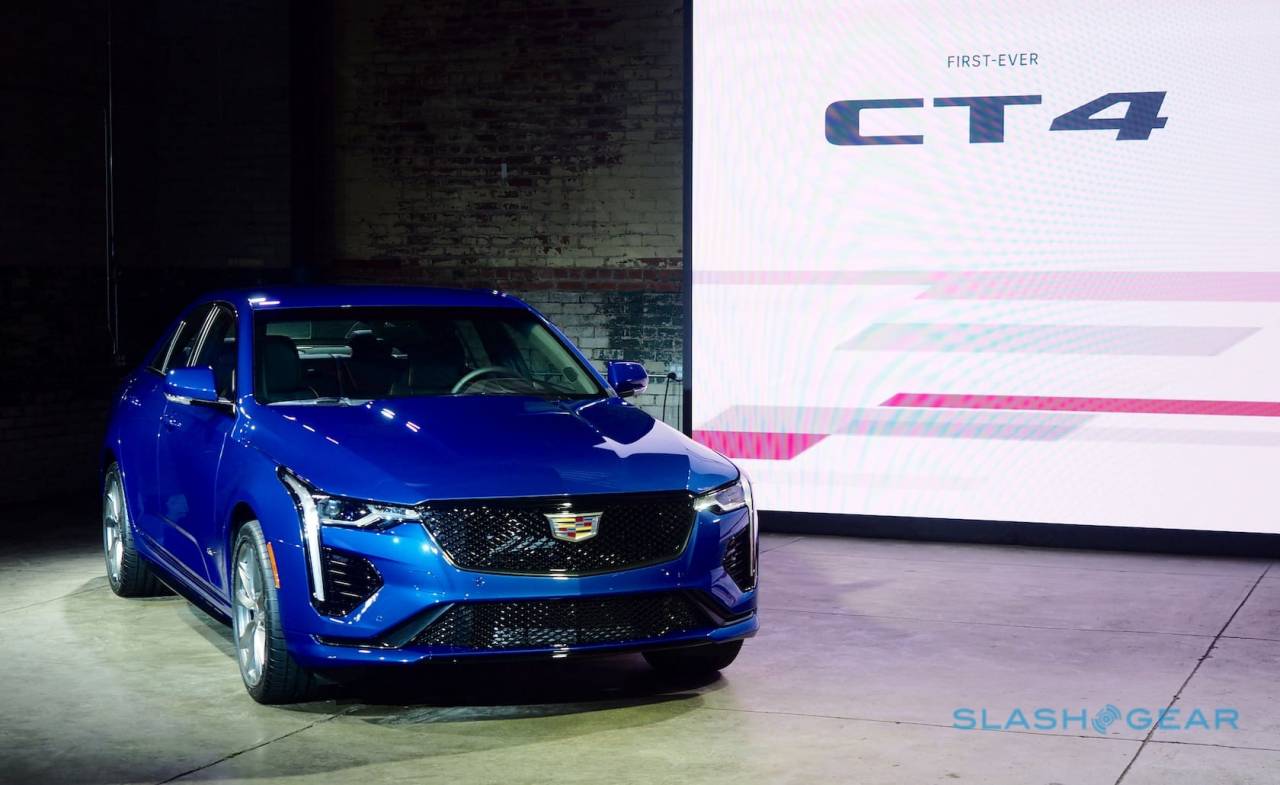 Again, a 10-speed automatic is standard, and there'll be RWD and AWD options. A mechanical limited slip rear differential is used, while the RWD car gets Magnetic Ride Control 4.0 and the AWD uses ZF MVS passive dampers. As per the CT5-V, there'll be Vehicle Control Mode with customizable V-Mode.
18-inch wheels are standard, with summer-only run-flat tires on the rear-wheel drive car. All-season tires will be offered on the all-wheel drive version.
Super Cruise and more
Super Cruise has arguably been the jewel in Cadillac's tech crown for some time now, which has made it all the more frustrating that the automaker has so-far only offered it on the CT6. With the arrival of the CT4-V and CT5-V, however, that will change. Come the 2020 calendar year, Super Cruise – with its combination of super-precise lane-keeping, adaptive cruise control, and hands-off driver monitoring – will be offered as an option on both.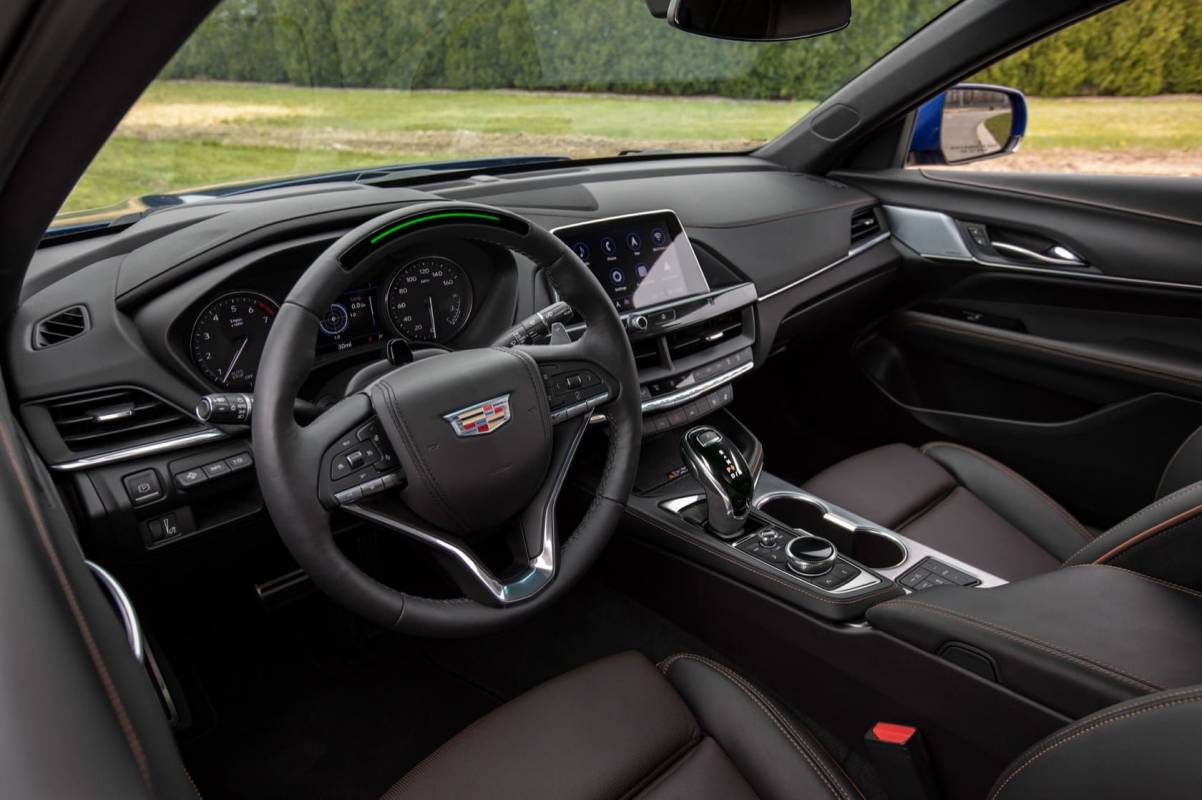 It'll sit alongside a suite of standard active safety tech, and a long list of further options. There's a rear camera mirror, for instance, beaming a view from the back of the car to the display. The CT5's brand new electrical architecture has been used by both V-Series cars, paving the way to faster data transfer, better security, and an improved infotainment system. It also allows Cadillac to deliver over-the-air software updates, something sorely missing from the company's line-up until now.
Sports sedans with heritage
The performance duo come as Cadillac celebrates the fifteenth anniversary of the V-Series. What started with the original CTS-V, a 400 horsepower, manual transmission sedan like none in Cadillac's history, has spread to include both dedicated "V" models and V-Series trims. Most recently, the 2019 CT6-V promises an all-wheel drive option in the V-Series line-up, debuting Cadillac's new Blackwing 4.2-liter twin-turbocharged V8 and promising an estimated 550 horsepower.
Still, with Cadillac's sales being saved by crossovers and SUVs right now, you'd be forgiven for wondering why the automaker is still pushing sedans. According to Cadillac, they're still the company's gateway to luxury drivers, not to mention the China market. There's also a cohort of people who still won't consider a crossover, the automaker says.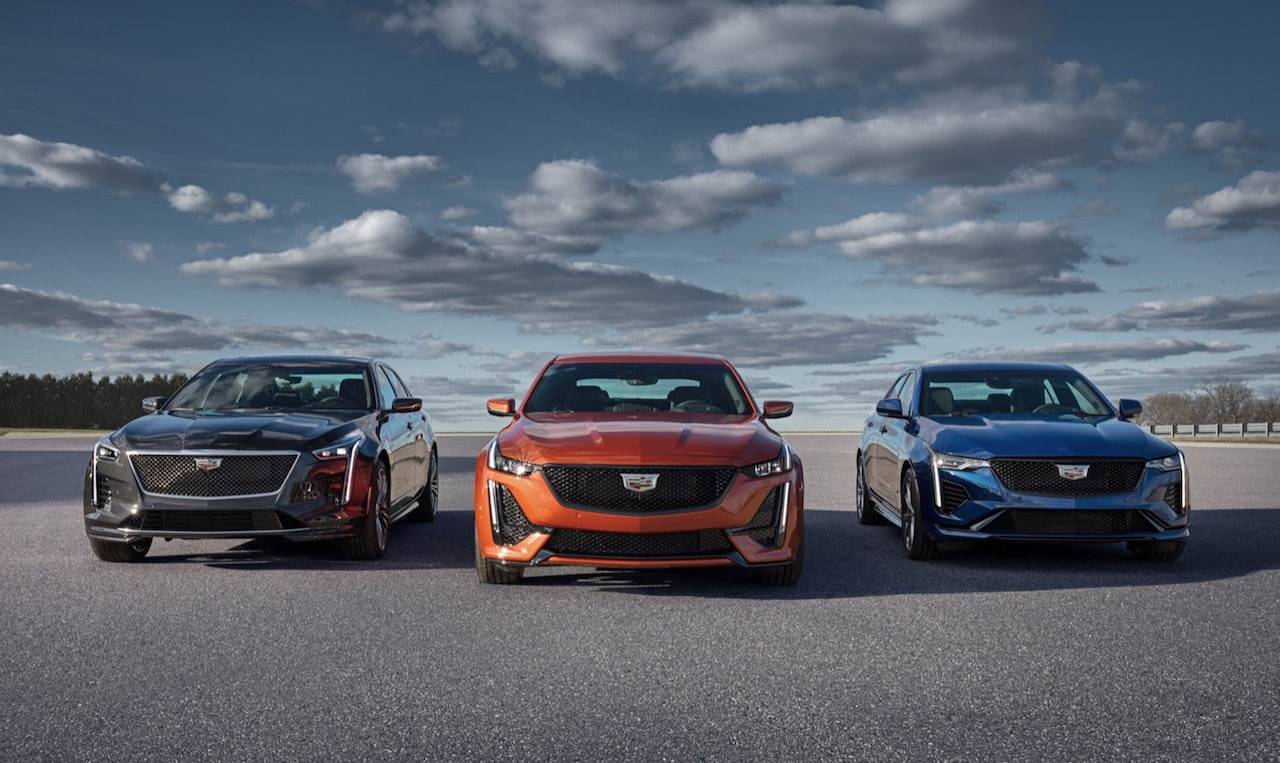 That's not to say that these particular V-Series are focused on going around a racetrack as fast as possible. "We know that not all of our customers are concerned about track time, and don't place a premium on it," Ken Morris, VP of Global Product at Cadillac, said of the cars. Something along those lines will be coming soon, Morris teased, but for now the CT4-V and CT-5V will slot in as new trims above the Sport trim.
Sitting alongside them, though, will be Cadillac's electric vehicles: the automaker is leading GM's renewed push into electrification. Will there be a Cadillac V-Series EV? Right now nobody is saying, though given the performance on tap from electric drivetrains, it's hard to imagine the automaker resisting the urge to expand its performance brand.
Pricing for the 2020 CT4-V and CT5-V will be confirmed closer to their respective releases, early next year. For now, Morris says, we can expect a roughly $7,000-8,000 premium over the standard Sport trim of each.