2016 Cadillac CTS-V Review: Darth Vader's ride
Whenever I walked up to the 2016 Cadillac CTS-V in a parking lot, I heard the echoes of the Imperial March from Star Wars in my head. Only true American muscle aficionados may understand the potency and engineering prowess that goes into turning Caddy's comfortable CTS sedan into a four-wheeled Death Star, yet it only takes one brief spin – preferably on the safety of a race track, but an abandoned country road will do – to comprehend why this supercharged, super-aggressive, super-speed monster can give the best of the Autobahn-busters sleepless nights.
It was the CTS-V's grandfather that kick-started Cadillac's V Sport project a decade or so ago, a concerted attempt to demonstrate that the storied marque was about more than just wallowing suspension and marshmallow-soft seats. Since then, several of the company's cars have shown up in the pits for a V Sport makeover, not least the 2016 ATS-V which – in either coupe or sedan form – offer some of the best bang-for-buck in their segment.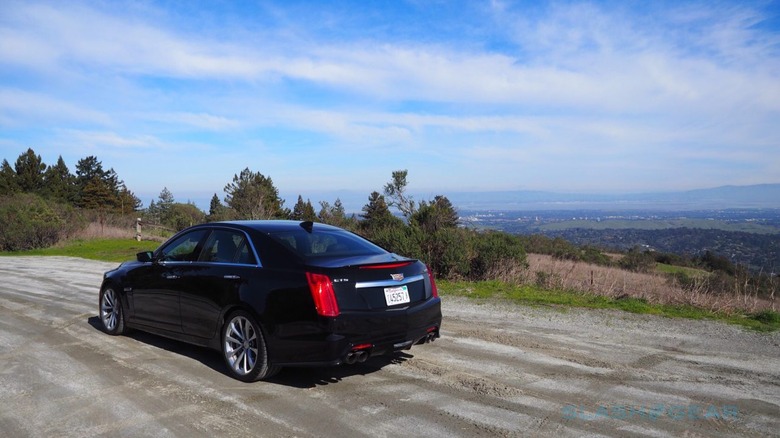 Nonetheless, it's this third-generation CTS-V that best epitomizes – with the exception, perhaps, of the V Sport Escalade prototype buried somewhere in GM's bunker, and which nobody at Cadillac will agree to let me play with – the "glorious maelstrom" ethos of the engineers and former racing drivers on the Cadillac team.
There's presence on the road, even if only a few people will recognize what makes this particular Caddy special. The company's Art and Science design language has been around for a few generations now, but I think the CTS – and the V Sport model in particular – best illustrates its strengths.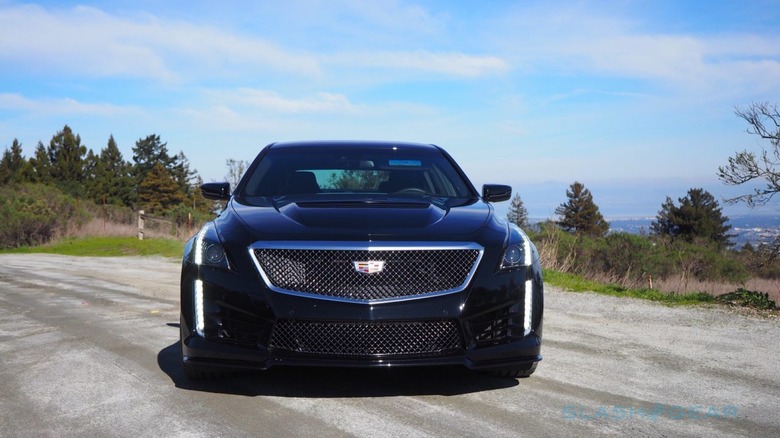 At the front, the regular grille's restraint has been blown through with a mesh version, atop a deep, meaty spoiler. A broad slab of vents cut into the sharply creased carbon-fiber hood, and everything is bracketed by Cadillac's distinctive LED lights which flow down crisply.
Flared arches only just fit the 19-inch lightweight forged-aluminum wheels, shod in skinny Michelin Pilot Super Sport rubber. At the rear, there's a special V-Series fascia and a surprisingly restrained spoiler; Cadillac opted not to fit the carbon-fiber package to this particular car, which adds a more aggressive front splitter, hood vent trim, rear diffuser, and a beefier spoiler, at the expense of discretion and $6,250 from your wallet.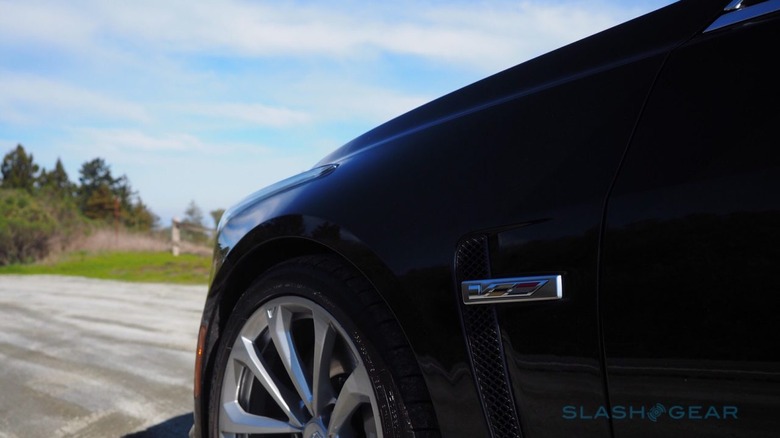 This is no styling exercise, mind: the Caddy has grunt to match its promising looks. A little parts-bin sharing – of the very best kind – sees the 6.2-liter V8 supercharged engine from the Corvette Z06 dropped under the hood, matched to an 8-speed automatic transmission.
It's good for a somewhat ridiculous – no, scratch that, utterly ridiculous – 640 horsepower and 630 lb-ft. of torque. It makes the CTS-V one of the fastest sedans on the market, with a quoted 3.7 second 0-60 mph time and a top speed of 200 mph, and demonstrates that it's not only the big German brands which can do performance luxury.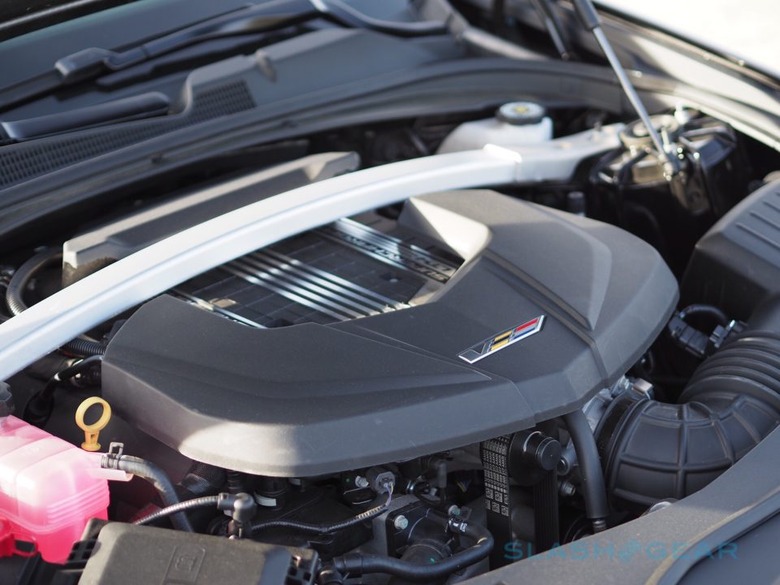 You could imagine the Cadillac shredding it's expensive, low-profile Michelin rubber with one jab of the throttle, but it's actually a fairly controlled experience. The CTS-V gets a slightly confusing double-level of driving modes and traction control. First, you can switch between the familiar four driving modes of touring, sport, snow, and track; then, there are five Performance Traction Management settings, starting out in "Wet" and then escalating up through "Dry", "Sport 1", "Sport 2", and finally the most extreme "Race".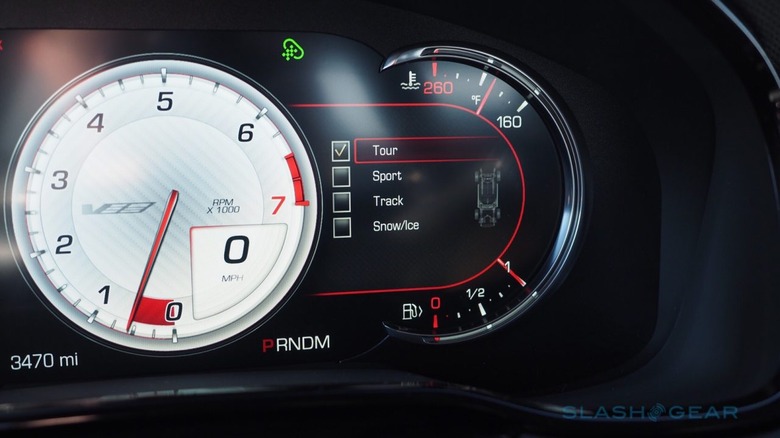 Each progressively tames and then discards the nursemaiding until, by the end, you're almost entirely responsible for guiding several tons of roaring American automobile around the track.
Cadillac didn't seem too keen on my taking the CTS-V racing – having tried it on the excellent Road America track last year at the car's launch, I know already just how astonishingly capable it is there – but regular owners are practically encouraged to. The six-piston front and four-piston rear Brembo brakes are paired with rotors specially treated for both avoiding track-fade and longevity in everyday use: the idea is that you can drive the CTS-V to your local racing club and then straight onto the course, pausing only to strap on a helmet and stab the button that shifts into a more permissive level of traction control.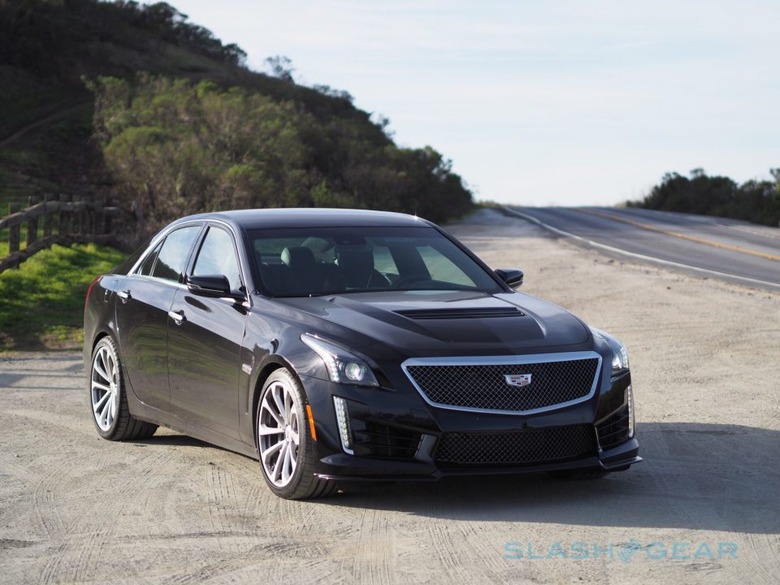 I resisted the urge to treat the Californian back roads as unofficial racetracks, and instead stuck to the more everyday settings. That's not to say the CTS-V is any less of an animal, mind; swinging out of my first corner onto an uphill stretch, with the car in Sport mode, I stomped with my right foot and the car's rear-end went twitchy and squirreled entertainingly across the lane. Not out of control, but definitely good fun.
You can tame that skittishness by more carefully balancing your braking into a corner and then easing on the throttle as you pull through; that keeps the RWD car sufficiently planted without the front wheels getting out of line, and leaves you in the perfect position to experience the CTS-V's biggest party trick.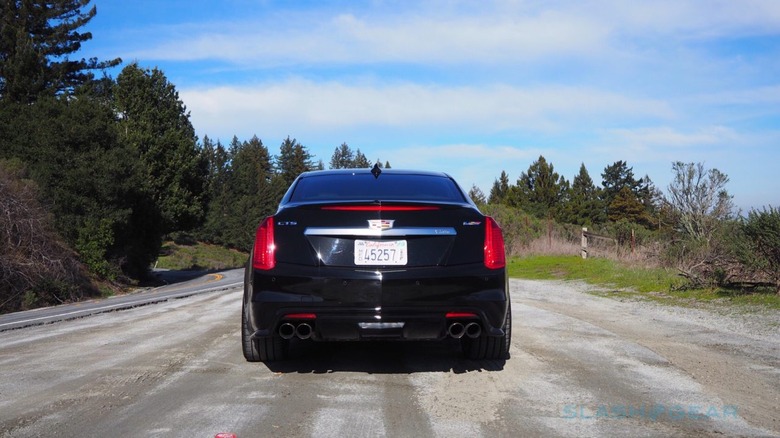 The surge of power from the supercharged engine is colossal, a giant's hand against your back forcing you up the road and a smile across your face. You can, if you really want to, override the 8-speed with the crisp little magnesium paddle shifters, but frankly there's no point. The CTS-V's gearbox handles all that grunt with aplomb, and though in Tour mode it defaults to more subdued shifts, set to Sport or Race it will let the V8 skirt almost all the way up to the engine's redline at 6,500 rpm.
Don't dismiss Tour mode as the dull option, mind. Thanks to the Magnetic Ride Control, and Cadillac's acoustic treatment, the CTS-V is eminently capable of serving limo duty. The standard cabin is comfortable enough, with leather seats and microfiber inserts, but the $2,300 Recaro High Performance Seats of my review car threw in greater lateral support which was more than welcome (even if I might not have picked the "Saffron" accent color myself) together with 16-way power adjustment and optional massage.
Add the $1,600 Luxury Package and you get split folding rear-seats with outboard heating, a power rear sunshade and manual side sunshades, a 110V outlet, and tri-zone climate control. It's comfortable, smooth, and astonishingly restrained.
Living with the CTS-V, then, becomes a glorious double-punch. On the highway, it's a long-legged cruiser, the engine always having more than enough power for easy overtaking while its note is placid and discrete. Hit the driving mode button to slot it into Sport when you reach more entertaining roads, however, and the supercharger thrums eagerly into action, more than 4,000 pounds of supercar with all the eagerness to play of a puppy on crack.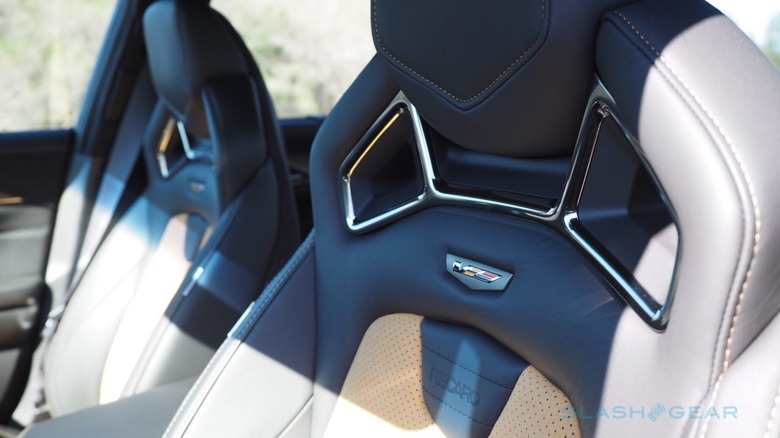 Public roads are woefully inadequate for getting anywhere close to this car's limits, either in acceleration or braking, but it's damned fun trying anyway. The more aesthetically pleasing drives can be memorialized with the $1,300 Performance Data Recorder, which saves a 720p view from the front-facing camera – complete with optional driving telemetry overlays – to an SD card slotted in the glove compartment.
Don't expect to get great economy if you're trying for the most dramatic footage, however. The official EPA figures are 14 mpg in the city, 21 on the highway, and 17 combined; the V8 will even shut down half its cylinders when cruising to eke out a little extra from each premium gallon. Drive it as the CTS-V really does encourage you to, however, and expect to get something closer to 12 mpg in everyday use.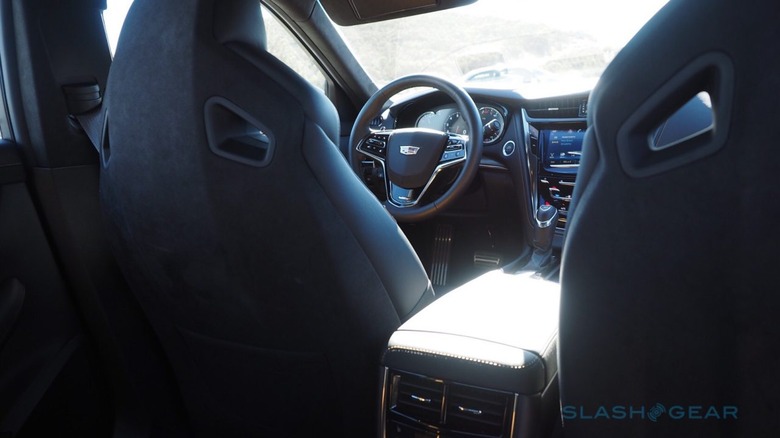 If there's a place the Germans still have an edge, it's the dashboard. Cadillac isn't short on tech – you get Apple CarPlay, Google's Android Auto, automatic parking assistance, a wireless phone charger hiding in the center console behind the motorized 8-inch touchscreen, OnStar 4G with WiFi hotspot support, and cameras down by the curbs to make sure you don't dint that stunning body kit, among other things – but while the hand-cut and stitched leather feels great, the gloss-finish black plastic is less appealing.
Luckily CUE, Cadillac's love-it-or-hate-it infotainment system has been refined over earlier iterations, casting off some of its sluggishness and paring back its at-times overloaded UI. I'd still welcome some proper buttons instead of the touch-sensitive keys that come with CUE, but it's not the headache it once was.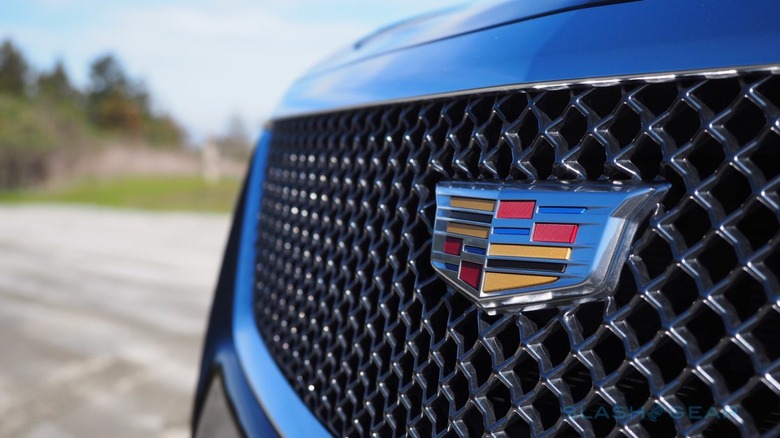 The CTS-V is a car with attitude to spare. It's the car Darth Vader would probably drive, were the keys to all the Tie-Fighters and Imperial Destroyers taken at the weekend. It's a car that is equally convincing that Audi, BMW, and Mercedes-Benz should take seriously that Cadillac can make a luxury vehicle and a performance one.
On the one hand, then, the $83,995 base price – rising to $91,190 with this review car's extra kit, the $1k gas guzzler tax, and $995 destination – seems a positive bargain. All the same, I know some shy from the thought of spending that amount on a Cadillac, even one which chews through superlatives with such eagerness as the CTS-V.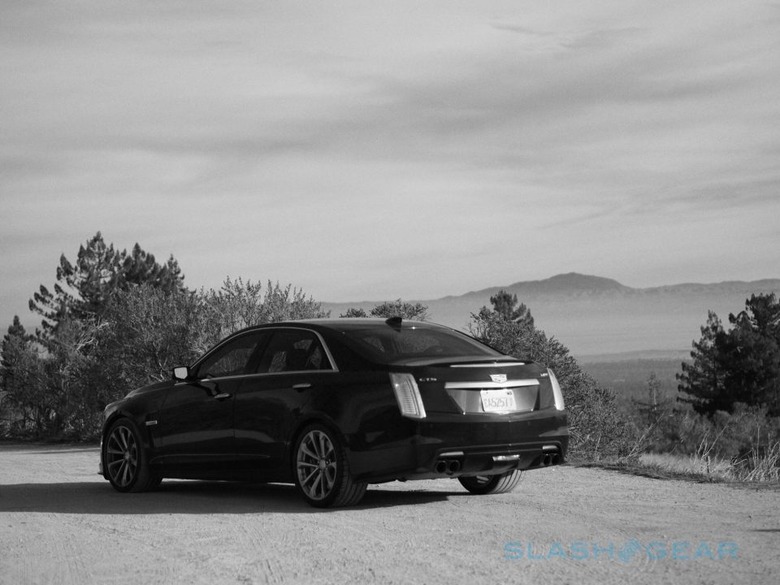 For them, perhaps, the $60,950 CTS V-Sport might fit the bill. Not so aggressive in its looks as the CTS-V, nor – with a 3.6 liter twin-turbo V6 good for 420 HP and 430 lb-ft. of torque – quite as powerful, but it'll still do 0-60 in a more than respectable 4.7 seconds, and has more than enough potency for public roads.
Forgive me, though, Mother Europe, for my loyalties have strayed. While rationally I know I should want something with an AMG badge, or with M branding, the smooth-talking Caddy has won me over. The CTS-V is potent, it's rewarding, and it's so rare on the roads as to make the E63 S or M5 it can merrily overtake look commonplace in contrast.