2018 Alfa Romeo Stelvio First Drive: Offbeat Italian SUV Comes To Conquer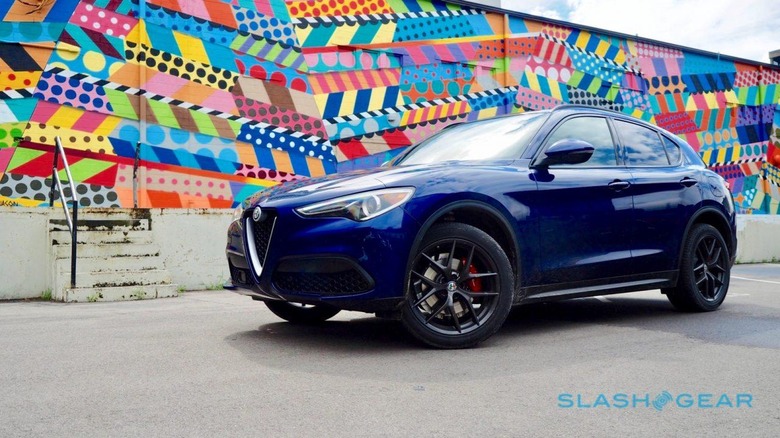 When you're Alfa Romeo, and a decent chunk of your appeal is that you're not the mainstream option, building an SUV like the 2018 Stelvio presents a tricky balance to strike. After all, Alfa drivers may not want a predictable car in their garage, but Fiat Chrysler Automobiles shareholders want mainstream sales. The Giulia sports sedan may have found favor among passionate drivers, but crossovers and SUVs are where the widest wallets are. Alfa Romeo had a choice, therefore, and the Stelvio is the answer, born of the Giulia but out hunting mutineers from the mainstream.
It's an increasingly crowded segment, as Alfa Romeo knows all too well. As well as the Audi Q5, Mercedes-Benz GLC, and BMW X3, there are more unusual options like Porsche's Macan and, most recently, Jaguar's F-PACE. Sales overall are booming – 1 in 4 premium vehicles sold last year was a premium SUV, in fact – but the competition is strong. "Our customers will be 100-percent conquest if you're being realistic," Pieter Hogeveen, director of Alfa Romeo North America, explains. "They're used to a premium experience."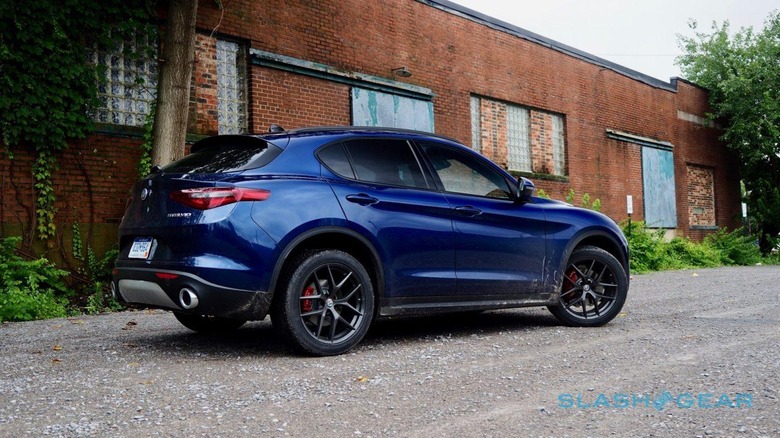 The strategy is style, performance, and a dash of heritage, adding up – so Alfa hopes – to a jolt of excitement commonly missing from the segment. On the design front there's no mistaking it: the "Scudetto" grille piercing deep into the front valance, deep surfacing along the flanks, and a curvaceous rump. Badge-spotters might not know that the Stelvio is named after the hairpin-heavy twelve mile pass in the Italian Alps, but they'll definitely know it's something unusual.
Out of the gate, Alfa Romeo is keeping things simple with the engine. There's just one option at launch, in fact, a 2.0-liter turbocharged four-cylinder, with 280 horsepower and 306 lb-ft. of torque. It'll do 0-60 mph in 5.4 seconds and top out at 144 mph. Alfa is keen to point out that they're best-in-class numbers.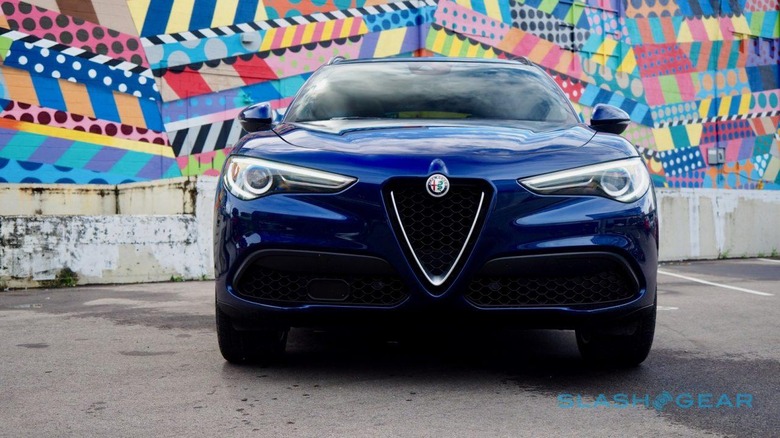 The simplicity doesn't stop there, mind. All-wheel drive is standard, and despite the Giorgio Project architecture – the same as which underpins the Giulia – being rear-wheel drive biased, there are no plans for RWD Stelvio. Under typical conditions the SUV pushes 100-percent of its power to the rear wheels, and you notice it too, with distinctly car-like feel from what's still a fairly upright vehicle. Should handling demand it, up to 60-percent of the power can be shifted to the front wheels.
The engineers are particularly proud of the 50/50 weight distribution, as they are about the front double-wishbone suspension and rear Alfa Link suspension. What this isn't, even riding 2.5-inches higher than the Giulia, is an off-roading machine. "This is a true driving segment," Hogeveen argues, "we don't see many buyers going off-road."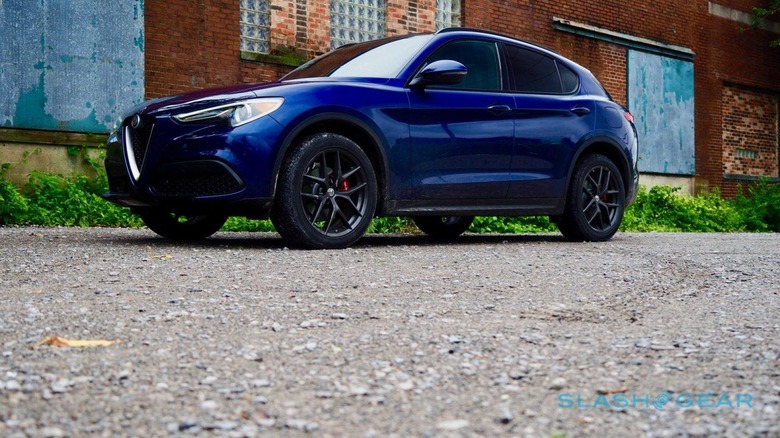 To that end, while there's Alfa's DNA – Dynamic, Natural, and Advanced Efficiency – drive modes on offer with an easily-toggled dial in the center console, there's no mud or snow settings. Instead you get an SUV that simply doesn't drive like an SUV.[Update: the Stelvio does have a standard-fit hill descent control system]
The Stelvio hides its extra bulk neatly, the extra height and length over the Giulia well disguised. Throttle response is swift, and there's little turbo lag to be dealt with. The 8-speed transmission is swift to downshift in Dynamic mode, too, and understeer is as good as non-existent. The moment of real connection with the car comes when you reach out for those huge metal paddles, mind.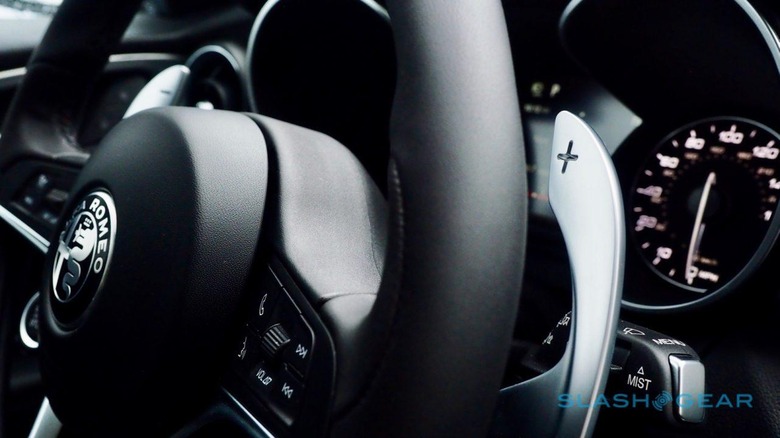 They're some of the largest I've seen and, unlike most paddle-shifters, they're mounted on the steering column rather than the wheel itself: they don't move as you turn. Part of their charm is the immediacy of the shifts, even if you're triple-snapping in the final moments before a tight corner, but there's also their almost cartoonish scale. It means things can feel a little crowded for your fingers around the stalks just behind them, but that's a compromise I'm happy to make.
Eager drivers will also like the fact that the paddles won't nanny you. If you're in manual mode, hit the redline and the Stelvio will stay screaming rather than upshift you automatically. Good stuff, but it'd be more fun if that limiter was higher than 5,500 rpm.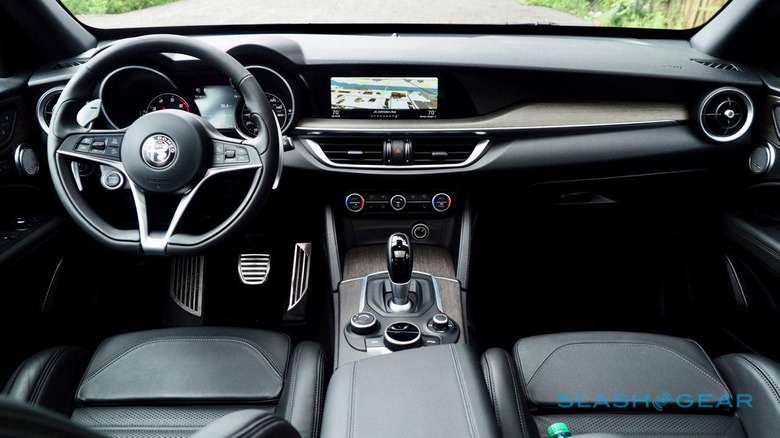 All the more reason to stay focused, of course. The Stelvio's dashboard helps there, cleanly put together but unlikely to distract you with its fairly nondescript design. I'm not a fan of the elephant butt-textured plastic that makes an appearance across many of the surfaces, but the controls feel solid and thankfully not like Fiat Chrysler parts-bin spares.
Analog dials flank a square LCD with navigation, media, and trip information, while there's an 8.8-inch infotainment display in the center stack as standard on the Stelvio Ti. That still looks oddly small, mainly because of its widescreen aspect ratio, but you do get Android Auto and Apple CarPlay as standard. Unfortunately, from what I suspect is the anti-glare coating Alfa has applied, graphics can appear slightly mottled, particularly when you're looking at maps.
It wouldn't be an Alfa without some oddities, of course. The weird display also suffers a tiny reversing camera preview, which just a few raindrops can obscure. The start/stop system is clunky and lacks finesse; the first thing Alfa's team did when we got behind the wheel was show us how to turn it off. The brakes aren't short on power – 13-inch rotors and four-piston Brembo calipers up front, along with 12.5-inch, single-caliper discs at the back – but there's a fair amount of pedal travel before you reach its bite. Highway economy of 28 mpg is impressive, on paper at least; with a mixture of roads and some more spirited driving, we saw more like 23 mpg.
In the regular Stelvio, which kicks off at $41,995, you get standard leather, a power tailgate, bi-Xenon headlamps with LED daytime running lights, gloss-colored brake calipers, LED tail lamps, remote and push-button start, rear parking sensors, power-adjustable seats, and a choice of black, chocolate, or red interior. The $1,800 Sport package adds 19-inch alloys, the steering wheel shifters, sport-tuned suspension, a leather-wrapped sports wheel, and some visual glitz. A dual-pane glass roof is $1,350.
Step up to the $43,995 Stelvio Ti, which Alfa expects to be the volume model, and you get 19-inch wheels, the 8.8-inch windscreen infotainment system, SiriusXM, front parking sensors, and heating for the front seats and steering wheel. A $2,500 Ti Sport pack boosts the wheels to 20-inches and tunes up the suspension, as well as throwing in 12-way power sports seats with much-appreciated power bolsters. Alternatively, the $2,500 Ti Lusso pack has swankier leather, more cosseting seats, and real wood trim choices.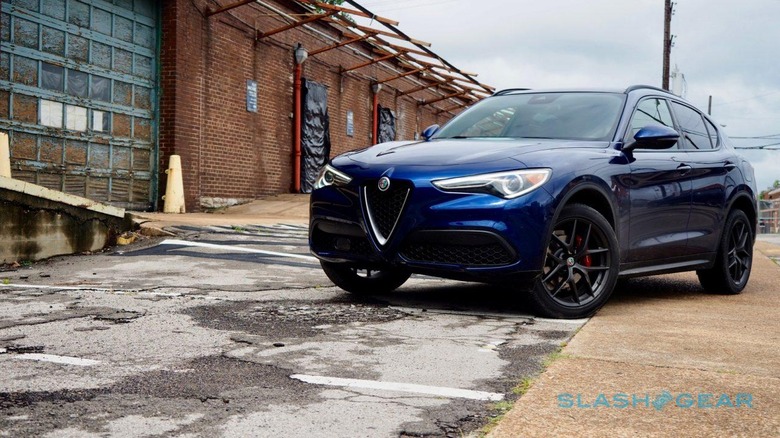 I know what you're really interested in, mind. Come Q1 2018, Alfa will roll out the Stelvio Quadrifoglio, its 505 HP version. As well as the sort of blistering speed we've come to expect from the Giulia Quadrifoglio, it'll have options like carbon-ceramic brakes and other performance niceties. Pricing will be announced closer to its release, but you're probably best starting saving now.
If you can't wait, there's plenty to love about the 2018 Alfa Romeo Stelvio today. From the automaker's list of potential rivals, only the ¸Porsche Macan and perhaps the Jaguar F-PACE have the driving dynamics to compete. Both are special in their own way, but neither has the personality and purity of intent that the Stelvio offers in spades.