2017 Alfa Romeo Giulia Quadrifoglio Review: Nothing exceeds like excess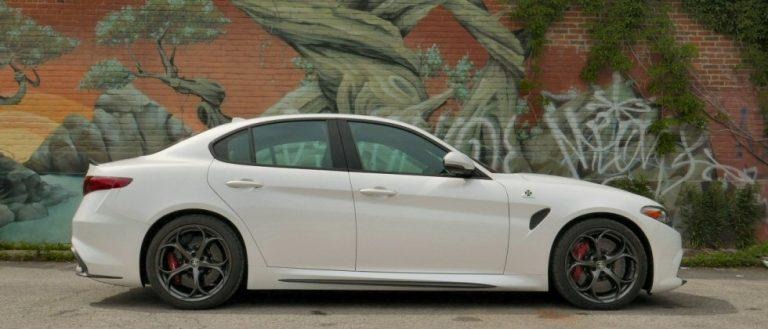 When is 'more' simply 'too much?' That's the question I found myself asking again and again from behind the wheel of the 2017 Alfa Romeo Giulia Quadrifoglio, a luxury sport sedan seemingly so intent on occupying extremes that I wouldn't be surprised if its Italian masters came out with a Vanilla Ice Signature Edition further down the line. Chugging Mountain Dew and challenging horses to straight-line tests of speed from the back of a sport bike might not be in the Quadrifoglio's repertoire, but this sultry turbocharged weapon alternately frustrated or frightened me nearly every time I picked it up, no matter how longingly my eyes caressed its outrageous curves.
I didn't expect that my week with Alfa Romeo's red-hot challenger to established performance stalwarts like the Mercedes-AMG C63 S and the BMW M3 would end in an indictment, but here we are. The Giulia Quadrifoglio presents the premium shopper holding $75k in their pocket with one of the most beautiful designs on the market, matched with a chassis that manages to strike the balance between fast and friendly in a way that its Teutonic rivals have seemingly forgotten how to achieve. And yet, the drive experience is marred by an engine that seems designed to take years off of your life should you attempt to exercise it to the fullest on a public road.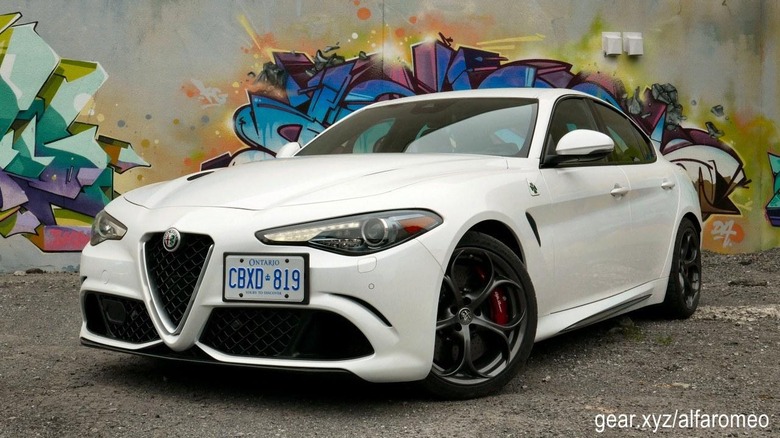 The Quadrifoglio features a 2.9-liter, twin-turbo V6 that produces a startling 505 horsepower and 443 lb-ft of torque, making it the dyno king as compared to its most immediate competitors (the previously-mentioned BMW and AMG entries, plus the Cadillac ATS-V). In America, the rear-wheel drive Alfa is offered exclusively with an eight-speed automatic transmission, with corporate parent Fiat nixing the six-speed manual that was originally promised at launch. There are four driving modes along for the ride, too, ranging from 'Dynamic' to 'Natural' to 'Advanced Efficiency' to 'Race,' accessed via the 'DNA' rotary controller on the center console.
So far, so good, right? Not exactly.
On or off. Yes or no. All or nothing. These are the poles one expects to be occupied by technology as innocuous as a light switch, but imagine if your bathroom shower had only two settings – scalding and tepid – and you start to understand what makes the Alfa Romeo's drivetrain so frustrating to enjoy on the street. The Quadrifoglio's snails have seemingly been tuned by the engineers originally responsible for the Porsche 930 Turbo, meaning they're irrelevant below 3,500 RPM or so only to come rushing to the scene of the (almost inevitable) crime in the brief seconds separating moderate engine speed from the 7,250 RPM redline. Hammer the throttle and try to keep up with what's happening under the hood via the car's enormous paddle shifters and you're likely to run up against the cut-off more quickly than you'll hit 60-mph in the factory-advertised 3.6 seconds.
This peaky pounding on the rear tires is further exacerbated by the starkly unfriendly drive modes pre-programmed into the Giulia Quadrifoglio. There's no separate button for managing traction or stability control, which means Dynamic mode is as resolutely patrolled by the no-fun police as Natural mode, albeit with sprightlier throttle response and stiffer suspension settings. Click all the way up into Race, however, and suddenly you are thrust into a gladiatorial arena with the 'let's spin right now!' character of the Alfa's power delivery in the complete absence of any electronic safety net. You've either 'got this' or you don't, and there are no half-measures to help keep the shiny side up should you over-estimate your own abilities.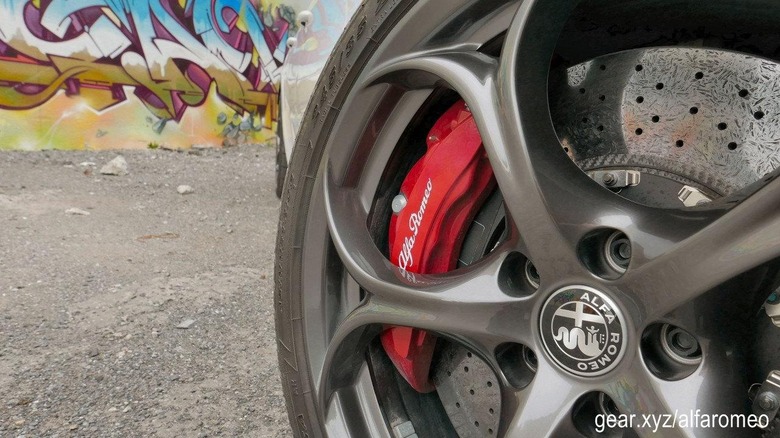 'Why would anyone use Race mode on the street?' you are probably wondering. Here's my very specific answer: it's the only way you get a chance to hear the Quadrifoglio's excellent two-mode sport exhaust system at full bark. Once again, the designers at Alfa Romeo have refused to unbundle the car's various performance functions, muting the quad tailpipes to some degree in all but the most aggressive, and least safe setting for the sedan's drivetrain. I didn't want to be in Race mode all the time, but dammit, I wanted that sound, and since there's no separate Sport Exhaust button or 'Anti-Social' drive setting, what choice did I have?
My disappointment in the overwhelming character of the Alfa Romeo Giulia Quadrifoglio's drivetrain was tempered by its gorgeous lines, functional cabin, and outstanding chassis tuning. If (when) the car gets sideways on you, its ultra-quick and well-weighted electric power steering and direct suspension feel are right there beside you to catch and correct with a minimum of effort – as long as you are paying attention. This doesn't translate into an overly-stiff chassis, however, as the Giulia refuses to mimic the rock-crusher character of the M3 on rough roads, and in fact, if driven with an egg under the accelerator, feels perfectly smooth and comfortable on long trips. It also helps to not order the optional, and expensive, carbon ceramic brakes, which like so many things about this sedan are overkill for the street and sacrifice significant initial bite when cold – which is all the time outside of your second lap on a road course.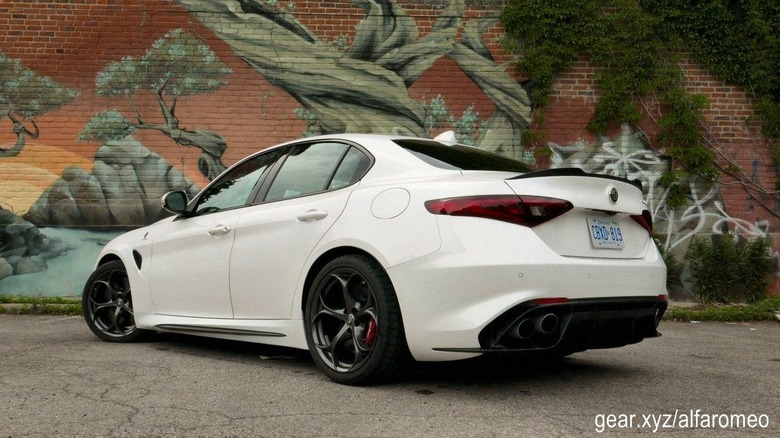 Still, even though I walked backwards away from the Giulia it every time I parked it, it's very hard for me to recommend this car – regardless of how handily it might beat its similarly-priced rivals in most performance metrics. Leaving aside the reliability issues that have plagued the vehicle in early testing, the Quadrifoglio is impossible to enjoy outside of a carefully-controlled environment like a race track or a skid pad. This stands in stark contrast to options from BMW, Mercedes-AMG, Cadillac, and Audi that offer more linear power delivery and a graduated approach to their respective electronic driver's aides. I don't want to feel like I'm riding the edge of responsibility with each application of the throttle, and while it can be fun to drive a slow car fast, being forced to carefully police yourself to do the opposite – and paying upwards of $90,000 to do it, after options – is nowhere near as charming in this Alfa Romeo.