2017 Porsche Macan Review: The average edition of a stellar SUV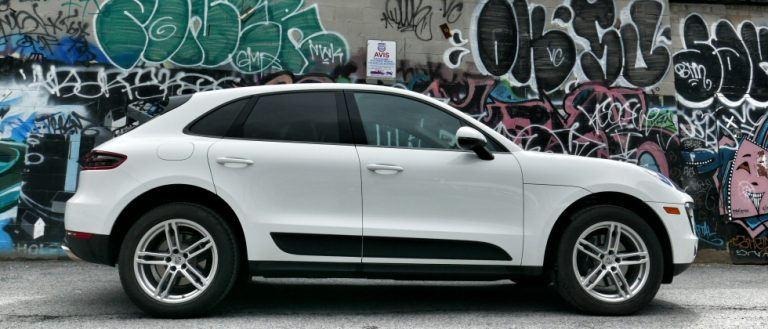 EDITORS' RATING: 7/10
Porsche does not often, if ever, build lackluster vehicles. Rather, its stock in trade are automobiles that catch your eye just before their power makes you stop to catch your breath. Consider, then, the exception that is the new-for-2017 base model Porsche Macan, the entry-level follow-up to the outstanding Macan S, GTS, and Macan Turbo trio that have dazzled since first introduced a mere two years ago. Now equipped with a turbocharged four-cylinder motor in place of the turbo six found in its siblings, the most affordable Macan makes a clear trade: scintillating performance for mass market appeal.
Volume sales are the lifeblood of any automaker seeking to rise above niche status, and Porsche has done a commendable job in courting bigger numbers by way of the larger Cayenne SUV, the Panamera sedan, and the previous versions of the Macan. Each of these models, while stepping far outside the lines penciled in by the brand-defining 911 sports car, are titans of speed and handling in their respective classes, and have found an enormous audience.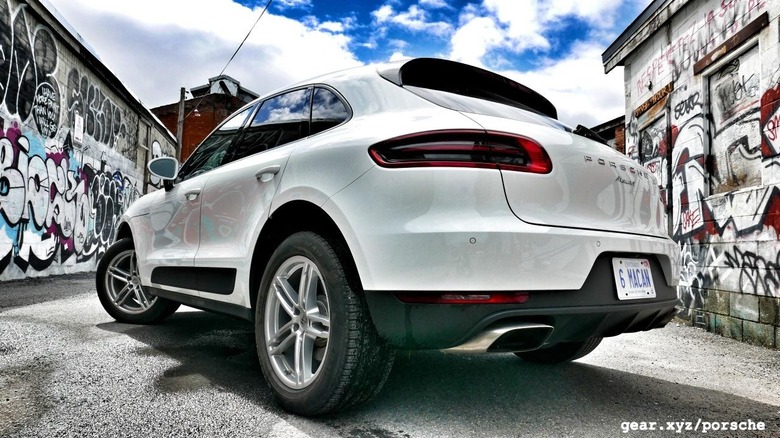 The four-cylinder Macan is something a little different. Luxury brands always have access to one simple strategy when it comes to tapping into the unreserved lust for the prestige associated with their image, and that's lowering the price of their offerings to the point where the badge is within reach of a new segment of the market. To do this, however, often means stripping down part of the package being offered, to both protect the reputation of pricier models and, more practically, to keep profits healthy.
It's this strategy that has guided the development of the 2017 Porsche Macan (no S, no Turbo, just Macan on the rear deck), a vehicle that for all intents and purposes matches the Macan S for equipment everywhere but in the engine bay. For the latter, the drop-off is precipitous: in place of the 340 horsepower, 3.0-liter turbocharged V6, there's now a 2.0-liter turbocharged four-cylinder that's good for 252 ponies. Torque is also down, although not by as much, with the four-cylinder's 273 lb-ft showing as 66 lb-ft lower than the Macan S.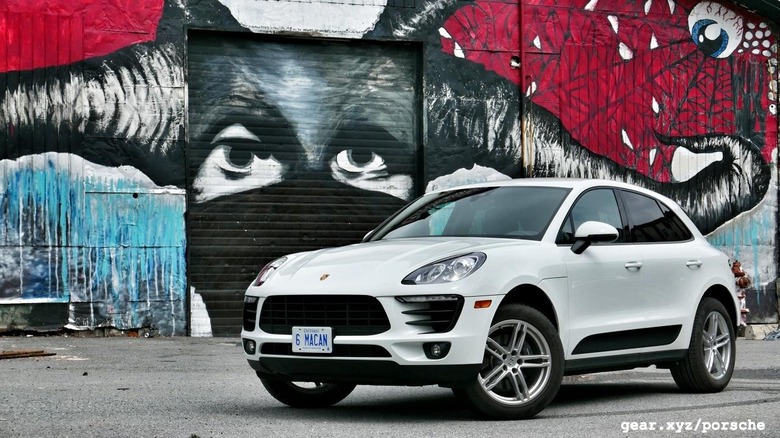 The rest of the package remains identical, save for a few visual cues and slightly smaller (and somewhat mushy) brakes. This means that the suspension tune, seven-speed dual-clutch automated manual transmission, and all-wheel drive in the Macan are a match for that of the Macan S, and indeed, the base model feels as firmly sprung over rough roads as its mightier showroom companion does. Handling for the Porsche is a cut above almost everything else on offer in its class, trouncing the Audi Q5 and the BMW X3, with only the Jaguar F-Pace delivering a similar mix of sharp reflexes and pleasing cruising comfort.
Get into the throttle hard, however, and it's more difficult to sing the Macan's praises. Acceleration – both off the line and on the highway – is average at best, perfectly acceptable for the vehicle's $47,800 price point but a far cry from the 'wow, is this really happening in an SUV?' sensation delivered by the V6 in the Macan S. Perhaps it's because I was so wowed by the S experience (which in turn is bested by both the Macan GTS' 360 horsepower and the Macan Turbo's 3.6-liter, 400 horsepower mill) that the four-cylinder felt like such a let-down. Trying to move just under 4,000 lbs with a pair of cylinders missing also likely had something to do with it, and although the engine feels somewhat livelier when the vehicle's driving mode is set to Sport+, you're still hovering just over six seconds for the sprint to 60-mph.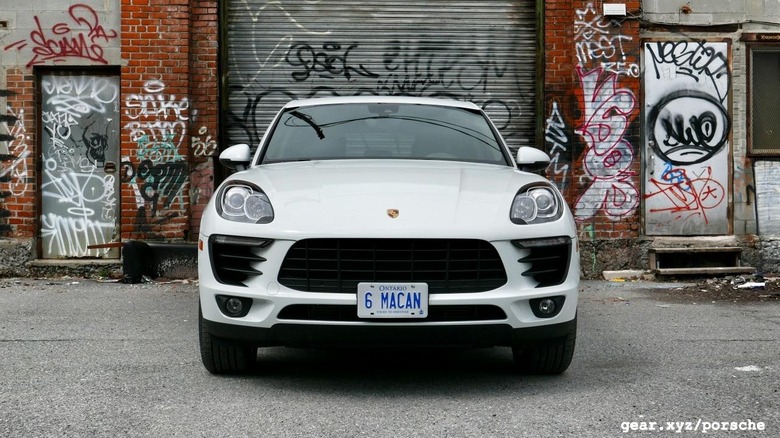 Expectations can greatly affect one's impression of anything, and such was the case during my time with the Porsche Macan. The turbo four did everything I asked it to do – transported a relatively large load of gear on a long highway trip with surprisingly little hassle, handled nasty spring weather with aplomb, caught the eye of would-be Porsche owners window-shopping through their windshields – but at no point did it put a smile on my face. This was a stark contrast to Macan S, which regularly had me shaking my head in disbelief at just how outstanding its drivetrain felt in nearly every driving situation.
It's also worth noting that the tester I drove was a very low-option model, which a rarity in the Porsche world. Outfitted with 19-inch wheels and the Sport Chrono package (launch control, the previously-mentioned Sport Plus driving mode for quicker shifts and more aggressive throttle tip-in), the Macan still featured a respectable level of standard gear, including a power tailgate, a rearview camera, a lane departure warning system, leather seats, Apple CarPlay, surround sound audio, and three zones of automatic climate control. Still, there are a few absences that will need to be addressed (keyless entry, sunroof, navigation) and if you want more, there's plenty to be had on the order sheet, where it's easy to drop $15,000 on extra gear if you're not careful.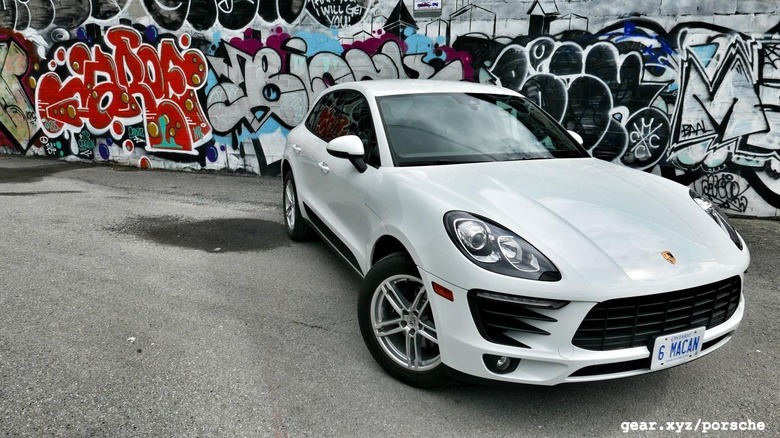 That the new 2017 Porsche Macan will be a smash hit is almost certain, with an early sales mix indicating nearly 40 percent of customers opting for the turbo four. Its combination of attractive pricing, brand prestige, and excellent handling make it a compelling choice when facing off against less expensive, but more subdued European and Japanese luxury fare. It also proves that performance as a concept is important to premium SUV shoppers, but not necessarily on an individual, product-by-product basis, as long as some of that shine rubs off on the ride home.
Is it the Macan you should buy? If you care about bridging the gap from good to great, I'd say it's well worth it to kick in the extra $7k or so it takes to get behind the wheel of the much more interesting Macan S. Let's be honest – you're not leaving the dealership with anything short of a $60,000 hole in your pocket once you've got the SUV configured to your liking. Earmark a sizable chunk of that lump sum for the engine and you'll amplify your enjoyment behind the wheel by an order of magnitude.