2016 BMW 330e Review: The secret plug-in hybrid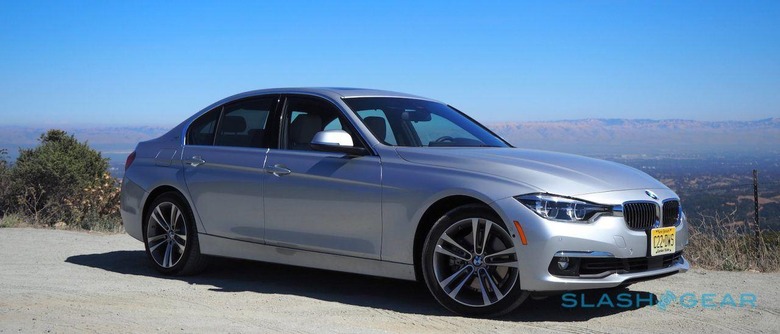 EDITORS' RATING: 8/10
The BMW 330e iPerformance isn't the car to buy if you want people to know you're saving the planet. In fact, from behind the wheel of the 2016 330e, I had to keep glancing at the display to make sure that I was, indeed, driving a plug-in hybrid and not one of BMW's regular 3 Series cars. Say hello to the Germans' secret green family.
Later that day, falling into unplanned convoy with a blacked-out M3 and his bodykitted friend, I thought about how BMW has to cater now to more than just the performance crowd. "The Ultimate Driving Machine" used to mean horsepower and handling and torque; now it also has to mean electrification, and emissions, and coaxing a hundred years of automotive habit into not only embracing but excelling at alternative propulsion.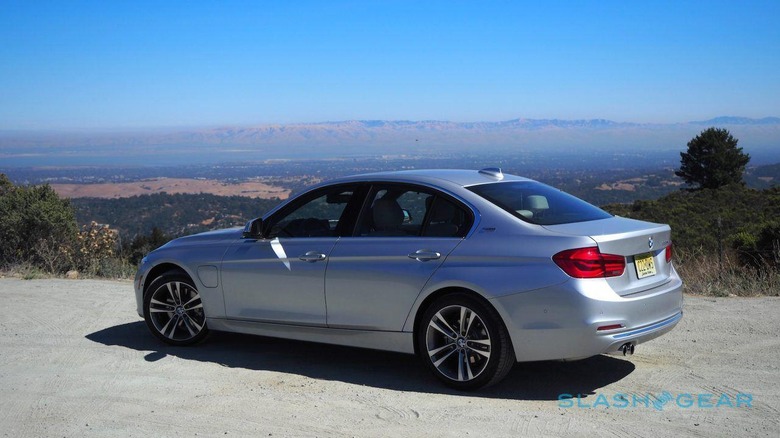 At first glance, BMW's electrification strategy is a little confusing. On the one hand, you have the i-Series and cars like the i3 hatchback and i8 coupe. Both are visually striking and wear their alt-identity on their metaphorical sleeve: you see them, and you know they're not "just another" gasoline car.
The 330e, though, falls into what does feel like a whole other electrified family, one BMW is being a lot more conservative about. You'd need to look closely at the car to tell it was anything different from a regular 3 Series, in fact. The same could be said of its other "iPerformance" siblings, the electrified 7 Series sedan and X5 SUV.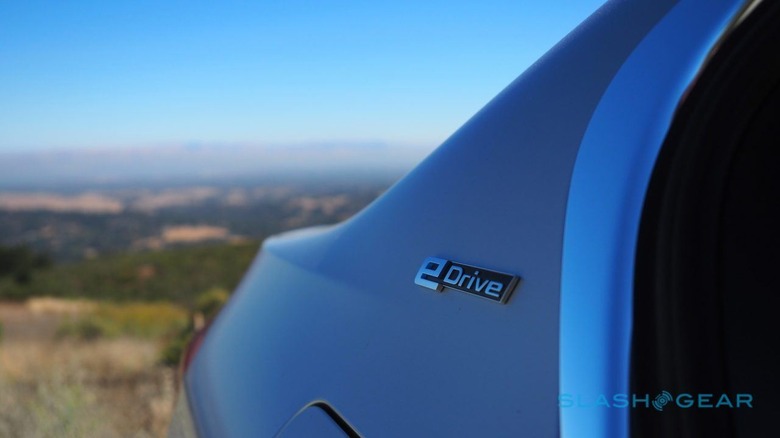 Each starts with the gas equivalent and factors in clandestine electrification. In the 330e's case, that means a 2.0-liter turbocharged inline four cylinder engine with 180 HP, combined with an 87 HP electric motor and a 7.6 kWh li-ion battery. The engine is under the hood, the battery under the trunk, and the gas tank sits under the rear seats. The electric motor is integrated with the 8-speed automatic transmission; both it and the gas engine push power to the rear wheels.
Like most other plug-in hybrids, the 330e can run in a choice of modes. For truly zero-emissions you can drive on battery power alone in Max eDrive mode, and at up to 75 mph, but EPA range is just 14 miles on a full charge and that's only with the lightest of right feet. Save Battery mode turns the electric motor into a permanent generator – usually it switches between drive and generator – and can bring the battery back to up to 50-percent of charge.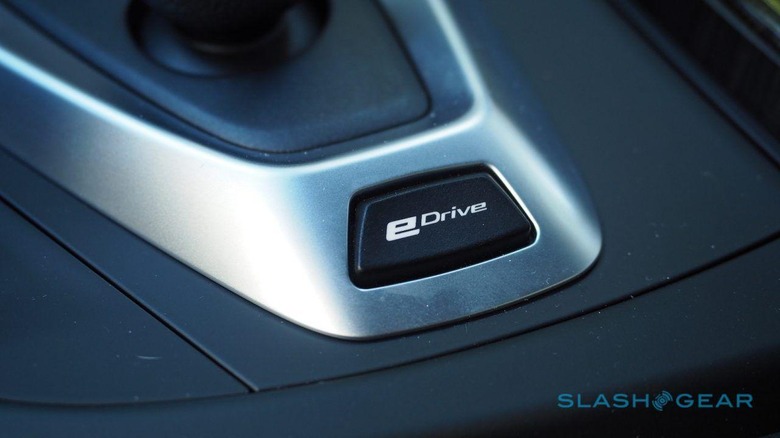 Auto eDrive is the default that the car starts in, with the gas engine making a quicker appearance. It's a smooth transition either way, a mild burble as the four-cylinder wakes. I never had an issue with overtaking and having to wait for the full powertrain to kick in.
Indeed, the 330e turned out to be surprisingly eager. I probably should have expected it, given the car's overall 248 HP matches that of the 330i but has a healthy bump in torque at 310 lb-ft. That's almost as much as the excellent 340i. The combination of instant electric drive as you pull away and then the twin-turbo engine kicking in should keep "Ultimate Driving Machine" skeptics happy, with 0-60 coming in 5.9 seconds, but there's enough refinement to satisfy the BMW's luxury promises too.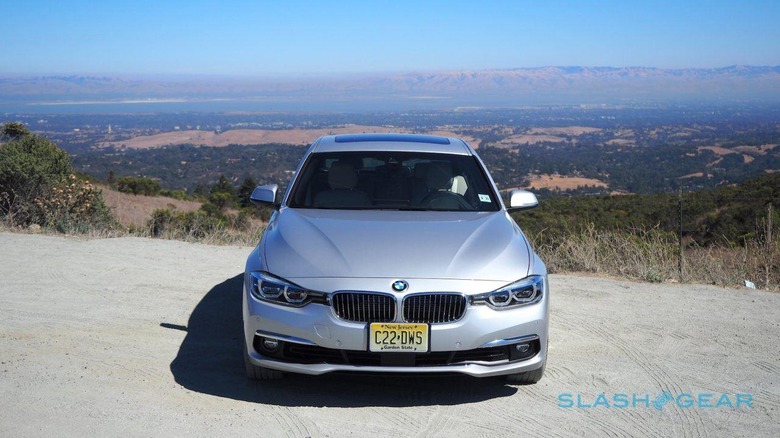 Overall EPA economy is 72 mpg-e (miles per gallon equivalent) and 31 mpg combined. In my own mixed driving I saw 29 mpg combined. More importantly, perhaps, there was no hair-shirt compromise: in fact, with that instant torque and the extra weight of the electrification hardware, the 330e felt more stable than some gas-only 3 Series I've driven. Regenerative brake feel is impressively similar to regular brakes, too, and even with its eco-ambitions, the 2.0-liter is pleasingly willing to chase its 7,000 rpm redline.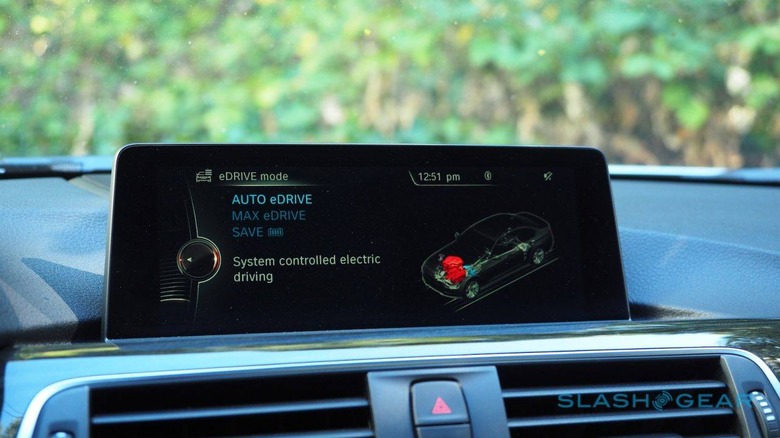 If you've got a Level 2 charger to hand, you can expect a full top-up in about 2.5 hours. On a 120V domestic connection, you're looking at an overnight charge, just like most EVs. BMW's ConnectedDrive app can flag up the nearest public charge points.
What's really clever, though, is that the 330e will predict the best way to blend gas and electric power. Program a destination into the navigation system, and the car looks at things like speed limits and current road conditions, and then switches between its various modes to suit. That way, for instance, electric power is saved for the city, where it offers the biggest bang-for-buck.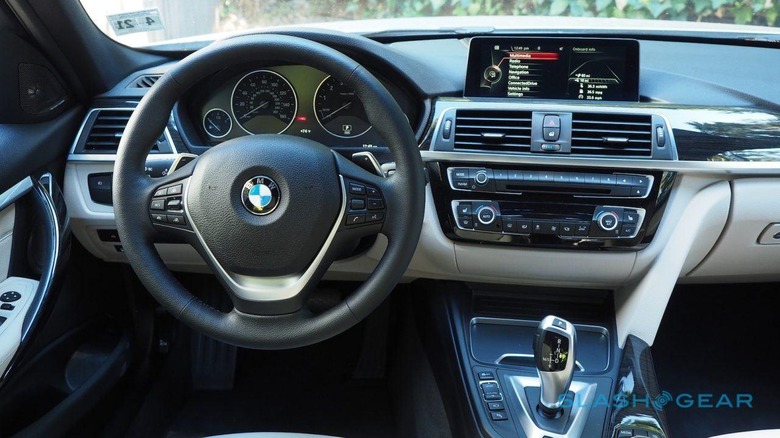 Inside, BMW's cabin delivers its usual mix of luxe and minimalistic restraint. It's a handsome place to be, even if rear seat room isn't vast for adults. The rear bench does at least fold with a 40/20/40 split but, even without that, trunk space is a useful 13 cubic feet – down 4 cubic feet from a non-hybrid 3 Series – and actually easier to load and unload since the raised floor is now about level with the opening.
Buttons galore on the dashboard and steering wheel control – along with the iDrive knob in the center console – a large, widescreen display atop the dash. I still think BMW's navigation layout is one of the best around, though the rest of its menus are a little too complex.
It's easy to tick options boxes until the car is seriously expensive, too: the $45,095 sticker (including $995 destination) quickly rises well above $60k if you want niceties like real leather, the $2,750 Technology Package with navigation, a head-up display, and app support, and the $1,700 Driver Assistance Plus package with adaptive cruise control, 360-degree cameras, and blind-spot detection. A $3k M Sport package upgrades the steering wheel and cabin trim, as well as fitting M Star-Spoke 18-inch wheels and sport suspension.
NOW READ: 2016 BMW i3 Review
Then again, bankruptcy-by-options-list is a peril buyers of the regular 3 Series face too, and really the BMW 330e is all about blending in with its more traditional siblings. With its relatively low all-electric range it'll take a fair while to make up the $5k difference in price between the 330e and 330i in gas savings, but there's more to the plug-in hybrid than simply being green. By borrowing the technology of the i3 but not its showiness, it stands a much better chance of coaxing conservative BMW owners out of their comfort zone, where they'll find punchy performance with minimal compromise.