2017 BMW 740e goes green(ish) with plug-in hybrid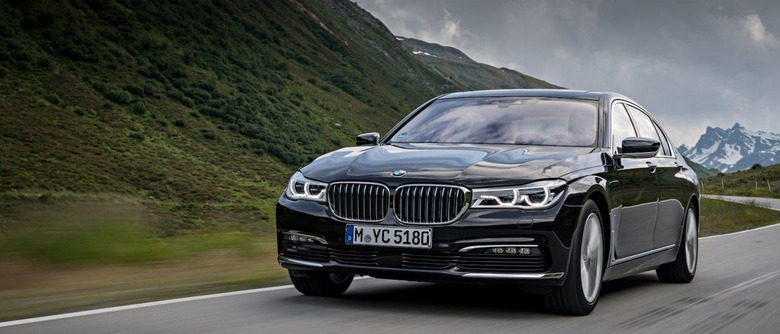 BMW's tech-packed 7 Series has gained a plug-in hybrid model, with the 2017 BMW 740e xDrive iPerformance borrowing tech from its i8 electric coupe sibling for greener luxury. The new car will hit dealerships across the US this month, BMW says, with an $89,100 sticker (plus $995 destination), undercutting the existing 750i by around $10k while also wearing a – slight – green halo.
While hybrid versions of big, high-end sedans might seem like a contradiction in terms, they're actually one of the more significant areas electrification has spread into. Lexus arguably kicked things off with its LS 600h hybrid all the way back in 2007, but since then Mercedes-Benz has embraced the idea wholeheartedly with a hybrid version of the S-Class.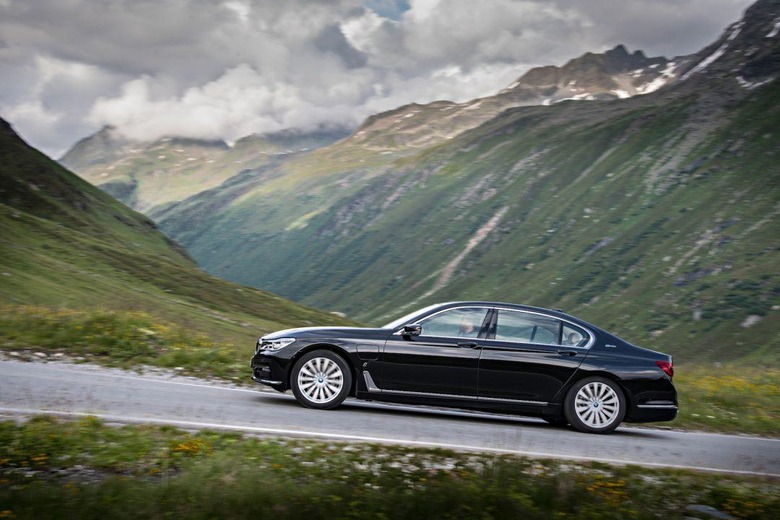 Meanwhile, Audi developed a hybrid version of its A8 luxury sedan, while the all-new A8 is expected to come as an electrified version among other powertrain options.
That won't land until 2018, however, giving BMW a chance to scoop its tech-heavy foe with the new 740e. To do so, BMW pairs a four-cylinder TwinPower Turbo engine from its EfficientDynamics range, mustering 255 HP and 295 lb-ft. of torque, with an electric drive good for 11 HP and 184 lb-ft. of torque itself.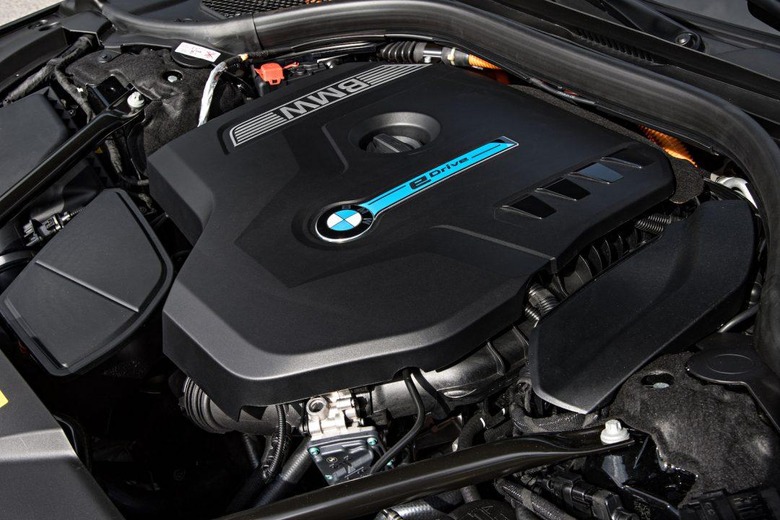 Both are hooked up to an 8-speed Steptronic transmission, for a total of 322 GHP and 369 lb-ft. of torque. BMW claims a 0-60 mph time of 5.1 seconds, and an electronically-limited top speed of 155 mph.
They're legitimately sporty numbers for what's a large, well-equipped sedan, though green fans will also be pleased to hear that the 740e is EPA rated for 64 MPGe. Electric-only motoring is possible, though don't expect Tesla-matching range: in fact, the car will only manage 14 miles before the gas engine has to kick in. Still, it can be driven at up to 75 mph in all-electric mode.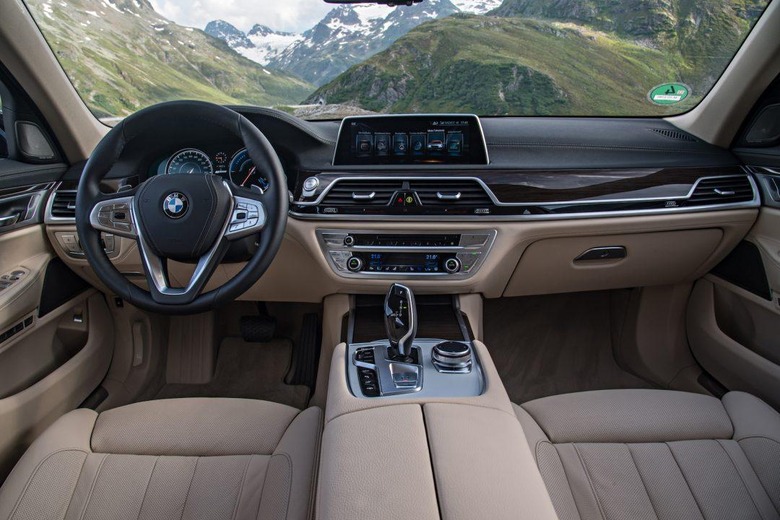 Four-wheel drive is permanent, with an electronically-controlled multi-plate clutch to push power to whichever wheel has greatest traction. There are three drive modes, the default being Auto eDRIVE which juggles gas and electric to try to balance efficiency and dynamics, preferring all-electric at sub-50 mph speeds and only kicking the gas engine in when you get aggressive with your right foot or when you climb above that speed.
Max eDRIVE leaves the electric powertrain in charge permanently, unless the accelerator is pushed down into the kickdown position, while finally Battery Control allows the driver to set a chunk of battery power – from 30- to 100-percent – to reserve for use later on.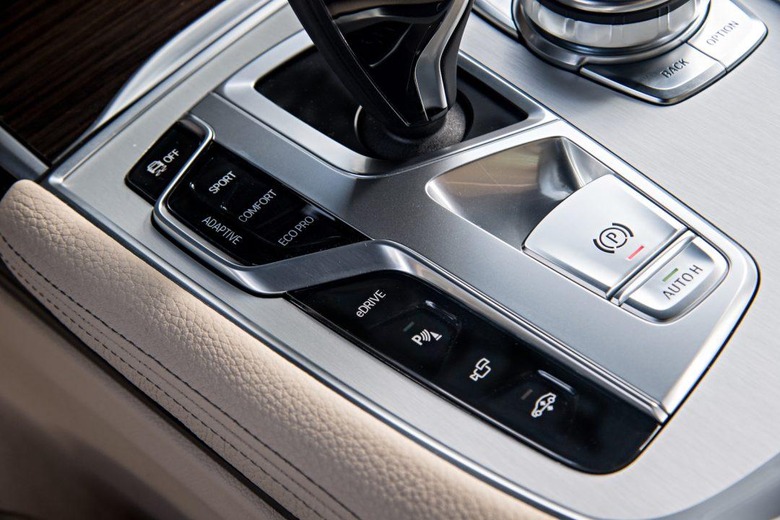 If the car doesn't have that degree of charge at the time, it'll automatically use the gas engine as a generator to reach the target. BMW says it'll charge fully in 7hrs from a 120V residential outlet, or under 3hrs from a 3.6 to 7.2 kW BMW Charging Station.
Finally, shifting the transmission into "S" automatically mixes gas and electric for maximum performance, with BMW claiming the jolt of instant torque from the electric motors give the feel of a much larger gas engine than the 740e actually has.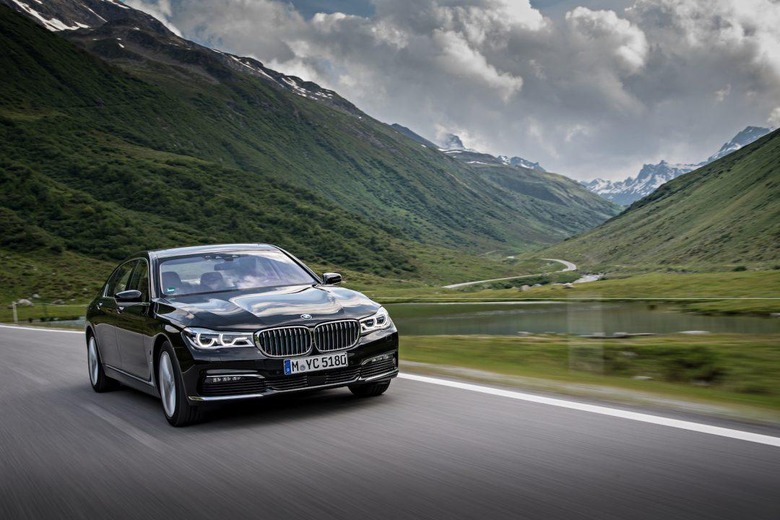 Inside, there's a new graphic display for hybrid monitoring, along with an auxiliary air conditioning system which can heat or cool the cabin on external power before you get into the car. That's all controlled via the BMW Display Key or the BMW Connected smartphone app.
NOW READ: 2016 BMW 750i Review
Like the BMW 750i, there's no shortage of luxury and technology. Two-axel air suspension, ambient lighting, and gesture-control for the infotainment are present, while options include Integral Active Steering, a Bowers & Wilkins audio system, active seat ventilation with massage, a panoramic LED roof, head-up display, semi-autonomous cruise control, and more.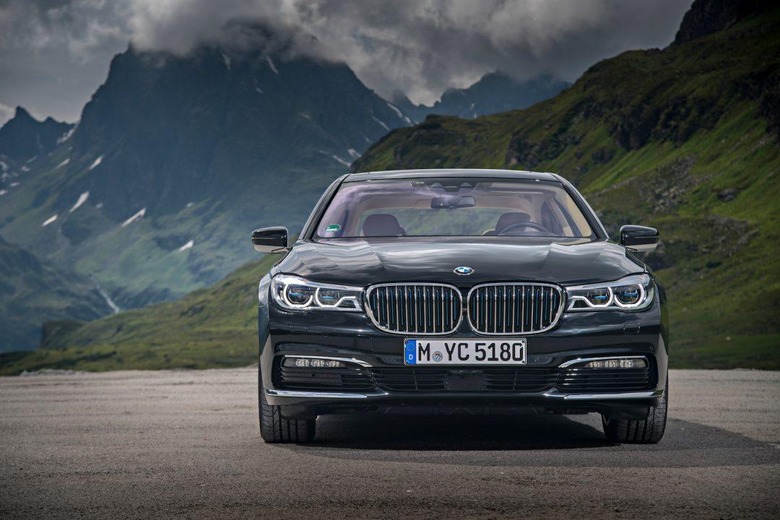 There's also an M Sport package for those wanting a more aggressive look.
While the 2017 BMW 740e xDrive iPerformance is never going to be mistaken for a fully "green" car, there's a lot to be said for making big, luxury vehicles a little lighter, a little more frugal, and a little more environmentally-conscious. It's in production now.