2014 Corvette Stingray C7 Rolls Off Production And Out To Dealers
Chevrolet has begun shipping the hotly-anticipated 2014 Corvette C7, with the first thousand cars expected to arrive at dealerships over the next few weeks. The two-door coupe, revealed earlier this year, is GM's fastest, most powerful, and most economical Corvette to-date, though that economy – as good as 30mpg – can only be achieved if you drive with a seriously light foot.
Most Corvette C7 owners are probably going to be more keen to take advantage of the car's performance. Chevrolet is claiming a 0-60mph time of 3.8s if you opt for the Z51 version, as well as at least 455 HP and from 460 lb-ft of torque.
Those who got their order in earliest might not necessarily be the first to collect their car, however. "To expedite delivery, vehicles may be shipped out of build sequence, which is a normal part of any new vehicle launch" GM says of the production; in short, wait until your dealer calls you, before you head down with a tent to wait for arrival.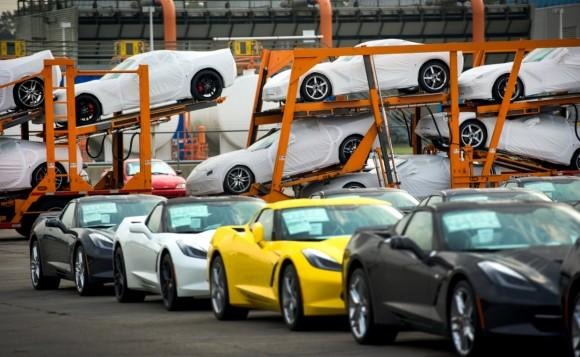 However, the new Corvette Stingray is about more than just performance. The sports segment has become increasingly competitive over the past years, and throwing a big engine into a low-slung chassis is no longer enough to guarantee sales success.
As a result, GM has focused on what it told us it calls "authentic design" on the outside, while the interior has seen a big revamp to deliver the sort of quality and refinement those also considering a Porsche or Mercedes might expect.
Meanwhile, the 2014 Corvette Stingray convertible is expected to begin production by the end of 2014. It carries a $5k premium over its hard-top cousin, which is priced from $51,995.