1Password gets touchy with Touch ID, goes freemium on iOS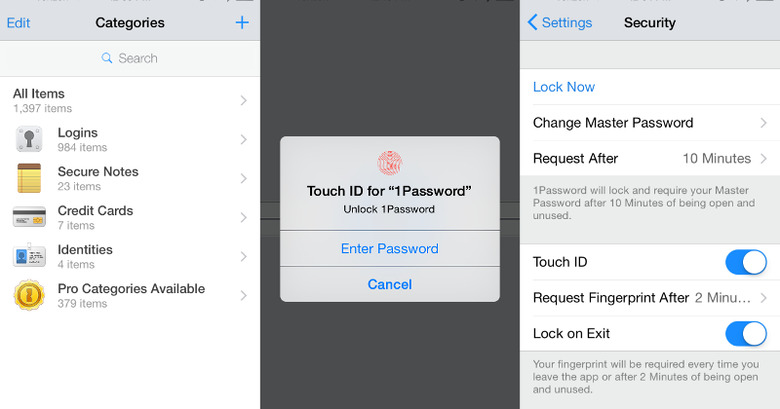 Agile Bits is bumping 1Password on iOS to the big version 5 and this update is more than just a simple improvement over the current release. First, it has now gained support for using your fingerprint to get access to your password vault. And second, it marks the transition of 1Password into a freemium service, at least for iOS users.
As expected, Apple's opening up of Touch ID to third party developers would cause a rush of apps getting into the biometrics game. We've already seen a possible feature in Tesla's upcoming Model S software update, and just yesterday Mint announced its jump to Touch ID. Given that the fingerprint sensor is used for security, it is a no-brainer that password management and secure wallet service 1Password would also be one of the first to join the band.
Using the new Touch ID feature is promised to be easy. You will still need to unlock 1Password vault with your master password for first time access, but once that's done, you will be prompted for your fingerprint for successive access to the vault. That is, at least until your auto-lock time runs out, which can set in in 1Password's security settings. Another distinguishable feature in this new version is the new Safari integration, letting users fill up logins within the iOS browser just as they would with other apps.
It seems that the good news for iOS users just never stops, at least for today. With 1Password 5, Agile Bits is moving to a freemium business model. This means that core features, which might be all that you will ever need, are offered for free, with more features hiding behind a paid subscription. Even better for existing 1Password 4 users, they will automatically be upgraded to a 1Password 5 PRO account for free. New users won't get that much freebies, but at least they will have the basics for free. One caveat though, considering 1Password 5 uses the newly-opened Touch ID, it isn't surprising that this latest version requires iOS 8, which shouldn't be a problem for recent devices as the updated has started rolling out already.
SOURCE: 1Password