iPhones will soon be able to start a Tesla Model S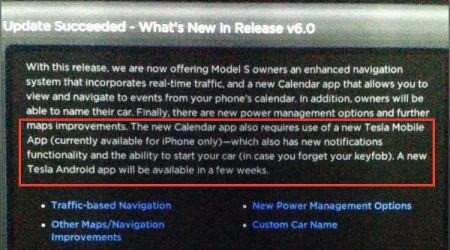 Tesla Model S owners will soon be able to use their iPhones, if they have one, to start their electric car in case they've forgotten where they placed their key fob. This new feature was spotted in an upcoming version 6.0 update to Tesla's operating system which is expected to roll out in the coming months.
One would naturally wonder how secure that feature will be. The theory is that this Model S integration will be tied to Touch ID and iOS 8, which will be launching next month with the new iPhone. As part of iOS 8's big reveal, Apple has opened up its Touch ID sensor to third-party app developers, enabling them to use this biometric security for their own apps, which is what Tesla might have done.
But how secure will it really be? Touch ID has not exactly been the most foolproof identification system, with some evidence floating around the Internet of attempts to deceive or even downright bypass it. And the Model S isn't exactly the most secure EV either, as some hacking attempts have proven. That said, unless someone else gains physical access to the iPhone paired with the car, it might not be too much of an issue. At least not yet.
The update to Tesla's OS will also bring a couple of new features not directly related to the iPhone. New power management options allow you to save more battery during the night or, alternatively, use up more power by using its "Always Connected" feature. The calendar will allow you to view the current day's appointments, sourced from your smartphone, and even offer navigation directions if it has a location attached to it. There is no official announcement yet or even an estimated date for the update but sources indicate that the OS is already in beta testing and is being finalized for a final release. The update also mentions a new Android app coming later, but it isn't yet known if it will get that same new feature as well.
VIA: 9to5Mac