This Aston Martin Whiskey Bottle Is More Expensive Than A Brand New Vantage Coupe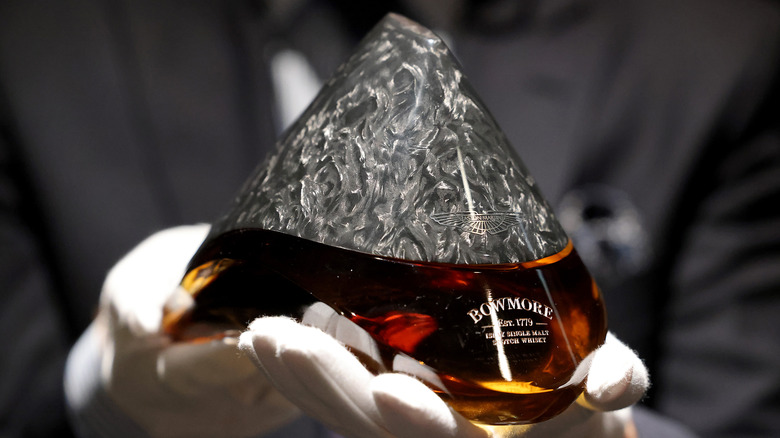 Neil P. Mockford/Getty Images
Aston Martin is known for building expensive cars, but a lucky auction winner will soon be able to own a bottle of whiskey designed by the company that's even pricier. The Sotheby's auction, which began in London on May 12, and ends May 26 at 2:00 PM British Summer Time, is selling the Bowmore Arc-52 Mokume: a limited edition bottle that contains 52-year-old vintage whiskey by Bowmore Distillery. 
Only 100 are being produced, and won't be made again. The bid opened at 140,000 GBP, or $168,924 USD — more than the retail price of a 2023 Aston Martin Vantage Coupe ($146,986), or even a 2023 Aston Martin Vantage Roadster ($150,086). By the end of the auction, bids are estimated to climb to approximately $265,450 USD.
The winning bidder of the Bowmore ARC-52 "Mokume Edition" will also be able to visit Bowmore Distillery on the island of Islay, off the west coast of Scotland. There, they can experience Aston Martin's rare luxury SUV, the limited-edition DBX Bowmore. Proceeds from the auction will be donated to various initiatives that aim to help boost Islay's distilling industry and maintain its long-term health.
Mokume-inspired design
The Bowmore Arc-52 Mokume Edition gets its name from the Japanese metalworking technique "mokume-gane," which translates to "wood grain metal." Aston Martin designed the striking, futuristic-looking decanter with a carbon-fiber top that recalls mokume-gane aesthetics; its mixed-metal laminate resembles the wood-like texture associated with the technique.
It also calls to mind the layered, natural black rocks that can be found in the bay of Loch Indaal, where Bowmore Distillery is situated, as well as the charred inside of the casks in which the whiskey was distilled for over half a century.
The overall result is a gorgeous, unique decanter that, like Aston Martin vehicles, can't help but draw attention to itself. "As makers of bespoke and beautiful objects," says Marek Reichman, executive vice president and CCO of Aston Martin, "proportion, shape, and form, along with careful selection of colors and materials, are incredibly important to us at Aston Martin." 
Paying homage to Bowmore's contribution, he adds, "We think the vessel containing this magnificent whiskey reflects the rarity and distinctiveness of the precious spirit found inside."
The 'precious spirit' inside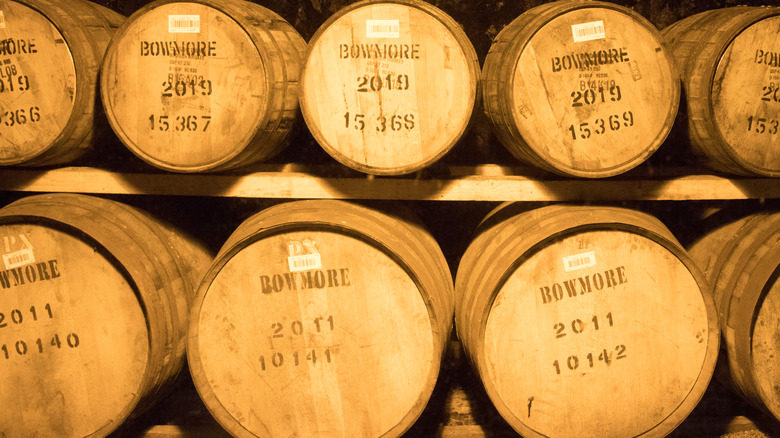 Robert Colonna/Shutterstock
The whiskey being sold inside the decanter is just as impressive as Aston Martin's bottle. Bowmore's single malt is a mix of vintages from 1962 and 1968 — considered an iconic era for the distillery. They're also some of Bowmore's oldest vintages. The whiskey was aged in Sherry-seasoned European oak and American oak Hogshead casks, and is 52 years old.
The spirit has an ABV of 43.5%, and is a deep-burnished gold color, fitting for the high-luxury product. The palate of the Bowmore Arc-52 is said to be sweet, fruity, and citric, with nutty and oaky notes as well. Sotheby's describes the whiskey as having "fresh and fruity notes, with a nod to the rich sweetness of crème brulé, [and] sees the emergence aromas of apricots, green apples, orange zest, and guava." 
In its description of its nose, Sotheby's also mentions that it contrasts these scents with notes of menthol, eucalyptus, and licorice root.
Of course, words can describe the nose, feel, and taste of a drink only so far. If you want to experience the Bowmore Arc-52 Mokume Edition for yourself, as well as ride inside a rare Aston Martin luxury SUV on a Scottish island, you'll need to place the winning bid. Good luck — if you can pony up the thousands of dollars.