2024 Kia EV9 Three-Row Electric SUV Reveals Range, Power And Tech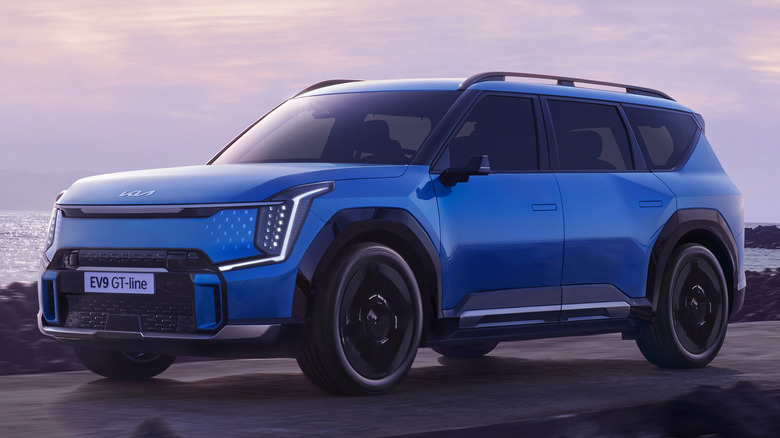 Kia
Two weeks ago, Kia revealed key design aspects of its highly anticipated EV9 three-row all-electric SUV. Today, we finally have full details about powertrains, dimensions, and features. Like its little brother, the EV6 crossover, the EV9 rides on Hyundai Motor Group's 800-volt E-GMP platform, which results in very fast charging times. In fact, Kia claims that the vehicle can add approximately 148 miles of range in only 15 minutes of charging.
Besides offering ultrafast charging speeds, this platform is capable of vehicle-to-load (V2L) power, which uses the vehicle's energy to power devices such as tools, small appliances, or even another EV. V2L is also handy for providing an electrical source in remote areas, like while camping.
The EV9's exterior dimensions are almost identical to Kia's existing Telluride SUV, however, dimensions alone don't tell the whole story. The EV9's wheelbase (the distance between the front and rear axles) is nearly 8 inches longer than the Telluride, which, combined with the E-GMP platform's lower floor, yields a more spacious passenger compartment than the Telluride in the same size package.
It can be very slow or very quick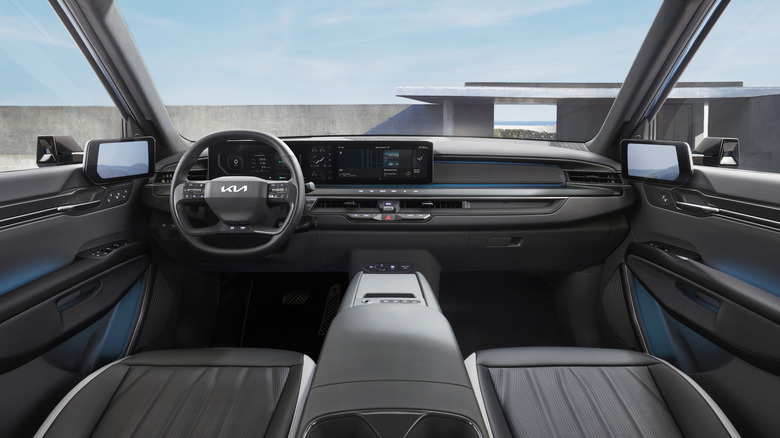 Kia
The EV9 will be available with two different battery sizes and three different configurations of electric motors. The Standard RWD option receives a 76.1 kWh battery pack, while a larger 99.8 kWh battery powers both the Long Range RWD and AWD configurations. The Long Range RWD is the least powerful, with a 201 horsepower motor at the rear axle that pushes it from zero to 60 mph in an extremely lethargic 9.4 seconds. The estimated range for this model is 336 miles on a full charge. 
Do note that the estimated range was calculated using the more lenient WLTP method. When the range estimate is recalculated using the stricter EPA method in the U.S., expect that 336-mile figure to drop below 300 miles. Next up is the Standard RWD model with its 214 horsepower motor. With more horsepower than the long-range version and a smaller, lighter battery pack, this model achieves zero to 60 mph in 8.2 seconds. Better, but still pretty pokey. Unfortunately, Kia did not provide a range estimate for this model.
Lastly, we have the AWD variant, which packs a 371-horsepower punch from dual motors that scoot it from zero to 60 mph in a respectable 6.0 seconds flat. Interestingly, the automaker has indicated that an optional Boost feature will be available for purchase at the Kia Connect Store, which increases torque and facilitates a faster zero to 60 mph time of just 5.3 seconds. Once again, no range estimate was provided for the AWD model.
Technology will continue to roll out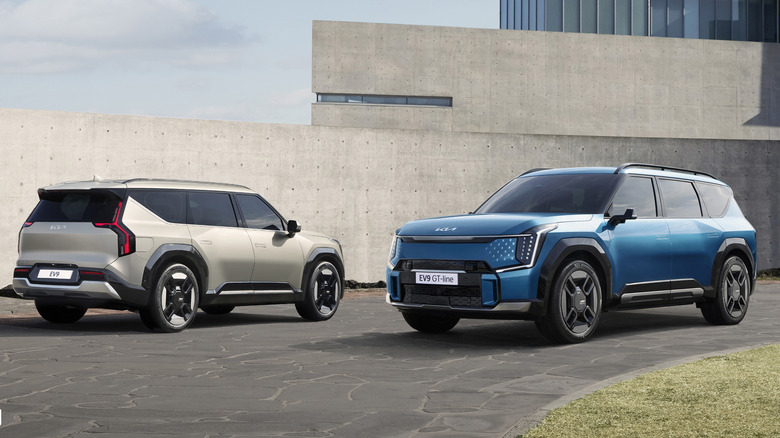 Kia
Speaking of the Connect Store, Kia mentioned that drivers will be able to purchase future features and services on either a piecemeal or subscription basis, which will then be installed over the air without the need to visit a dealership. One of those features is likely to be "Highway Driving Pilot," a Level 3 autonomous driving system that the brand is developing. Early adopters will also miss out on a GT-Line that is slated to roll out later this year. 
According to Kia, "The GT-Line model ... features a unique aesthetic that distinguishes it from the standard model. The front and rear bumpers, wheels, and roof rack have undergone a transformation, donning a distinctive black color palette that exudes a strong and assertive presence, setting it apart from its standard counterpart. Notably, the GT-Line features an exclusive digital pattern lighting grill that adds an element of dynamism and sophistication to its already impressive design." So contrary to what the name might imply, the GT-Line is strictly an appearance package that shouldn't affect performance.
Official pricing for the EV9 hasn't been revealed yet, but information leaked to Car and Driver earlier this year indicates a range between $56,000 and $73,000. Kia says the three-row electric SUV will go on sale in the second half of this year, but if you want to see it in person, it's making its North American debut at the New York International Auto Show on April 7 through April 16.