The Apple AirPods Pro 2 Could Make A Mid-Life Switch To USB-C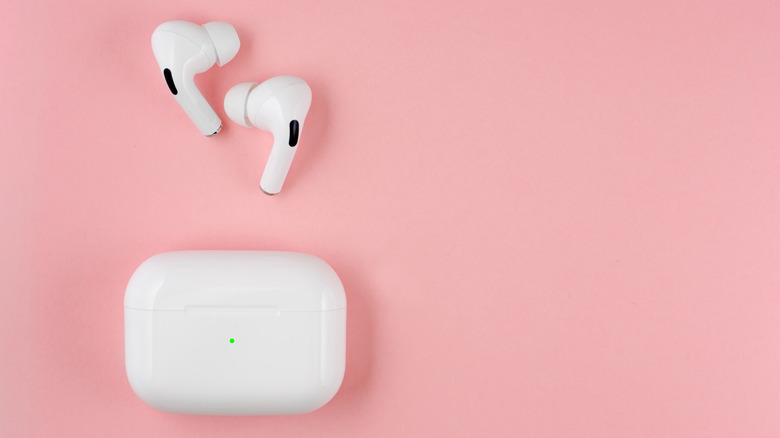 Ivan_Shenets/Shutterstock
It is extremely likely that Apple's upcoming iPhone 15 lineup will ditch the archaic Lightning Port in favor of USB-C when the devices launch later this year. While Apple has been gradually switching to USB-C on its laptops and tablets, it took comprehensive legislative action from the European Union for Apple to accelerate the process for the company's iPhone lineup. Finally, late last year, Apple begrudgingly agreed to an EU ruling that mandated the use of USB-C on all mobile devices — including the iPhone. However, it looks like it's not just Apple's upcoming iPhones that will adopt the USB-C standard later this year. A string of recent rumors indicates the likelihood of Apple's popular wireless earbuds — the Apple AirPods Pro 2 — also switching from Lightning to USB-C this year.
The initial source of the rumor is Twitter user @aaronp613, who came across references to new AirPods and AirPods cases within iOS 16.4 code. The model numbers that Aaron came across in his research include A3048 and A2968. Aaron believes that the A3048 refers to an upcoming AirPods model, while the A2968 model number belongs to the charging case for the same device. While Aaron did not claim that these new AirPods will use USB-C, his tweet was referenced by noted Apple analyst Ming-Chi Kuo who believes that these new model numbers could belong to the USB-C version of the Apple AirPods 2. In his tweet, Kuo also postulates the possibility of these USB-C AirPods debuting in the second or third quarter of 2023.
No USB-C for the cheaper, non-Pro AirPods?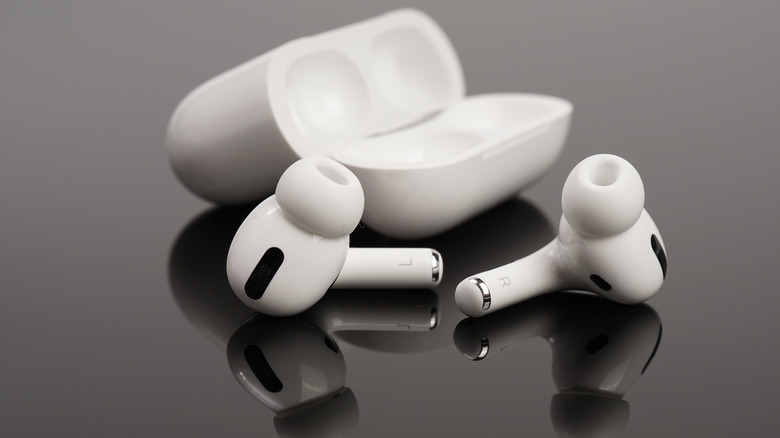 Mohd Syis Zulkipli/Shutterstock
Interestingly, it seems not all of Apple's legacy AirPods will be switching to USB-C in 2023. In his tweet, Ming-Chi Kuo also notes that only the AirPods Pro 2 models will make the switch in 2023 and that Apple has no plans to change the Lightning Port on its existing entry-level AirPods 2 and AirPods 3 wireless earbuds.
I think this is likely the USB-C version of the AirPods Pro 2, with mass shipments expected in 2Q23-3Q23. By the way, Apple currently appears to have no plans for USB-C versions of the AirPods 2 & 3.

我覺得這應該是AirPods Pro... https://t.co/aWKJvGh1lW

— 郭明錤 (Ming-Chi Kuo) (@mingchikuo) March 24, 2023
Including a USB-C connector on the AirPods Pro 2 would make it easier for users to connect them to a broader range of devices, as USB-C is becoming increasingly popular across various gadgets. In addition, given that USB-C offers faster charging speeds than Lightning, the switch could also lead to shorter charging times for the AirPods Pro 2, although Apple would need to enable this feature on the charging case for the AirPods Pro 2.
Given that Apple has faced severe criticism for its reluctance to switch from Lightning to USB-C, two of its popular products making the transition in 2023 could be seen as a welcome move. In fact, it would only accelerate the process that Apple started a few years ago by adopting the USB-C standard on the company's MacBook and iPad Pro models. All that being said it would be advisable for consumers to wait for the official announcement from Apple for the rumored USB-C AirPods Pro 2 before setting this in stone.