Samsung's Surprise Package For 2023 Could Be A Tri-Folding Phone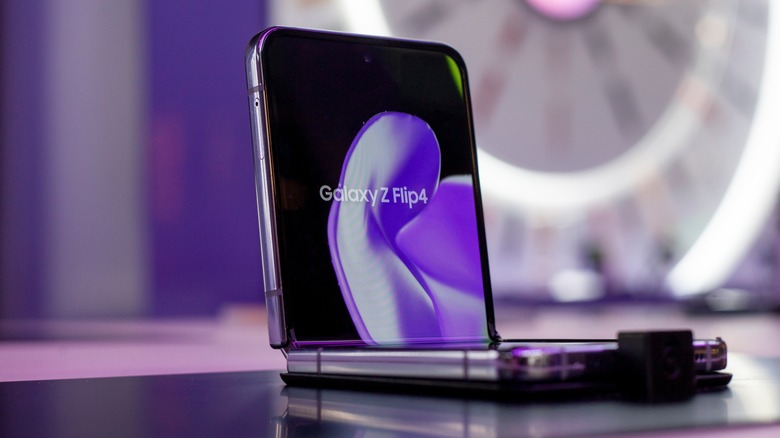 OKcamera/Shutterstock
Samsung continues to be a leader in the foldable smartphone segment, after virtually creating the segment in 2019. As of 2023, the company offers consumers two distinct foldables: the vertically-folding Galaxy Z Fold series, and the clamshell/flip phone style Galaxy Z Flip series. While these two form factors have proven highly successful for the company, Samsung has been exploring other foldable form factors for a while now. In fact, rumors suggest Samsung's 2023 foldable lineup could include an entirely new foldable device.
Noted Indian leaker Yogesh Brar has made several claims about Samsung's 2023 plans. Brar claims that Samsung is not too keen on releasing the Samsung Galaxy S23 FE in 2023. Yogesh didn't reveal the reasons behind Samsung's sudden lack of interest in its Fan Edition phones, but went on to share that the company could launch a tri-folding phone this year, alongside the Galaxy Z Fold 5 and the Galaxy Z 5 Flip. Brar also claimed that the company's Flip and Fold series would continue to incorporate several improvements.
As for the tri-folding device, Brar hasn't shared any other details like specs or price for the phone. That being said, Samsung has been experimenting with various form factors for several years now, with the tri-folding design being one of them.
What to expect from Samsung's tri-folding phone?
Given that we have no images or details of Samsung's rumored tri-folding phone, we can only speculate on the design language the device could adopt. That being said, we could find some clues about Samsung's tri-fold approach by looking at the futuristic foldable panels that Samsung's display division has showcased to consumers in the past. In 2015, Samsung even applied for a patent detailing a tri-folding display. However, it remains unclear if the concepts showcased in the patent will ever make it to production.
There is no Galaxy S23 FE in the development chain unlike what the recent rumours have been pointing..

Samsung is instead working on the improved Z Fold 5 & Flip 5 along with a Tri-Fold that might finally ship this year

FE fans should look elsewhere...

— Yogesh Brar (@heyitsyogesh) March 24, 2023
The last time Samsung showcased its wide array of foldable OLED screens was during CES 2023. Back then, the company displayed a new kind of OLED panel called Flex Hybrid OLED. The unique thing about this display was its ability to fold on one side and slide on the other side. The display that was showcased at CES measured 10.5 inches across when folded. However, it could expand to 12.4 inches when completely opened. 
In addition to this, Samsung also showcased a tri-folding display with two hinges at CES 2023 — with one hinge enabling an inward fold, and the other enabling an outward fold. It remains to be seen which of these fold mechanisms Samsung intends to adopt on its rumored tri-folding foldable phone. Nevertheless, if Samsung's new foldable does become a reality, the device would mark a significant step forward for the unique form factor.