Apple HomePod With 7-Inch Display Could Be Revealed In 2024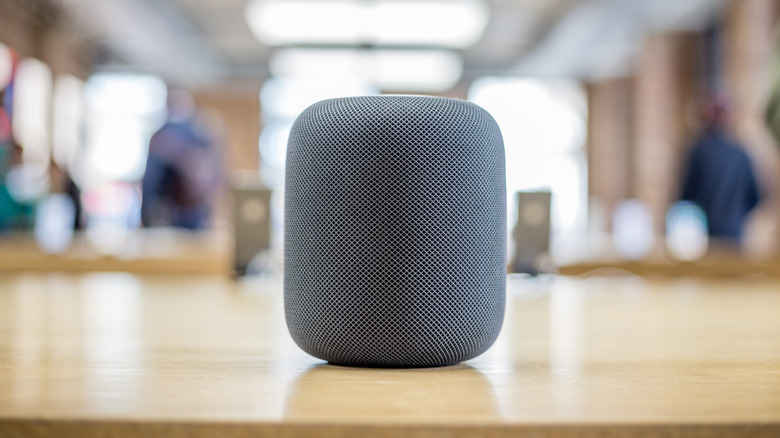 Ksenija Toyechkina/Shutterstock
When Apple's first smart speaker launched in 2018, the Apple HomePod was positioned as the company's answer to the comprehensive range of smart speakers from Amazon, Google, and Sonos. In 2019, just over a year after the launch of the first-gen HomePod, Apple announced the HomePod Mini; a smaller, but equally capable smart speaker positioned as a more affordable version of the standard HomePod. The Apple HomePod Mini cost just one-third the price of its large sibling, but also lost out on the sound quality and overall loudness.
Until January 2023, the HomePod Mini from 2019 was the last HomePod product from the Apple stables, forcing some people to think that the company had entirely given up on the lineup. However, in January 2023, four years after the HomePod Mini's launch, the company came up with a new full-sized HomePod. 
The new device, also called the Apple HomePod, was positioned as a successor to the original HomePod from 2018. It featured several feature upgrades — including built-in temperature and humidity sensors.
While Apple has shied away from revealing future plans for the HomePod lineup, several Apple analysts have hinted that future HomePods could also become a central part of Apple's smart home ecosystem. The latest in a series of Apple HomePod-related rumors comes from noted Apple analyst Ming-Chi Kuo, who indicated that Apple could launch a revamped HomePod model in the first half of 2024.
The first Apple HomePod with a display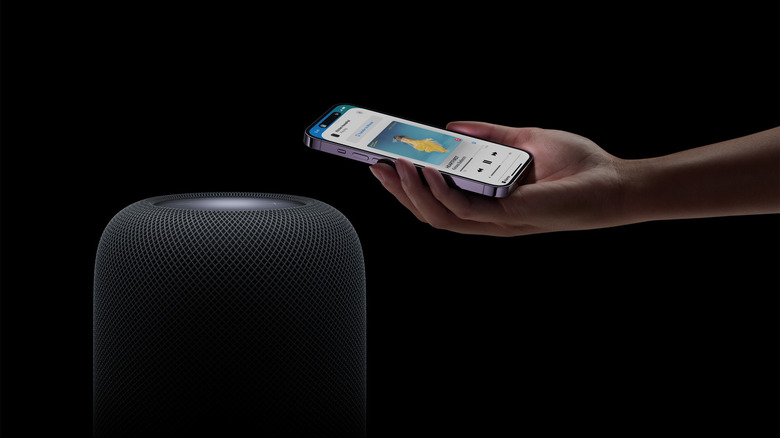 Applw
In a note penned on his Medium blog, Ming-Chi Kuo claims that Apple is working on designing a new HomePod model for 2024. Unlike existing HomePod models that only function as a smart speaker, this upcoming HomePod product will combine the prowess of a smart speaker with the additional functionality of a 7-inch touchscreen display. Apple is reportedly working with a company called Tianma to source the 7-inch panels that will supposedly adorn this upcoming HomePod model.
Kuo also claims that this screen-toting HomePod will almost certainly have "tighter integration" with existing and future Apple products. In addition, the touchscreen will also enable easier access to a lot of features enabled by Apple's smart home strategy. Finally, Kuo also asserts that this HomePod model will mark a significant shift in the company's plans for connected smart homes of the future.
Apple's plans for this upcoming HomePod model do not entirely come as a surprise, given that the company has been looking to compete with Amazon and Google's offerings in the space for a long time now. If Apple can bring this display-toting HomePod to the market by 2024, it will launch compete against the 2nd Gen Google Nest Hub, in addition to the upcoming Google Pixel Tablet, which is rumored to sport several home-automation oriented features.