Ring Vs. Blink: Which Security Camera Offers The Best Features For Your Money?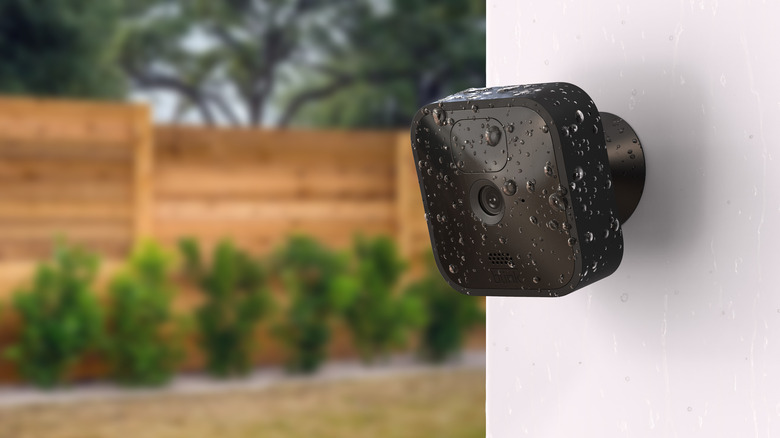 Blink
We may receive a commission on purchases made from links.
Amazon's Ring and Blink security camera offerings, understandably, confuse shoppers who are either expecting them to be differentiated more than they are because they're owned by the same company, or expecting them to be more similar than they are in order to avoid cannibalizing each other's markets. But in reality, since acquiring both companies in 2017 and 2018, Amazon has put on a master class of both convergence and differentiation to create two very different sets of offerings that, together, cover huge swaths of consumer needs.
Take, for example, the lines of floodlight cameras offered by the two brands. Ring and Blink have converged functionality that could insulate them against outside competition, such as the introduction of color night view to Blink cameras, formerly a feature of only the Ring cameras. This consolidation of features, mostly flowing from the higher-end Ring cameras down to much cheaper Blink models, is strengthening the entire lineup. But if you're in the market for a floodlight cam, you still have distinct choices between the companies products. 
The $199 Ring Floodlight Cam Wired Plus, Blink's first wired outdoor camera, is a substantial step up in price from the $99 Blink Wired Floodlight Camera. The Ring floodlight cam has a slightly better field of view, more motion detection and zone customization options, and other minor differences, but the features that mark it as a different class of device have to do with how the camera functions within Ring's home security ecosystem.
Incidentally, the relatively new Blink Floodlight Cam Wired Plus might be a sign of things to come for Blink, and if so the playing field between Blink and Ring is likely to be leveled even more in the near future. It has a better field of view than other Blink devices, has color night vision like Ring cameras, and brighter lights than Ring's wired cams.
Variety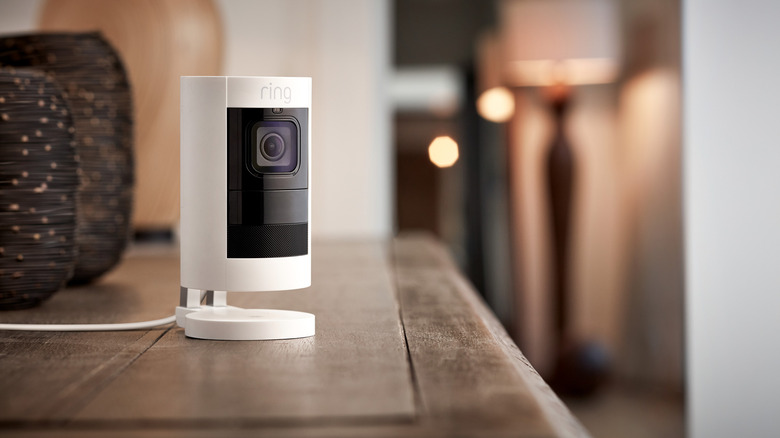 Ring
Because Ring and Blink options are perpetually in transition, it can be difficult to get a handle on exactly what each offers and how they compare. Blink, for example, offers Mini, Indoor, and Outdoor cameras, and now a wired floodlight camera as well. Their wireless floodlight camera is, at least for now, an Outdoor model added to a floodlight mount (the wired version is completely different). Likewise, Blink's Mini Pan-Tilt camera is simply a Mini camera with a Pan-Tilt mount added. This all is made maddeningly more complicated by the fact that the Sync Module 2 is included with some cameras (wireless Floodlight, Indoor, and Outdoor) but not others (Wired Floodlight, Mini, and Mini Pan-Tilt). The Sync Module lets you control multiple cameras from your mobile app, and record motion-activated video locally; more on this later.
Ring basically has five camera models with variations in how they're powered: Indoor, Stick Up, Floodlight, Spotlight Plus, and Spotlight Pro. The Floodlight and both Spotlight models are available in wired, plug-in, battery, and solar versions. The hilariously named Stick Up Cam is available in plug-in, battery, and solar versions; there's no direct-wired version because an AC-to-DC transformer is required. The Indoor cam is only available in a plug-in (5v micro-USB) version. There's also the unique case of the Stick Up Cam Elite, a power-over-ethernet (PoE) version of the Stick Up Cam. The Stick Up Elite also has 802.11 b/g/n Wi-Fi, but it's not clear why you would ever use it with a device that gets power from an ethernet cable.
Video quality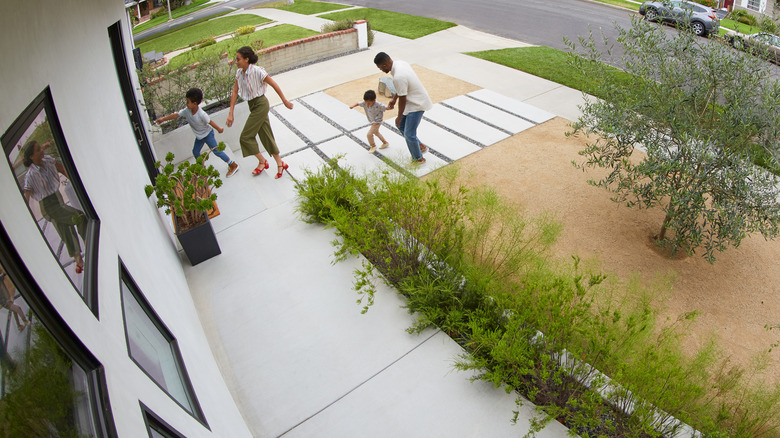 Ring
Blink and Ring cameras all currently sport 1080p video of generally comparable quality. Not long ago, Ring set itself apart by offering HD color night vision, while only the new Blink Wired Floodlight cam incorporates this feature. The other Blink models rely on infrared photography, and the results don't thrill everyone. Infrared is black-and-white, with white areas representing the most heat. This makes for uneven or unexpected areas of high and low contrast. Users experienced with infrared photography seem to be more receptive to Blink's picture quality.
Ring cams have, on average, a wider field of view, with most offering a horizontal field of view of 140-150 degrees. The Ring Stick Up and Indoor cams feature 110- to 115-degree horizontal fields of view, closer to Blink's lower range. Blink specifies its cameras using figures for a diagonal field of view, which can create the impression of more range than they actually have. For example, the Ring Stick Up has a 110-degree field of view horizontally but the Blink Mini features 110 degrees diagonal, which corresponds to about 102.4 degrees horizontal in a 1080p camera with a 16:9 aspect ratio. In other words, Blink's figures are a bit misleading.
Subscription service, self-hosting, and local storage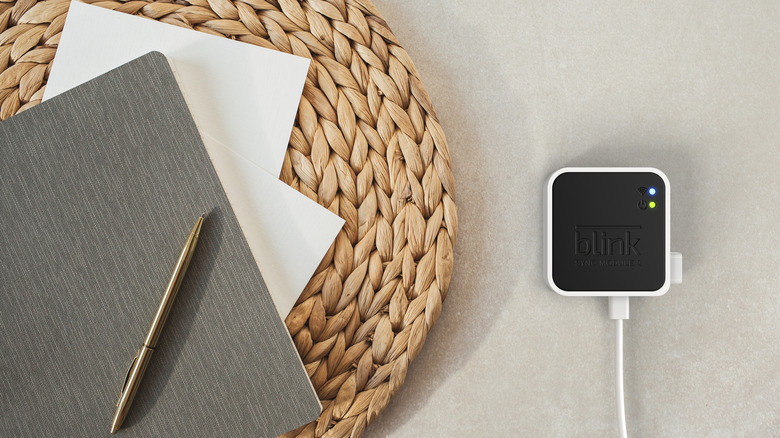 Blink
At first glance, Ring and Blink's subscription services are nearly identical, but when you dig into the details you realize that this is actually where the two camera lines are most differentiated. Both divisions have subscription plans starting at $3 per month for a single camera and including motion-activated notifications, live streaming, and photo capture. The $10 Ring and Blink plans both cover an unlimited number of devices. Blink's $10 plan adds person detection capabilities and video download capabilities. Both $10 plans kick in some additional warranty protection for devices.
Ring also has a $20 Ring Pro plan that includes some features that make Amazon's strategy a little clearer. These include 24/7 professional monitoring, alarm cellular backup, and 24/7 backup internet access via a cellular connection. These are the building blocks for a top-notch security system and ultimately set the Ring devices apart from Blink's. Ring's Alarm Pro Base Station, which has its benefits and its faults, brings additional security functionality to the party, including battery backup and sensory monitoring.
Blink does have one feature that's uncommon on Ring devices: with a $34.99 Sync Module 2, you can store up to 256 GB of video locally even without a subscription plan. Ring's $20 plan, coupled with the $249.99 Alarm Pro Base Station, also enables local storage for cameras with the exception of Floodlight Cam Wired Pro and 1st Gen Stick Up Cams. Blink's Sync Module 2 requires a USB flash drive, while Ring's Alarm Pro requires a Micro SD card.
The Sync Module 2 now comes with many Blink cameras, and it's a critical component if you try to avoid cloud service entanglements for privacy or other reasons, or if you're in the recent wave of self-hosting advocates who avoid such dependencies.
Mounting and installation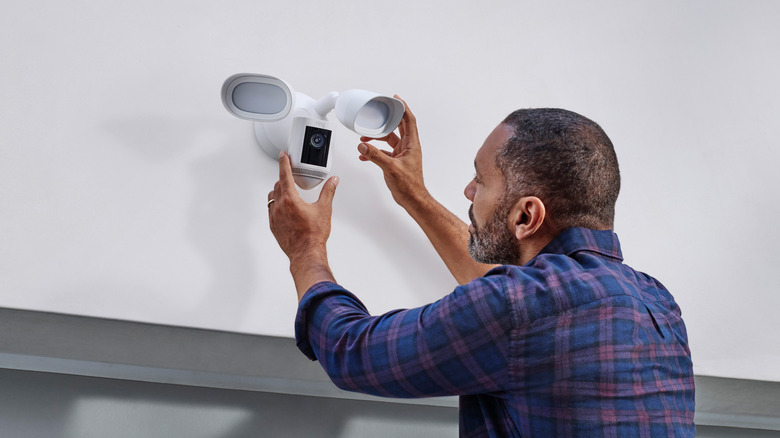 Ring
As you might expect from the price and feature differences, there's more to do when setting up Ring cameras, and also more help available for it. Professional installation is available from Ring for both cameras and full security packages, but it adds $99-150 to the price of its cameras. The Floodlight Cam Wired Pro, for example, jumps from $249.99 to $399, so you'll probably only want to seek help with hardwired models if you don't have an existing junction box to work with. If you do have a junction box (for example, for a previously installed floodlight), even hardwired installations are no more complicated than installing a standard light fixture, and less complex than a ceiling fan. In general, though, Ring installations are simple enough if you prepare properly.
You might also need assistance if a complex ethernet cable installation (such as home-running ethernet cable to a switch or router) is required, as for the Stick Up Cam Elite. Otherwise, DIY installation is the norm and both companies strive to keep their cameras easy to install.
Device setup and configuration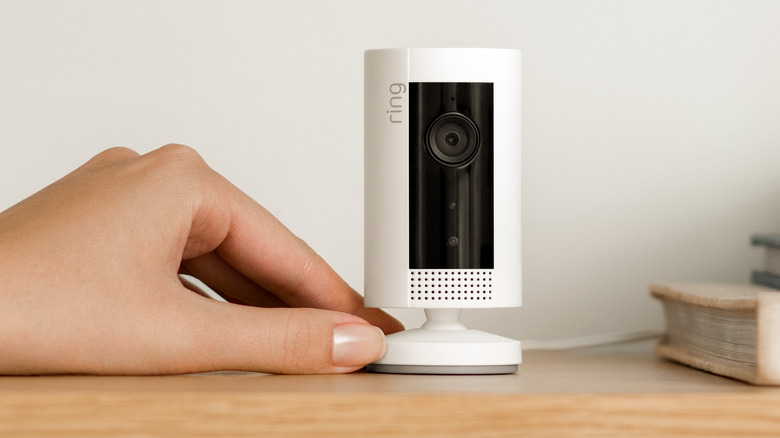 Ring
Installing and setting up the software and accessories is generally easy as well. For a Blink camera, you'll start by installing the Sync Module 2, if you have one. This is done from the Blink mobile app and largely involves scanning the QR code on your device and connecting it to your Wi-Fi. Setting up the camera itself is about as simple, and also takes place within the Blink app. You might want to complete this step before the final mounting of your camera since you'll need to scan a QR code within the camera's battery compartment. The process is basically automatic from that point.
Like Blink, Ring has exceptionally good, clear, and well-illustrated installation instructions – and Ring's process is fundamentally the same as Blink's. This is the basic process for a Stick Up Cam: set up the camera before mounting it, preferably near your Wi-Fi router to speed things up and eliminate transient problems. Click Set Up a Device and scan the camera's QR code. Put the camera into setup mode by pressing the orange button on its back, join the device's Wi-Fi network, give the camera your Wi-Fi credentials, and you're basically done. Obviously, setting up a full alarm system is a whole other matter.
Mobile apps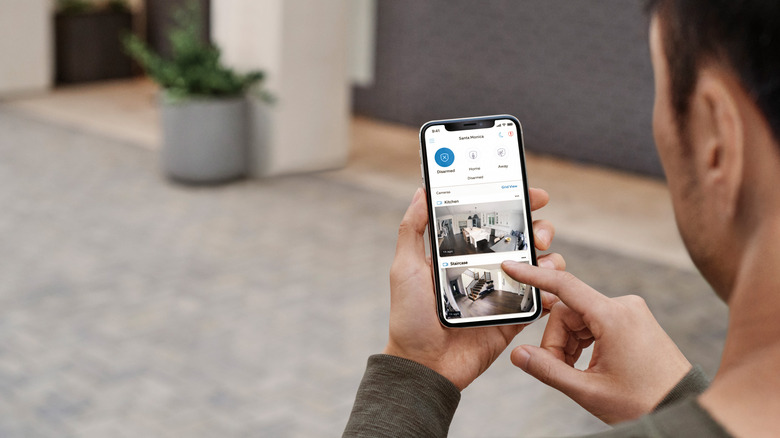 Ring
It's difficult to tell exactly what it means, but in general, the Ring mobile apps are better-received than Blink's. This could be because Ring's apps simply do more, creating satisfied users whereas Blink's less sophisticated app might leave them wanting more. The Blink app, called Blink Home Monitor, is mostly just that: a monitoring mechanism. You can interact with all of your Blink cameras within the app (with a $10/month subscription) with live view and two-way audio. The app is also where you'll set up and receive notifications originating from detected motion.
The Ring app, on the other hand, pulls together a lot more possibilities, many of them requiring and relying on Ring Protect plans. From the Dashboard, you can quickly navigate via tiles that can be reordered to fit your priorities. You can also monitor any of your devices (subscription required, of course) and easily switch to live view. There's a snooze button that lets you temporarily disregard motion alerts (some meetings are more important even than a break-in at your home), and some features related to the Ring Alarm system if you have one. Deeper in the app, you can view a map of nearby incidents and each device's alert history. The side menu gives you access to your Neighbors feed and various settings for cameras, locations, and alarms. There are also options to manage devices that are allowed to access your camera(s), invite people to the Neighbors app, and buy more Ring stuff.
Home automation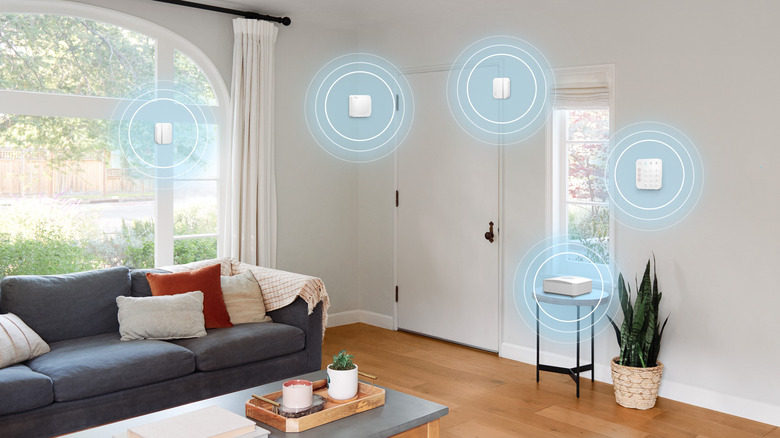 Ring
If you're looking for simple, ready-to-use home automation functionality and interoperability with other devices, neither Ring nor Blink devices are ideal. Since neither company offers a proper IP camera, none of the Ring or Blink cams can be easily used by CCTV-style viewers or most home automation platforms. Ring Protect plans offer a lot of built-in automation functionality, but there's no API, so you'll be restricted to whatever you can accomplish in Ring's apps.
But third-party development for Blink's APIs has effectively made Blink a better choice for techies willing to get their hands dirty. There is official support for some automation platforms like Zapier and IFTTT. The Home Assistant automation platform includes a pretty complete Blink integration via Blink's API, and there are unofficial libraries for JavaScript and Python. But note that Blink has been known to temporarily shut down Blink accounts and devices for using unofficial integrations, so if home automation is your primary goal, you'd probably be better off with an IP camera that you can actually own rather than essentially licensing from Amazon.