Blink Reveals Its First Wired Outdoor Camera And A Handy Mini Mount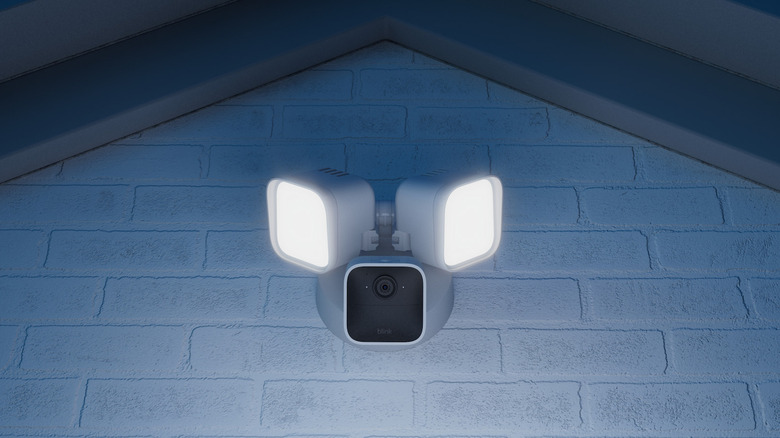 Amazon/Blink
Don't blink, lest you miss this announcement: Amazon is bringing a pair of new products to bolster its (at times controversial) home security lineup. For one, we have an all-new outdoor floodlight camera, aptly named the Blink Wired Floodlight Camera. This $100 camera needs to be hardwired for power, but that's also the caveat keeping its price low.
It's the first time a Blink security product is using Amazon's AZ2 Neural Edge processor, the follow-up to the company's in-house silicon used to power Alexa devices. With edge computing, the AZ2 enables some important functionalities, namely the ability to process videos locally and some motion detection features, potentially making this model a little more appealing to consumers.
We're also getting a new accessory in the Blink Mini Pan Tilt, a $30 modular attachment for the existing Blink Mini cameras that give you more control and flexibility to see everything going on inside your home with no permanent blind spots. Here's everything you can expect from this convenient duo.
The Blink Wired Floodlight Camera offers outdoor security, day or night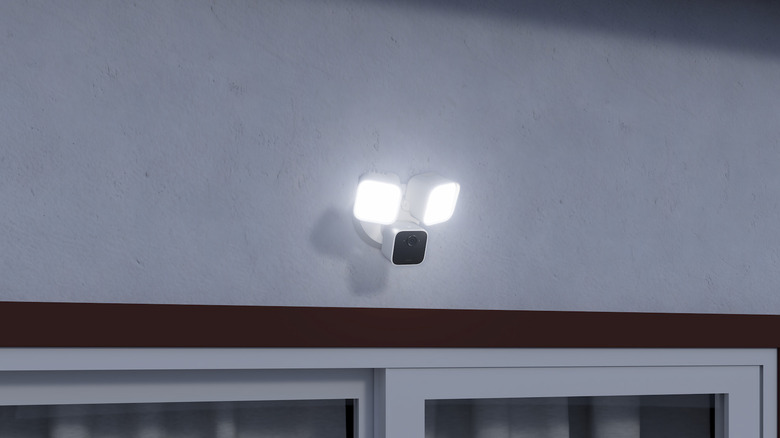 Amazon/Blink
The new Blink Wired Floodlight Camera gives you access to an LED spotlight that produces up to 2,600 lumens, which is pretty bright, even at night. The aforementioned addition of Amazon's AZ2 Neural Edge processor enables the security camera to detect specific faces so you won't get alerts for recognized family members.
In addition to improved motion detection — which now boasts detection zones — Blink's Wired Floodlight Camera no longer requires cloud-based processing, giving you the ability to record and store content completely locally. This gives your home coverage even if you suffer an internet outage, and otherwise offers a nice alternative to entrusting a potentially vulnerable cloud service with your closed circuit security. You'll need the optional Sync Module 2 and a USB flash drive to do that, which is a separate purchase. You'll get all the other features Blink provides as standard, too, including a 1080p live feed and two-way audio to inquire about someone's presence. The camera is priced at $99.99 with an anticipated launch "in the coming months."
Cover your blind spots with the Blink Mini Pan Tilt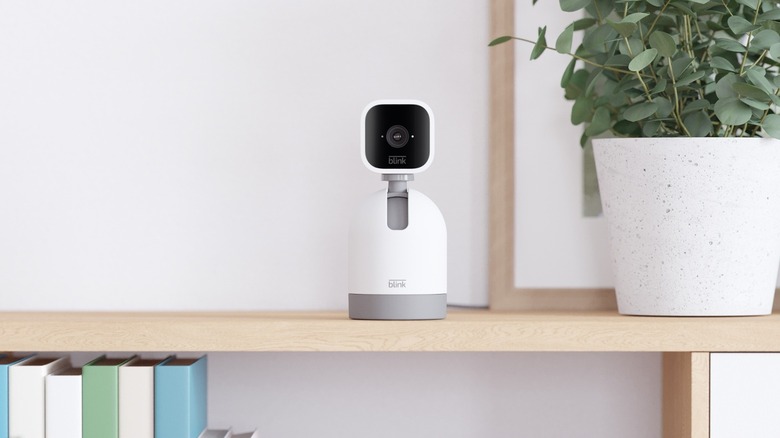 Amazon/Blink
Meanwhile, the Blink Mini Pan Tilt isn't a camera on its own, but a separate attachment for the existing Blink Mini. For $29.99, you can imbue your camera with the power to pan and tilt, giving you full 360-degree coverage of your room by using the Blink app. Pan and tilt functionality isn't new, of course, and many cameras on the market offer the same feature. Amazon has instead elected to offer its customers this type of motorized control in the form of an accessory that can be added to an existing camera. That makes this product most appealing to consumers who have already purchased a Blink camera but have decided they want to be able to move it around remotely.
If you don't already own a Blink camera, however, you can purchase both the Blink Mini and the Pan Tilt attachment as a bundle for $59.99. According to Amazon, you'll still be able to use tripods and the optional wall mount for positioning the camera where it's needed. Unlike the Blink Wired Floodlight Camera that won't be around for "months," you can pre-order the Blink Mini Pan Tilt in the U.S. and Canada starting today.