Amazon's home security kits offer pro-install and no service fees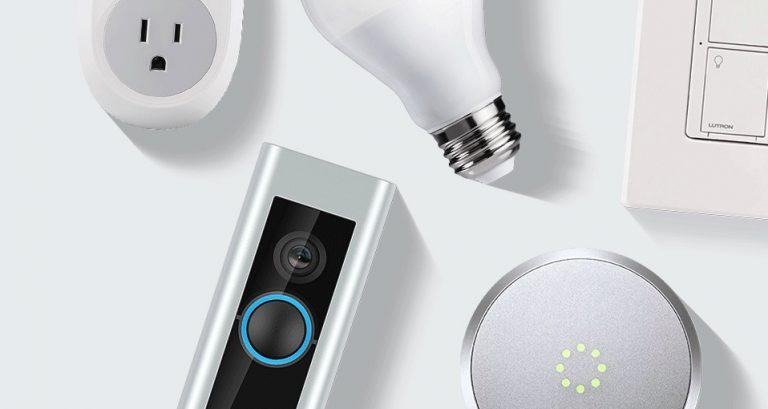 We may receive a commission on purchases made from links.
Amazon has quietly launched a home security service, taking on Vivint, ADT, and others with a range of systems that do away with a monthly fee. It's the latest move by the online retail behemoth to extend into the smart home, having made a number of acquisitions in the space over the past 12-18 months.
Most recently that included Ring, maker of video doorbells, a deal which closed earlier in April. Last year, it bought Blink, a company which specializes in battery-powered, completely wire-free cameras. Amazon plans to operate them under their own brands.
However, at the same time it's also pitching a smart home security ecosystem of its own. Amazon Smart Home Services, spotted by TechCrunch, offers five different packages that start from $240. Each offers a different mixture of security, lighting, video, and Alexa functionality.
Outdoor Base is the cheapest, at $240. It includes an Echo Dot, indoor lighting, and outdoor lighting, and is intended, Amazon says, to give the impression that there's somebody at home even when you're out. The $240 fee includes installation, spread out over two appointments.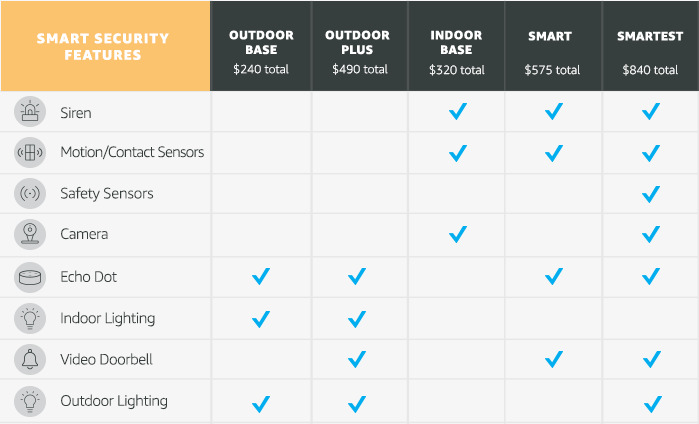 First, Amazon sends a "smart home expert" to do a survey of the property and discuss options. Then, after the devices themselves have arrived, someone comes to actually install them and demonstrate how they're used. The Outdoor Base bundle itself consists of a battery-powered motion-detecting exterior light, a two-bulb Hue kit, motion-detecting solar exterior lights, an Echo Dot, wireless waterproof speaker, and the cable to connect it to the Alexa smart speaker.
Outdoor Plus, for $490, throws in a Ring Video Doorbell. Indoor Base, meanwhile, is $320 and consists of a smart siren, motion/door/window sensors, a 1080p security camera, and a Wink smart home hub. It's being pitched as ideal for renters, since it doesn't require physical alterations to the building.
The Smart and Smartest packages, at $575 and $840 respectively, are the most expensive and complete. The former has a siren, motion/contact sensors, Echo Dot, and a video doorbell. The latter adds safety sensors, a camera, and outdoor lighting. Again, as with all of the bundles, there's professional installation included in the price.
It puts Amazon on a collision course with a number of more established businesses. On the one hand, there are the mainstays of the professionally-installed security world, with players like Vivint and ADT. Like Amazon, they have dedicated experts who physically visit to install the hardware. However, they also charge a monthly fee, which covers remote monitoring.
That's something Amazon isn't – currently – offering. In a sense, that makes the Smart Home Services packages more akin to platforms like Samsung SmartThings, which offer a number of devices from a range of manufacturers that connect to a single hub. SmartThings has a selection of starter kits to cover different needs including security, lighting, and more, but buyers are expected to install them themselves.
It's not hard to envisage Amazon integrating these new bundles with its other recent smart home services, notably Amazon Key. That allows delivery people to leave packages inside of homes outfitted with a connected lock. Recently, Amazon expanded it to in-car delivery, with compatible vehicles allowing temporary access to the trunk for a courier to drop off a package.
SlashGear uses affiliate links, and sometimes if you order something we'll receive a small percentage of the purchase price.