10 Best Racing Games On PS5, Ranked
Racing games have come a long way since their earliest days, not only in the graphical sense but also in the sheer variety of games on the market. Whether you're a fan of dense open worlds, treacherous rally stages or a good old-fashioned racing circuit, there's something for everyone in the most recent crop of releases. Unlike some genres, no one console manufacturer dominates the segment, with Nintendo offering family-friendly arcade racing fun with "Mariokart" and Xbox's exclusive racing titles spearheaded by the excellent "Forza Horizon 5" and upcoming "Forza Motorsport."
PS5 owners also have plenty of choices when it comes to excellent racing games, with flagship exclusive "Gran Turismo 7" achieving the unenviable task of living up to the high standard players now expect from the series. In addition, the PS5 also benefits from one of the widest ranges of third-party racing games on the market, and there are plenty more on the way. After being delayed from 2022, the long-awaited "Test Drive Unlimited: Solar Crown" is set to launch in 2023, alongside the cross-platform "Horizon 5" rival "The Crew: Motorfest." Before those games launch though, there are plenty of gems already out there to enjoy.
10. WRC Generations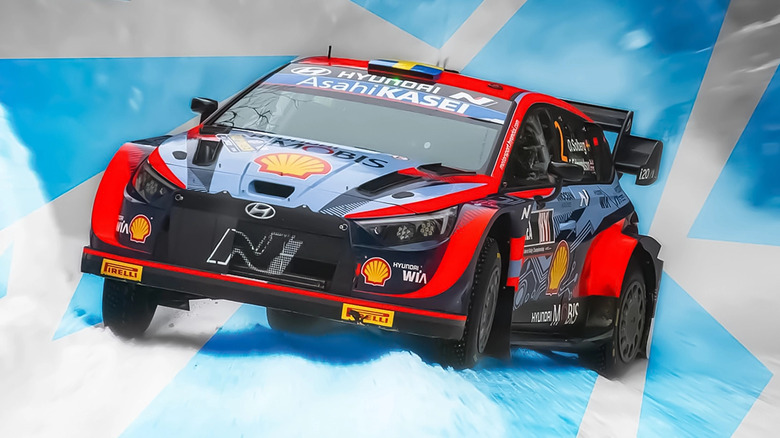 Nacon
The latest in a long line of licensed WRC titles, "WRC Generations" is the last to be developed by KT Racing. As with all previous titles, you can step into the shoes of your favorite rally driver and work your way to the top of the Championship. Every single location in the 2022 WRC calendar is included, along with a number of bonus locations, meaning there's never a shortage of new stages to master.
A good selection of both current and historic cars are available, and with Privateer career mode, you can start from the bottom, building your own rally team while rising through the smaller leagues. While "Generations" is arguably the best KT-developed WRC title, it shares plenty of similarities with its predecessor, "WRC 10." Players of the older game might find there's a little too much repetition for their liking, but for first-timers to the series or players returning after skipping a title or two, "Generations" is a solid choice.
9. GRID Legends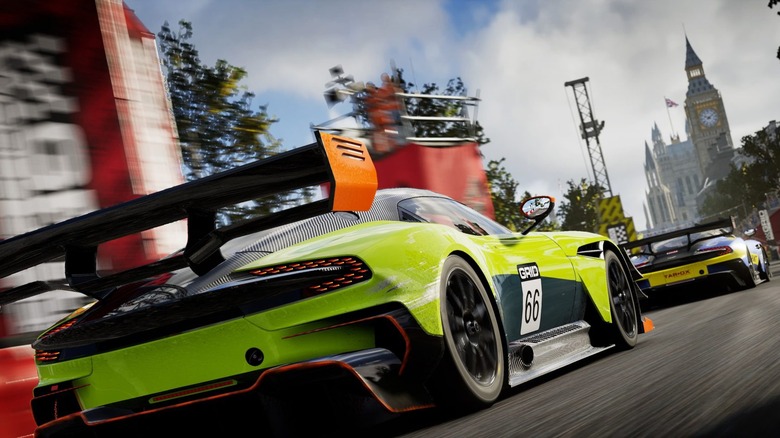 Codemasters
"GRID Legends" is a fresh take on Codemasters' long-running "GRID" series, with a new story mode in addition to the usual arcade racing action. It's one of the first Codies releases after the company's acquisition by EA, but it seems like the new ownership hasn't affected Codemasters' ability to pump out great games. The story itself is told through a series of live-action cutscenes, following the season of an underdog race team and its manager. The plot can be a little patchy, especially since the early parts rely on the player achieving a certain position at the end of a race. If you achieve a much higher position than expected, sometimes the reaction from the characters is at odds with the race results, and there are a few improbable plot twists thrown in for good measure.
The story might be hit-and-miss, but the arcade-style racing is always good fun. You can skip the story if you want to anyway and go straight to building your race team, a setup that will be much more familiar to players of previous "GRID" titles. There's a good variety of tracks and cars, and various game modes so that career races never get too repetitive. It might have its flaws, but at its heart, "GRID Legends" is a great arcade racer, and a seriously enjoyable experience if you can look past its few shortcomings.
8. Ride 4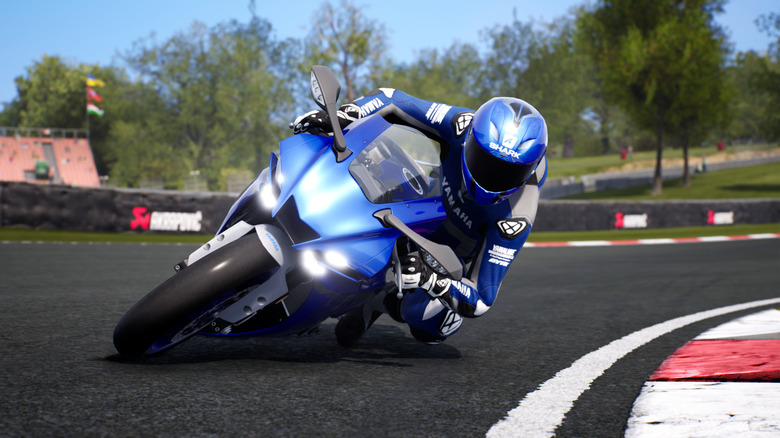 Milestone
If you prefer two wheels to four, then "Ride 4" offers fast-paced motorcycle racing across a series of real-world tracks, with a solid career mode and plenty of iconic bikes. The game was originally released for PS4 and Xbox One, but the current-gen version takes advantage of the PS5's more powerful hardware to improve the graphics significantly over the original. Expect 4K at 60 fps, with both bikes and tracks looking noticeably more detailed as a result. The new DualSense controller is put to good use too, with haptic feedback that's better than any other motorcycle game on the market.
Arguably one of the biggest selling points of "Ride 4" is the sense of speed you feel when you're flying down a tight track on a top-end superbike, with sharp reactions required to stop you from careening off into a wall. The game delivers that sense better than pretty much any other racing game, although its steep initial learning curve and relative lack of gameplay variety stop it short of greatness.
7. Need for Speed Unbound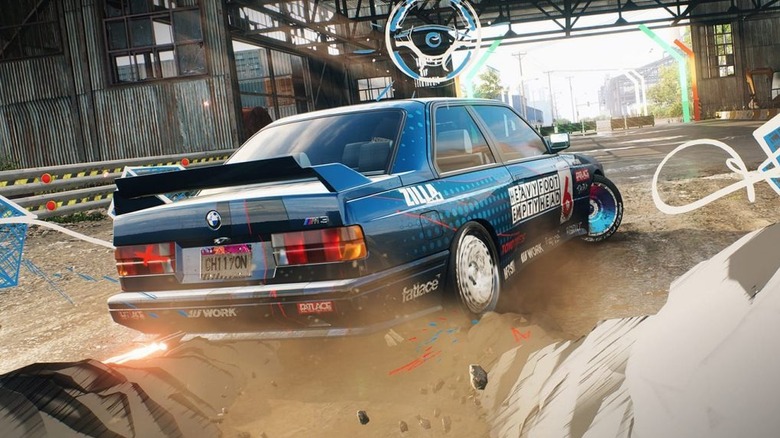 EA
Unbound represents something of a return to form for the "Need for Speed" series after a run of uninspiring games. Most of the key NFS elements still remain — plenty of car customization, frequent cop chases, and a cheesy storyline that's not for everyone but nonetheless is a hallmark of the franchise. Unbound makes full use of present-generation hardware to render the fictional city of Lakeshore in stunning detail, while the comic-inspired driving and character animation adds an extra layer of visual pizazz that differentiates Unbound from other games.
It's not without its flaws – in our full review, we noted that the game's grind-y mechanics can get annoying, and it takes too long to start earning enough money to buy new cars and customize them. But, if you can stick with the game through its more repetitive parts, you'll find that all the core mechanics are better than ever. Boosting and drifting around the city while evading the cops either in single-player or multiplayer mode is always fun, but just watch out: Once your heat level gets high enough, you'll spend as much time in police chases as you will in events. The cops can put up a good fight on higher difficulty levels, so if you're not careful, you might end up losing your hard-earned cash before you can make it back to the Safehouse.
6. Hot Wheels Unleashed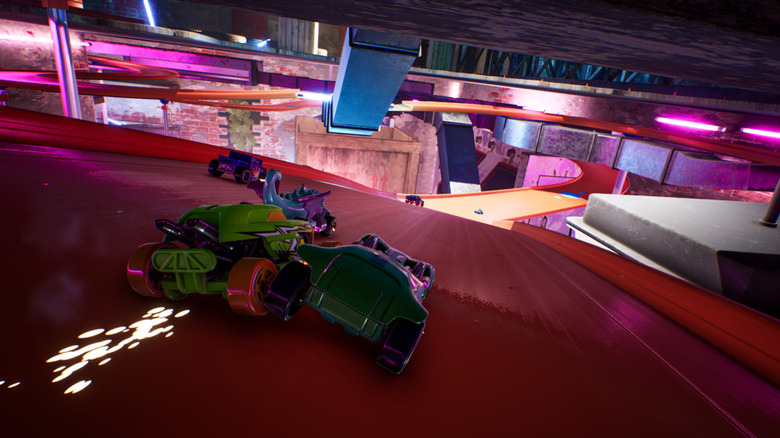 Mattel
A surprise hit unveiled in 2021, "Hot Wheels Unleashed" takes all of your favorite Hot Wheels cars from your childhood and lets you race them on a wide variety of tracks. Racing is both fun and frenetic, and the variety of obstacles and power-ups adds an extra chaotic twist to races. The game's straightforward controls and forgiving handling make it very accessible for novice racing game players, but even seasoned racers should find its unique premise appealing.
The main career mode only contains two race types (regular races and time trials), but the varied tracks mean that it'll be a while before you get bored of either. The game's difficulty level is very customizable, with Easy mode being kid-friendly and the hardest modes requiring serious concentration and upgraded cars to win. There's also a comprehensive track editor where you can use Hot Wheels track pieces to forge your own creation, then share it with other players. It might be easy to skip past at first glance, but dive into "Hot Wheels Unleashed" and you'll find a game that's got plenty to offer no matter your age or skill level.
5. DiRT 5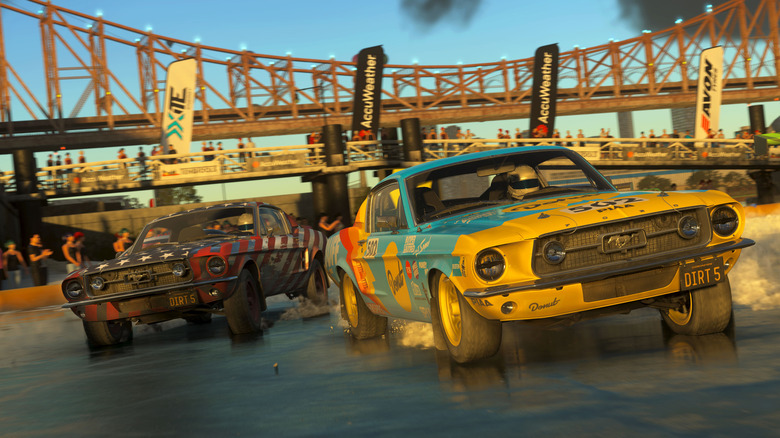 Codemasters
"DiRT 5" is the sixth entry in the "DiRT" series (and potentially the last, if the rumors are to be believed). It takes all the best ingredients from previous installments and combines them into one great racing game, with plenty of virtual mud, neon lighting, and stripped-out all-terrain vehicles. Nolan and James from Donut Media add their distinctive tongue-in-cheek brand of commentary to the game's career mode, which is entertaining but might have benefited from an extra race type or two. The main career is also on the shorter side, but the excellent Playgrounds sandbox track creator more than makes up for it.
In Playgrounds mode, you get the chance to create your own tracks with a huge variety of in-game assets, giving you the freedom to either make a highly technical, obstacle-laden time trial or a wide-open stunt park with huge jumps galore. There are also plenty of great events to be found playing user-generated content, so if you want to see the best of what the community can make or just find some inspiration for your own tracks, be sure to take a look.
4. Art of Rally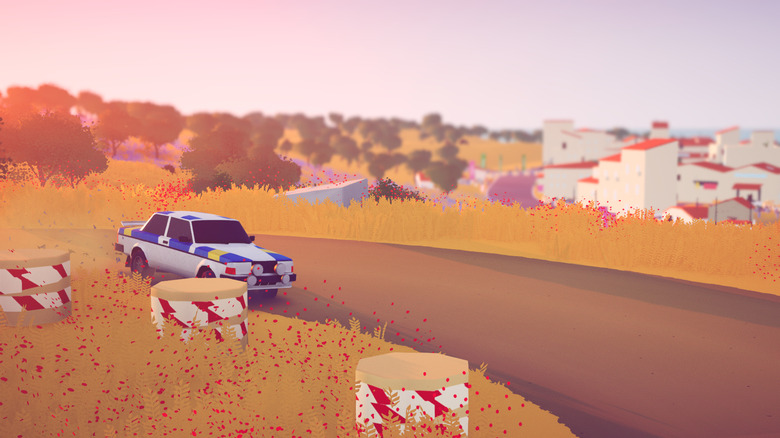 Funselektor
A completely unique take on the racing game genre, "Art of Rally" lets you take a variety of classic rally machinery through picturesque stages in a race against the clock. The graphics are all low-poly, but lots of common real-world rally techniques (Scandi flick, e-braking) have been built into the physics, making it feel more accomplished than it might appear at first. Not that most players will mind too much either way, as the main highlight of the game is the almost zen-like experience of guiding each car through the landscape while taking in the colorful scenery.
The game also features a free-roam mode with collectibles to find, and it's fun, although it feels like it could have been developed further. It does, however, provide the perfect opportunity to slow down and appreciate the game's simple style and warm color scheme, which gives it an atmosphere unlike any other racing game on the market.
3. Riders Republic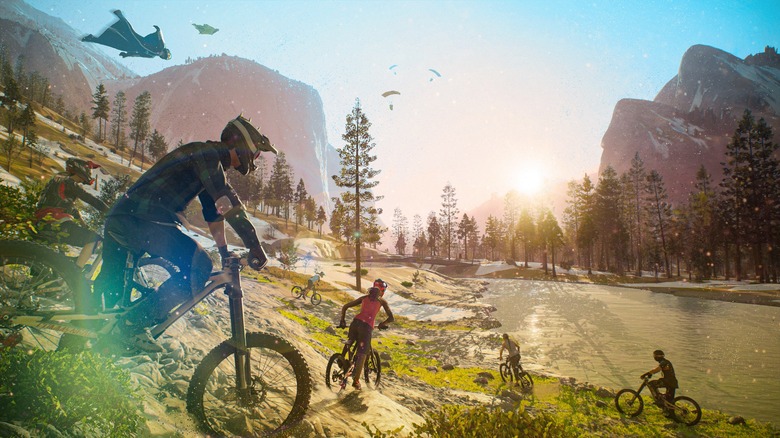 Ubisoft
The sequel to 2016's "Steep," Ubisoft's open-world action sports racer "Riders Republic" lets you race everything from mountain bikes to snowmobiles across a wide range of terrain. You start on a bike, but by earning stars, you can unlock the other careers, along with various sponsors, which offer extra incentives and unique rewards. The game is divided up into areas, each of which has its own feel — the dry deserts and cliffs of Canyonlands make the perfect setting for daring wingsuit challenges, while the icy mountains of Grand Teton lend themselves best to high-speed ski racing.
However, racing is only half the fun — there are also trick events letting you perform daring acrobatic feats while tackling huge jumps and making full use of the varied terrain. In addition to the main campaign, "Riders Republic" also offers weekly and seasonal challenges with chances to win unique gear, and a choice of four multiplayer modes. Free for All mode is essentially a multiplayer version of several single-player race tracks, while Tricks Battle and Showdown pits two teams of players against each other in a battle-royale-style arena. Mass Races are another highlight, taking up to 64 players and letting them all race down one chaotic track with both air and land racing elements. If all that's still not enough, then the BMX expansion that forms part of the Year 1 pass is also well worth the price of entry, giving players access to a new area of the map.
2. Wreckfest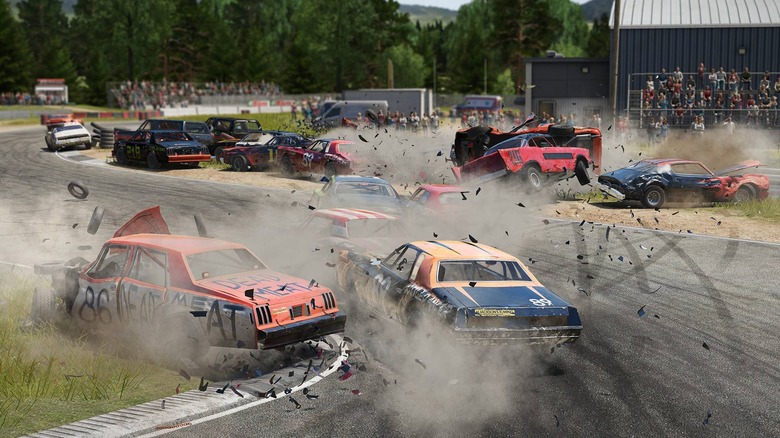 THQ Nordic
While it's a few years old at this point, "Wreckfest" remains one of the most unique and enjoyable racing games out there. With fully-deformable cars and various game modes to encourage you to smash and crash your way to the top, Wreckfest is great as a solo endeavor, but it's best when you play with friends. Both local split-screen and online multiplayer are available, with a wide variety of tracks and vehicles on offer in both.
For obvious reasons, real-world car manufacturers weren't too keen on letting their cars be used as virtual battering rams, so there are no licensed vehicles in the game. Wreckfest makes up for this by cloning popular models like the VW Beetle and Chevrolet Corvette, but there's also a number of wackier vehicles on offer, including a lawn mower and a combine harvester. Joining forces with your friends to pit buses against big rigs or motorhomes against a motorized sofa in the game's various arenas is hours of fun on its own, but career mode provides an equally entertaining alternative if you prefer playing more structured events.
1. Gran Turismo 7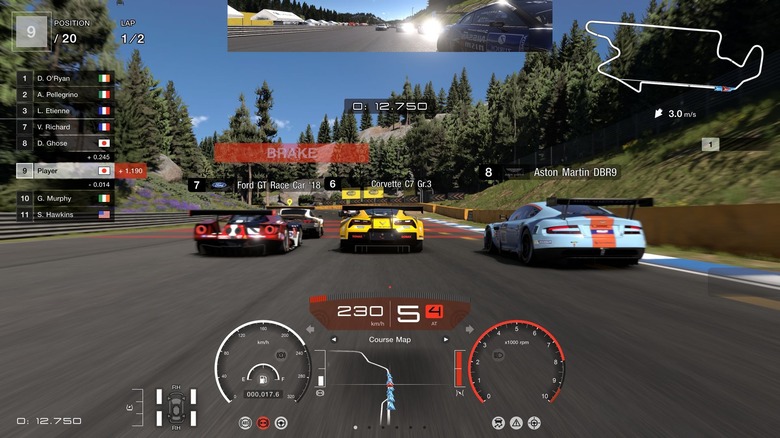 Polyphony Digital
If there's one racing game that absolutely has to sit at the top of this list, it's "Gran Turismo 7." The latest installment in PlayStation's landmark series, "Gran Turismo 7" is more of the same for GT fans, but in a good way. The selection of cars covers both fan favorites and plenty of obscure picks, and most cars have a distinctive handling profile — an impressive feat considering there are over 400 cars available. The game will be very familiar to existing fans of the GT series, but it's accessible for first-time players too, with the Gran Turismo Café guiding you through all the basics.
"Gran Turismo 7" made our list of the best games of 2022, but it's not without its flaws. After fan pushback regarding the high price of cars and repetitive grinding required to earn enough credits to purchase them with in-game currency, Polyphony did implement some changes to balance the playing field a little. However, even now, if you want any of the most expensive vehicles and don't want to spend hours replaying the same races over and over in a grind for cash, then the only real way to get them is to buy extra in-game currency with real-world cash. That's a shame, but it's still not enough to topple what's one of the most accomplished and polished racing games of recent years off the top spot.