5 Best Peloton Tips For Beginners
Peloton gained huge popularity during the COVID-19 pandemic. Since its establishment in 2012, the firm has developed a variety of innovative workout equipment that bring live and on-demand training sessions and fitness personalities directly into owners' homes. 
Peloton bikes and treadmills are staples in the modern home. While the company saw a dramatic rollercoaster ride in terms of sales during the early years of the new decade, the tools remain a high-quality workout option. Users seeking something innovative and technology-infused that can get them up off the couch without having to sign up for a gym membership halfway across town will benefit immensely from a Peloton machine.
Peloton equipment saw price cuts in 2021, and in 2023 many Peloton models remain expensive, but are certainly cheaper than they have been in the past. With 0% APR financing offered to qualified buyers (and 4.99% for some others, as of March 2023), bringing a new Peloton workout tool to your home is more affordable than ever. 
Peloton equipment offers high-tech workout capabilities that go above and beyond the metrics and added features of common gym or previous home workout options. Still, there are some important tips that first-time users and those new to the Peloton platform should take on board for the best technology-augmented workout possible.
Try out sessions and bookmark classes from your favorite instructors
Selecting a Peloton instructor to work out with is a key feature of the system. Not only is the Peloton bike or treadmill a fantastic piece of equipment that can help you get in shape, but the embedded screen makes working out far more engaging. Peloton users will likely jump into classes as quickly as possible. 
You can ride without joining a session, but this doesn't offer the same goal-oriented coaching that is central to the Peloton platform itself. If you do want to engage in a solo workout, select the "More" tab on your home screen, and then choose "Just Ride/Run."
For those seeking the feedback from coaching, finding a trainer that you enjoy is essential. For users who jump on their Peloton often, using bookmarks is a great way to keep track of favorite workout classes. You can't save trainers themselves, but bookmarking workouts delivered from your favorite offers a similar capability. Bookmarking a workout class is easy, and only requires you to select the "bookmark tab" on a particular workout's information screen. 
Comparing similar classes from instructors you enjoy will help you find the training sessions you're looking for, while developing a library of workouts and individual trainers that meet your needs. That way, you can launch a quick ride or run without having to scroll through sessions to find the exercise you're looking for.
Use stacked classes for customized workout plans
Stacking classes gives you customized control over the workout you're looking for. Stacked classes give you the ability to dictate the exercise types included and the length of the entire program. You might want to use dumbbells for a short session, then go for a run or bike, and finally return to the weights for a quick hit to really maximize your gains. 
Stacking classes makes the transition from one Peloton session to the next seamless. Instead of finishing a course of training and then going back to the app or machine to browse through bookmarks (or the program screens themselves), the stacked classes feature allows you to create a playlist of sorts right on the device.
To utilize the stack option, click on the two rectangles that feature the "+" symbol on a workout screen to add it to your current stack. Then, you can tap on this same symbol located at the bottom-right corner of your screen to view or modify the program sequence you've established. When an exercise ends, all you have to do is click "Continue Stack" when you're ready to move onto the next component.
Review your weekly or monthly activity stats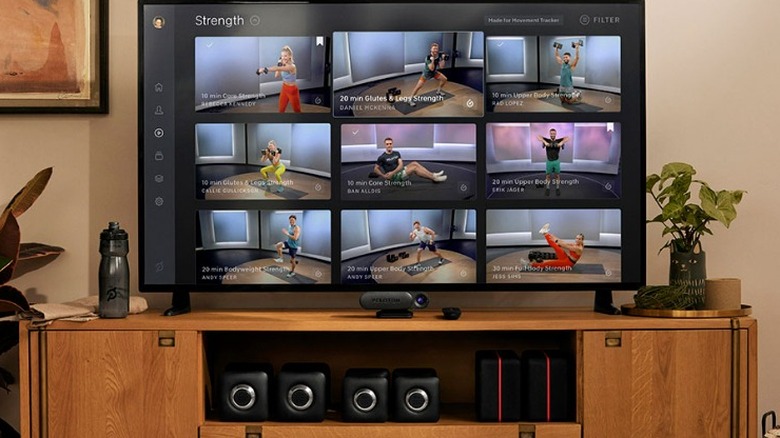 The Peloton experience isn't complete without a review of collected workout data. Users are able to go back over their previous weekly or monthly statistics and delve deep into the outputs from individual workout sessions. This gives you a data-driven approach to your goals and makes working toward targets you've set more transparent.
Collecting calorie data, distance, time, and other nuanced data points gives you a clearer picture when it comes to establishing and chasing after even the loftiest health goals. You can also view a summary of previous months, look at counting stats for comparison (like how many days or hours you used the machine in a given time period), and view stats related to specific instructors' classes. 
Reviewing your workouts can be a great way to find the motivation to press on, and it will also give you insight into ever-changing targets. For instance, if you biked an average of five miles per session last week, reaching for a new target of six miles per workout can improve your output this week.
To view your Peloton activity, tap your Username and press "Activity." You can view your full history here, or filter for specific results. To see the calendar of monthly activity, press on your Username, and tap "Calendar" on the bar appearing to the left. From here, you can scroll through the monthly calendar and view your usage stats.
Engage with the Peloton community for a comprehensive experience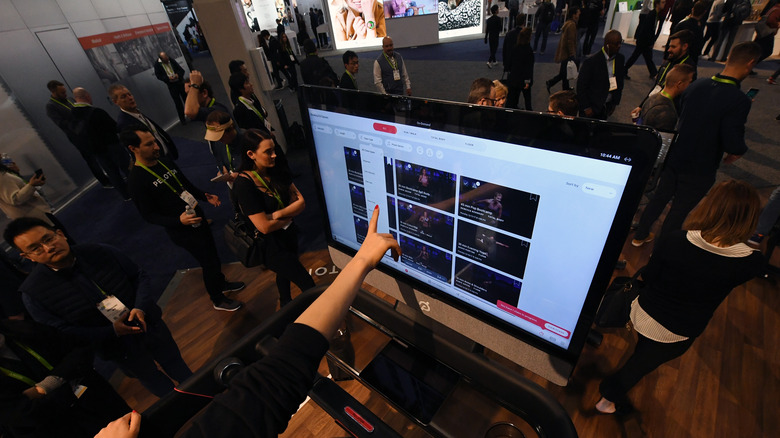 Ethan Miller/Getty Images
The digital Peloton community is active and widespread. You can add and follow friends with your Peloton profile, and even send invites to participate in the same classes together. Another interesting feature that Peloton brings to the screen is the ability to video call friends during a workout. This way, you can share the experience with one another as if you were in the same room — even though your friend may be a few miles away or in an entirely different part of the world. 
Combining your efforts like this will allow you to give and receive encouragement that isn't typically possible in a home workout environment. The digital communication equipment involved in the Peloton system make these pieces of equipment part exercise gear, part social engagement vessels.
Even if you don't opt to use the video calling function, becoming friends with those who often enter the same live classes can give you a social connection that remains basic, but immensely helpful. Peloton users offer up high fives and other forms of encouragement. Sending a high five is as simple as clicking on a person's picture on the leaderboard. Encouraging others to passionately and aggressively pursue their goals feels great, and using these community features in your own workouts can make the whole endeavor all the more rewarding.
Don't skimp on post-workout stretching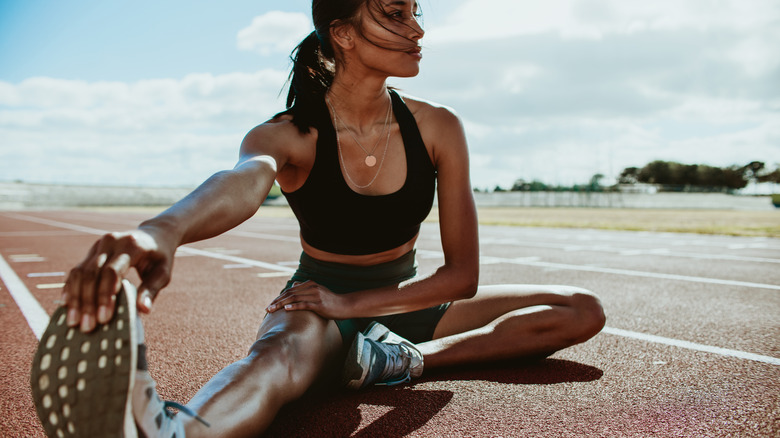 Jacob Lund/Shutterstock
Finally, all beginners who have just started in the gym or recently brought home Peloton equipment will need to take stretching seriously. Stretching after an exercise is particularly important. Many people think that stretching before a run or lift is all that's required to minimize the potential for injury. But returning to stretching exercises after a workout has finished is just as worthwhile because it helps to effectively release lactic acid that's been building in your muscles. 
Lactic acid buildup is the primary contributor to sore muscles in the hours or days that follow an intense workout, so anything you can do to minimize buildup will help speed up muscle recovery. A few minutes of quiet stretching after a solid run or bike can also serve as a mental health reprieve. Take some time to focus on your breathing and allow the calming effects of the stretch to wash over you.
Fortunately, stretching doesn't have to be done alone while working out with a Peloton machine. You can also participate in targeted stretching classes that are found within your Peloton machine. These are located in the stretching section of the Peloton app, and are broken down into pre-workout options and post-workout cooldown sessions. 
Following along with the Peloton class can help you master a variety of stretching poses that will improve your flexibility and unlock increased benefit from the workout classes as well. The built in screen on your machine lends itself as the perfect tool for improving the quality of your exercises in all their phases.