Peloton Tread Review: An Investment For The Long Run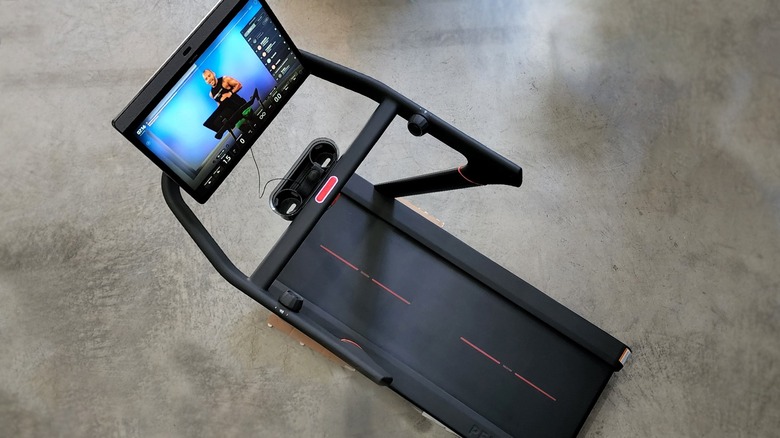 Markkus Rovito/SlashGear
While both of Peloton's treadmills — the original Tread+ and the lower-priced Tread — were recalled in May 2021 for different reasons, the Tread has been back in business for some time. The US Consumer Product Safety Commission recalled the Tread+ (model TR01) due to 72 reports that adults, children, pets, or objects have been pulled under the running treadmill, sometimes causing injuries and even the death of one child. The Tread (model TR02) on the other hand was recalled at the same time due to 18 reports of the 23.8-inch touchscreen loosening and six reports of it detaching and falling. The Tread has since returned to production, and a modified version of the larger, more expansive Tread+ may return at a later date.
During the several months that I regularly ran on the post-recall Tread, its touchscreen never seemed anything but completely secure, so let's hope that trouble-free days are ahead for Peloton Tread runners. With that obligatory addressing of the elephant in the room out of the way, it's time to find out if the Tread helped my middle-aged keister get back into high school cross-country running shape.
Clear a space for running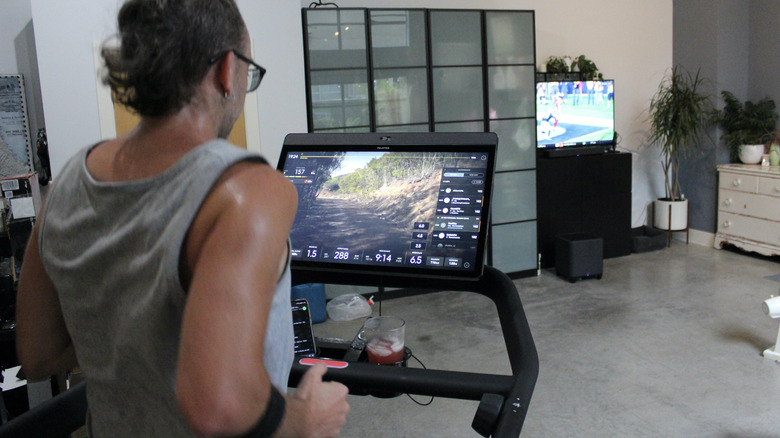 Jodi Hoadley/SlashGear
Purchasing the $3,495 Peloton Tread includes delivery and in-home installation (including some assembly) from certified installers. The unit itself measures 68 inches long, 33 inches wide, and 62 inches high, which is several inches less in length, width, and height than the $4,295 Tread+. However, the company recommends that you have two feet of clear space in front of and on either side of the Tread, 6.5 feet of clear space in the back, and 20 inches of clearance between the top of your head and the ceiling.
Having clear space to the sides and above your head helps you perform some of the arm waving and stretching you may encounter in some of the guided Peloton classes, and the space in the back is to ensure safe dismounting from the Tread. While the Tread is smaller than the Tread+, as well as some of its high-end competitors like the $4,000 NordicTrak Commercial X32i, it still requires a sizable footprint, especially for tighter apartments and houses. I believe you could cheat a little bit on the amount of recommended clear space around the unit (especially in front) if that's what it takes to fit it inside your dwelling — at your own risk, of course. But because the Tread is very heavy at 290 pounds, you should decide on its proper location before the installers deliver it, as it's quite difficult to move afterward.
Built to go the distance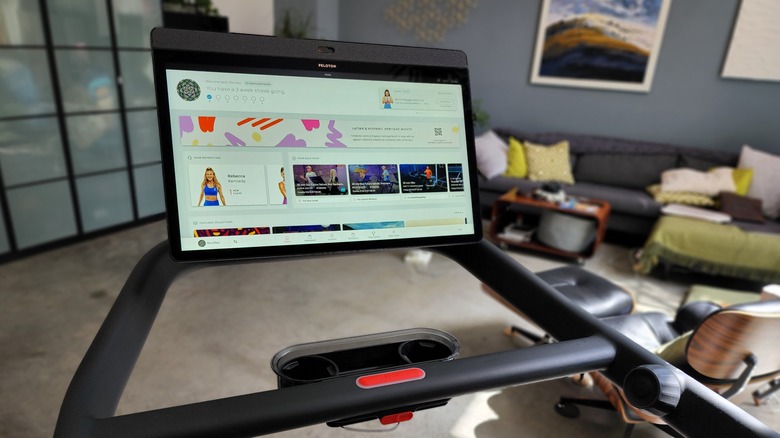 Markkus Rovito/SlashGear
Besides its sheer weight, the Tread cuts an impressive figure that proves to be just as sturdy in use as it looks. A carbon steel alloy makes up the Tread's frame and handrails, which support runners up to 300 pounds, according to Peloton's own specs. I only tip the scales at 140, but the Tread's handrails could easily support all my weight while doing dips on them. 
The fact that you'll see Peloton Tread machines in well-appointed commercial gyms and hotel workout rooms, where they'll see much more use than in a single household, lends a sense of confidence in the machine that held up after more than 50 total sessions of running and "hiking" on it. There are occasions when increasing or decreasing the incline grade while at a speed of 5 mph or more made the Tread shake a little side to side. However, the treadmill always felt stable, and the shaking would work itself out momentarily.
The Tread's continuous running belt also feels built to last. It's made of a durable mix of woven nylon and textured PVC that provides a good grip for your shoes. You should always make sure your shoes' soles have decent tread on them to be safe, but the Tread's belt never felt slippery to me, even after it got a little wet from sweat. After all my testing, the belt's tread still looked essentially brand new. The belt's running space measures 20 inches wide by 59 inches long. That's eight inches shorter than the Tread+, but also substantially larger than many treadmills that try to save you space and/or money, which go as low as 16 by 40 inches of running space. As a 5-foot, 7-inch individual, I'm never the tallest runner in a race, but I never felt cramped running on the Tread. More expensive treadmills like the Tread+ and the Commercial X32i have not only more running space but also more cushioned, shock-absorbing running belts to pamper your joints.
Operation and safety features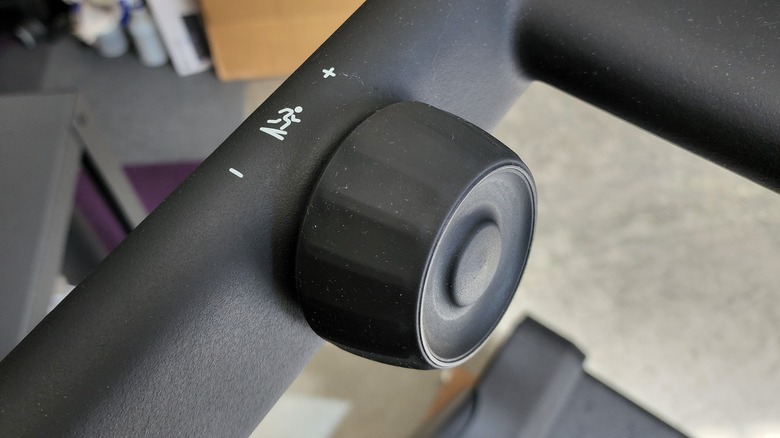 Markkus Rovito/SlashGear
With the Tread setup, the installers will ask you to set your four-digit Tread Lock passcode before using it for the first time. Upon powering up the Tread from the power button on the back of the display — or after 45 seconds of inactivity that's not during a class — you'll need to enter the passcode on the touchscreen. That's mainly to ensure that someone for whom the Tread may not be safe does not use it.
Two large knobs on either side of the handrails control the Tread's incline (left side) and speed (right side). The knobs also have center buttons that increase the incline percentage and miles per hour in increments of one. Adjusting the knobs increases/decreases the incline by increments of 0.5% and the speed by increments of 0.1 mph. The top speed of 12.5 mph will be plenty for the vast majority of people running for sustained distances. 
Specialty treadmills for high-level sprinters — such as the Assault Fitness AirRunner or the Trueform Runner — let you sprint as fast as you possibly can, yet also cost quite a bit more despite being motorless. The Tread's incline tops out at 12.5%, which is quite challenging for anything more than brief spurts, but many treadmills with inclines go to 15% —even those that cost less. The Commercial X32i has perhaps the greatest incline to decline range: from -6% to 40%.
You can get started right away simply by sliding the right-hand knob forward or pressing its button. To stop the Tread's belt from running, you can slide the speed knob back until it stops, or press the large orange Stop button centered on the bar in front of the cup holders and gadget storage bin. There's also a stringed, magnetic safety key that Peloton recommends you use. It clips to your clothes, and if it detaches, the Tread gradually but quickly stops. If you're ever in any kind of trouble, you can easily pull the safety key to stop.
A display that's more than meets the eye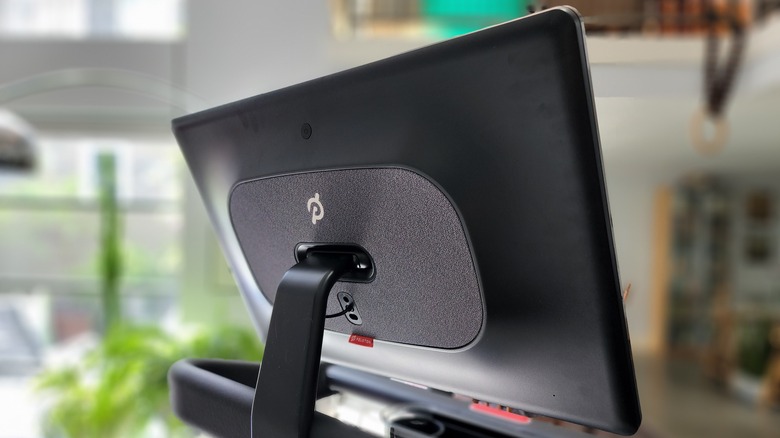 Markkus Rovito/SlashGear
Peloton's live classes on big displays really made the company famous more so than the quality of its machines, so the Tread's 23.8-inch high-definition touchscreen draws much of the attention. Its picture looks sharp and vibrant, and its touch responsiveness ranks on par with an iPad or high-end smartphone. While the Tread+ and other competitors offer a 32-inch display, the Tread's screen real estate seemed more than generous for the purpose of watching instructors or scenic views alongside a wealth of dynamically updating stats. The display also tilts up to 50 degrees, which helps for adjusting it when taking classes that combine running intervals with floor exercises.
The display enclosure also houses a four-speaker array that gets more than loud enough to hear over the noise of the treadmill, with audio that stays clear at its highest volumes. The speakers aren't as bassy as a decent dedicated speaker system for listening to music, but they are better than I expected from a built-in treadmill system. Two buttons on the display's right side control the volume. You can also pair the Tread to Bluetooth speakers or headphones from the Settings menu.
Above the screen area, an 8MP front camera allows the instructors and classmates to see you during live classes if you wish. If not, simply slide over its physical privacy cover. The back side of the display also has a headphone jack and a USB-C port for charging devices or for plugging in an Ethernet cable with an adapter (not included) for a wired Internet connection.
Classes for every occasion and every device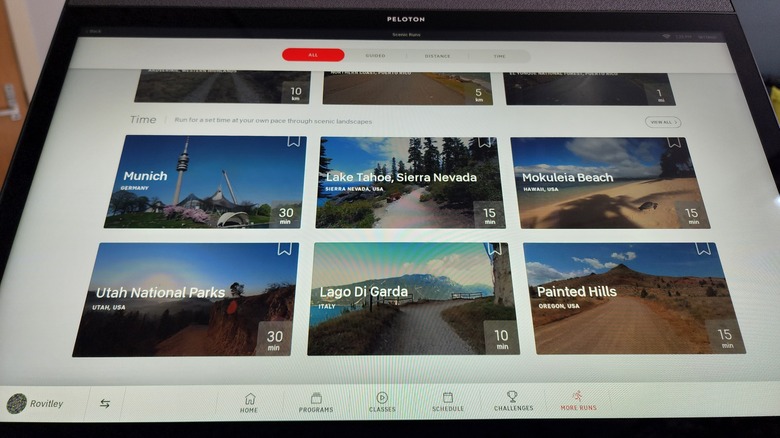 Markkus Rovito/SlashGear
While the Tread can operate in its Just Run mode without a Peloton membership, most people probably don't pay this much for a treadmill without also opting in for the live classes and many thousands of on-demand classes that the All-Access Membership offers. (In June 2022, the membership price increased from $39 to $44 a month.) The company has built a loyal base of more than two million paying subscribers in part by focusing on motivation and positive messages of self-improvement, as well as a feeling of connection to the more than 50 Peloton instructors and the broader community of users.
Three class types utilize the Tread and Tread+: running, walking/hiking (which spend a lot of time on steep inclines), and Tread Bootcamps, which combine running with strength floor exercises. The membership also includes classes in the strength, cardio, cycling, stretching, yoga, and meditation categories, which are accessible from the Tread's display, any web browser, iOS or Android devices, and many smart TV platforms like Apple TV, Roku, FireTV, LG, and Android TV. There are often dozens of live classes each day across all the class types, which you can to your Schedule within your account. Class length ranges from 10 to 60 minutes, with most of them falling into the 20- or 30-minute windows.
Curated programs bundle on-demand classes into goal-focused packages, such as the six-week Road To Your 5K program I took that combined progressively harder runs with strength-building classes. If badge collecting is your thing, many monthly challenges face you with goals like running a certain number of miles or completing a certain number of classes in a month.
The Tread's large touchscreen and easy-to-navigate interface make it simple to drill down to the category, length, or specific instructor you want for a class. After sampling a variety of classes, you'll find specific instructors whose personalities you vibe with more, whether they are very exuberant, more subdued, a little silly, and so on. I'd often rather skip the instructors altogether, so I took many of the scenic view runs filmed at beautiful locations around the world, where you can run at your own pace and try to pretend like you're not stuck at home running on a machine.
The quantified run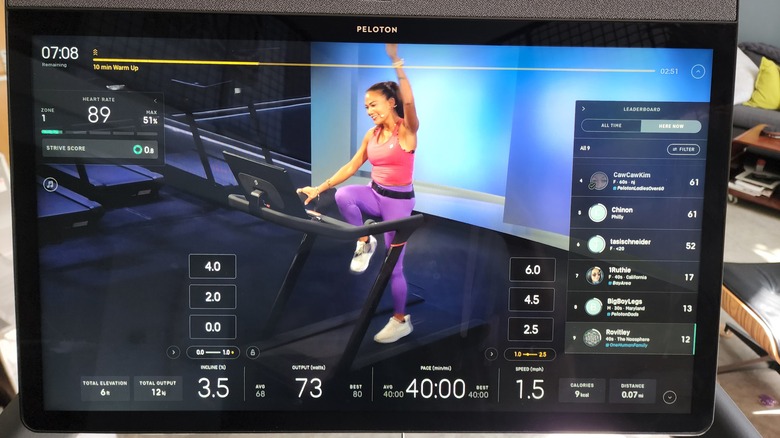 Markkus Rovito/SlashGear
The Tread's large touchscreen enhances each class with an information-rich dashboard. The basics include a progress bar along the top showing time elapsed and time remaining. In the bottom rows, you see your current incline and speed settings — which you can adjust from shortcuts on the screen — as well as the current, average, and fastest pace per mile. Your totals for feet of elevation climbed, calories burned, distance traveled, and output wattage (taking into account speed and incline) accumulate in real-time. If you connect a heart rate monitor, the heart rate displays in beats per minute and as a percentage of your max rate. I tested the Tread with a Peloton Heart Rate Band, which was super convenient for its automatic connection and charger that plugs into the Tread's USB-C port, but seems a little pricey at $90.
Different people stay motivated in different ways. I have exercised five to six times per week for many years as a matter of habit, so I'm not the type to need scheduled classes, challenges, or overly hyped instructors to get me to show up. I did, however, become routinely fixated on the Leaderboard, which displays the rankings — by output — of all the people who have taken or are taking the current class. 
You can filter the users on the Leaderboard by your Friends or by hashtags that people add to their profile, like #PelotonMoms, #BLM, and so on. I'm much more likely to nudge my speed up a couple of notches for the last few minutes because I'm trying to finish in the top 5% of all-time participants or to beat DrRunLiftDad from Tennessee than because the instructor yells at us about not quitting on ourselves. But the leaderboard also shows how your current progress compares to your personal output record for the type of class you're in, so you're always competing with yourself, as well.
Music options and lack thereof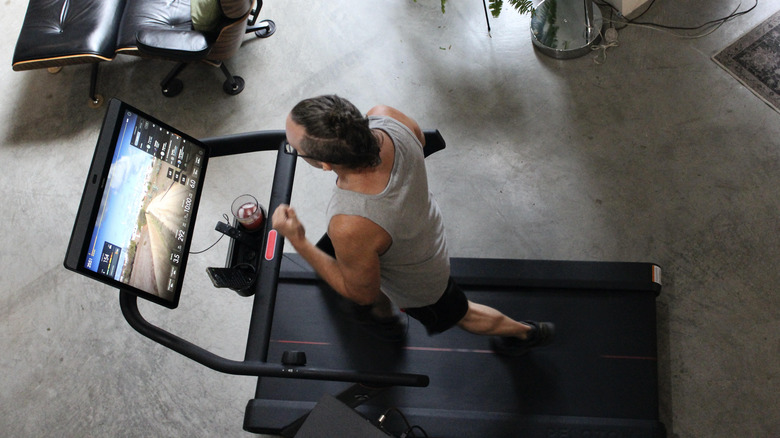 Jodi Hoadley/SlashGear
Peloton classes are set to music, and the instructors often shout out the musical artist, sing along, or make a little game out of it, such as bumping up the speed every time a certain lyric is sung. Classes are usually sorted by musical genre or era, such as '80s music, classic rock, '90s hip-hop, and EDM. New classes will often sync up to a new album release and dedicate the whole class to an artist like Lizzo or Harry Styles. From the Home screen you can also search through classes by the artists they feature, such as Kendrick Lamar, Taylor Swift, and many others. 
While a lot of musical variety is represented, if you're like me in that you're very particular about the music you want to hear, it's disappointing that there's no option to choose your own music or even to turn the music off. Touching the volume buttons brings up the option to skew the audio mix toward more of the music or more of the instructor, but there's no option to mute the music. You can connect your Spotify account, but that's only for the ability to save a song that's playing during the class to a Spotify playlist. I for one would welcome the ability to play my own Spotify playlists during the classes.
For that matter, I'd also love the ability to watch streaming services from the Tread's display. I know from experience riding a Rogue Echo fan bike that nothing makes an hour or more of cardio fly by faster than losing yourself in a good show, movie, or documentary. Peloton's variety of Tread classes is impressive, but its display is basically a large tablet computer built on the Android OS with a 2.5GHz processor and 4GB of RAM. Why not exploit its power a little bit more? Peloton may not ever decide to go that route, but at least there's a rather convoluted workaround for opening a browser app.
Peloton Tread verdict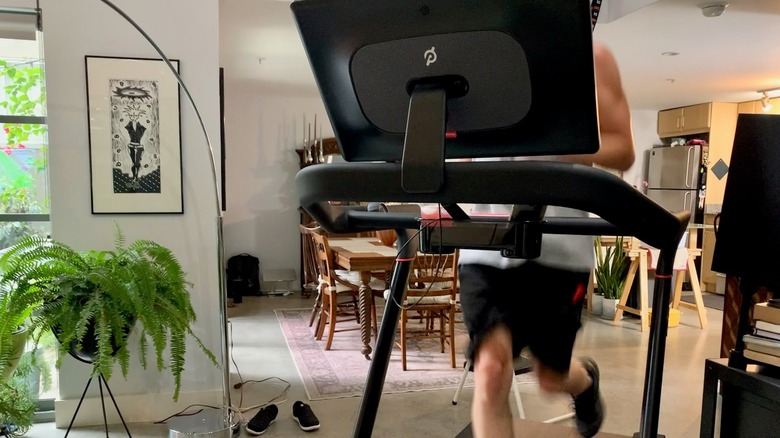 Jodi Hoadley/SlashGear
Determining the value of fitness devices works a little differently than other technology. When comparing the price/performance ratio of TVs, for example, I would probably not consider which model gets you to watch more TV. I doubt that I know anyone who's bought a new TV and then stopped watching it after a month. However, we all know someone who bought an exercise bike or weight bench and rarely used it or paid for a yearly gym membership and barely ever showed up to the gym. There's no doubt that the Peloton Tread costs a pretty penny, and it's potentially even harder to stomach knowing that its $3,495 price tag is $800 more than its 2021 price.
Yet whether it's because of the high-quality hardware, the vast and continuously growing selection of on-demand content, the camaraderie of live classes with thousands of users and magnetic instructors, or some combination of it all, Peloton subscribers tend to stay active. The publicly traded company reported in early 2022 that its 12-month subscriber retention rate equaled 92%. They either have money to burn, or they really are using their fitness equipment, which really matters when using what you bought actually benefits your health. There is no shortage of $2,000, $1,000, and lower-priced treadmills available, but if for any of the reasons discussed the higher-priced Tread actually helps you run and do other workouts regularly, then it's probably worth it to pay more.
Personally, I don't think I really fit the most common profile of a Peloton enthusiast, who loves to show up to live classes to have a shared experience with other people, who wants to rack up achievement badges, and get a shout-out from instructors when they reach 50-workout milestones. Yet the real-time data of my runs and the competitive aspect of the Leaderboard fascinated me enough that I ended up running much more often than before and noticed continual improvements. After a few months, I was still fighting to beat personal records by the slightest of margins. Combining that with the comprehensive class selection from the All-Access Membership that includes strength classes, yoga, meditation, and more, the Peloton Tread with some weights and a few accessories were all the fitness gear I needed.
If you're at all interested but wondering if the financial commitment and/or the Peloton ecosystem is right for you, I recommend taking the 30-day free trial of the app. If that goes well, there's even the option of a 30-day Tread trial.