2023 Volkswagen Jetta GLI Review: Making Value A Virtue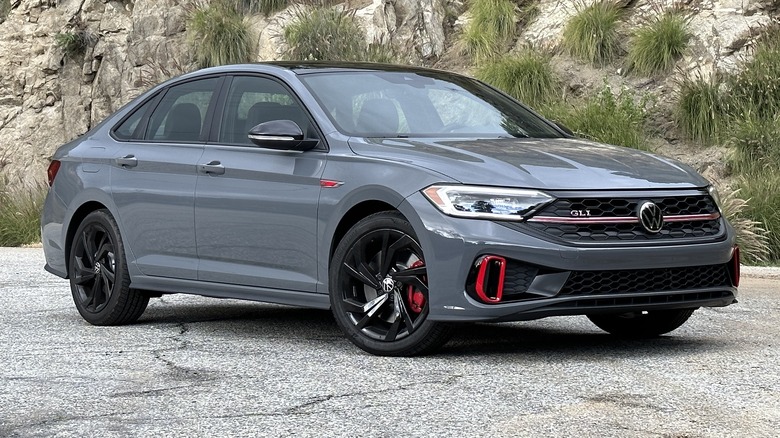 Steven Ewing/SlashGear
There are plenty of reasons to like the Volkswagen Jetta GLI, from its punchy engine and nimble handling to its spacious interior and long list of standard tech. But this sporty little sedan's best attribute is actually its overall value proposition. Thing is, the GLI isn't better than its competitors in any one way, but the amount of stuff you get for the money makes this VW worth your consideration.
Volkswagen discontinued the base Jetta GLI last year, so the top-shelf Autobahn is the only trim available. And while its $32,680 price tag (including $1,095 for destination) gives the GLI the highest initial cost of entry among its rivals, the Autobahn also comes pretty much fully loaded, with creature comforts like perforated leather upholstery, heated front seats, automatic climate control, a wireless phone charger and 10.2-inch digital gauge cluster. When you start to stack the GLI up spec for spec, its value proposition becomes clear: a Golf GTI, Integra or WRX with the same equipment all cost thousands of dollars more.
Sporty looks, sensible power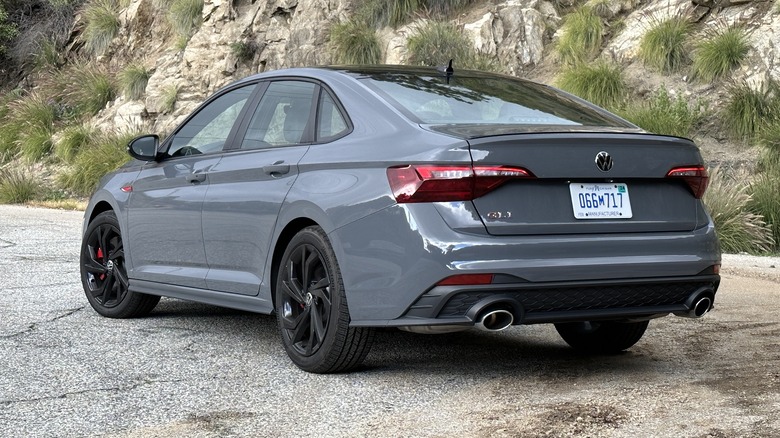 Steven Ewing/SlashGear
The GLI certainly looks the part — understated with just the right amount of flair. Bright red accents zhuzh up the front fascia while 18-inch wheels give the sedan a solid stance, though I personally hate, hate, hate black wheels, but that's a rant for another day. Yes, the Jetta can look a little dumpy from the rear three-quarter view, largely because of its long trunk, but overall, this is a handsome sedan, especially in a sophisticated color like my tester's non-metallic gray.
You'll find Volkswagen's EA888 2.0-liter turbocharged I4 engine under the Jetta GLI's hood, producing 228 horsepower and 258 pound-feet of torque. VW happily still offers the GLI with a six-speed manual gearbox, but a seven-speed dual-clutch transmission is available for $800. The automatic works smoothly, though it's occasionally lazy to downshift, and the steering wheel-mounted paddle shifters seriously lack tactile involvement, making them dull as heck to use.
Impressively, the Jetta GLI is EPA-estimated to return as much as 37 miles per gallon on the highway with the six-speed manual transmission. The automatic gearbox reduces that number to a still-great 36 mpg, along with an easily achievable 30 mpg combined.
Fun to drive... ish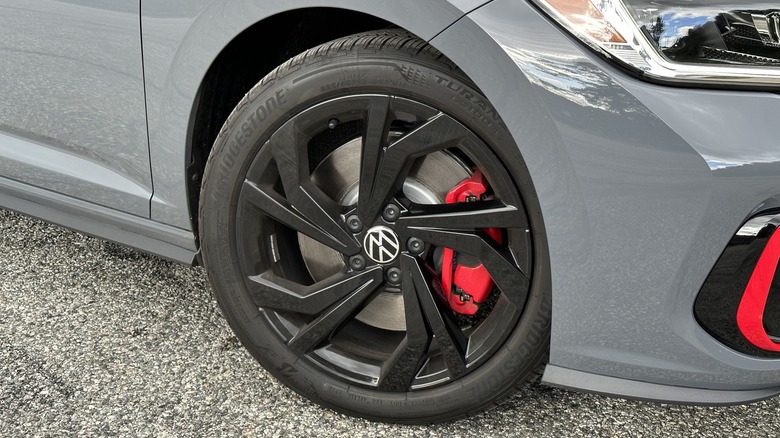 Steven Ewing/SlashGear
The GLI uses front-wheel drive, aided by a standard brake-based limited-slip differential that helps manage power at the front axle. Unfortunately, the GLI is still prone to noticeable torque steer, and will default to wash-out understeer when thrown hard into a corner, but at least it uses a more sophisticated multi-link rear suspension, giving it a noticeably more athletic edge compared to a regular Jetta with its torsion-beam design.
Volkswagen also fits the Jetta GLI with variable-ratio electric power steering, which helps with both high- and low-speed maneuverability. Indeed, the GLI is quick to turn in, but the steering ultimately lacks any sort of visceral sensation — it's numb in your hands. The GLI's 13.4-inch vented front disc brakes are shared with the last-generation Golf R, and they're perfectly easy to modulate without any around-town jerkiness.
Eco, Comfort and Sport driving modes work as advertised, though the latter is a bit much for running errands. The adaptive dampers stiffen up appreciably, making rough roads a hassle, and the exhaust sound drones, even at lower revs. Thankfully, VW fits the GLI with a customizable setting where you can tailor the different driving parameters to your liking. You can also turn off the annoying Eco Tip feature, which will remind you to not let the car idle so long or to not turn off the stop-start. In manual cars, this even pops up to tell you when to shift into neutral while braking for a stop to maximize efficiency.
Thing is, while the Jetta GLI is decent enough to drive, its competitors are a lot more fun. The Civic and Integra are fitted with one of the best six-speed manuals in the business, and their taut chassis really give them a playfully chuckable vibe. Meanwhile, the WRX packs more power with a hearty kick in the pants of turbo punch, along with the added traction and handling benefits afforded by all-wheel drive. The Golf GTI? It's similar to the Jetta, but ultimately better balanced overall. The Golf is much more comfortable in daily driving, too.
Tons of space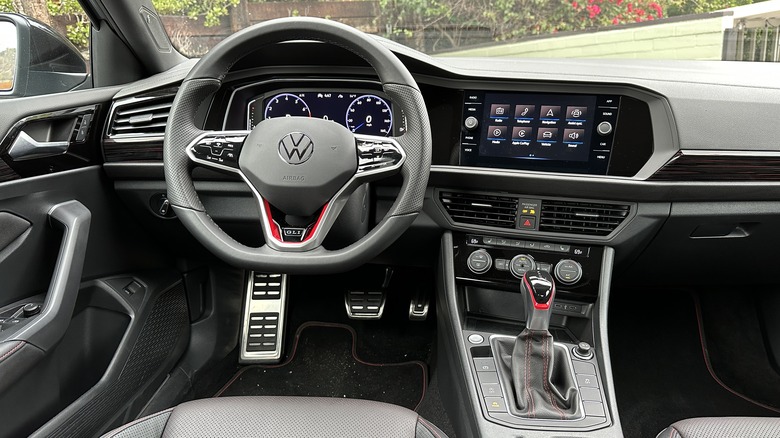 Steven Ewing/SlashGear
The Jetta has a wealth of rear legroom, giving passengers the ability to stretch out a bit more than they'd be able to in a Golf. In general, the Jetta's cabin is spacious and comfortable, though also decidedly drab, even with the GLI's red accents. You'll find some cheap plastic on the lower dash and center console, and the buttons and dials for the climate control look and feel a generation old — because they are.
For a compact sedan, the Jetta's trunk is huge, with 14.1 cubic feet of cargo space, as well as 60/40 split-folding rear seats to accommodate longer items. The Honda Civic Si is equally as spacious, and both best the Subaru WRX, which offers 12.5 cubic feet. That said, there's no arguing against the functionality of a hatchback, and that's a big reason to consider five-door options like the GTI and Integra. Hatchbacks are way cuter, too – just sayin'.
No shortage of tech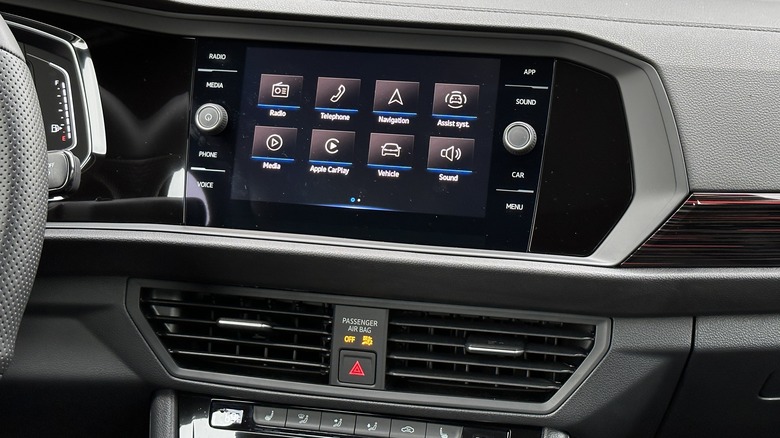 Steven Ewing/SlashGear
However, an accidental benefit to this older interior scheme is that the GLI doesn't use the horrendous new infotainment tech found in the Golf GTI. Sure, the Jetta's 8-inch touchscreen is a little small by modern standards, and the graphics aren't as sharp as competing systems. But at least the hard buttons on the side are illuminated at night and there isn't a stupid slider bar for the volume. On top of that, Apple CarPlay and Android Auto connect wirelessly. My only complaint is that the GLI's stereo sounds like garbage, which is weird, since I've always enjoyed the Fender audio setup in other Volkswagens. And wait, sorry, make that two complaints. The haptic controls on the steering wheel are another issue, since they're often easy to mis-press but also don't recognize inputs 100% of the time.
The GLI comes with Volkswagen's IQ Drive safety suite, including all the latest goodies like adaptive cruise control, lane-keeping assist, rear cross-traffic alert, blind-spot monitoring and more. The radar cruise system does work with the six-speed manual transmission, it just can't perform full stop-and-go functionality, which is really when you want to rely on this tech most.
2023 VW Jetta GLI Verdict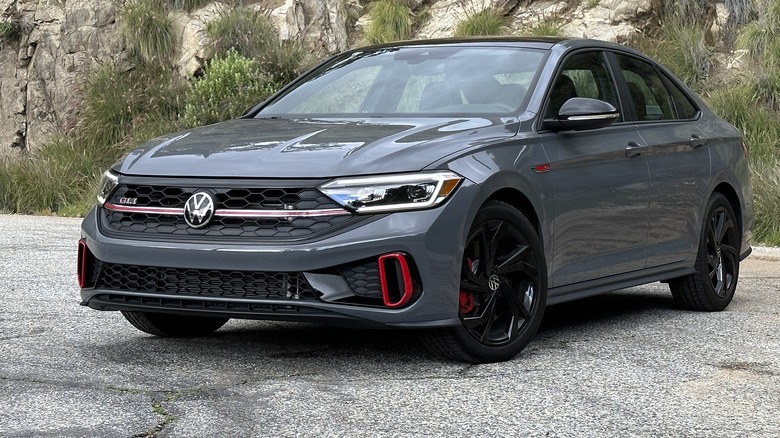 Steven Ewing/SlashGear
Including $395 for premium paint and $595 for the black appearance package, as well as the dual-clutch transmission, the fully loaded 2023 Volkswagen Jetta GLI pictured here stickers for $34,470. That's pretty great, considering a loaded Golf GTI Autobahn can kiss $40,000 and an Acura Integra A-Spec with the Technology Package goes for $37,495. 
To get all-wheel drive, a Subaru WRX Limited costs $38,515, and if you want adaptive dampers, you have to shell out for the $44,415 GT. Yes, a Honda Civic Si can be had for right around $30,000, but it lacks leather upholstery, heated seats, an available automatic transmission and adjustable dampers. Really, the biggest threat to the GLI's value is the Hyundai Elantra N, which starts at $34,015 and offers a level of performance that's as unhinged as this sedan's wild design. It's not for the faint of heart.
So, no, the Volkswagen Jetta GLI is not the most powerful, best-handling or best-looking car at its price point. But for a lot of buyers, that's still OK. If you want lots of amenities in a car that isn't a total dud, the Jetta GLI offers appreciable bang for the buck.