2022 Subaru WRX Review: Tempered Expectations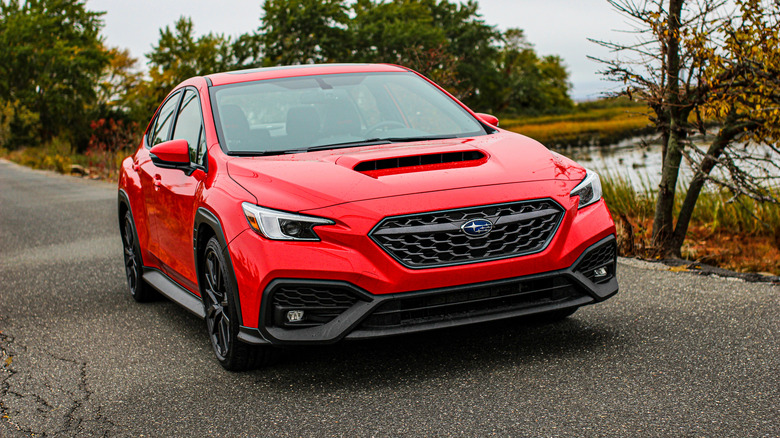 Alex Kalogiannis/SlashGear
EDITORS' RATING: 7/10
Reality is the worst, particularly when it comes to the car buying process. Even the most capable auto will fail to match a shopper's ideals of perfection, no matter how pragmatic they may be. It doesn't help that a vehicle's marketing is so adept at hitching onto the lobe of our brain that squeezes out the most fantastical scenarios, influencing each with ethereal drive roads, ideal conditions, and a car that brings it all together. And if a car has a motorsport legacy, your brain doesn't have a chance: this car comes from race cars, so it's kind of a race car, making you – of course – also, kind of a race car driver if you think about it.
Boom. You're hooked, but our old friend reality is never lurking too far, ready to take expectations down a peg. Such is the case with the 2022 Subaru WRX, a nameplate that carries with it a Trapper Keeper's load of stories from Subie's speedy legacy (its historical legacy, not it's Legacy-legacy). The WRX was birthed from the Impreza but has since been spun off into its own entity and pulled some of the STI performance magic along with it for a bit, until the arrival of the car's second generation this year.
Moving onto a new platform and without any high performance models likely to come, Subaru seems content to let the WRX settle into normalcy, grow up a bit, and put its glory days behind it. Dour as that may sound, the 2022 WRX still has what's special at its core and proves to be enjoyable while performing its role as a domesticated runabout.
Rally, darling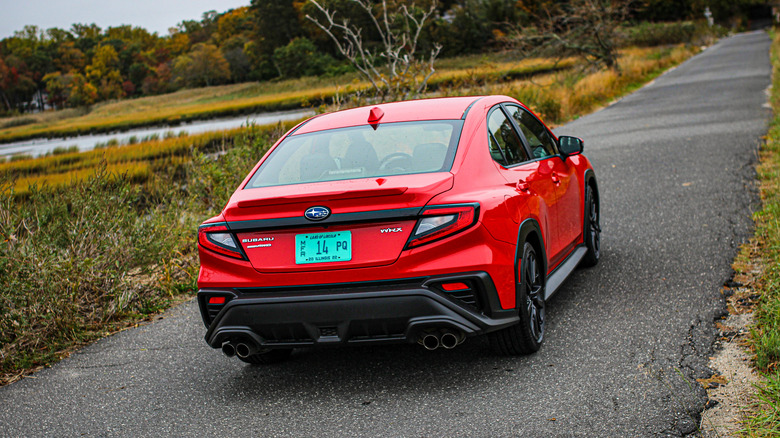 Alex Kalogiannis/SlashGear
The Subaru WRX is the fifth generation of the automaker's rally-inspired sedan. All models are powered by a turbocharged 2.0-liter boxer-4 engine, capable of whipping up 271 horsepower and 258 pound feet of torque. Power is sent to all four wheels by either a 6-speed manual or a CVT automatic transmission which has eight pseudo-shift points drivers can flick through to feel racy. Opting for the latter means Subaru also throws in drive mode select with three different levels of engagement.
The top tier GT trim adds a fourth for maximum sportiness and adaptive dampers in the suspension. This is also the trim that is CVT only, with no 6-speed as an available option.
Beyond that, all four versions of the WRX are relatively the same, with the base staring things off with 17-inch wheels and a conservative collection of standard equipment, while all other trims sport 18-inch wheels, each adding a few more amenities as you go through the lineup. Power in the WRX is split evenly between the axles and each comes standard with torque vectoring for improved corner-hugging.
Rubber is racy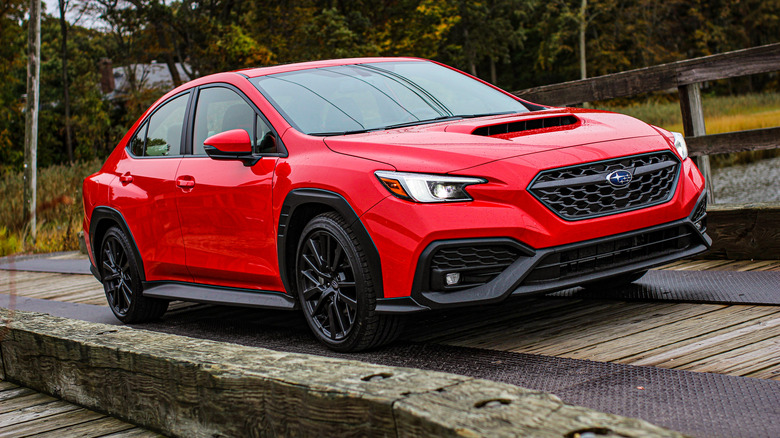 Alex Kalogiannis/SlashGear
With a neat if angular package mixed with a smattering of black cladding, the car's exterior splits the difference between sporty street style and the brand's rugged attitude like the automotive equivalent of a trail running shoe. Even with all the cladding, the WRX isn't as in your face in real life as one might expect. It's not as elegant as the BRZ but it's not as rubbery or trail-ready as the Forester. 
All in all, it's a design that works, though one can't help but look at it and feel like it's missing something. Perhaps it was the wild wings that the previous STI versions burned into our minds, but even with its creases and contrasting panels, the WRX looks diminished in some way. Granted, the previous WRX and Impreza models all benefitted from a sporty STI glow-up, but in its current guise, the Subaru looks more sensible than the energetic designs that came before.
Best seats in the house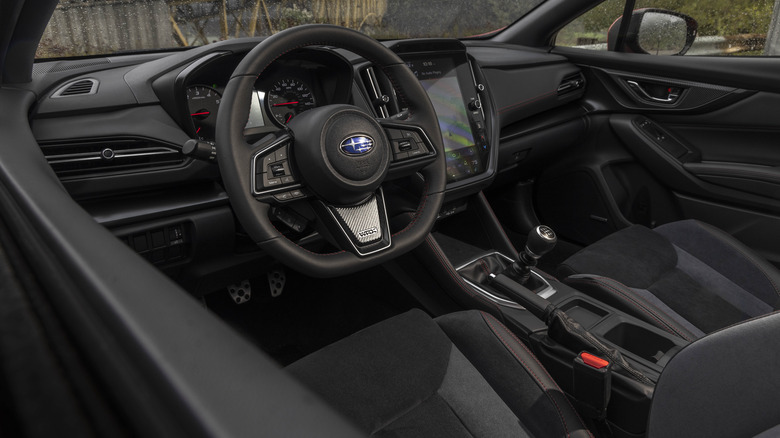 Subaru
The WRX's cabin is airy and comfortable, with a windshield that provides notably superb visibility. Control inputs are limited to a few touch points and knobs, with most of the action taking place on the massive tablet-like 11.6-inch touchscreen, standard on all trims save the base model. This screen makes use of the real estate with big, chunky apps and large maps, but it's almost too big to futz with while on the move. Thankfully, It's Apple CarPlay and Android Auto compatible, which helps narrow things down to a more periphery-friendly size.
Apart from that, the Subaru's cabin is generally solid and serviceable but otherwise scant on outstanding details. When it comes to safety tech, the WRX includes blind spot detection, cross-traffic alert and lane change assist on most trims. CVT-fitted vehicles also include Subie's EyeSight driver assist tech that throws in advanced adaptive cruise control, pre-collision braking, and lane keep assist.
Finding the fizz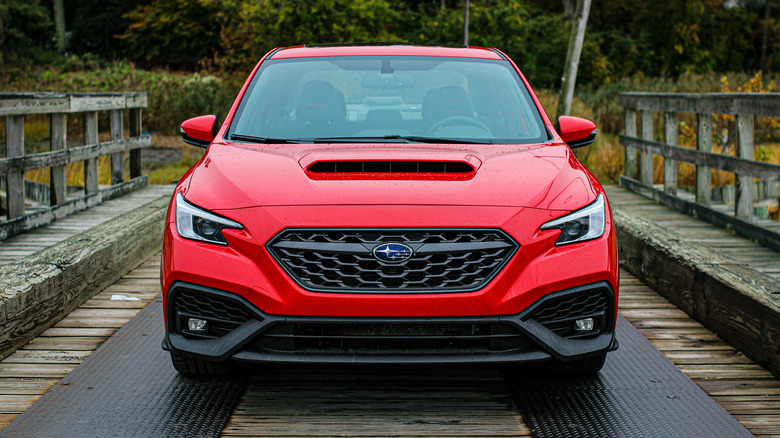 Alex Kalogiannis/SlashGear
If we're being perfectly frank here, there's something about this Subaru that makes it slide just beneath expectations at first approach. Maybe it's the so-so styling that feels a bit too cleaned up for a "wacky" rally-inspired performance car, or maybe it's the modest performance output numbers. The whole package isn't bad at all, but it's also "fine."
"Just fine," as if the car of your dreams in the dealer lot just left, "but hey, we have the new WRX!" It's not bad. You look at it, shrug, and drive off together.
But given a chance, the WRX's peppy enthusiasm is immediately charming. From jump, the Subie is responsive and engaged. Its power dials in quick enough to be exciting without feeling overwhelming or uncontrollable, and rowing through the gears with the fiddly six-speed make it all the more enjoyable. The boxer engine up front rattles excitedly and makes each gear an achievement, even though you're only at 60 mph.
Just one more round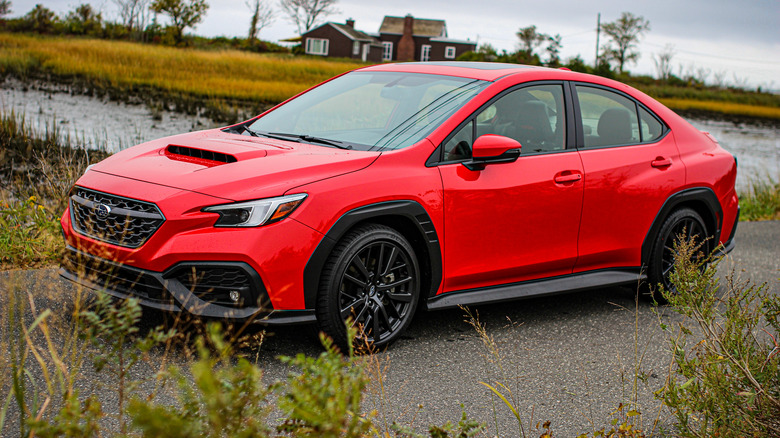 Alex Kalogiannis/SlashGear
There's just enough body response to where the car rolls into turns while remaining taught. It's not floppy or too stiff, it's al dente. When it pulls into a turn, the top might be tilted but the all-wheel drive and the active torque vectoring make sure that the bottom isn't.
That springiness becomes very encouraging, prompting you to explore and rediscover parts of your own neighborhood. "This feels great in the city, I can't wait to drive it on the highway," you think to yourself. From the highway, you think "this would be brilliant on the backroads," so you blow past your house and head to the outskirts. Each time, on and on, the WRX just keeps encouraging you to drive.
Eager to please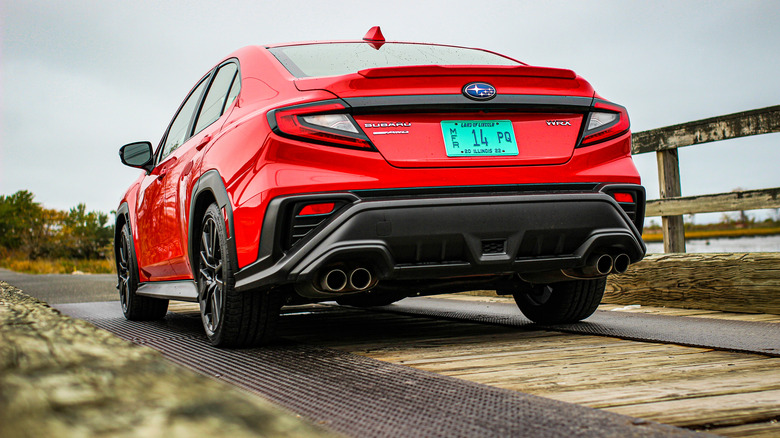 Alex Kalogiannis/SlashGear
It also feels up for just about everything, too. The Subaru is sporty, but it's not as delicate as, say it's sibling BRZ, which is very versatile but it would wound a driver if they had to take it onto a gravel path or if the front lip was scuffed. The WRX on the other hand, with its bouncy undercarriage and rubber mouth guards, is game if you are. Just don't get too caught up in the soft-roading to start thinking the WRX has the ground clearance for that kind of adventure. A Volvo V90 Cross Country it is not.
Having a true-blue sedan means that all the sportiness comes with a fair amount of utility. The WRX fits four people just fine, with a decent amount of trunk space leftover and rear seats that fold down if the 13 cubic feet allotted isn't enough. It might not offer the same level of functionality as its hatchback Impreza stablemate, but you'll still look for every excuse to get back behind the wheel as I did, knocking errand after errand off my list just because all wanted to do was go back and drive this thing.
Glee club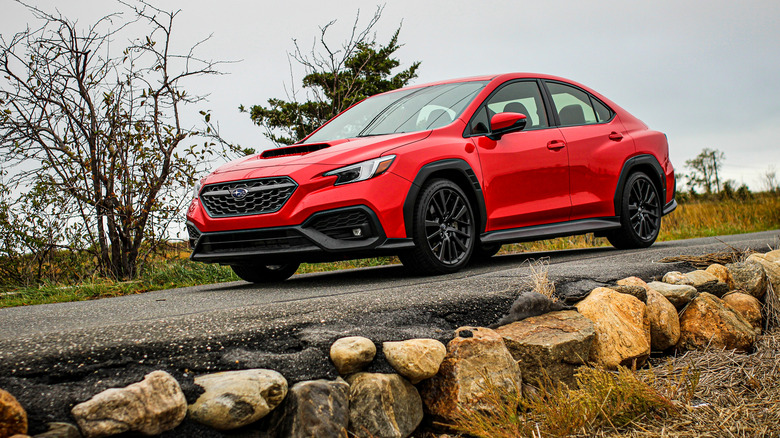 Alex Kalogiannis/SlashGear
This may be damning with faint praise, but the 2022 Subaru WRX exceeds expectations that weren't too high to begin with, but time behind the wheel reveals that it's effervescent with the fizz that enthusiasts are keen to have in a light, inexpensive vehicle. It's the kind of car where your partner will catch a mindless smirk growing across your face because you've zoned out, absorbed by the giddiness evoked from the nuances of every input. By doing "just enough," the WRX's sportiness, utility and ruggedness make it a handy jack-of-all trades for daily use and enjoyment.
The aptly named base trim starts off at $29,605 while the top tier GT asks for $42,395. If you can resist having the adaptive suspension, Recaro seats, and bespoke driving mode among other GT-trim-specific options, the Limited trim nets you just about everything else the WRX offers for a price that starts at $36,495. These entry fees put it in line with the handful of remaining sedans at that price point that are also a bit sporty, notably the $30,000 Hyundai Elantra N and the $28,315 Honda Civic Si. Both are fun and versatile in their own right, but the WRX distinguishes itself with a more playful attitude and its slightly more rugged utility.