The 8 Best Bone Conduction Headphones Money Can Buy
The headphones market is mostly dominated by various drivers that use magnets and an electrical field to turn electrical signals back into sound waves to stimulate our eardrums. In recent years another type of headphone has emerged, one that doesn't recreate sound waves and bypasses the eardrum altogether. These are known as bone conduction headphones, and for the most part, they keep your ears open to the world around you so that you can stay aware of your surroundings.
The technology inside them uses a transducer to create vibrations that transmit from your cheekbones to your inner ear. They don't require any open ports to move air through, so they can be created completely waterproof for swimmers, athletes, or outdoor pursuit chasers. The industry has a few main players, with varying models tweaked for individual use cases. Some traditional headphone companies have added transducers to their multi-driver IEMs, as bone conduction enables a lower frequency response. These options are the best bone conduction headphones on the market.
What is bone conduction, and how does it work?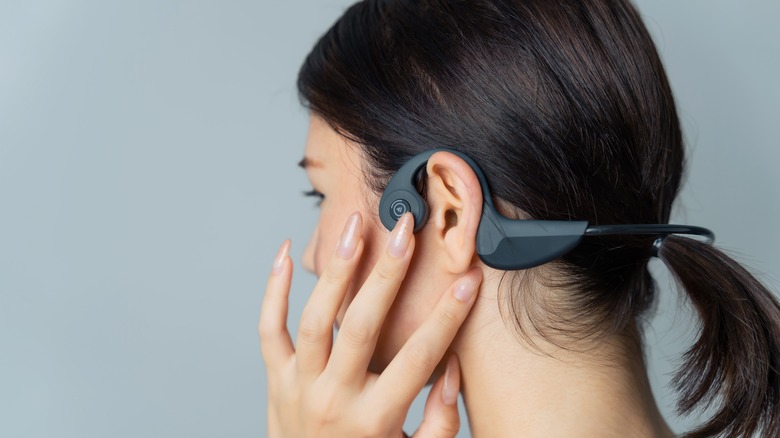 metamorworks/Shutterstock
School students learn how the parts of the ear work together to turn the sound waves all around us into the sounds we hear. The outer ear directs the sound down to the eardrum, which vibrates, hits three tiny bones, and transmits vibrations to the inner ear or cochlea. However, sound waves are only part of how we hear. Some sounds bypass the eardrum and are heard through vibrations passing through our bones directly into our inner ear.
That's bone conduction, with vibrations passing down our jaw and skull bones into the sensitive structures of the inner ear. It's a large part of how we hear our own voice and accounts for why our recorded voice sounds strange to our ears when played back. It's not a new concept and was invented by the composer Ludwig van Beethoven. His hearing started to deteriorate when he was around 28 years old. That didn't dissuade him from composing and playing, and he discovered an important fact about anatomy. At a time when science understood almost nothing about how hearing worked, Beethoven discovered that placing a wooden rod onto his piano and clasping it between his teeth enabled him to hear the notes played. That's bone conduction at work, bypassing his failing middle ear. Nowadays, this is used in hearing aids, open-ear headphones, and in industrial settings where the surrounding noise level is too high for traditional headphones.
Why would I want bone conduction headphones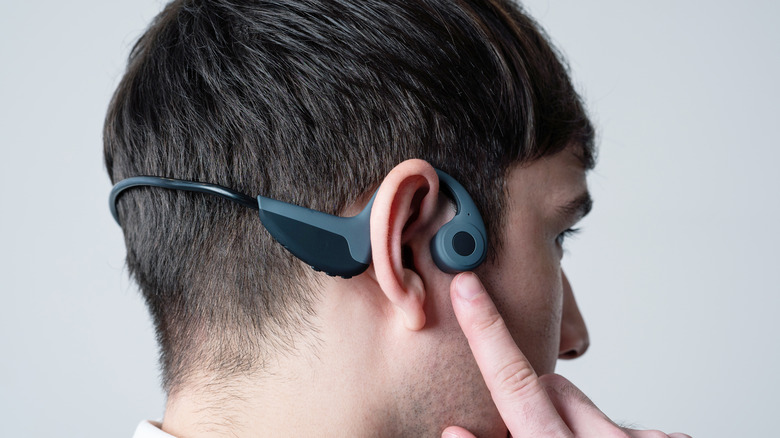 metamorworks/Shutterstock
Bone conduction headphones have some benefits over traditional headphones. The biggest of these is the increased situational awareness afforded by the open construction of most bone conduction headphones. Because they sit on your cheekbone instead of plugging your ear canal, you hear the world around you at the same time as your music. That's like using transparency mode on expensive headphones, but you don't get the unnatural feel of the surrounding noises. When using bone conduction headphones, you can hear cars coming up behind you, a jogger or cyclist approaching, or other situational hazards that you might have otherwise missed.
The over-ear design is also better at staying put, which means no more earbuds falling out of your ears. This also removes the irritation of silicone ear tips, the hygiene issues of earwax, and any sizing issues inherent to how headphones are designed. Because they can be a fully-enclosed design, bone conduction headphones are often fully waterproof, and some even have inbuilt mp3 players so they can be used in the pool. They're also great for gym use, and they're easier to clean than any other kind of headphones.
For the audiophile: Mest MK II
Bone conduction drivers aren't only for open-designed headphones that work for exercise and sports. Audio companies have realized that putting smaller transducers into traditional IEM designs extends the frequency response into the lower regions without other driver types' distortion and other tradeoffs. Boutique headphone maker Unique Melody has been putting bone conduction drivers into well-received IEMs for a while now, and the $1,799 Mest MKII is its best-known model.
One dynamic driver, two electrostatic drivers, four balanced armatures, and a dual sides bone conduction driver in each IEM bring the frequency response down to 500 Hz for sub-bass you can feel. UM was the first to put bone conduction into IEMs with the original Mest MKI, which has been copied by multiple brands since. Because the IEMs sit inside your ears, the smaller bone conduction transducers still pack a punch of low-end bass, rounding out the other drivers used in the design.
For the swimmer: Shokz OpenSwim
Most bone conduction headphones have decent weatherproofing, as they don't need open ports like traditional headphone drivers. Not many have enough waterproofing to wear in the pool while doing lengths, except for the $149.95 Shokz OpenSwim. They come with IP68 waterproofing for submersion up to 6.5 feet (two meters) in depth and Shokz 7th generation bone conduction technology for listening to your tunes while under the waves. The OpenSwim has eight hours of battery life, plenty for even the longest swimming session.
The other thing the OpenSwim does differently from other bone conduction headphones is it ditches Bluetooth connectivity in favor of onboard storage. It has 4GB of storage for MP3, WMA, AAC, WAV, or FLAC files and your computer will see it as an external USB drive to transfer files across. Shokz did this non-wireless configuration because the pool will break any Bluetooth connectivity, leaving you adrift in a sea of silence. The open design enables swimmers to wear fully-fitted earplugs, keeping pool water out to reduce infection risks.
For the basshead: Shokz OpenRun Pro
Often bone conduction headphones lack bass, which is odd when you think of how the vibration is directly passed to your inner ear. Thanks to new bass transducers, the $179.95 Shokz OpenRun Pro can reproduce heavy music like drum and bass or metal with more aplomb than most bone conduction headphones. The flip side is that you'll probably feel the buzzing vibration of the headphones more, a fair tradeoff for better sound quality. The redesign also increased the onboard buttons' size, making them easier to press while it's on your head.
They have an IP55 water resistance rating, perfect for almost all conditions apart from being in the pool. The proprietary magnetic charging cable has been repositioned away from control buttons, making charging easier than other Shokz models. Five minutes of charging gets up to 1.5 hours of playback, so you don't always have to worry about battery levels. A complete charge holds 10 hours of playback according to the company, enough for multiple gym sessions or even a full day of use at your desk.
For the weather: Mojawa Mojo2
Mojawa's second release of bone conduction headphones is the $149 Mojo2. They weigh just under an ounce, thanks to their titanium frame covered by soft silicone. The headphones are IP67 rated for dust and waterproofing; although you wouldn't want to dive into the pool with them on, they will survive sweat, rain, and almost any other liquid exposure. The battery is rated for eight hours of playback, takes 50 minutes to charge fully, and five minutes of quick charge gives 80 minutes of playback, faster charging than most of the competition.
The Mojo2 are stylish and have smaller transducers than many bone conduction headphones. The left transducer has a physical button for music controls, call controls, and power. The right side has a touch-sensitive panel for volume control. The company says the Mojo2 has better actuators that provide "10 times louder" bass in frequencies below 1 KHz than traditional transducers. The slimline design is also easily worn with helmets or glasses and uses Bluetooth 5.2 for wireless connectivity.
For the deep wallet: UM Multiverse Mentor
If money is no object, the Unique Melody Multiverse Mentor is $4,499 of sonic bliss, with a piezoelectric bone conduction driver with frequency shift technology to bring the resonant point of the driver below the upper limit of human hearing. The hi-fi IEMs use a 5-way crossover design, with no fewer than 12 balanced armatures (four bass, two mids, two mid-treble, four treble) in each earbud along the piezoelectric bone conduction driver.
Those drivers are housed in aviation-grade carbon fiber shells, with a ceramic frame to hold the bone conduction driver, and a banksia seed faceplate for some classy wood. The bone conduction driver, in this case, is used to extend the frequency response lower than the balanced armatures can provide without having to draw upon a dynamic driver. It's an interesting design that promises technical excellence across the entire frequency response. There are no Bluetooth or other wireless options here, instead of a braided, premium silver-plated copper cable terminated in a 4.4mm balanced plug.
For the ultimate comfort: Shokz OpenRun
The .9-ounce weight of the $129.95 Shokz OpenRun is the flagship from the biggest name in bone conduction headphones and is known for being the most comfortable on the market. They are a favorite of runners, as races have started banning in-ear and over-ear headphones as a safety precaution. The open-design of bone conduction headphones keeps the runner in the moment so that environmental sounds remain. They come with higher bass, a lower weight, and lower sound leakage than the previous Shokz release, which the other gym users will be thankful for.
The Shokz OpenRun has an eight-hour battery life, with quick charging that gives an hour of playback from a 15-minute charge. That's decent, even if some of the newer headphones from Shokz charge faster. The headphones also feature dual noise-canceling microphones for handling any calls you need to make. The physical buttons for controlling volume and power are close together, and awkwardly close to the power charging port. This has been changed on the OpenRun Pro, but those cost $50 more.
For the bargain hunter: Lenovo X5
For $52.99, the Lenovo X5 comes with IPX8 waterproofing for swimming use, low weight, six hours of battery life, and a stylish design that doesn't stick out as much as the competition. Lenovo put Bluetooth 5.0 into these stylish, slimline bone conduction headphones for wireless music or voice call playback. The company also stuffed 8GB of memory and an integrated MP3 player into the X5, so they can be used as a standalone music player and when connected to another device.
Weighing only one ounce, it can be worn for hours without irritation. The microphones support ENC noise reduction for crystal-clear voice calls. Lenovo says that the six-hour battery life was measured at 65% volume and that it takes two hours to recharge with no fast charging available. The multifunction power button also handles call acceptance and music playback control. The Lenovo X5 is a wallet-friendly way to try out bone conduction headphones, to find out if you want to splurge on a more expensive and feature-filled pair.
For the office: Shokz OpenComm
The $199.95 Shokz OpenComm UC are the ultimate in work-from-home, work-from-the-office, work-from-anywhere headphones thanks to their lightweight construction, noise-canceling boom mic, easily reached call controls, and Bluetooth 5.1 for solid connectivity. They also have a 2.4GHz dongle, so crowded office spaces with wireless interference are no problem. Weighing just over one ounce, they're light enough to wear for long periods and the open construction lets in ambient noise for situational awareness.
The OpenComm UC boasts 16 hours of battery life, so they're always ready for the next conference call. They're IP55 rated for splash proofing and have a molded hard shell case for protection when not worn. They're a perfect office headset, with how easily bone conduction transmits the vocal frequencies, with microphone quality that's better than most onboard microphones on headsets. If spending time on calls and in meetings is a significant part of your workday, the Shokz OpenComm headphones are worth splurging on.