The 10 Most Durable Headphones You Can Currently Buy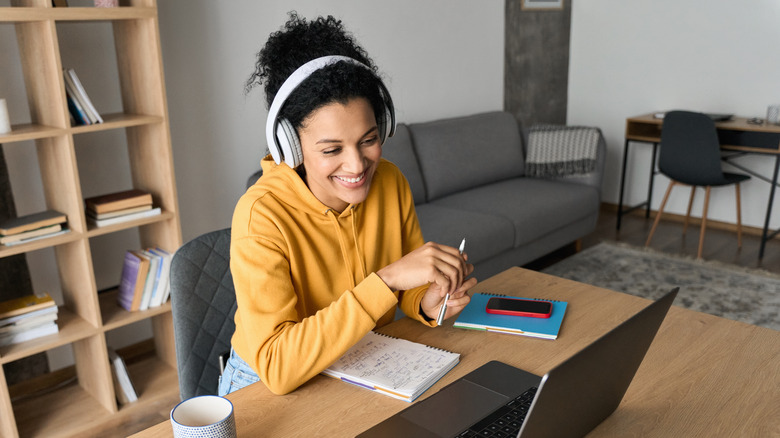 Ground Picture/Shutterstock
We may receive a commission on purchases made from links.
Buying a new pair of headphones is a tedious task. There are so many unique features to research and designs to choose between — the possibilities can seem endless. While many of us turn to a headphone's sound quality, overall performance, aesthetic, or even connectivity options, we forget to look at durability.
Sure, we all want a pair of headphones that look, feel, and sound great. But can it stand the test of time? It's easy to spend well over $100 on a pair of headphones, so you might as well invest in a pair of durable headphones that's able to withstand daily use for years to come.
To be clear, you don't have to choose between durability and all the other awesome features headphones can offer. Great, premium headphones are often expensive for a reason. Premium options, like the ones gathered here, find the perfect balance between being sturdy enough to handle an accidental drop, as well as being comfortable, attractive, and pleasing to the ears.
Sennheiser MOMENTUM 3 Wireless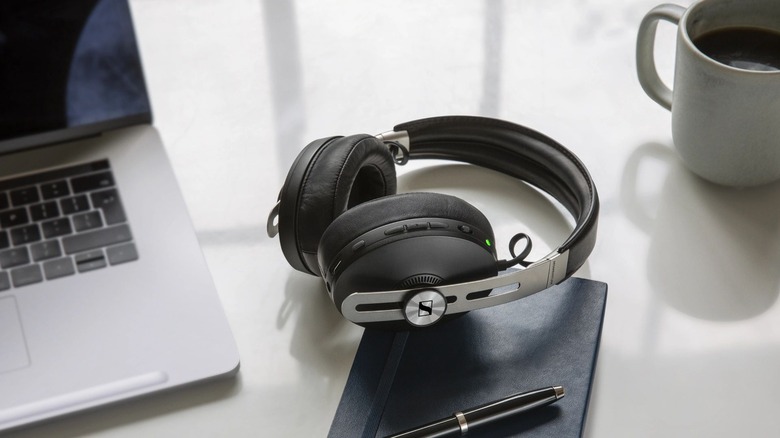 Sennheiser
The Sennheiser MOMENTUM 3 Wireless Headphones are made of hard plastic and metal, providing a sturdy frame with matte steel arms that can withstand heavy daily use. The headband is made of genuine sheepskin leather, while the ear cushions are plush memory foam.
Instead of plastic buttons and sliders, Sennheiser went with a rubberized material that feels more premium. The three-button interface lets you quickly switch between listening to music and making phone calls, linking up with your preferred virtual assistant, and adjusting the volume control.
With a 42-millimeter dynamic driver, a frequency range of 6 hertz to 22 kilohertz, and an internal audio equalizer – which you can adjust via the Sennheiser Smart Control mobile app — the sound performance is stellar and tailored to whatever you're currently listening to. Features like active noise cancellation and transparent hearing make it easy to take the headphones out into the world and not worry about your music being interrupted or missing an important bit of conversation. Then, there's a smart pause feature that saves your 17-hour battery life by pausing your music when you take off the headphones.
Sony WH-1000XM4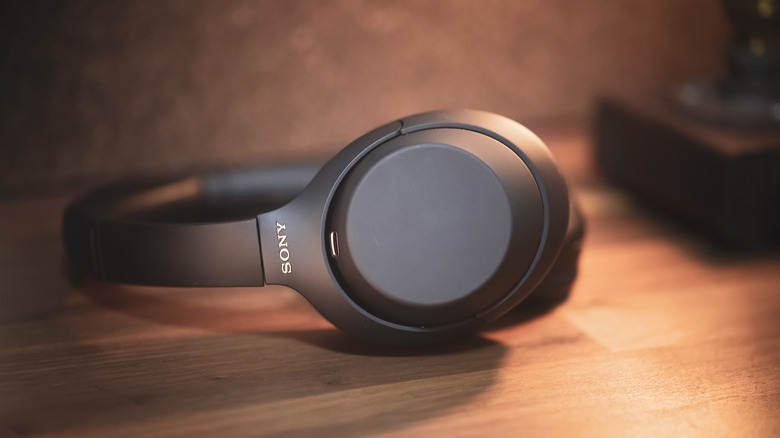 Zack23/Shutterstock
Sony's WH-1000XM4 headphones have been a crowd favorite for quite a while, and for good reason. They blend active noise cancellation with crisp sound quality for a listening experience that's perfect in practically any situation.
Inside, there's dual noise sensor technology that captures ambient noise, passes the data along to the HD Noise Cancelling Processor QN1, and then works in real-time to find the perfect balance between your music and external noise. The Processor QN1 also has a built-in analogue amplifier that allows for low distortion and fantastic sound quality for all your devices. With its powerful 40-millimeter drivers and liquid crystal polymer diaphragms, Sony's WH-1000XM4 headphones can easily handle a full range of frequencies, from 4 hertz to 40 kilohertz.
One of the coolest features of these headphones is adaptive sound control, which is a smart function that senses your current environment and adjusts ambient sound settings for an ideal listening experience. A quick 10-minute charge gives you five hours of listening, and even with ANC and adaptive sound control, the max battery life is about 30 hours.
The standard of comfort in this pair of headphones matches the high level of sound quality. The ear cushions are pressure-relieving and incredibly soft for a stable and comfortable fit. Then, the ear cups swivel inwards when you need to pack them away, and the case that's included is durable enough to withstand an accidental drop. The WH-1000MX4 headphones aren't waterproof, unfortunately, but many premium headphones simply aren't.
Jabra Evolve2 85 Wireless
Jabra makes a lot of popular headphones and earbuds, but one of its most durable models is the Evolve2 85 Wireless. It has a metal frame in the headband covered with soft memory foam for comfort; the ear cushions are memory foam as well. What's unique about the design of the Evolve2 85 Wireless is that Jabra took biometric measurements of hundreds of heads in order to create something that adjusts to fit every head size and shape.
With digital hybrid active noise cancellation — powered by Jabra's most advanced digital chipset to date — you can control how much of your external environment you want to hear. If you only want to hear your favorite songs, they'll come through with clarity on these leak-tolerant 40-millimeter speakers. The Evolve2 85 headphones are capable of hitting lows, mids, and highs in any song with a frequency range of 20 hertz to 20 kilohertz.
The headphones also have smart 10-microphone tech that helps your voice come across loud and clear even if you're in a noisy office. Speaking of, if you work in a bustling office, you'll probably love the busy light feature on these headphones. There's a red light on the ear cups — visible from all directions — that automatically turns on when you're in a meeting or on a call, though you can also manually turn it on when you don't want to be disturbed.
On a single charge, you'll get roughly 37 hours of battery life. To fully charge the Evolve2 85 Wireless headphones, it would take about two and a half hours. Or, you can get eight hours of battery life with a mere 15-minute charge.
V-MODA Crossfade 3
With a strong, yet flexible, plastic headband and metallic hinges, V-MODA's Crossfade 3 headphones easily stand up to daily wear and tear. Unlike other headphones, you can bring your personality into the design by customizing the shields on the exterior of the ear cups. You can choose from an existing color or pattern on the site, or you can promote your personal brand by uploading a logo.
The sound quality on the Crossfade 3 Wireless headphones is meant to mimic an immersive club experience, so you'll hear well-defined bass and incredibly smooth mids and highs across a large frequency range of 5 hertz to 40 kilohertz (wired). With a hefty 30-hour battery life and large memory foam ear cushions, you can jam out at home or on the go for long periods of time and barely notice these over-ear cans on your head.
On a more technical note, V-MODA's Crossfade 3 headphones are equipped with a 50-millimeter dual-diaphragm driver, Bluetooth 5.1 tech, and passive noise-cancelling abilities. If you're after a pair of headphones with active noise cancelation, these aren't the headphones for you. However, for many people, passive noise cancelling works well at blocking out minimal distractions, like people chatting in the background.
Bose Noise Cancelling Headphones 700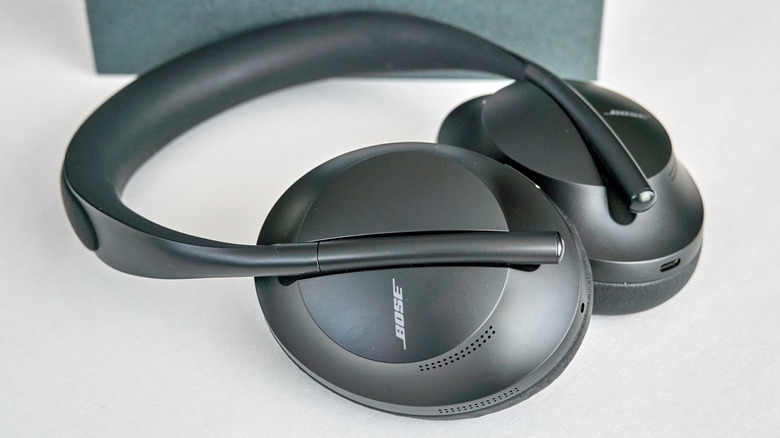 dennizn/Shutterstock
Bose has established itself as a premium option in the audio world, and the Bose Noise Cancelling Headphones 700 are a solid choice if you're after a durable set that's water-resistant. The stainless steel headband has a gel-like foam covered in silicone, providing a comfortable fit that can withstand accidental drops over time. Although this pair of headphones isn't waterproof, it does have an IPX4 rating which means it can withstand some sprays of water.
Touch controls on headphones aren't for everyone, but the 700's ear cup covers are equipped with an anti-stick coating for touch gestures. On the flip side, the ear cushions are made of soft foam and covered with protein leather. In addition to comfy materials, Bose also aims to decrease tension over time by tilting the ear cups at 15 degrees to mirror the anatomy of the human head and ears.
One of the top features of Bose 700 headphones is the world-class adjustable noise cancellation. While the 700s are capable of simply cancelling out external noise, they also have situational awareness, meaning they can automatically lower the volume when someone is talking to you or detect when you're in a noisier environment and turn on active noise cancelation.
With built-in voice control, a battery life that can last up to 20 hours, and low latency due to Bluetooth 5.0, these are a hardy pair of headphones that are worth the money. And as many other premium headphone brands offer, there's so much more you can customize via the mobile app: Bose Music.
Jaybird Vista 2
Jaybird's Vista 2 earbuds are perfect for anyone who wants something small — and therefore, easily portable — to use with intense workouts and in daily life. The earbuds have an IP68 rating, meaning they're waterproof and sweatproof, and military-spec ratings for protection against dust, water, and drops. Then, the charging case has an IP54 rating, which means it'll fight off limited amounts of dust, other particles, and small water sprays.
There are two beamforming internal microphones covered in WindDefense fabric, which fights off wind gusts and other unwanted noises during phone calls over Bluetooth 5.0. When you're listening to music, the Vista 2 earbuds work just as hard to find the perfect balance between your audio and outside noise. There's passive noise-isolation tech by simply having the buds in your ears, or you can turn on active noise cancellation to tune out your environment almost completely.
Turning on ANC will drain the battery faster, but with a 24-hour battery life, that shouldn't be an issue. Plus, a short five-minute charge gets you an hour of playtime. With or without ANC turned on, your music will still sound fantastic with the Vista 2's 6-millimeter drivers, a response bandwidth of 20 hertz to 20 kilohertz, and the Jaybird App that lets you personalize your sound profile.
HyperX Cloud II
If you're after a durable gaming headset, check out the HyperX Cloud II. The aluminum frame is sturdy but flexible enough to conform to your head for a comfy fit. Then, the ear cushions are made of HyperX's signature memory foam and premium leatherette so they'll stand up to daily use and feel great for long periods of time.
The Cloud II headset has an over-ear, closed-back form factor and a frequency response between 15 hertz and 20 kilohertz. Inside, the 53-millimeter dynamic drivers with neodymium magnets work to deliver impressive sound quality. When combined with DTS:X spatial audio tech, your gaming experience will become even more immersive.
They have both wired and wireless modes, so you can always use the headset no matter how much battery life it has. If you opt for wireless mode, you'll need to plug in the 2.4-gigahertz USB-RF dongle. In wireless mode, the headset is compatible with PlayStation consoles, Nintendo Switch, and PC. For Xbox users, only the wired mode would work. The battery lasts up to 30 hours in between charges and the max wireless range is a whopping 20 meters.
If you need a mic, the one that comes with the Cloud II headset is Discord and TeamSpeak certified, has noise-cancelling tech, and an LED mute indicator that makes it easy to tell when your mic is on. Then, you can listen to your own voice to make sure you're not too loud and you sound clear. And if you don't want a mic, you can just detach it from the headset.
iClever BTH12
The BTH12 headphones from iClever are specifically designed for young kids, so parents can have peace of mind knowing that they're durable enough to withstand even the roughest user. The headband sliders are adjustable for the perfect fit, but the headband itself stands up to potential yanks and drops. The pillowy ear cushions made of synthetic protein disguise the sturdy frame and sit comfortably over the ears for hours.
With a whopping 40-hour battery life, these are perfect for road trips, flights, or lengthy daily use. Plus, if you ever forget to fully charge them, a short 10-minute charge via USB-C gives you four hours of battery life. Your child can take hands-free calls with Bluetooth 5.2 and the built-in mic, so if they have a smartphone, there's no need to take the headphones off to switch between listening to music and answering a call.
If your kid doesn't like using the BTH12 headphones wirelessly, there's also a wired mode option that doesn't use up the battery. With either option, the 40-millimeter speaker unit delivers rich bass in music and crisp speaking audio. There are three unique volume modes to ensure your child doesn't blast music too loud: normal mode (74 decibels), learning mode (85 decibels), and travel mode (94 decibels). For a personal touch, your kiddo can choose between four different lighting modes using the built-in RGB LED lights and the click of a button.
Apple AirPods Max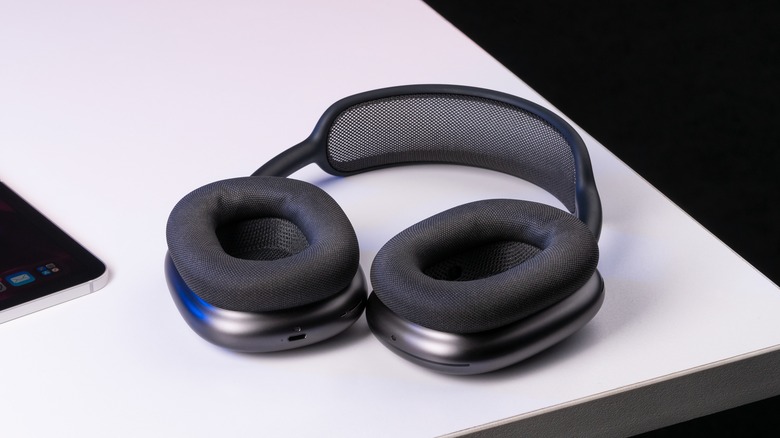 Hopix Art/Shutterstock
Whether you're an Apple fan or not, it's hard to deny that the company makes some pretty durable products, including the AirPod Max headphones. Its stainless steel frame and all-metal design make it a hardy pair of headphones that can withstand plenty of use, and it's encased in a soft material for comfort.
The ear cups are made of anodized aluminum and capable of rotating independently of one another and balancing pressure on each side of your head. Then, the ear cushions contain acoustically engineered memory foam and are covered in a mesh textile wrap that feels like a cloud. So despite being incredibly durable, the AirPod Max headphones are super comfy to wear for long periods.
Apple's custom dynamic driver covers a wide frequency range and delivers an excellent mix of rich bass and crisp mids and highs for a quality listening experience. Inside the driver, there's a dual-neodymium ring magnet motor that helps minimize total harmonic distortion across the full audible range. Then, there's an H1 chip — also designed by Apple — in each ear cup, with 10 audio cores that work together to produce computational audio, which helps block outside noise and adapts the audio to the fit of your ear cushions.
Of course, there's active noise cancellation tech to help block unwanted noise as well. The AirPods Max headphones use six outward-facing microphones to detect noise, and two inward-facing microphones to measure what you're hearing and cancel out the noise. Then, spatial audio tech mixes with dynamic head tracking to create a 3D listening experience. With ANC and spatial audio enabled, you'll get up to 20 hours of playtime.
Beyerdynamic DT 900 X
Beyerdynamic is known for its robust build quality, and many sets from the '80s and '90s are still fully functional. So despite not having an IP rating, Beyerdynamic's DT 900 Pro X headphones are bound to last you a long time. The German-built headphones are studio quality, with an open-back design that appeals to audiophiles looking for a stunning sound. Though the DT 900 X cans are recommended for musicians, producers, and streamers, anyone who gives them a listen will appreciate how detailed and spacious the music sounds.
With the newly developed STELLAR.45 driver and sound transducer working together, the sound quality is superb, without any distortion muddying your music. The driver has an impedance of 48 ohms and makes playback on any device possible. Without getting too technical, the components within Beyerdynamic's DT 900 Pro X headphones — neodymium ring magnet, copper-clad high-tech wire, and three-layer speaker diaphragm — make the studio quality sound reliable and distortion-free, even at high sound pressure levels.
However, impressive sound quality means nothing if they aren't comfortable enough to wear for hours. The headband has a spring steel design for a secure fit, and is then covered with soft memory foam. Then, the ear pads are made of plush, breathable velour.
If you like the sound of Beyerdynamic's DT 900 X headphones, but don't like the fact that they're open-back, check out the DT 700 Pro X set instead. You'll sacrifice the soundstage you get in exchange for using closed-back headphones discreetly in public.