Waterproof Headphones That Are Worth Buying Right Now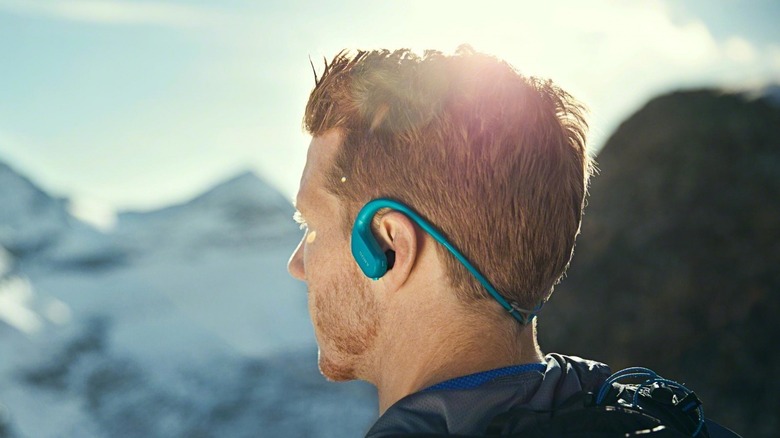 Sony
A carefully-curated playlist can be the perfect companion to your gym workout, swim, or morning run, but not every pair of headphones will be able to stand up to the task. Waterproof headphones allow music lovers with an active lifestyle to take their tunes with them wherever they go, and there's a huge range out there to choose from. However, not all waterproof headphones are equal — most are designed for one specific type of activity, and aren't quite so good outside of that environment. So, it's important that you pick the pair best suited to your routine.
Our list of top picks aims to cover all the main reasons you might want a pair of waterproof headphones, and there's something for all budgets, too. All of these pairs are naturally quite tough, but if you're in the market specifically for something hard-wearing, then we've also compiled a list of the most durable headphones you can buy right now. Alternatively, if overall sound quality is your number one priority, take a look at our roundup of the best-sounding over-ear headphones available.
IP ratings explained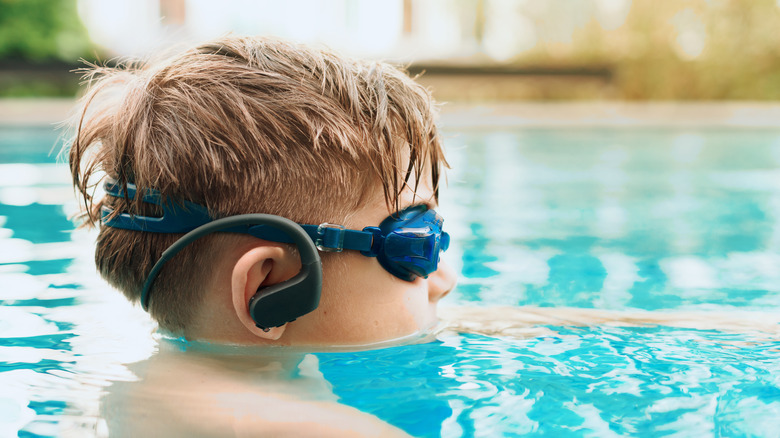 Olga Pink/Shutterstock
Before buying a pair of waterproof headphones, it's important to work out whether the pair in question will be resistant to the water conditions you'll need them for. The main way manufacturers measure this resistance is through an ingress protection (IP) rating, which measures protection against both dust and water. The IP rating will usually take the form of either a two-digit number (for example, IP68) or a single digit with an X (say, IPX7). The first digit relates to dust protection, while the second digit relates to waterproofing, so it's the important one here. The X isn't anything to worry about — it simply means the manufacturer hasn't tested the device for that particular type of protection, so in the case of an IPX7 rating, dust ingress protection hasn't been measured.
Ratings less than IPX5 should not be considered waterproof at all, and any product with either IPX5 or IPX6 ratings will only be able to withstand water spray, not submersion of any kind. IPX7 is what most people would consider true waterproofing, since the product will be able to withstand submersion in water for 30 minutes at depths of up to 1 meter (roughly 3 feet). IPX8 is the top level found in most commercially-available headphones, meaning they can be submerged deeper than 3 feet, with the exact limitations specified by the manufacturer.
Naenka Runner Pro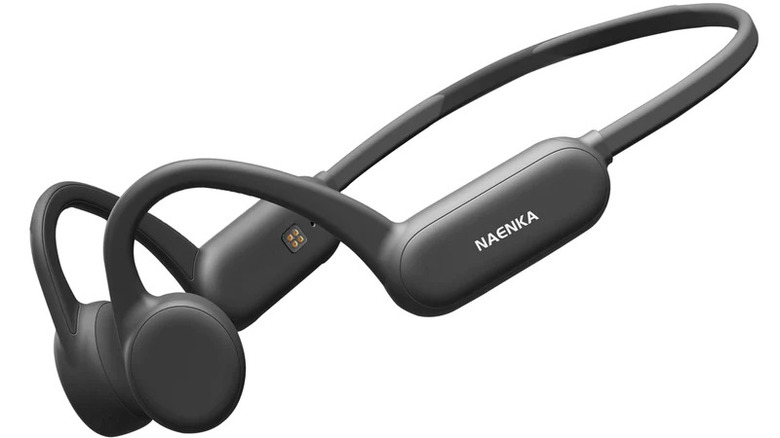 Naenka
Naenka's Runner Pro bone conduction headphones are a bit of a jack of all trades, and as such, they're great for the athlete who likes some variety in their workout routine. As you might expect from the name, they're primarily designed for running, and they're comfortable enough for multiple hours of wear on the go. Our reviewer found that users with smaller heads might notice the headphones hang down a bit, but regardless of head size, they remained secure while running.
Bone conduction headphones bypass your eardrum altogether, piping sound directly to the bones in your ear. This provides a safer listening experience, especially when listening to louder music for long periods, but it does usually come at the expense of sound quality. The Runner Pros are one of the best-sounding bone conduction headphones we've tried, though, with impressive mid-range tones and vocals. With an IPX8 rating, they're also suitable for swimming, and they come with 8GB of built-in storage so you can pre-load your songs without having to worry about a patchy Bluetooth connection underwater. Unlike many of their competitors though, they also feature Bluetooth 5.0 connectivity for when you're not in the pool. Neanka advertises six hours of battery life per charge, although we found that to be a little optimistic, with realistic play time closer to five hours.
Jaybird Vista 2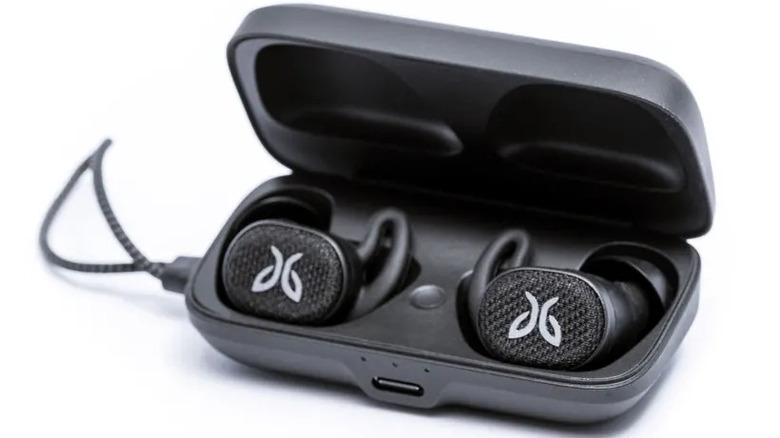 Jaybird
Anyone looking to make sure their headphones are "Earthproof" as well as just waterproof will appreciate the Jaybird Vista 2 true wireless earbuds, which feature IP68 dust and water protection as well as military-grade drop and crush protection up to MIL-STD-810G standard. Their general toughness and comfortable in-ear fit make them some of the best running headphones you can buy, suitable for anything from steadier-paced long-distance runs to HIIT workouts. The Vista 2s forgo physical buttons entirely, instead relying on a series of touch controls to activate various functions including answering calls and skipping tracks.
ANC (active noise cancellation) is included, and it's generally effective, even if it's not the best in its class. There is a specific adjustable feature for wind noise cancellation though, a feature that's both unusual and a very welcome addition for anyone who tends to exercise outdoors a lot. The sound is clear and detailed straight from the box, but there's an EQ available on the Jaybird app so more discerning listeners can tweak the levels exactly to their liking. With a retail price of $149.99, they're far from the cheapest options on the market, but the range of features these headphones offer make them more than worth the price of entry.
Jabra Elite 7 Active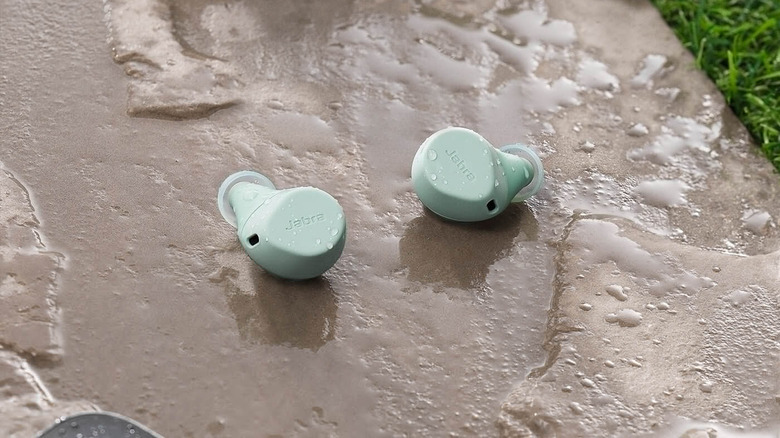 Jabra
Another top pick for runners looking for an all-weather pair of headphones, the Jabra 7 Elite Actives feature IP57 water and dust protection and a ShakeGrip coating to keep them firmly in your ear. As a result of this coating, they forgo the usual wing tips or ear hooks entirely, making them one of the most aesthetically pleasing pairs of sports headphones around. It's also easy to take the guesswork out of deciding which earbud tips are best for your ears, as the MyFit function in Jabra's app automatically scans your ears with the headphones in and tells you if the fit is optimal.
The headphones are good for up to eight hours of battery life, with a further 22 hours of charge available from the case. ANC is offered and although it's not class-leading, it's more than effective enough for most environments. The app also offers a variety of sound profiles to optimize listening to podcasts or music, and in general, sound quality remains clear and crisp no matter what style of music you prefer.
JBL Reflect Aero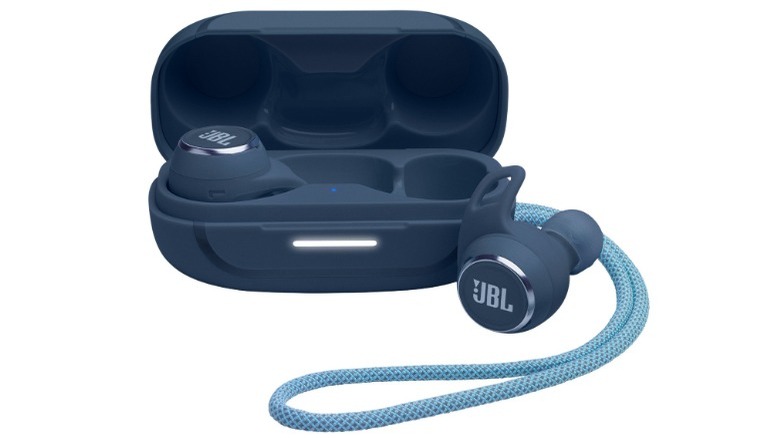 JBL
With an IP68 rating, JBL's Reflect Aero true wireless earbuds are some of the most durable on the market. Users are able to go out in even the heaviest rainfall without worrying, or wash them if they get sweaty after an intense workout. Like nearly all waterproof headphones, that waterproofing doesn't extend to the case, so be sure to dry them off thoroughly before putting them back. The case is also the source of another small annoyance — the long lanyard isn't removable, leaving it sometimes awkwardly hanging out when you're carrying the case in your pocket.
The Reflect Aero headphones deliver on all the most important bits though, namely comfort, noise cancellation, and sound quality. The JBL app's EQ is also one of the most versatile around, with options to precisely increase and decrease certain frequencies, although at the cost of reducing the overall maximum volume. Retailing at $149.95, these headphones have a lot of competition, but alongside the Jaybird Vista 2 headphones, they're about the toughest pair of wireless earbuds in their price bracket.
Sony NW-WS413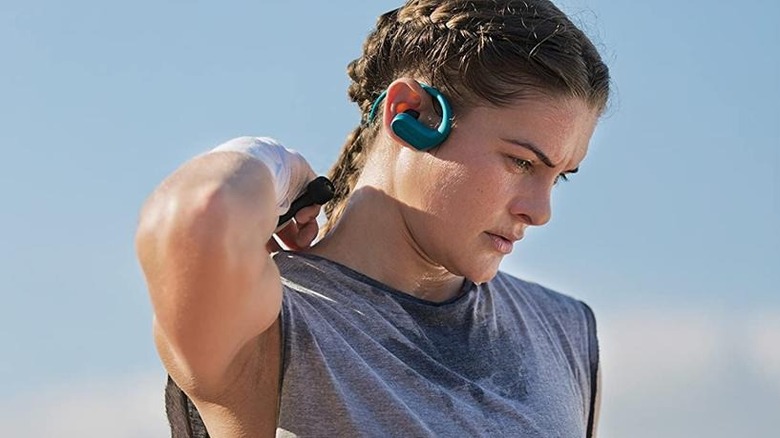 Sony
Sony doesn't actually market its NW-WS413 headphones as headphones at all, but rather as a "sports wearable MP3 player." 4GB of storage is available as standard, and files can be transferred by mounting the headphones to your PC like a regular disk drive. This does require you to have the MP3 files on hand in the first place, as there's no streaming integration. There's no Bluetooth connectivity or handy app either, so you're reliant on using the buttons on each earpiece to navigate between albums and tracks. However, once you get used to what each button does and how many presses each function requires, it's generally pretty intuitive.
The biggest advantage of the NW-WS413 headphones is that they require no extra equipment (phones, transmitters, etc.) once they're loaded with music — a big benefit if you're swimming in public pools or in the sea. They're also suitable for running too, and with 12 hours of battery life, you'll be able to fit in plenty of sessions before needing to recharge them. Sound quality is great for the price, and at just $99.99, they're more budget-friendly than a lot of the competition. Sony says they're suitable for swimming in both saltwater and freshwater up to 2 meters deep, and they're dustproof too, although no IP rating is given. They might be a bit old-school by some people's standards, but if you're not fussed about the lack of Bluetooth connectivity, they're undeniably great value for money.
Shokz OpenSwim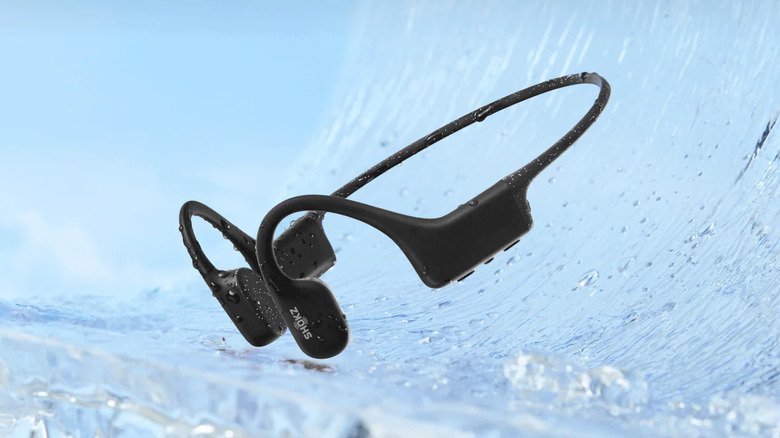 Shokz
If Sony's NW-WS413 aren't quite what you're looking for, then the Shokz OpenSwim bone conduction headphones offer an alternative way to take your music with you when you're swimming. They're slightly more expensive, with a retail price of $149.95, but they boast IP68 protection and a considerably lighter weight than the bulky Sonys. With bone conduction rather than Sony's traditional in-ear design, they also allow wearers to listen to music without blocking any external noise, whether that be ambient noise or voices.
They sound good both underwater and on land, making them a great choice for either triathletes or anyone who enjoys both regular swimming and running. An eight-hour battery life also makes them good for multiple sessions without a charge, although it's worth noting the charger is a bit fiddly to use when they do run out of juice. The other big issue is that because they're not Bluetooth compatible, the only way to play music is to load them up with MP3 files. That's fine when you're swimming, but it's a bit annoying that there's no way to connect them to your phone if you're taking them on a run.
Zygo Solo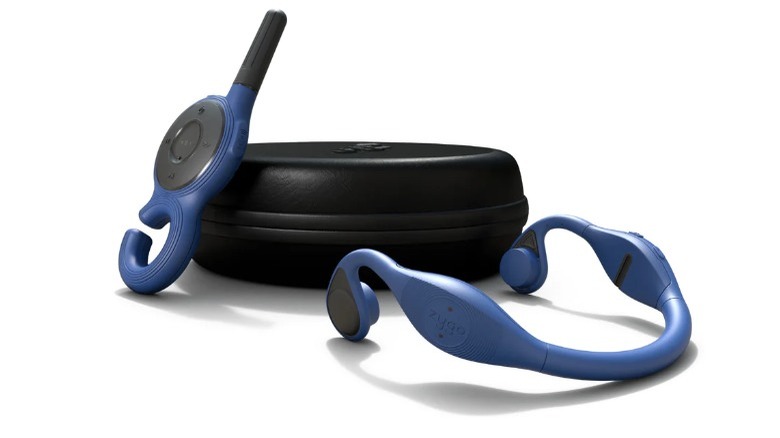 Zygo
Swimmers looking for a pair of waterproof headphones that don't compromise on streaming connectivity should consider the Zygo Solo bone conduction headphones, which feature a unique way of solving the Bluetooth connectivity problem. Bluetooth signals don't travel well underwater, making traditional Bluetooth headphones all but useless once you're in the pool. The Zygo Solo solves that by including an FM transmitter, which sends a feed straight from your phone to a receiver in the back of the headset.
There's also an optional external microphone so that a coach can use the FM transmitter as an easy way of talking to their athlete. Clearly, this is not a pair of headphones for your average occasional pool patron, but for serious swimmers, it's a breakthrough piece of kit. You do still have to leave both your phone and the transmitter by the side of the pool, which could be a problem depending on where you usually swim, and the headset itself is quite bulky. But, there simply isn't anything else quite like it on the market right now, which justifies its steep $299 asking price.
Tribit FlyBuds 3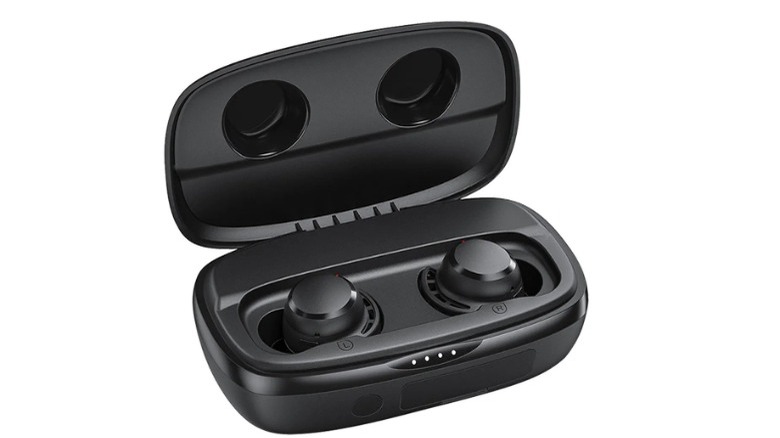 Tribit
Waterproof headphones don't have to be expensive, as the Tribit FlyBuds 3 offer IPX7 protection for a retail price of just $39.99. They also boast a very impressive 100 hours of playback time per single charge of the charging case, and they fit securely enough that neither a gym workout nor a run will shake them loose. They're not perfect – although they sound good for their price bracket, the overall audio quality doesn't stand up to pricier pairs, and the built-in microphone will do for an occasional call but sounds a bit faint.
That said, it's hard to argue with the Flybuds 3's excellent value for money. Very few other pairs on the market offer proper waterproofing for such an affordable price, plus a comfortable fit and decent sound quality. Runners or gym goers on a budget will struggle to find a much better all-around pair of headphones under $50.
Bang & Olufsen Beoplay E8 Sport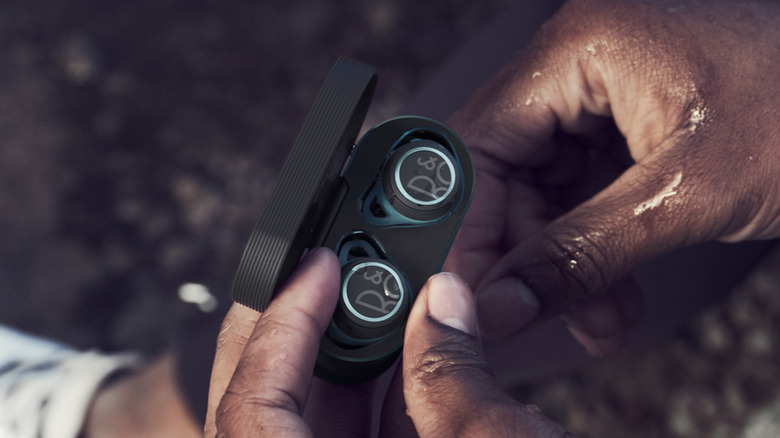 Bang & Olufsen
A high-end solution for the most deep-pocketed headphone buyers, the Bang & Olufsen Beoplay E8 Sport wireless earbuds get almost everything right. You'd hope so, given their hefty $349 retail price. They come with a variety of ear tips and ear fins, so finding the perfect fit should be easy. They also offer a decent resistance to dust and water, with an IP57 rating — not the highest on the market but more than enough to withstand anything a runner can realistically throw at them. An EQ is available on the B&O app, but it's not the most intuitive, or the most precise for that matter. Luckily, the existing presets are quite comprehensive.
Official battery life is claimed to be seven hours, with another 21 hours available from the charging case. One notable omission from these headphones is ANC — it's become an industry-standard feature in recent years, so it's odd to see it missing from a pair that costs as much as these. Still, the variety of ear tips do a pretty good job of creating a seal to block out your surroundings. It's hard to say that the Beoplay E8 Sports represent the best value for money since plenty of competitors offer an equally good range of features for considerably less. However, few come close to combining Bang & Olufsen's signature sound quality, sharp styling, and a commendable level of water- and dust-proofing, if you can justify splashing out.