2023 Porsche 911 GT3 RS First Drive: Because Racecar Is Just The Beginning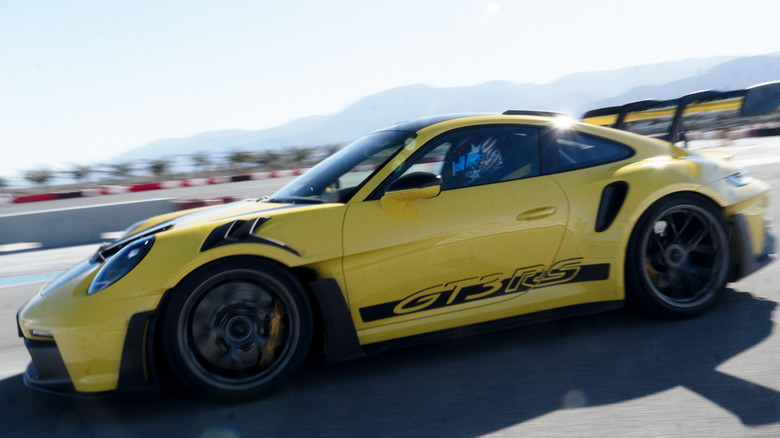 Michael Teo Van Runkle/SlashGear
Porsche development driver Joerg Bermeister kneels next to me before my third stint on track at the Thermal Club near Palm Springs and selects new suspension settings on the F1-inspired GT3 RS steering wheel. Softening up the nose will provide a little more grip for sharper turn-in, he explains, and after a few clicks and spins on the front-facing dials, I pull away with the front compression set to -2 and rebound set to +2 up front and +3 at the rear.
"More grip?!" I wonder out loud to myself. The concept boggles my brain, still reeling as I am from spending two previous sessions chasing former Porsche factory driver Patrick Long while trying to approach anything near the limit of this car's traction. Particularly on a new-to-me track layout, embroiled and awash in the symphonic cacophony of a 9,000-RPM flat-six echoing throughout a carbon-fiber cockpit, timing the PDK's bang shifts and finding the latest possible point to punch hard on the exquisite Porsche Carbon Composite Brakes before hauling this rear-engined racecar-for-the-street through tighter corners than ever imaginable and then unleashing all 518 horsepower once more into the straights.
A big step up from GT4 RS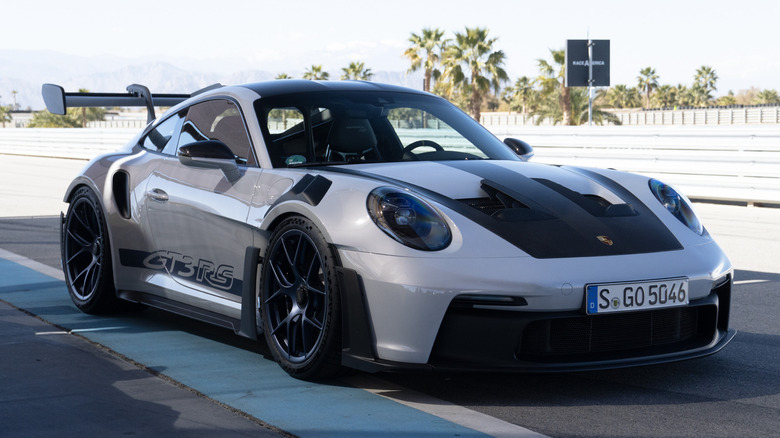 Michael Teo Van Runkle/SlashGear
Yes, the new 992-generation GT3 RS is that good. Good enough to coax out new adjectives and adverbs in a run-on intro sentence, to say the least, and certainly good enough to leave my neck aching after a helmeted afternoon at Thermal. But in many ways, the baseline mechanical capabilities of the 992 strongly resemble the previous 991 gen: the same displacement engine produces only five more horsepower, the sublime seven-speed PDK gearbox carries over, and the same brakes harness nearly the same exact curb weight.
The generational differences lie, for the most part, in a revised suspension setup, additional technology available at my fingertips, a centrally installed radiator for improved cooling, and a serious focus on aerodynamics highlighted by a rear wing itself equipped with F1-inspired DRS. I know these things, these critical details that make up Porsche's press releases and populate countless fan forum posts. And yet, the overall experience renders such rational thoughts almost immediately irrelevant.
RS dreams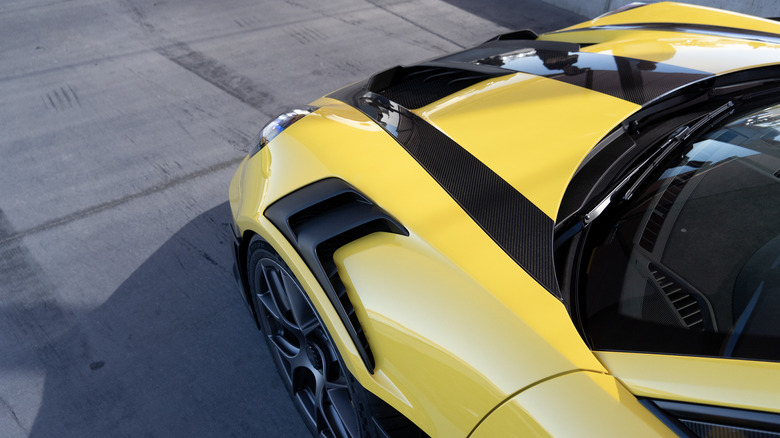 Michael Teo Van Runkle/SlashGear
To be fair, the first GT3 RS I drove at Thermal marks only the second time behind the wheel of an RS car from Porsche in my automotive career. The first arrived around this same time last year, at the US debut of the 718 Cayman GT4 RS on the Streets of Willow, the famed smaller track at Willow Springs. The GT4 RS also marked a significant move by Porsche, as the 911's mid-engined little sibling finally received a true GT3 powerplant—something Porsche long denied might ever happen.
But the GT4 RS left me just a little on the side of disheartened. Yes, the intake howl directly behind the headrest sounds great but in such an obvious celebration of Boxster/Cayman (and, to a certain extent, the 550 Spyder, RSK, 718, and 914) before the next generation transitions to electrification, I expected more raw brutality. Instead, the GT4 RS provides such an incredible platform for the better motor that driving hard around the Streets of Willow resulted in a calm, composed exploration of tire grip—unlike all other RS cars, Porsche decided not to install wider rubber versus the "base" GT4 and brought out two GT4 RSs equipped with "regular" Michelin Pilot Sport Cup 2 tires rather than the forthcoming R compounds.
At the time, I figured that purposefully hindering the GT4 RS's performance might help sell more GT3 and GT3 RS cars later, given the prospect of better lap times—especially when viewed through the lens of a GT4 RS equipped with the optional Weissach Package and magnesium wheels, which can easily sticker north of $200,000. That's well above a 2022 GT3's starting price tag of $161,100 and starting to nudge up towards GT3 RS territory at $223,800.
The GT3 difference on display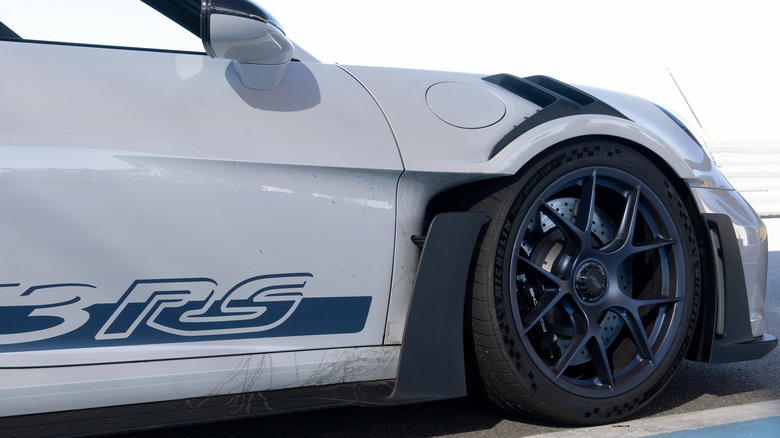 Michael Teo Van Runkle/SlashGear
All my speculation after that GT4 RS drive program flies right out the window after a single lap in the GT3 RS, which quickly proves itself as Porsche's most track-tuned scalpel. Even, again, on "regular" Cup 2 tires and not the Rs, because that's what most buyers will spec (even on Weissach cars with all the carbon on display and more hidden beneath the carbon-fiber skin).
Details that help to set the GT3 RS such a step above the GT4 RS start with the double-wishbone front suspension and rear-wheel steering. Of course, the 4.0-liter flat-six produces a bit more output, at 518 horsepower to the Cayman's 495 hp due to the rear axles requiring different exhaust routing. At first glance, any 911 aficionado will also clock the GT3 RS's massive rear wing and NACA ducts, heat extractors on the hood, and finally a pair of barely noticeable dorsal stabilizers on the roof amid the radical aero features. But I figured that The Thermal Club, in my previous experience unsuitable for approaching anywhere near the car's official top track speed of 184 miles per hour, will not actually produce much of Porsche's claimed 1,896 pounds of maximum downforce.
Cutting through the sensory overload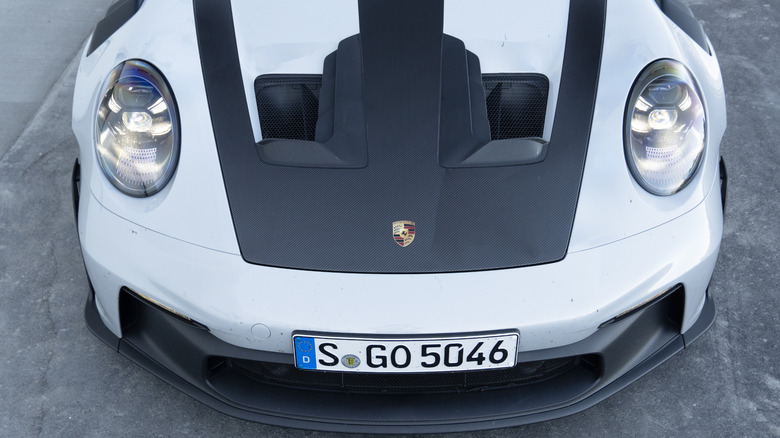 Michael Teo Van Runkle/SlashGear
Instead, combining Thermal's Desert and North tracks into one configuration allows us to approach 140 mph on the longer straights, perfect for the gear ratios to stretch out right up to redline before braking and downshifting into corners. The aural experience of speed rarely breaks my reverie, either, because the PDK allows even an amateur such as myself to keep the 4.0-liter mill right in its happy place at all times (or at least, most of the time—more on that later).
But despite the sensory overload, I can still register my own surprise at how steadfast the GT3 RS feels through increasingly sharp corners, even as I try to brake later and later to carry more and more speed through ever-tightening kinks. The rear-mounted engine still shifts around back there, rest assured, but then the rear steering effect comes into play and helps to keep this 911 far from the level of tail-happiness I expected.
Again, I must confess: this is not just my second RS car ever, nor my first GT3 on a track, but also my first 911 ever on a track. But as the belated owner of a 996-generation Carrera 4, in which I learned to canyon carve and rev-match manual downshifts and, I might even say, drive well for the first time, the old rear-biased balance probably contributed to a bit of timidity on my first few stints at Thermal. And that car had the benefit of all-wheel drive to balance out any tendencies towards oversteer with better grip and a bit more weight over the front end!
The proper application of strength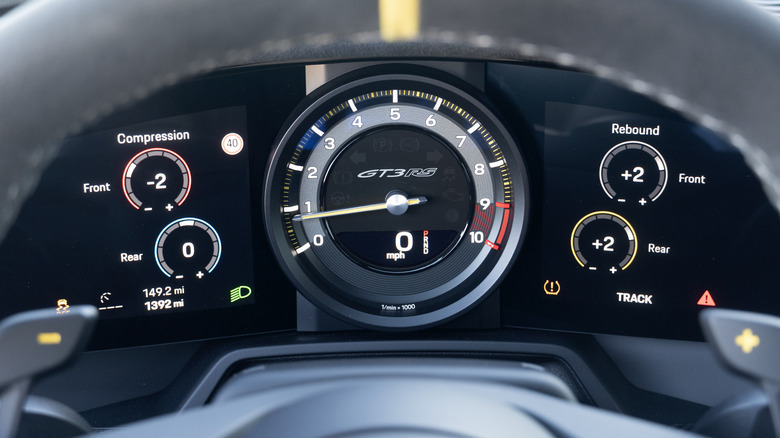 Michael Teo Van Runkle/SlashGear
Near the end of my second stint, before Bergmeister switches up the suspension settings, I start to find a bit more confidence in myself, the GT3 RS, and the track. This despite a previous journalist turning off the car before clambering out, which reset the drive system out of Track Mode (he even left a window cracked, to my great confusion once wind started whistling in at pace). So I spent the first couple of laps with traction control fully engaged, telling the engine to aggressively cut throttle in corners and the transaxle to short-shift on straights.
By now, I'm so used to non-911 cars that I struggle to find the right buttons on the center console and steering wheel—so I can only plop the gearshifter over into manual mode and do the best job possible shifting myself. I'm also so accustomed to using all 9,000 revs and only occasionally telling the telepathic PDK when to downshift that I start to hit fuel cutoff and lurch forward on a few shorter sections between second and third-gear turns. Blame the glorious symphony, I say, why would I ever want it to end?
But of course, one of the major highlights of the new GT3 RS is exactly those F1-style dials on the steering wheel that allow for mid-lap reconfigurations of the drive modes, suspension settings, Porsche Torque Vectoring Plus, and even the rear wing's DRS. Hard to figure out while chasing Long and Bergmeister as they put on a clinic running away from me in a "regular" GT3, sure, but after more wheel time perhaps I would feel comfortable enough to do so.
Finding magic in the mayhem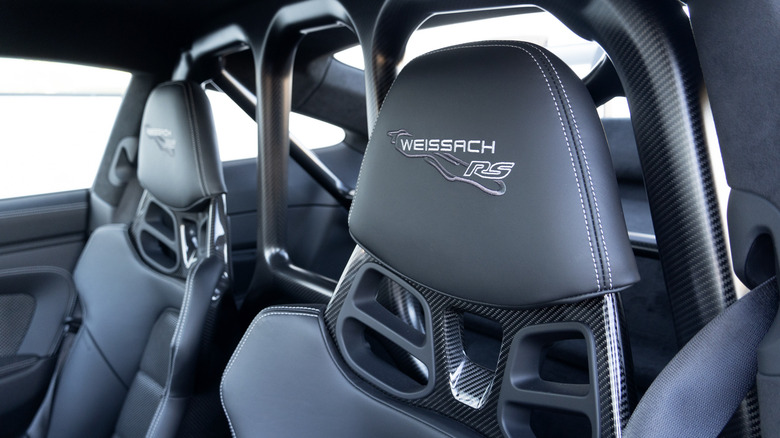 Michael Teo Van Runkle/SlashGear
Then Bergmeister squats his lanky frame down before my third stint and starts me out in his ideal drive settings that take into consideration current track temps and tire wear: -2, +2, and +3 for front compression, front rebound, and rear rebound, respectively. The difference that just a bit of fiddling can make proceeds to blow my mind, as I finally start finding the edge of the Cup 2 tires, chassis starting to squirm on me after keeping more weight outside-front during initial turn-in, then trying to drift out wider post-apex before I unwind and dip back into the gas.
Because I can carry more speed through corners, all of a sudden I can reach higher speeds sooner on the straights. The dance ratchets up a notch, as does the din from behind me. In the magic zone now, I can experience the GT3 RS's finer mysteries, like how Porsche managed to prevent any tail wagging oversteer from a rear end shod in 335-millimeter tires that transmit unfathomable levels of trust, all while completely eliminating any bump steer over curbs and preventing even a trace of bounce-back after hopping back down onto the flats.
The car feels faster than the flat-six's 518-hp rating and 3,268-pound curb weight suggest. Even the steering communicates much more feedback than the lighter GT4 RS, which so many reviews compared to a nimble go-kart, likely thanks to the additional poundage, wider wheels and tires, or double wishbones (or most likely, all of the above).
An educational track tool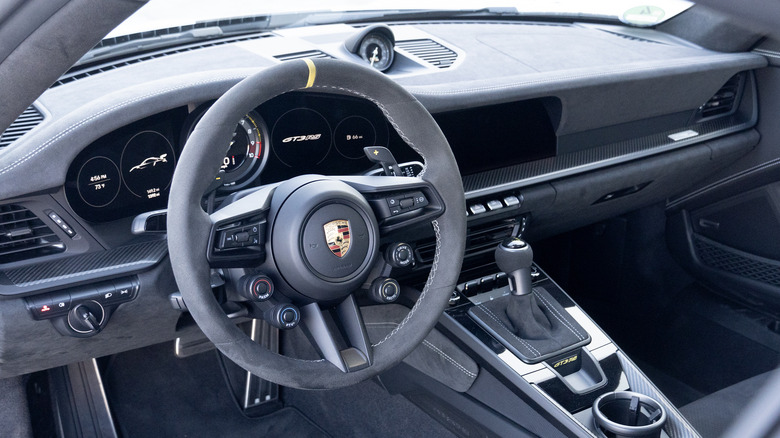 Michael Teo Van Runkle/SlashGear
My third session wraps up faster and not for the last time, I sense the flow fading as Bergmeister leads me back into pit lane. Unfortunately, we discover that he and Long have literally driven the tires off their GT3s—because their cars had less downforce, they've been skittering around more while staying ahead of the journalists.
The program pivots to hot laps, if only to further ramp up the education factor. I hop in with Bergmeister, since I rode with Long at a few previous Porsche events and at Thermal, found I preferred Bergmeister's lines around the track. (We used no timers, in the name of safety, so I cannot confirm which driver's line produced the more perfect lap.)
Bergmeister jumps right back into the zone after a few zigzags to wake up the tires and shed any accumulated rubber scraps. He's having fun, all computer nannies fully off, almost yanking the steering wheel too hard at corner entry just to coax a bit of rear slide before loading up both outside wheels far beyond my comprehension of weight transfer and tire grip. He can push and push, hitting full throttle easily 15% sooner than I did coming out of the corners, only a few times needing to flit in a bit of countersteer when the rears light up. The GT3 RS and Michelin Cup 2s handle the display with aplomb—less so my neck and nerves. And yet, after two spins around the track, I climb out of the cockpit chuckling, wanting only to get closer to that level of driving myself.
Which is precisely why Porsche saved the hot laps for the end of the day—as much as I want to go back out and tear around in the GT3 RS once more, this car's capabilities far exceeds both my current skills as well as my capacity to absorb such an education in only one afternoon.
Building a road-legal halo car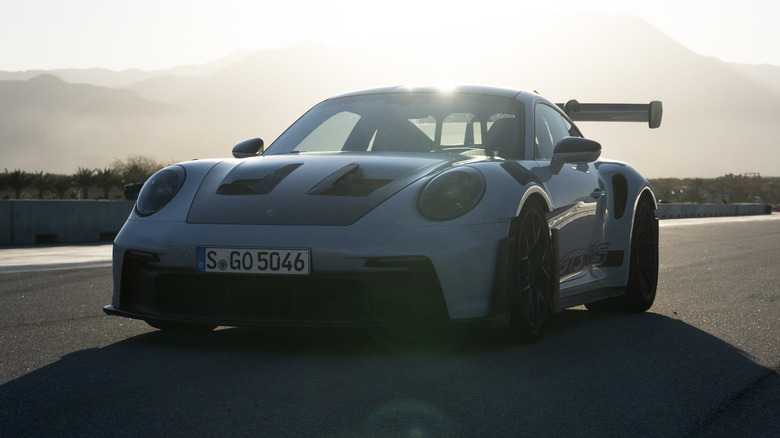 Michael Teo Van Runkle/SlashGear
Porsche builds the GT3 RS for those track rats who can comprehend the difference between 518 horsepower from Stuttgart versus 631 from Sant'Agata Bolognese or 760 from Dearborn (Lambo's excellent Huracan Tecnica and Ford's brutal Mustang Shelby GT500, for reference). And even if the GT3 RS easily approaches legit supercar status, as a 911, it also needs to serve as a road car. Really, though, the 992 gen arrives as perhaps the least daily drivable GT3 RS yet, given that the front trunk is now occupied entirely by the massive central radiator and the rear engine decklid can only be removed up on a lift.
Similar to the GT4 RS, the GT3 RS deserves race harnesses from the factory (and that RoW-only carbon roll cage, too!) if the carbon bucket headrests simply must cant so far forward to keep helmeted heads so far from level. And yet, with the new steering wheel dials, GT3 RS owners will actually be able to individually soften up the suspension in Track Mode on the way to the track even more than the standard drive mode settings allow. And a GPS-based front-axle lift memory system is a nice touch, too.
If Porsche's motorsport heritage somehow shines through in the four-door Panameras, Cayennes, and Macans, the GT3 RS lights an incandescent blaze of race engineering paroxysms. That DRS system works! Even the pull-strap door handle isn't some gimmick, we're talking true weight savings here!
For those in doubt, Porsche also plans to sell a limited run of US-only "Tribute to Carrera RS Package" cars that harken back to the 50-year-old Carrera RS 2.7, which Porsche's Exclusive Manufaktur group specs with a white-on-Python Green paint scheme, unique door sills, an embossed center console, and additional graphics on the rear fascia in addition to the mandatory Weissach Package, magnesium wheels, and carbon-fiber sway bars. All told, the long-winded special edition costs $314,000—if you can get one.
Even getting a base GT3 RS or a Weissach car requires either serious connections or a serious wait (and likely both). But anyone who spends time tracking a 992 GT3 RS will undoubtedly experience the same urge I felt yanking me back to the track, to the edge of grip and sanity where the 992-generation 911 reaches its fullest expression of road-legal race car capability.