2020 Ford Mustang Shelby GT500 First Drive Review: The Boss is Back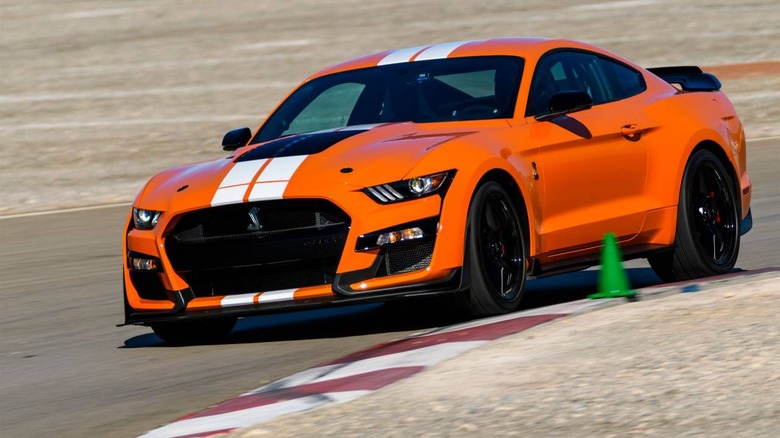 Numbers. When it comes to the all-new 2020 Ford Shelby GT500, it's all about the numbers. Well, numbers and obsession. By far the meanest, and fastest iteration of the sixth-generation Mustang S550, when the invite hits your inbox you're already expecting ridiculous numbers. Turns out, if exorbitant horsepower and torque at your disposal is your guiding star, the new Shelby GT500 will outshine just about everything else in the muscle car scene.
As my plane touched down in Las Vegas, I couldn't help but rerun the details of Ford's invite. The 2020 Ford Shelby GT500 was to make its case at Las Vegas Motor Speedway, a setup with multiple tracks including a shorter, inside road course, and a longer, outside racetrack. There's also, however The Strip, which happens to be, well, a drag strip. The preferred habitat of the GT500. It got me thinking: with all that power on tap, can the new Shelby GT500 hope to be more than just a muscle car now?
I promised you numbers; the Shelby GT500 delivers them. Ford starts with a massive power plant, a muscular 5.2-liter aluminum alloy and hand-built V8 engine only just squeezed under the bulging hood. For some added boost, Ford Performance worked closely with Eaton to build an entirely new supercharger. The engineering team wanted to retain the intake air cooler, while still giving the engine a lower center of gravity.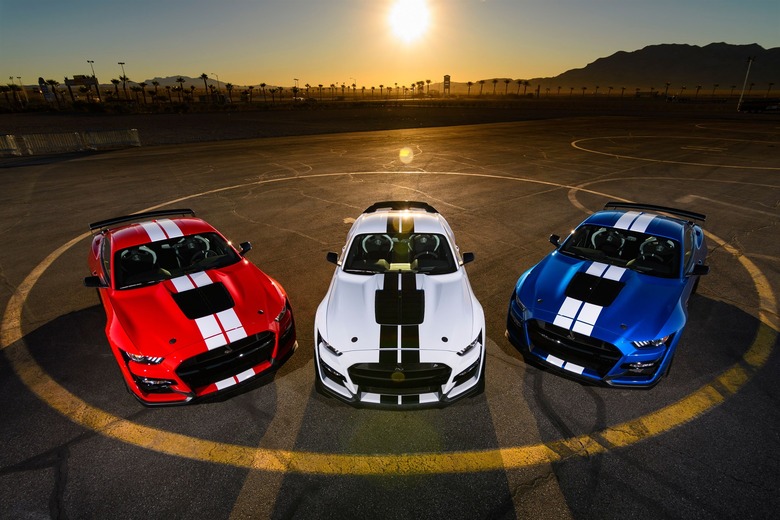 The result is the Eaton TVS R2650 supercharger, with an inverted design and a larger, 2.65-liter capacity. It generates up to 12 psi of maximum boost and allows the V8 to churn out a mind-boggling 760 horsepower and 625 lb-ft of torque. Those particular numbers make the new GT500 the quickest and most powerful street-legal Mustang ever built. Were Carroll Shelby still around to see the latest iteration of his original monster, I bet he'd be giving this car a huge thumbs up. Still, with that much power on call, Shelby can probably hear the new GT500 all the way from heaven.
The new supercharger has a high-twist, four-lobe rotor design. It's 15-percent larger than the old TVS2300 supercharger, as featured in the previous GT500. The 170-degree helical twist in the rotors means it can pump larger volumes of air, compared to the 160-degree twist of previous Eaton blowers, too. Combined with the engine's high-flow aluminum cylinder heads, larger forged connecting rods, and wire-arc cylinder liners, you have a drivetrain that produces enough power to keep "proper" supercars at bay.
The engine is bolted to a Tremec 7-speed dual-clutch automatic that shifts at a rate of 80ms – faster than a racing driver could ever hope to stomp on the clutch. There are multiple drive modes to squeeze out every ounce of power from the angry V8. Since Ford wants you to have a good time in the new GT500, too, the transmission is equipped with line-lock and launch control, so you can heat up the tires and scorch down the track with minimal effort.
Should "minimal effort" be what the new 2020 Ford Shelby GT500 is all about? More importantly, did Ford somehow manage to sanitize the driving experience usually associated with muscle cars? Is everything now all so effortless, that driving becomes pedestrian and everyday, instead of something you feel like an integral, essential part of? Fear not: the answer to all those questions is a resounding NO.
Certainly, I can tell you the new GT500 is the most refined muscle car I've driven in a while. It definitely feels better sorted than Dodge's equally ridiculous Challenger Demon and Hellcat Redeye. At slower speeds, indeed, the Mustang borders on luxury car smoothness, albeit a luxury car on steroid. It can be dangerously beguiling, too: idling in third gear down a steep and winding mountain was enough to catch the attention of law enforcement, despite my best intentions to be well-behaved away from the track.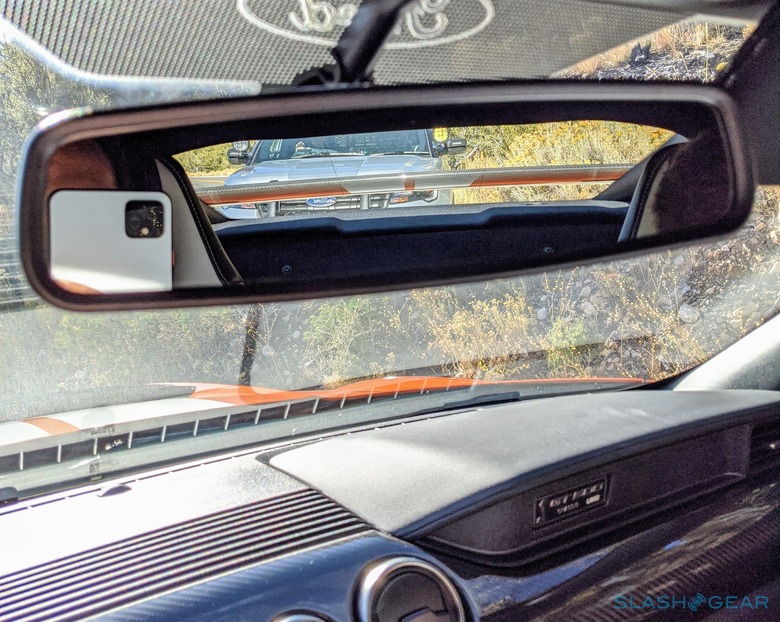 Heedless of the 45 mph posted speed limit, the Shelby GT500 cruised smoothly to past 70 mph. I'd been merely on throttle maintenance when I spotted the cruiser approaching, so naturally I gently tapped the brakes and dropped a gear. Going from third to second gear never sounded so good, but the attention-seeking soundtrack didn't help me one iota, since it blurted out a loud gurgling as the trooper passed by. Sure enough, the full-throated Mustang was enough to catch his attention and nearly net me a ticket, not to mention a lesson that the Shelby GT500 can gather speed so easily that you can't afford to not be on your toes.
More than a track-day special
Honestly, I'd been expecting the GT500 to be stiff, heavy, and a little cumbersome in the real world. Instead the Tremec 7-speed dual-clutch automatic was a revelation.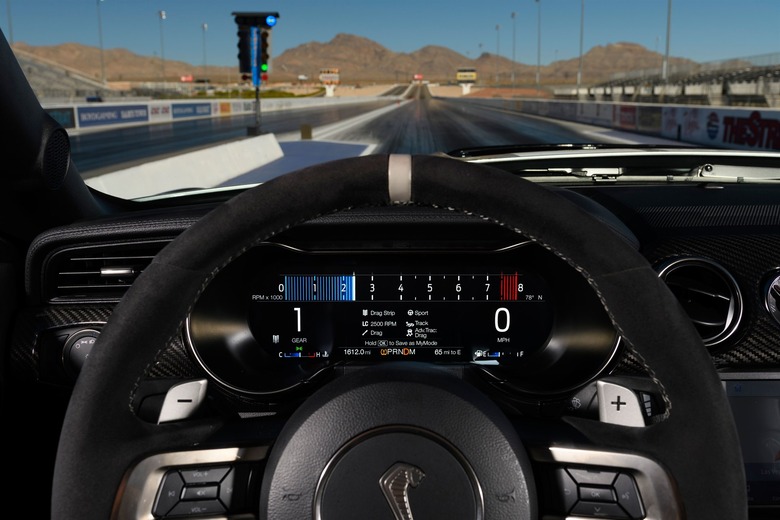 "It's like having two transmissions in one," Pat Morgan, Ford Performance powertrain manager, explained. "It enables performance at the outer reaches of straight-line quickness with minimal torque interruption, yet it provides an incredible amount of finesse and control in track environments."
Only the luckiest of GT500 owners will get to spend the majority of their time at the track. But with a wet clutch system consisting of five friction plates for the odd gears and six friction plates in the even-gear pack, the dual-clutch unit proved impressively smooth, even at a crawling pace. There's none of the jerkiness and hesitation you get from older generations of dual-clutch gearboxes. Flick the driving mode from Normal to Sport and Track mode, however, and the new electrohydraulic shift mechanism with low-leak solenoids unlocks those lightning-fast 80ms gear changes. It's enough to make you forgive the absent manual option.
The sound of a tuned supercharged V8, pushed hard, is tough to resist. Out on the drag strip, the GT500 was as fast as I was expecting. Sure, the Challenger Hellcat Redeye is probably faster on paper. It can reach the quarter-mile in 10.8 seconds at 131 mph, which roughly means it rushes from zero to 60 mph in 3.4 seconds. A fitting target for Ford's new beast.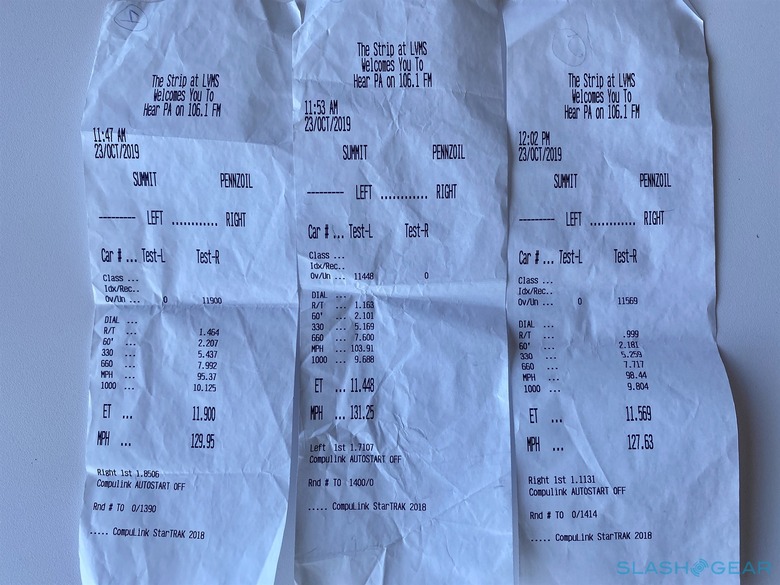 I did three runs in the GT500, and my best quarter-mile run was 11.418 at 131.25 mph. This translates to a zero to sixty time of 2.101 seconds, which is pretty unbelievable. According to Ford, the new Shelby GT500 rushes to 60 mph in less than three seconds, and can crush the quarter mile in sub-eleven seconds, which is pretty impressive. As my track numbers suggest, it seems the GT500 is more than capable of giving the Hellcat Redeye a serious run for the money.
On my last run, I bumped the RMP up to 2200 from 2000 – here there's much more wheel slip for a more dramatic exit. Sure, as with most drama, it meant I finished with a slightly slower track time and a top speed of "only" just over 127 mph. It was in this run, though, that I felt most connected to the Shelby GT500. Sure enough, on its readouts my reaction time with the car was 0.999 seconds, and probably as close as I'll come to having superpowers.
I mean no disrespect, of course, to the mighty Dodge Challenger SRT Demon. Given the right circumstances on a prepped surface, the Demon shatters the quarter-mile in less than ten seconds, which continues to astound the mind up until this day. But as the all-conquering straight-line talents of the Demon end, the new GT500 is just getting warmed up. And if there's one thing you really need to know about the 2020 Shelby GT500, it's that it's far more than just a muscle car. In a strange turn of events, Ford managed to give the new Shelby a more athletic set of legs.
Corner King
In short, the GT500 is a serious and capable handler, and I have the proof. I never thought the day would come where I could confidently throw a Shelby GT500 around a track and then walk away feeling as good I did on the dragstrip. I've driven a lot of track-focused machines in the past – not least the GT350 R – but the new GT500 is an eye-opener. I grew a newfound sense of respect for the suspension, chassis tuning, steering, and braking of the Shelby. It still feels extremely raw and powerful, yes, but Ford also managed to make everything feel attainable for novice drivers, while still presenting plenty of engaging challenge for more advanced drivers.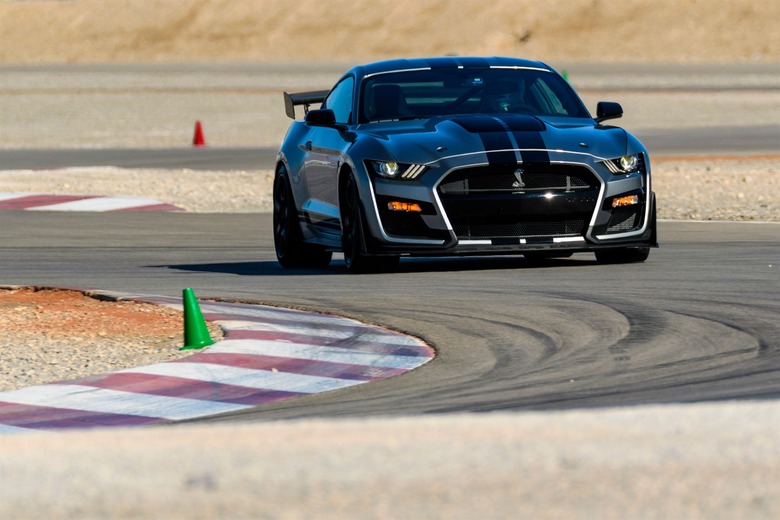 It comes down to more than the sum of its parts, true, though the parts themselves are impressive on their own. The massive, 16.53-inch two-piece brake rotors with Brembo six-piston calipers and custom track-bred Michelin Pilot Sport Cup 2 tires, for example. Active MagneRide magnetic dampers, lighter coil springs, and a revised electronic power steering unit, too, helping the new Shelby GT500 go from zero to 100 mph and back to zero in only 10.6 seconds. That, if you're still keeping track of the numbers, shatters Carrol Shelby's record of 13.8 seconds. Combined with the slick-shifting seven-speed dual-clutch unit and 760 horsepower motor, you can throw around the Shelby GT500 mercilessly and the car will keep begging for more.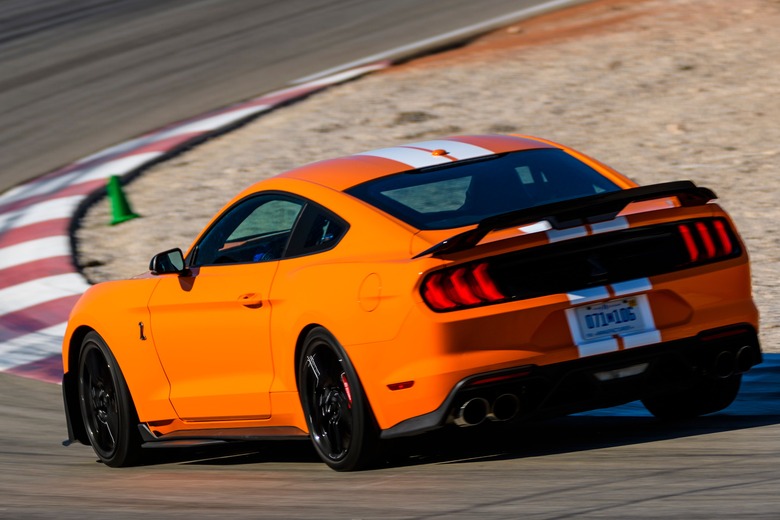 Ford has moved the goalposts for future muscle cars. The new Shelby GT500 really is THAT good. It scrubs off speed faster than most sports cars, and it piles on the speed like a track-focused supercar. And with the new Shelby, both die-hard drag racers and track junkies can enjoy the new GT500 in their chosen endeavors.
Las Vegas Speedway proved to be just the fast paced yet technical track to unleash all the mights of the Shelby GT500. Our track overlord warned many times that we MUST start braking at the third marker, while even the most experienced drivers would need to brake at the second marker.
With speeds in excess of 130 mph on the front straight, that advice rings loud in your head. On my first stint, while still feeling out the brakes, I did as I was told. The Mustang, though, is quick to demonstrate that it can scrub pace with eye-watering urgency. Come stint number two and three, accounting for many laps later, that demonstration encouraged me into a little rule-breaking.
Forget trail braking if you want to live to share the experience. Slamming hard, and I mean hard on the brakes, the car slowed with perfectly composed ease, setting up for a tight right hander. It's enough to invoke a visceral experience in your body: a sense of astonishment intermingled with glee that yes, you can rely on the GT500 to deliver, even when common-sense suggests physics may not be so accommodating.
High speeds? Check. Hard braking? Check. How about the twists and turns through the technical sections of the track? Once again, we were forewarned about every turn so I was hyper-aware, not only because of the massive horsepower and torque on offer, but the fact that they're both put down through the rear wheels alone.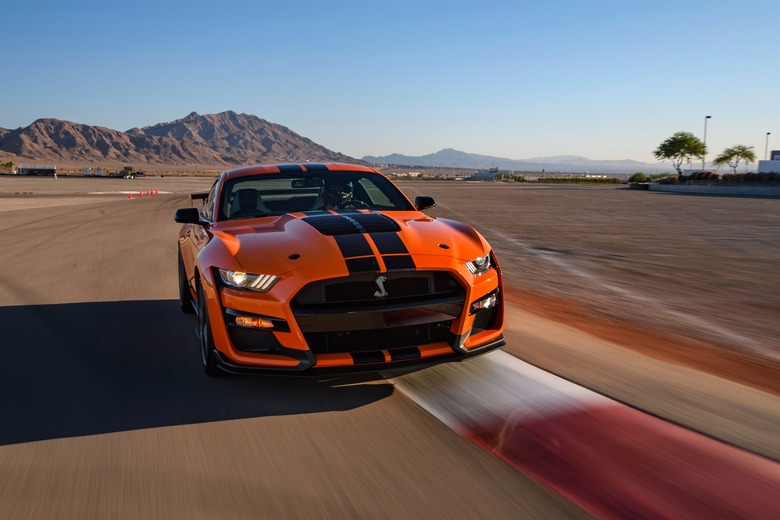 The Mustang wants to dance with you. Setting up for the back straight coming out of a right-hander is nothing but fun. Speeds again push well over 120 mph, but the difference here is you don't brake hard, instead just enough to navigate through a fast sweeping left-hander before approaching a chicane. My god, properly executed, it's one of most fluid and best feelings ever.
You don't have time to bask in it, though. Next come a few more technical twists and turns, before it's time to set up the car for fast yet decreasing radius left-hand turn. Easier said than done: I've screwed up this turn before in a Camaro, throttling out too early when I should've kept on the power. The back slowly kicked out to the right and, though I just about caught it in time, it left me mindful in the Mustang to stay tight toward the left side of the track. What's notable is just how sharp and precise the GT500 is, and how much it feels like it's working with you rather than fighting against you.
My other big takeaway – beyond how wonderfully the Shelby GT500 performs – is the reliability. Both on the drag strip and on the track, I was in the same vehicles and never did they feel like the brakes got soft, or did the Mustang lose power and performance in any way. That's more than I can say for some exotica I've had the chance to push hard.
Easy on the eyes
What use is a Shelby if it doesn't look good? Ford gave the GT500 a resculpted body to maximize aerodynamics and engine cooling. According to exterior design manager Melvin Betancourt, the GT500 was designed to be as fluid and slippery as possible.
"Every millimeter of the GT500's fastback design is aimed at improving airflow performance," Betancourt told me. A good example is the larger grille openings, not only sculpted to slice the wind but extra-wide so as to deliver sufficient cooling air to no less than six heat exchangers. "The new GT500 has double the grille opening and provides 50-percent more airflow than the Shelby GT350," added Betancourt. "But the new GT500 also has the most advanced aero components and downforce we've ever offered."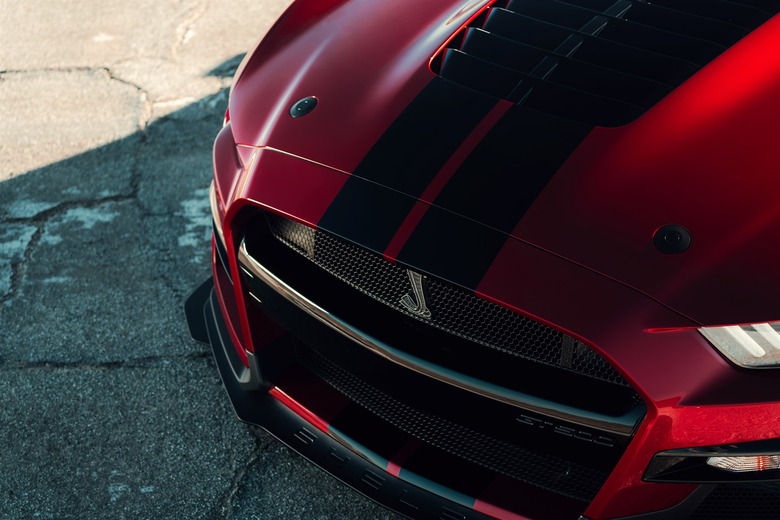 With that much power, the GT500 produces more than 230 kilowatts of thermal energy which, according to Ford, is enough to heat a dozen homes in the dead of winter. And since there's more air coming in, some of it has to leave the engine bay, and the massive 31 x 28-inch louvered hood vent is there for the task at hand. You can remove the hood vent if you wish to give the adoring masses a sneak-peak into what's lurking under the hood. Just make sure to put it back if you're as interested in better air extraction while reducing drag and front-end lift as you are impressing onlookers.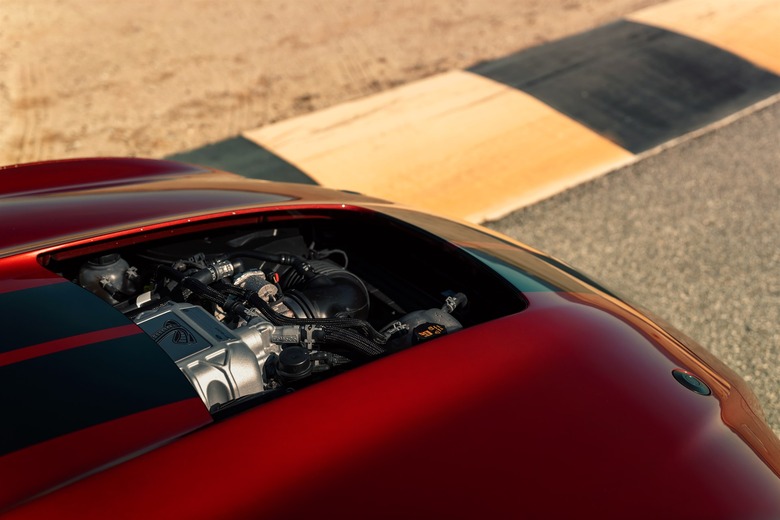 It's iconic Mustang in shape, the long and sculpted hood combining with the wider fenders and bulging hips for an unmistakable profile. There's a real sense of purpose to the new GT500's design. It's still very much a Mustang, sure, but it's a pony car with the athleticism of a cheetah. Just to double-down on that, the snake badge is larger than before, and Betancourt said this is done entirely on purpose. "We want to make sure you see the snake when the car is coming towards you in the rearview mirror," he pointed out, "and that you'll see the snake again as it overtakes."
The 2020 Shelby GT500 is offers with two handling packages. The first includes a removable Gurney flap, adjustable strut top mounts, and splitter wickers. But the most badass GT500 is the one equipped with the Carbon Fiber Track Package. You get exposed 20-inch carbon-fiber wheels (with wider 11.5-inch rear rubber), custom Michelin track tires, and an adjustable carbon-fiber wing with an integrated dive plane for better grip. What you don't get in this package is the rear seat, which is removed in the name of cutting weight.
2020 Ford Mustang Shelby GT500 Verdict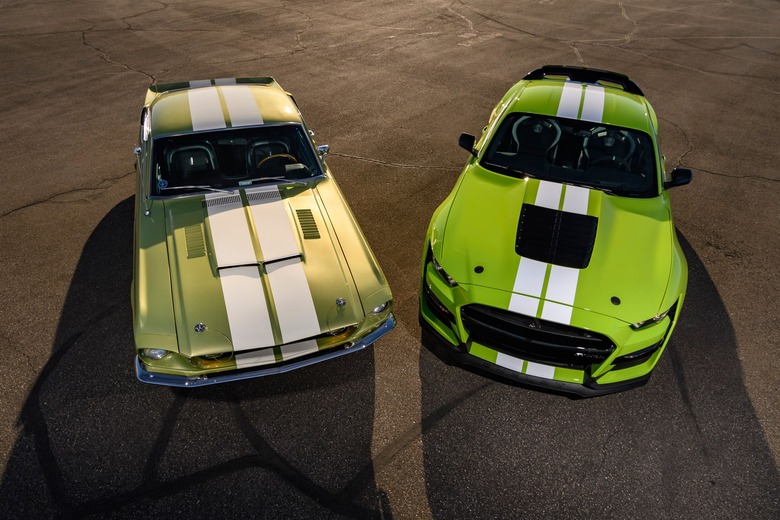 Ford has shattered all expectations with the new Shelby GT500. I'm pretty sure others will say it's less focused than the new mid-engine Corvette C8, or that it's not as exotic as a McLaren, Porsche, or Aston Martin. I'd counter that by pointing out that pricing for the new GT500 starts at around $74,000. Sure, get crazy with the options and you can end up paying more than $100,000 for your new GT500, but even so I'm not sure that's such a bad deal.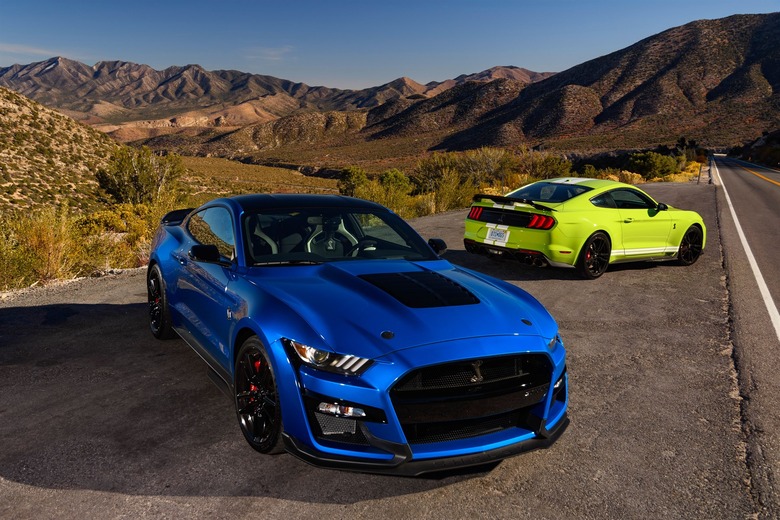 Supercar numbers with a five-figure price tag is, frankly, astonishing. That Ford does it without making the car a one-trick pony, just straight line speed and nothing more, is engineering a tuning wizardry. Obviously, the new GT500 is the best Mustang ever, but more than that, the 2020 Shelby GT500 is the best muscle car, period.