2023 Hyundai Elantra Review: Don't Let The Price Fool You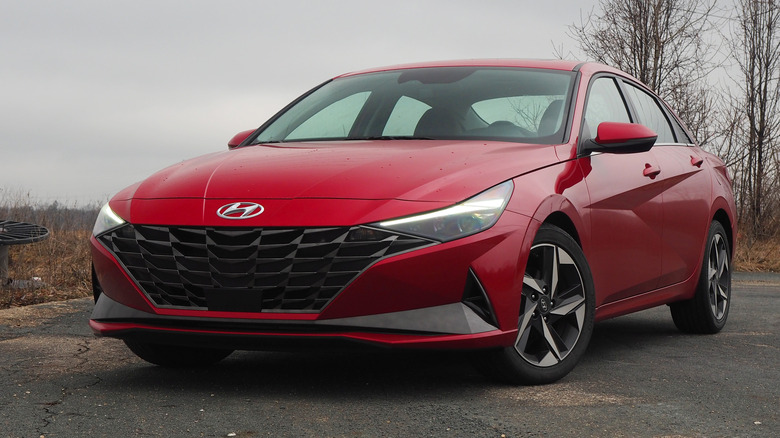 Chris Davies/SlashGear
Bugatti, Ferrari, and Lamborghini might disagree with me, but I don't think it's all that difficult to make a good supercar. After all, when your clientele is comfortable spending upwards of six figures, you can afford to take liberties that those building mass-market, far more attainable vehicles simply can't afford to. This whole 2023 Hyundai Elantra, for example, costs less than some of the options on the Chiron order form.
The decision as to what to include in the Elantra, and what to leave out, is exponentially more difficult. Hyundai may not be targeting land speed records or locked into the perennial game of Hypercar Top Trumps, but when you're charging less than half the average new car sales price in the U.S. the struggle is just as real.
The 2023 Elantra might have ended up bland, feeling miserly equipped, and making do with old and underwhelming tech. Hyundai could've skimped on warranty coverage, pared back the active safety tech, and generally left the compact sedan feeling like an afterthought: something more useful for motivating shoppers to spend a little more, than for delighting them on the road. That it holds up so comprehensively — regardless of its price tag, not despite it — is a pleasant surprise.
Cheap doesn't mean bland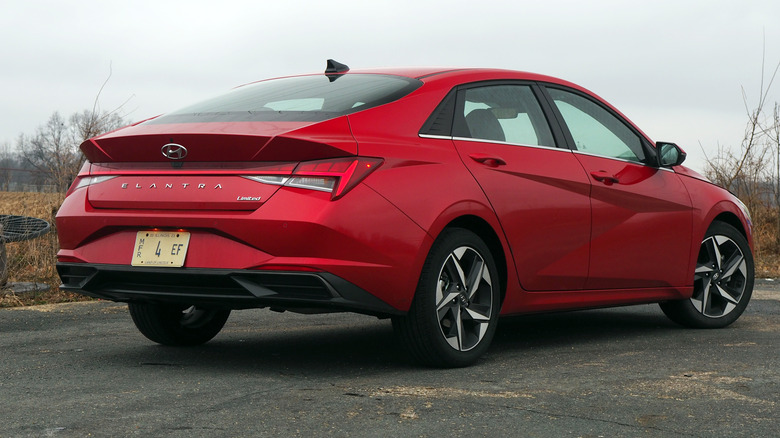 Chris Davies/SlashGear
We're some way from the days when an affordable car automatically meant a bland one. Hyundai — and Kia — shoulder no small degree of responsibility for that, with a conscious decision to raise the game in terms of design. Gone are the unmemorable sedans and hatchbacks of old, with sharper angles, creases, and cuts helping make models like the Elantra far more memorable.
Does it work from every angle? Not quite, and Hyundai's more determined aesthetics will undoubtedly prove more divisive than its please-everybody pablum from before. On balance, though, I think it's a good thing, even if the heavily sculpted sides of the Elantra have proved to be aggressive in picking up road grime.
15-inch alloys are standard on the base Elantra SE ($20,650 plus $1,095 destination); the SEL switches them for 16-inch versions, or 17-inches with the optional Convenience Package. By the time you get to this $26,500 (plus destination) Elantra Limited trim, 17-inch alloys are standard, as is front and rear LED lighting, chrome window trim, and a handsome dark chrome front grille.
Not quite fancy, but close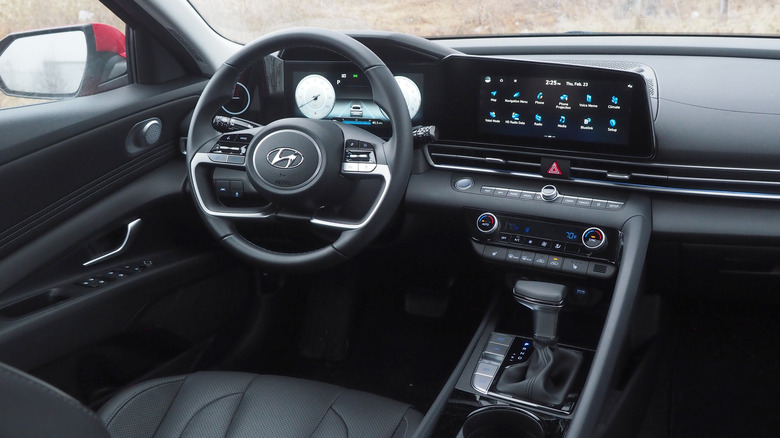 Chris Davies/SlashGear
The niceties continue inside. Limited trim gets a power sunroof — not available on the SE or SEL trims — along with wireless phone charging, dual USB ports, dual-zone automatic climate control, and push-button start. The gauge cluster uses a 10.25-inch display instead of the 4.2-inch screen and traditional dial combo in the lower trims, and Hyundai's graphics are crisp and easy to read, even if the overall design isn't particularly exciting.
Leather trimmed seats replace the SE and SEL's cloth surfaces, and the driver's seat adjustment is powered, not manual. There's front seat heating, though not ventilation. Hyundai Digital Key is also standard on the Limited trim, along with the Bluelink Connected Care and Remote Package, and Bluelink Guidance. You get three years subscription to the latter two features.
As we've seen in other Hyundai models, there's a weird compromise made with the bigger infotainment touchscreen in the Limited trim. SE and SEL cars get an 8-inch display with wireless Apple CarPlay and Android Auto; the 10.25-inch screen standard on the Limited (and an option on the SEL) forces you to use a cable for smartphone projection, instead. Limited trim also gets a Bose 8-speaker audio system.
Fuel economy is the star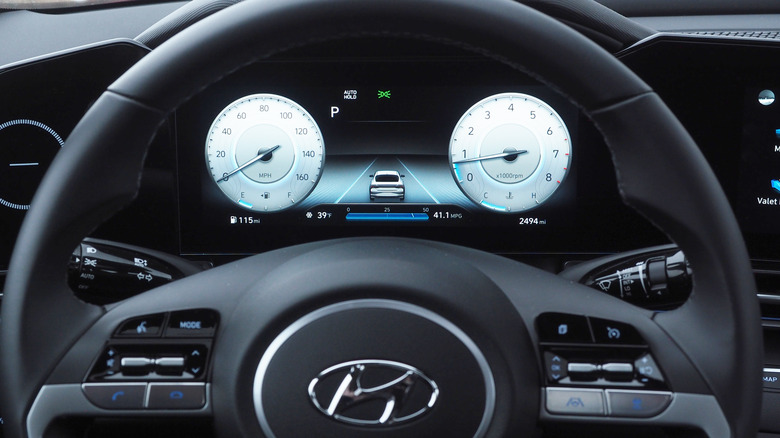 Chris Davies/SlashGear
Where the Elantra has really surprised me is when it comes to fuel economy. Hyundai obviously makes the biggest economy claims for its hybrid version of the sedan, and much of the automaker's attentions are undoubtedly on its growing all-electric range. You could forgive it for focusing its efforts on models like the Ioniq 5 and recently-priced Ioniq 6.
This 2.0-liter Elantra, though, packs a surprisingly frugal punch. Officially, it's EPA rated for 30 mpg in the city, 40 mpg on the highway, and 32 mpg combined; according to the U.S. agency, that means owners will typically save $1,500 in fuel costs over five years, compared to the average new vehicle.
In reality, the Hyundai performs even better than that. On the highway, I've seen 45 mpg on average: five points more than the EPA's rating. Urban efficiency has been better than promised, too. It's a reminder that, while electrification obviously has some big advantages, it's not the sole route for saving money on fuel costs, especially when you consider the upfront price paid for an electrified vehicle itself is still far beyond many new car buyers.
Sensible from behind the wheel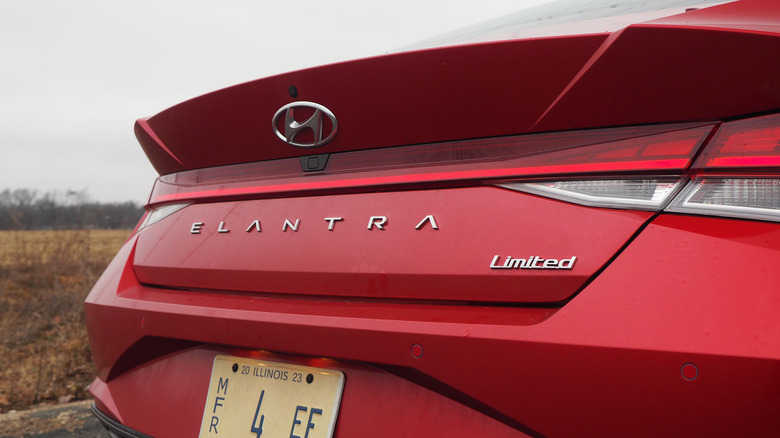 Chris Davies/SlashGear
The downside, unsurprising, is that the Elantra isn't exactly the most thrilling car to drive. Hyundai covers that base with the Elantra N, combining power with practicality, but with 147 horsepower and 132 lb-ft of torque, this more mainstream version of the car is hardly overflowing with grunt.
That's not to say it's bad, mind. The naturally-aspirated engine is smooth, and the Continuously Variable Transmission (CVT) is equally unobtrusive. There's no surge away from the lights, but it's nimble enough for city use, while never feeling underpowered for highway overtaking. Sport mode does its best to coax out extra enthusiasm, but this is no Jekyll and Hyde sedan.
If you want a little more excitement, the Elantra N Line — different from the Elantra N in that it's a trim, not a specific model, not to mention more affordable from $27,200 (plus destination) — uses Hyundai's smaller, 1.6-liter turbocharged engine. That pushes it to 201 horsepower and 195 lb-ft of torque, though compromises on economy along the way.
Reassuring safety tech and warranty coverage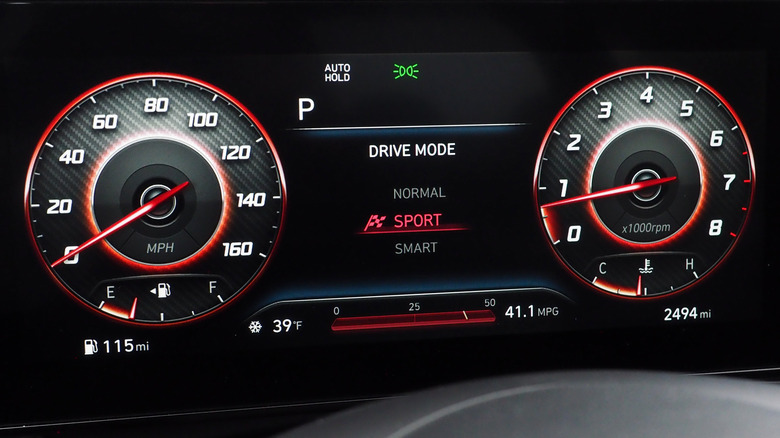 Chris Davies/SlashGear
While the turbo-four is a good engine, I'd be tempted to stick with the base version. The 2023 Elantra's charms center around just how much you're getting, for how little you're spending. That goes for safety tech as well, where all trims have forward collision-avoidance assistance with pedestrian detection, blind-spot collision-avoidance assistance, lane keeping assistance and lane following assistance, high-beam assist, and driver attention warnings. There's also rear cross-traffic collision-avoidance assist and safe exit warnings, though parking sensors are exclusive to Limited trim and up.
In addition, Limited trim adds cyclist and junction-turning detection to the forward collision-assistance, too, together with adaptive cruise control and Hyundai's Highway Drive Assist (HDA) system. That combines lane-keeping assistance with dynamic speed and distance control.
Hyundai's warranty coverage is worth noting, too. 5 years/60,000 miles of standard warranty, 10 years/100,000 miles of powertrain warranty, and 5 years/unlimited miles of roadside assistance remain aggressive for the industry, particularly on a car this affordable.
2023 Hyundai Elantra Limited Verdict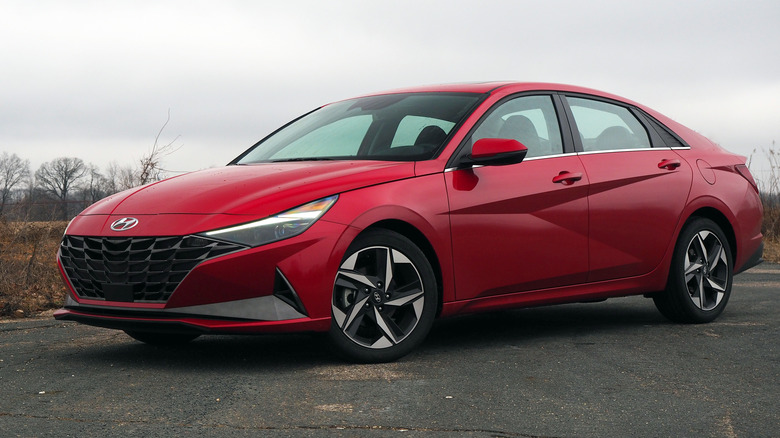 Chris Davies/SlashGear
Challenged to be critical, it's not too difficult to find parts of the Elantra experience that befit the sedan's price tag. Hard plastics and a spartan second row probably stand out most obviously; the 14.2 cu-ft trunk is a little smaller than the Honda Civic Sedan's 14.8 cu-ft, too. You'll spend $25,050 (plus destination) for the cheapest Civic, however.
You could've understood Hyundai cutting corners here, doing the bare minimum, and yet the Elantra doesn't feel that way. Eager drivers undoubtedly already know that they want something more enthusiastic, and those with their hearts set on a crossover or SUV won't even consider it, but this affordable sedan earns its spot in the line-up rather than being an afterthought.
Rather, you get better-than-promised economy, the safety tech we're rightly coming to expect from modern cars, and styling that doesn't feel like an afterthought. The 2023 Hyundai Elantra isn't going to set hearts aflutter with its performance or pulses racing with its luxury, but as four-wheeled reassurance goes there's a whole lot to like here and for a whole lot less than you might expect to pay.