Sylvox Pool Pro Outdoor TV Review: 55-Inches Of Netflix And Chilly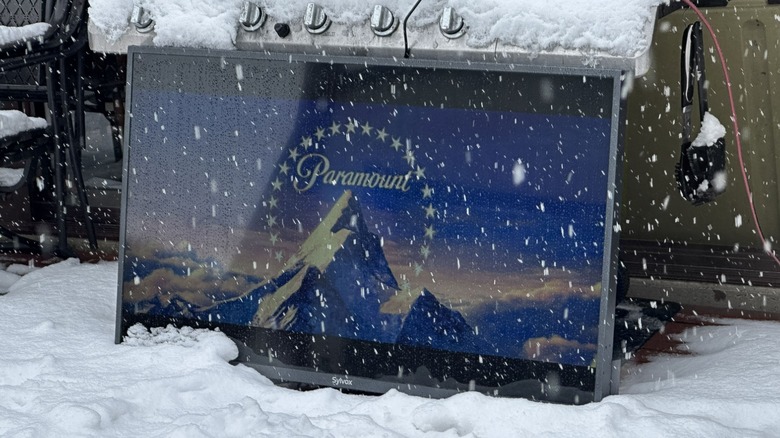 Adam Doud/SlashGear
We may receive a commission on purchases made from links.
One of the coolest parts about my job is the fun stuff I get to play with and the things I get to do with them. For every garden-variety phone, laptop, or tablet I get to take the time to review, there are folding phones (like the Galaxy Z Flip 4), sport drones (like the DJI Avata), and dual-screened tablets (like the Lenovo Yoga Book 9i). There's also the occasional weatherproof TV. You read that correctly: weatherproof. For some of you, weatherproof might mean waterproof. For others, it means heat-proof. Others think it means cold-proof. Sylvox's answers to those requirements are, mostly, probably, and yes, respectively.
Sylvox has a whole range of TVs designed to live outside, and I'm not talking about 72 degrees-year-round-and-maybe-it-drizzles-every-now-and-then year-round. When Sylvox reached out to me about testing the Sylvox weatherproof TV, I told them flat out, "No problem, but I live in Chicago, and it's the dead of winter." They responded with a simple, "challenge accepted."
So, I found myself on a cold night in January, outside, setting up a smart TV with six inches of overnight snow in the forecast. I said it was a fun job, not a comfortable one. I wasn't sure what to expect when I woke up in the morning. But I knew was Sylvox promised, and dear, reader, Sylvox delivered. I have been using the Sylvox Pool Pro TV provided by the company for three weeks, and this is my full review.
Heavy-duty armored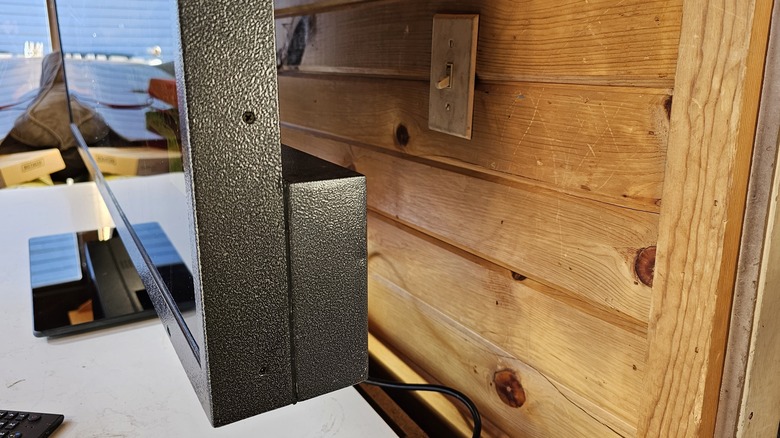 Adam Doud/SlashGear
Before we get into things like TV picture quality and software, let's talk about the construction. This TV is built like a tank and weighs almost as much. While TVs today continue to get thinner and lighter, Syyvox goes the other way. The body of the TV is made of an aluminum alloy with a scratch-proof coating. On the back, you'll find more of the same, including a removable panel with thirteen screws holding it on. At the bottom of this panel is a foam rubber gasket designed to let the cables out but keep the insides waterproof.
The TV weighs about 50 pounds, so it's a bit of a beast in that respect as well. You will want help moving this around and mounting it. Speaking of which, you can buy the Sylvox TV with a mounting kit, or by itself. I picked up a stand-alone mount from Amazon for about $50 (on sale at the time of this writing for $42.49) which holds the TV just fine. There's also a VESA mount in the back, so you can use standard mounting brackets, which is a nice extra touch.
Input is covered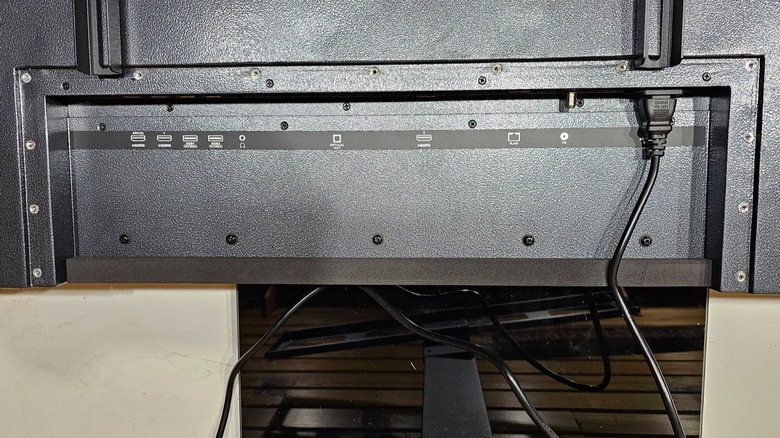 Adam Doud/SlashGear
Under that waterproof panel, the TV has the standard I/O that you'd expect. There are three HDMI ports, two USB ports, a 3.5mm audio jack, an optical out, and an RJ-45 jack for wired Ethernet. The bulk of my testing had this TV operating wirelessly using the onboard Android TV operating system which we will talk about later. I figured since most auxiliary equipment likely will not bear the same IP55 water and dust resistance, it's highly likely that this TV will need to operate independently in most scenarios.
Blu-Ray players, TV antenna, and game consoles will not share the same resistance to water, nor the extreme temperatures that this TV can withstand: 122 degrees Fahrenheit on the high end and -22 degrees on the low end. As I said, it's a beast. Of course, you can connect all those auxiliary devices if you so choose, but I promise you, removing and reinserting those 13 tiny screws will get old and fast. I'd like to see Sylvox implement some other kind of attachment for the panel on the back to make connecting and disconnecting devices easier.
Weather-proof for days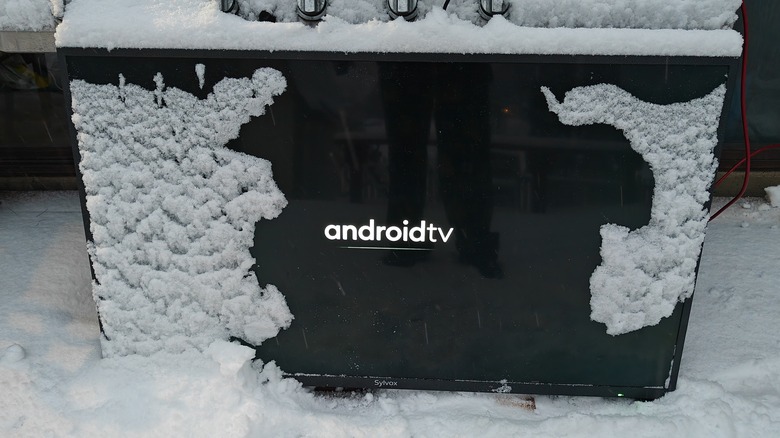 Adam Doud/SlashGear
During my testing period, Chicago went through a rather nasty couple of weeks. The TV withstood two snow storms, a full blizzard, and temperatures down to about -15 degrees Fahrenheit. It got nasty out there, people. Additionally, the TV saw weather up into the 50s and rain — Hello, Sylvox. Welcome to the Midwest. Despite that, every morning, when I let my dogs out, this TV was still smiling, and responsive when I whipped out the remote. Speaking of the remote, I should also mention that while the TV is weatherproof, the remote is not, so keep that in mind as you're setting this up by your pool, or igloo as the case may be. You'll need a safe place to keep the remote.
One thing I noticed during the nastier cold snaps is that the operating system on the TV really bogs down. Navigating menus and getting shows to play went very slowly as the temperature dropped. That is to be expected of course — technology tends to not enjoy colder climes — but it's with noting.
All about that panel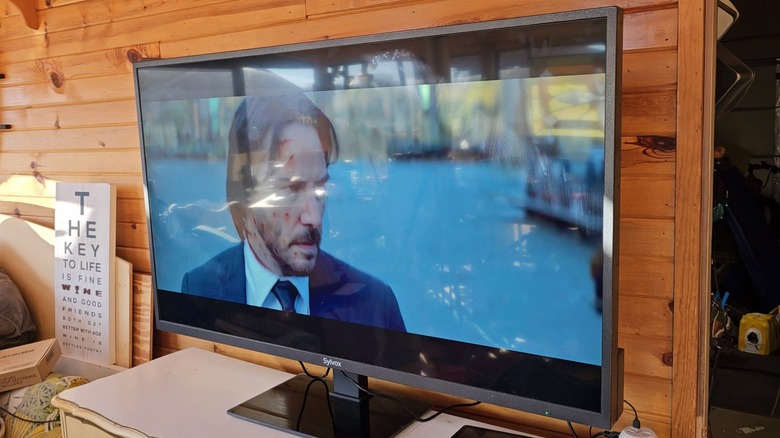 Adam Doud/SlashGear
The Sylvox Pool Pro TV comes with a 55-inch 4K display which is capable of putting out 2000 nits of brightness so it can be seen in bright sunlight, and to an extent, I would agree. We had plenty of sunny days during the review period and while I can't say the screen was perfectly viewable during those days, it was pretty good. Reflections still got in the way of some darker scenes in movies and TV, so you could lose some detail under those conditions. Overall, I would say the brightness holds up for an outdoor TV and anything less than what the Sylvox is capable of would be very hard to see.
When viewing conditions are optimal, you get sharp and crisp 4K resolution with great color reproduction. Viewing angles are very respectable as well. Even if you're off to the side of the TV you can pick up quite a bit of detail from the sharpest angles. Sylvox advertisers 178 degrees, and that seems consistent with my testing. You can basically see everything until you're behind the TV.
It's smart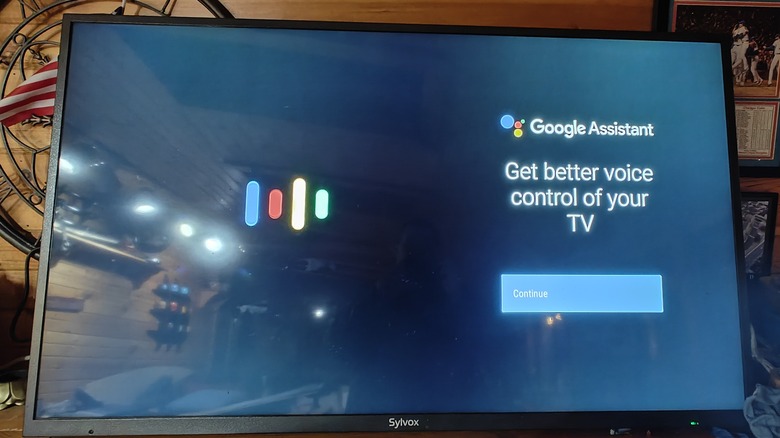 Adam Doud/SlashGear
As I said before, this TV is designed to work as a stand-alone product. You don't need any consoles or dongles to get this TV to playback something. Rather, the TV runs on Android TV, which is built on Android 11. It supports the Google Play Store and has access to Google Assistant. It behaves very much like Google's Chromecast with Google TV dongle, but with a much fuller remote.
Setup for the TV is ridiculously simple — you can use your Android phone to do most of the heavy lifting. From there, you pick the apps you want to be installed, and the TV does the rest. Google's TV interface is pretty slick, feeding you recommendations for shows and movies to watch based on your preferences and installed apps. You can download your stock favorites like Netflix, HBO Max, and Disney+, and you can download other apps like Speedtest if you want.
The TV also has built-in Chromecast capability, so you can just stream shows to your TV from your phone. There is around 9 GB of user-accessible storage available for those apps, so while you can have multiple apps installed for watching TV, you won't be storing much actual media on there.
Other test notes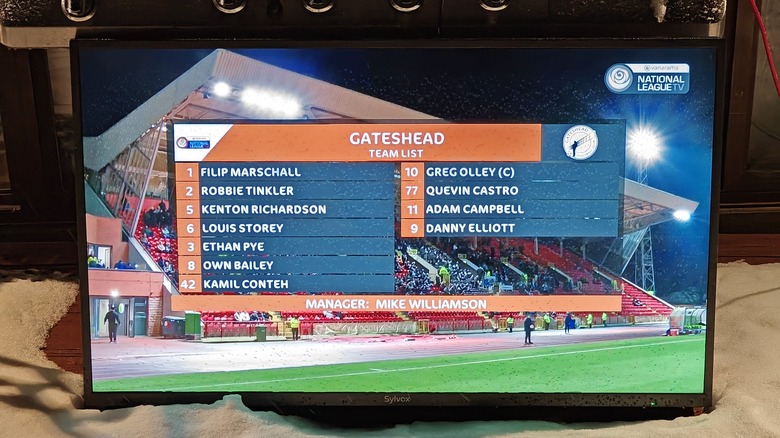 Adam Doud/SlashGear
My main complaint about the TV comes in the form of the very loud fan that runs all the time the TV is on. While it's not so noisy that it overpowers the audio coming from the built-in speakers, when the TV is not playing back media, the noise is akin to a white noise generator. The fans are not as noticeable when the TV is outside, but when you have this TV mounted on or near a wall, that noise reverberates and carries.
Speaking of volume, this TV gets respectable volume, so much so that it can be easily heard from as far as 25-30 feet away. Your mileage may vary depending on your neighborhood and its "room tone" but most folks shouldn't have a problem — unless there's a noisy pool party going on.
The sound quality is very solid considering the TV uses built-in speakers. You don't get as much bass as you might like, but this TV doesn't do that thing that most TVs do by over-emphasizing the midrange tones while drowning out upper and lower tones.
In addition to Wi-Fi, this TV also has Bluetooth in case you want to connect it to some wireless speakers. The remote also needs to connect to the TV via Bluetooth for Google Assistant to work properly. I had trouble getting the remote to pair on my first try, but after I returned to the TV the next day, it paired with no problem.
The price is steep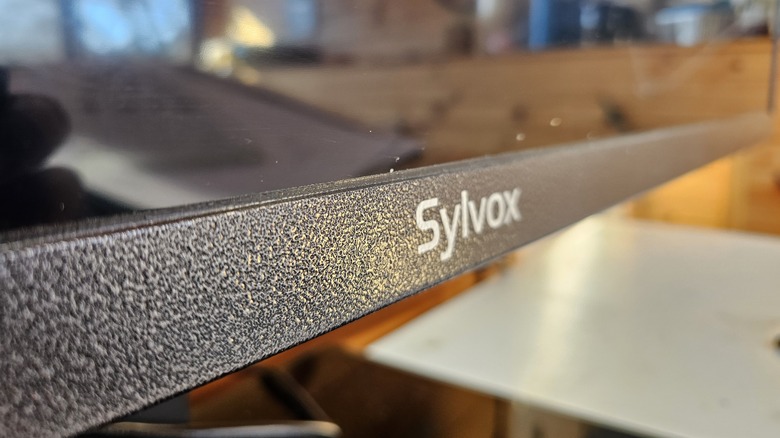 Adam Doud/SlashGear
Overall, I'm intrigued by the Sylvox Pool Pro TV for a number of different reasons. It's true that the TV solves a lot of problems, including wanting a TV on my sun porch which is a three-season room that gets very hot in the summer and very cold in the winter. This TV could solve that problem. But now, we have to talk about the price. The 55-inch Pool Pro TV weighs in at a hefty $2,700. Considering I can go to Walmart and buy a new 55-inch TV every month for about 10 months and still come in under that price tag, I'm not sure I see the value.
Editor's note: Another outdoor TV we tested back in 2019 – a SunBrite TV Veranda – had a similar set of features and came in at just under $2,000. So, assuming you're looking for a particularly hearty outdoor TV, you're likely looking at dropping a couple of thousand bucks, more than likely.
Consider also the fact that I personally don't really feel the need to have a TV in my backyard. When I go out to my backyard, I go out with the expectation that I'll be getting away from the TV and enjoying all the perks of the outdoors. I don't go outside to watch a screen. I might just be wired differently than the target consumer here, but I've never had a bunch of friends over for a barbeque and thought to myself, "Gosh, if only we could all stop talking and watch a movie." While I understand that the build quality of this TV more than warrants the price, I'm not sure my priorities line up the same way.
Final thoughts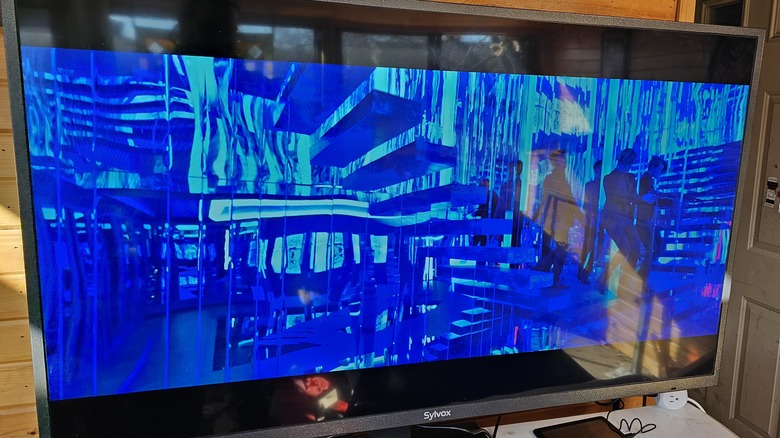 Adam Doud/SlashGear
Of course, for the people who want to have a TV next to their pool, or host movie nights on a lovely 70-degree evening with a bottle of wine and some good company, this television could be a great investment. It's great because you can enjoy those evenings with a TV that is permanently mounted and doesn't have to be set up or taken down in preparation for those rare events. Nor does it have to be hastily covered with a tarp if mother nature decides not to oblige you and your friends.
If you're one of those people, this TV will check every box. I didn't get a chance to test the other end of the weather spectrum — extreme heat — that weather won't be in Chicago for another 6 months at least. But if you live North of the 40th parallel or so, and you want a TV to put outside that can last all year, this one would be a good choice. It comes with a very high cost though, so maybe ask yourself: how often do you plan to actually watch something on a TV in your backyard?
The Sylvox Pool Pro (model OT55A2KGGE) 55-inch outdoor TV can be purchased on Amazon for approximately $2,700. The Pool Pro series of TVs comes in 55-, 65-, and 75-inch sizes.