SunBriteTV Veranda 55-inch Outdoor TV (2019) Review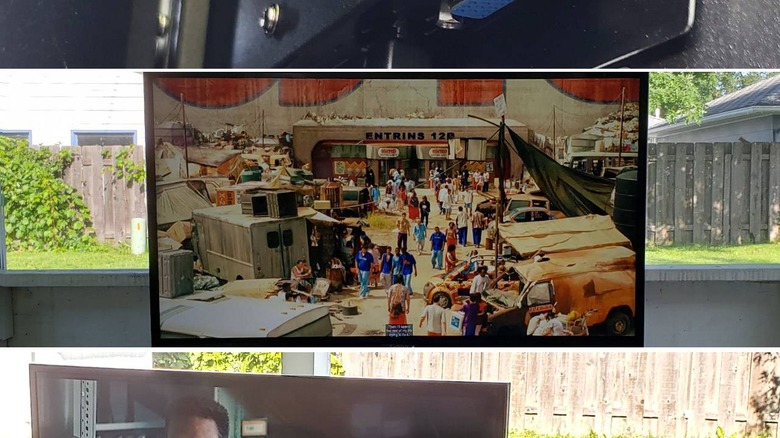 EDITORS' RATING: 9/10
SunBriteTV makes televisions that are meant to be used outdoors. Not out in the jungle or on a camping trip, but in environments where a person might want to see a TV screen while eating a meal or having a party – places that usually have chairs. The SunBriteTV set we're reviewing today was made for the least extreme of three categories of outdoor-friendly TV, complete with a weather-sealed body for protection from the weather and wildlife.
The television set we received for review was the 55" Veranda Outdoor LED HDR, Full Shade, 2160p, 4K UltraHD TV with hardware code SB-V-55-4KHDR-BL. This is part of SunBriteTV's "full shade" collection of sets – the least extreme of the sun-ready sets they make. SunBriteTV also makes a Signature Series for partial sun, and a Pro Series for Full Sun.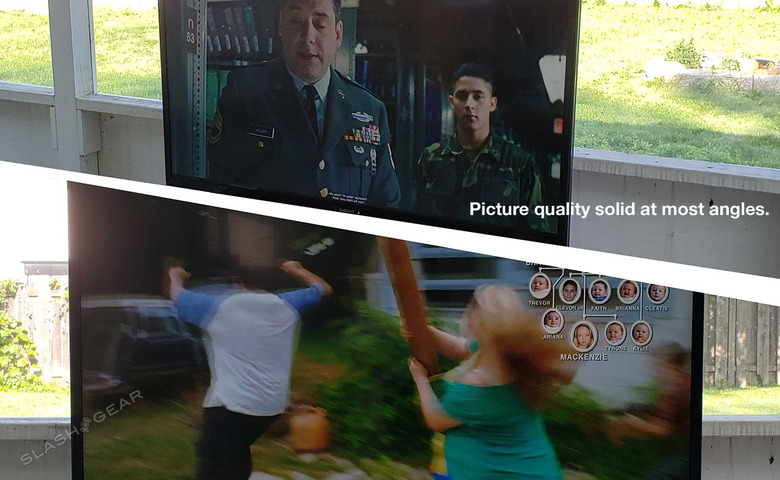 The Veranda Series is made for covered patios and screened gazebos – or so SunBriteTV suggests. The set is bright – exceedingly bright – brighter than I'd ever need it to be, were we viewing content indoors. Color isn't washed out, like one might expect with a set that gets so bright. This system supports HDR content and works with a Color Active Matrix TFT LED panel with 4000:1 and the ability to output 60Hz image refresh rate video.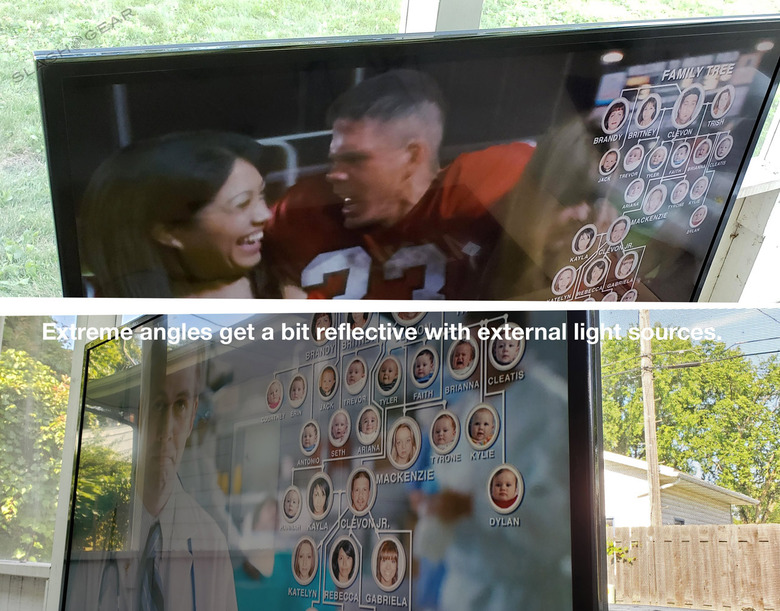 The key, beyond the image quality which is highly decent, is the weather protection. This TV set is sealed. All of its parts are sealed off from the elements. It's surrounded by powder-coated aluminum and padded transitions between internal elements and anything that might come in contact with the set.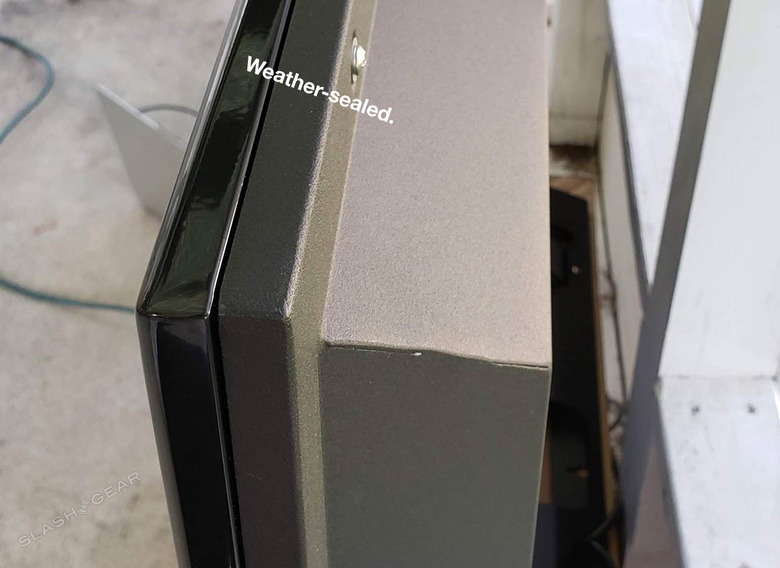 To be clear, the set isn't impact-resistant in any super notable way – it's protected against rain, snow, extreme temperatures, dust, salt, and insects. In addition to the set's standard sealing of internal elements, there's a protected bay of ports on the back. This bay is protected by a thumbscrew-secured door with moisture seal memory-foam-like material.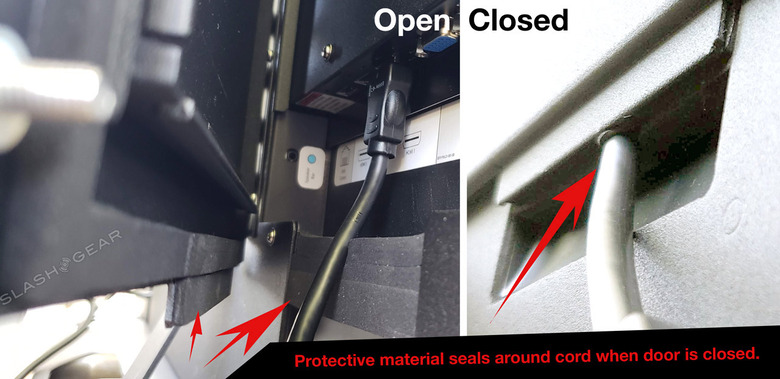 That material squishes and forms around cords run from the back of the set out to your various connected pieces of hardware. You can connect to a speakers, media players, baluns, and extenders of many sorts. That includes Roku, Apple TV, Chromecast, and basically any hardware that outputs to one of the ports at the back of this set.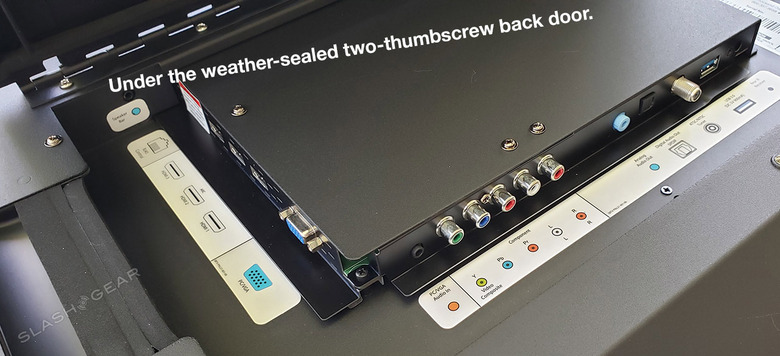 NOTE: There is no smart TV functionality built in to this television set. I've put this fact in our "cons" category – but some might consider it a plus. If you're not the sort of person who likes potential required software updates – this is the set for you. All the inputs mean you can use whatever external smart TV box you want.
The back of this set includes an ethernet port (RJ 45 for IP control), two standard HDMI ports and HDMI ARC, PC/VGA video in, and PC/VGA audio in. Also included are component audio and video in, analog audio out, digital audio out, cable antenna in, a single USB port, and rear IR.
There's also a speaker bar output – albeit one that requires an adapter included with SunBrite soundbars. You'll be connecting this set to a VESA mount (400mm x 400mm) – one of the various SunBriteTV mounts, more than likely.
We wanted to test the possibility that a user would move their TV set from location-to-location each season (Football season means outdoor viewing on the patio, basketball means indoor viewing in the basement). As such, SunBriteTV sent along their All-Weather Stand for Veranda Series (SB-TS-V-L2). This piece of equipment is around $105 on its own.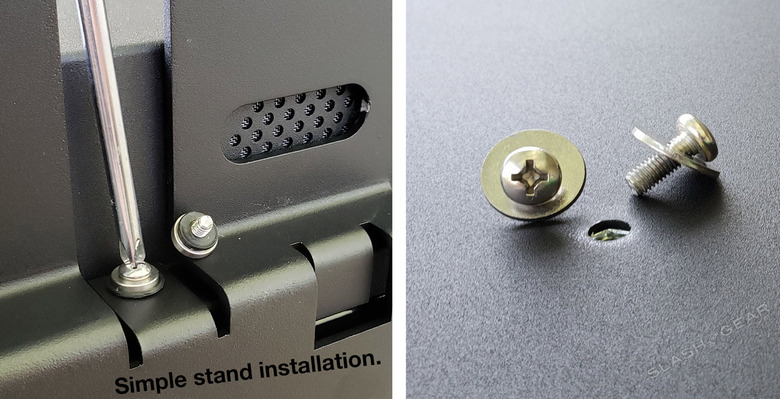 The All-Weather Stand connected with a set of standard screws that took less than 10 minutes to attach. Once the stand was attached, the TV set stood on its own like it'd always been attached to said stand. It's extremely stable – not likely resistant to a football-sized projectile launched by an adult – but stable enough for everyday non-rowdy use.
This set will cost users approximately $1,999 USD if purchased directly through the SunBriteTV official site. At the time this review is posted, users will find free shipping on every TV set through SunBriteTV's official site. The Veranda Series stand we've used with this review is also available from SunBriteTV for approximately $105 USD.