Hands-On With Lenovo's Most Unique CES 2023 Laptops And Tablets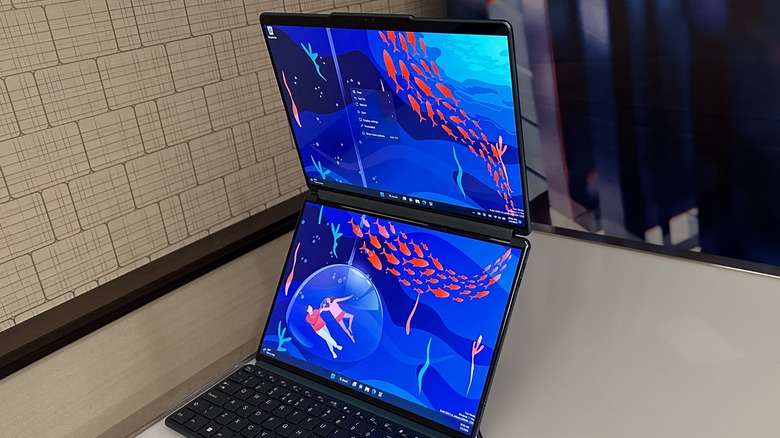 Adam Doud/SlashGear
Lenovo has long been a vendor that delivers a ton of garden-variety laptops and computer hardware that would nicely fit in any boardroom or cubicle in the workforce. Every now and then, Lenovo wanders off the beaten path to try something new, or at least something different than what everyone is doing. If you want an Android tablet — and you don't want a Samsung Android tablet — you're probably considering a Lenovo. If you want a Chrome tablet, Lenovo is one of the only games in town.
But this year, Lenovo is unleashing an unusually high number of really interesting products that fall outside the mainstream, seemingly all at once. That's exciting. In fact, it's so exciting I had to detour away from the launch of VW's ID.7 sedan to sit down with Lenovo and go hands-on with these fun and unique products. I only had a few minutes with each device, so full opinions will have to wait for our reviews, but these are my initial first impressions.
Yoga Book 9i: A two-screened wonder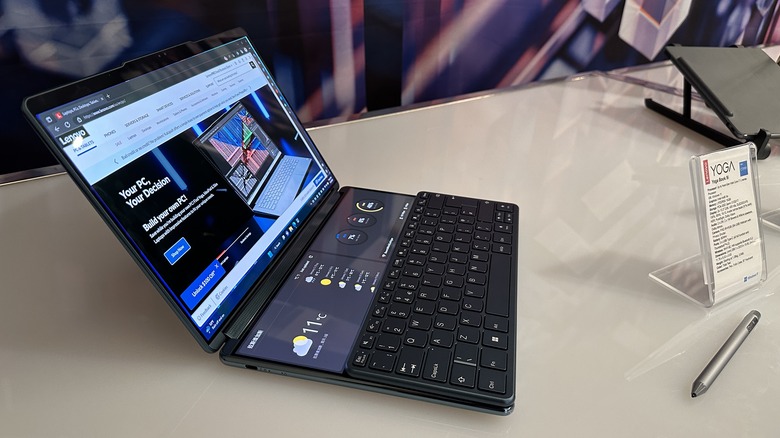 The device I spent the most time with during my hands-on time was the Yoga Book 9i. This is not your typical laptop. Rather this clamshell device is the spiritual replacement of the announced, but not-yet-released, Microsoft Surface Neo from late 2019. While Microsoft has postponed the Neo indefinitely, Lenovo seems to think it has a handle on things with the Yoga 9i.
This laptop can be used in a number of different ways. It comes with a keyboard case and a pen, which is a good first step. The case can be folded into a stand that allows you to use the laptop with both screens either vertical or horizontal. You can also orient the laptop in a more traditional sense in a clamshell configuration, and here's where things get funky.
You can either magnetically attach the Bluetooth keyboard to the bottom pane, or you can bring up a virtual keyboard. Either of those keyboards can be placed at the top of the frame (which leaves space near you) or at the bottom of the frame (which leaves space above the keyboard). When placed at the top, the remainder of the screen becomes an edge-to-edge trackpad for your mouse. When placed at the bottom, the top portion is filled with various widgets that can give you the weather, your Outlook email, news, or system performance.
Potential points of failure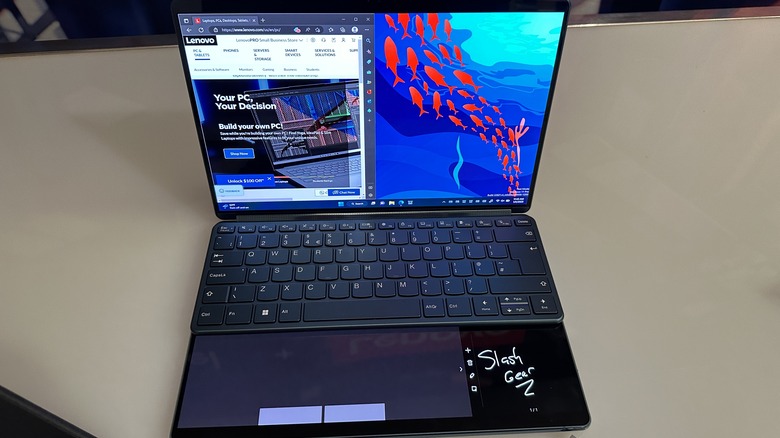 Adam Doud/SlashGear
My hands-on time was not long enough to test one point of failure and I wasn't running final software, which leaves the door open for another pitfall. From my point of view, the biggest potential upset here is the Bluetooth keyboard. My testing with the Thinkbook X1 Fold found that the Bluetooth keyboard would occasionally lose characters or double up characters while typing which (for example) you cann imagine gott really annoying aftter a whle.
I asked Lenovo about this and whether it had worked on this particular weakness from that other device. I wasn't given a solid answer, except to point out that the ThinkPad Fold X1 was two years old, and advancements have been made. This is the kind of issue that only long-term testing will reveal, so stay tuned.
Then, of course, there's Microsoft's software. Microsoft is still not amazing when it comes to non-traditional configurations of screens, keyboards, and hybrid devices. My time with the Surface Pro 9 is encouraging. I found few hiccups in Windows on the Surface, but in just a few minutes I found a couple of minor foibles on the Yoga. Notably, when I had the keyboard magnetically attached in the top half of the frame, and I swiped a window down into the lower frame, the window appeared under the keyboard, which as you can imagine was not terribly helpful.
All the same, I can't wait to get this device on my desk for testing. This is arguably one of the most exciting laptops I have seen in years, and I can't wait to put it through its paces when it launches in April.
Lenovo Tab Extreme - a new iPad pro competitor?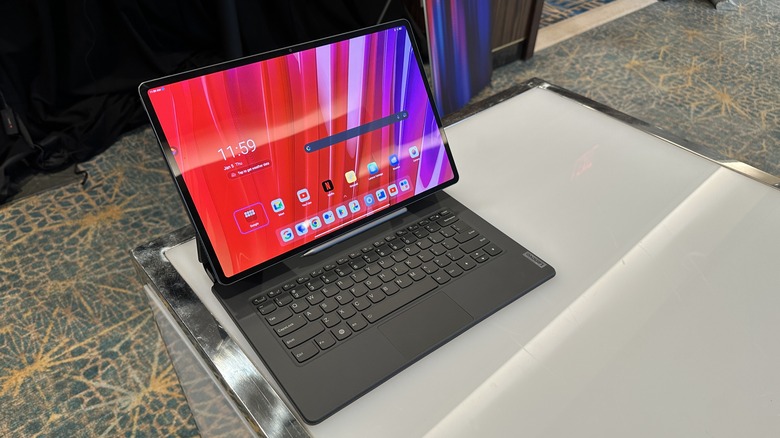 Adam Doud/SlashGear
I mentioned in the opening section, Lenovo is one of the few manufacturers still beating the Andorid tablet drum. But this time, Lenovo is pulling out all the stops in the Lenovo Tab Extreme. This is a Mediatek Dimensity 9000 powered, 14.5-inch, 120Hz screen. It comes with a stylus, and it has a don't-call-it-a Magic Keyboard dock that turns it into a de-facto laptop. The tablet attaches to that keyboard magnetically, and when it detaches, it has a secondary magnetically-attached kickstand that allows you to orient the tablet horizontally for media consumption or vertically for the biggest TikTok videos ever.
I have worked exclusively on an Android tablet in the past, so when I say this is a laptop replacement, that's not rhetoric. Of course, most of my work is done in Chrome, so it may not work for some of the most hard-core creators out there. The speakers on the tablet are decent even if they lack a lot of the low end that you might want to see in a gaming machine. Lenovo doesn't position this as a gaming device, but with the Dimensity 9000 and 12 GB of storage, there's no reason to think it couldn't be a serviceable mobile gaming tablet.
But I really think this needs to be looked at from the perspective of a professional who wants to kick back and watch from incredibly tall Instagram Reels every now and then.
ThinkBook Plus Twist: E ink with a twist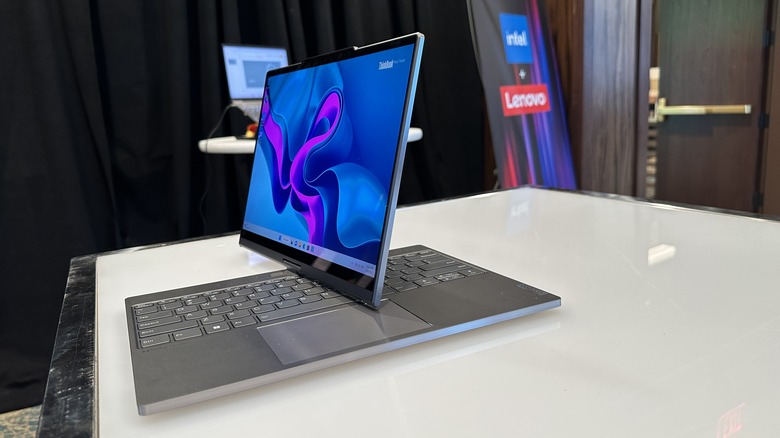 Adam Doud/SlashGear
E ink is one of those technologies that persists very well in its niche. Devices like the Kindle, various Boox tablets, and the like all have wonderful battery life, with somewhat limited performance capabilities. But what if it could run Windows? That's the question that Lenovo answers with the ThinkBook Plus Twist. This laptop has a 2.8K OLED screen on one side with a color E ink display on the other. The obvious use-case here is that you can have the back cover of your laptop look like anything you want, and it won't cost you an extra electron in battery life. You can put up a photo of your family, or your recent trip to Hawaii. While most people adorn their laptop lids with stickers (or nothing if you're like me) this is a way to super customize your laptop cover.
Or, you can twist it around and use the E ink display as your main display. There are some use cases here that make sense. If you spend most of your day reading (or editing), this works. There are two settings on the display that allow you to choose between performance at the expense of image quality and vice versa. I have to say when set to performance, it was not bad. It certainly wasn't the normal snappy performance you'd expect from a Windows laptop, but it was useable.
Another obvious advantage here is that since this is a laptop, when it's closed, there's still a screen facing out that you can use. You can read on the E ink display or watch movies on the OLED display. That's pretty sweet, but I have to wonder if Lenovo might have wandered a bit too far off the beaten path for this one. I would imagine we'll find out in June when it launches.
Lenovo Smart Paper: your paper replacement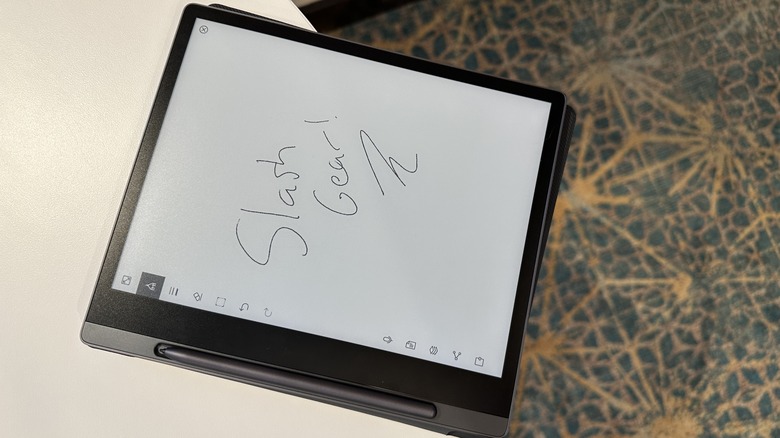 Adam Doud/SlashGear
The next tablet we have is the Lenovo Smart Paper, which is Lenovo's other E ink offering. This one is a note-taking tablet that looks to replace paper from your arsenal. I have tried using E ink tablets in the past to rid myself of a paper notebook, and this one comes pretty close. The writing feels great and palm rejection is absolutely flawless, but I ran into some usability issues with it that my hands-on time wasn't long enough to clear up.
Most notably (no pun intended) when I got to the bottom of a page of notes, I didn't see a good way to turn to the next page. A notebook is only as good as it is fast to write on when you're scribbling notes from a keynote or interview. If you get to the bottom of the page, and it takes a second to advance to the next page, that won't be a great experience.
What is great is that between iOS, Android, and Windows, there is an app that syncs your notes, so you can always have them available on whatever device you are using (macOS was noticeably absent from that list). The Smart Paper also supports voice memos and can OCR text into something more legible if you're using my chicken scratch.
ThinkPhone by Motorola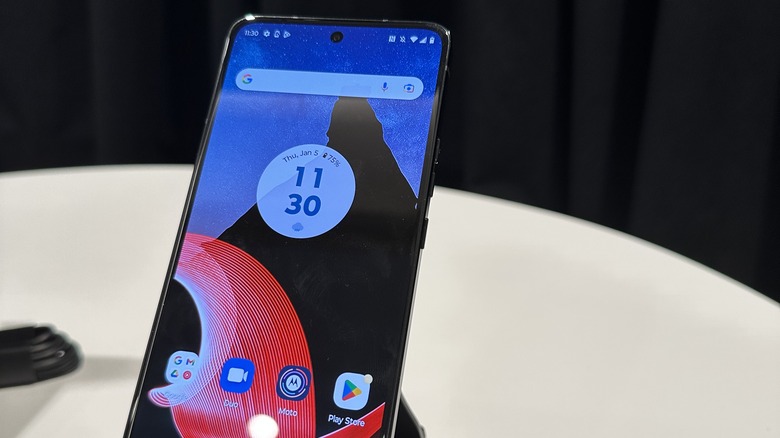 Adam Doud/SlashGear
Finally, Lenovo subsidiary Motorola was present at the show with a ThinkPad-inspired phone, the ThinkPhone by Motorola. This is a flagship phone in every way, with a Snapdragon 8 Gen 1 processor, up to 12 GB of memory, a 5,000 mAh battery, and a 50-megapixel main shooter. There's power to spare here, which is a good thing because this is meant to be primarily a business phone. Motorola will push this phone out as a B2B offering with some regional consumer availability. Whether or not that will include the U.S. is unknown.
One impressive demonstration came from its integration with Windows. Doug Michau, Executive Director of North America Business Development at Motorola Mobility showed off the ability copy/paste between a Windows device and the phone — that's any windows device, not just Lenovo by the way. You can also use the phone's camera to import new photos directly into Windows documents like PowerPoint slides. It's very Apple-esque and goes to show how close the Android-Windows relationship is developing, and I'm on board for that.
This is the most exciting Lenovo has been in years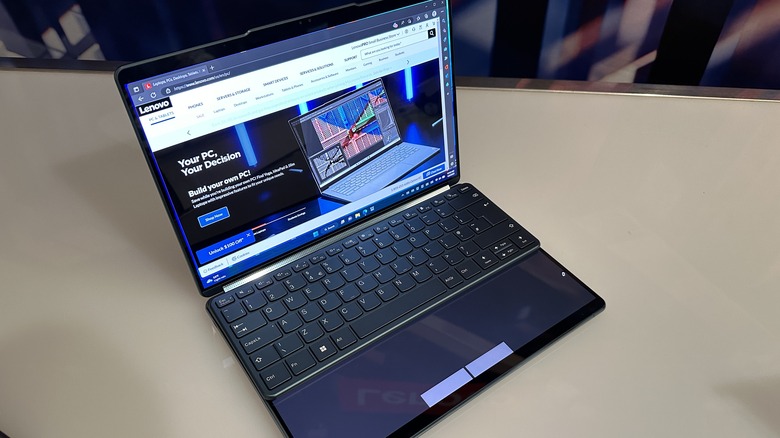 Adam Doud/SlashGear
In addition to the devices I spent time with, Lenovo also has its usual slate of devices coming, including an all-in-one PC, new carbon and nano laptops, and more. I didn't have enough time in my session to go hands-on with everything, though we will certainly cover the rest of these devices throughout the year as they launch. But this sampling of devices covers Lenovo's outside-the-box thinking that I'm 100% on board with.
What seems clear to me, as a remote worker, is that we are only just discovering new ways to make our computers not only more powerful but also more versatile to cover every kind of work there is. Lenovo is one of those companies that are willing to stretch those boundaries and find out what works. It's definitely a company I will be watching in 2023 and beyond.