Onyx Boox Nova Air C Review: The Future Of E-Readers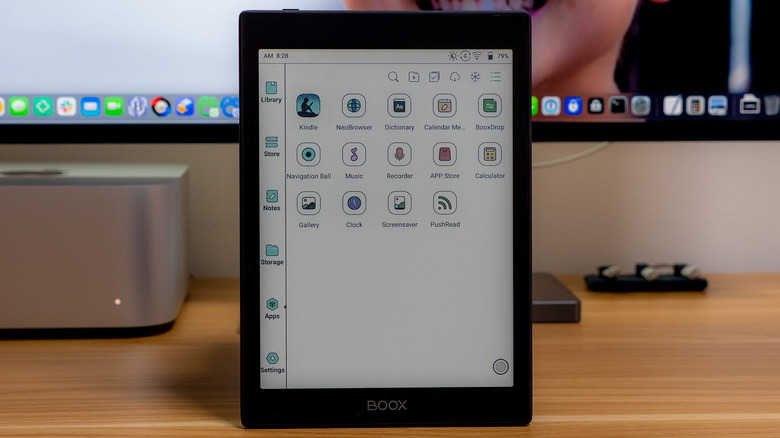 Ewdison Then/SlashGear
The Amazon Kindle may still be a household name when it comes to e-book readers (e-readers), but one could argue it is no longer king in the market that it helped popularize. Sure, the combination of Amazon's massive library and dirt-cheap reading devices is still undefeated even by the likes of Rakuten Kobo and especially Barnes & Noble, but Amazon seems to be content at leaving things like that. All of its devices, after all, are simply portals to its bigger empire of digital content and shopping.
In the meantime, the e-reader world has moved forward in leaps and bounds, with new contenders and technologies that try to redefine what the device class can offer. Onyx is one of those new players rising to the top, and the newest Boox Nova Air C is its most ambitious product yet. Naturally, we had to get ahold of the Boox Nova for ourselves to see if we can finally move beyond the digital book world defined — and limited — by the Kindle.
Design and feel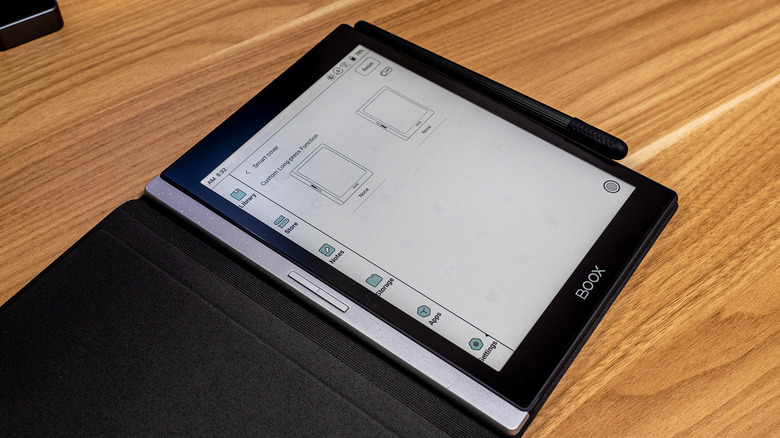 Ewdison Then/SlashGear
If you're expecting some design innovation to come from these newer e-reader makers, you might be severely disappointed. Although digital book readers are slowly but surely encroaching into tablet territory (more on that later), they still have completely different goals and, therefore, very different priorities. An e-reader is designed to make content the focus of the device and companies are fine with letting the rest of the device's body stay less presentable, as long as it lets you hold it for long periods of time.
That alone makes this device's design stand out, as it uses metal instead of plastic. The new Boox Nova retains the same drab appearance and thin profile as most e-readers, but the material is reassuring for its durability and longevity. It won't look or feel as premium as the metal or glass on some tablets these days, but that's not really a priority for an e-reader.
This isn't a complete knock on the Boox Nova Air C's design, which is clean and minimalist, save for the inescapable branding on the bottom bezel. The device is lightweight and comfortable to hold, even with the optional magnetic cover. That cover magnetically latches onto the left side of the e-reader, where pin connectors allow the buttons on the cover's edge to turn the pages without having to move your hand.
The edges of the Boox Nova Air C are just as plain as its body, except for the button on the top side, as well as the USB-C port and speaker grille on the bottom. Yes, it has built-in speakers, which are barely decent for the job. You'll probably want to use your favorite Bluetooth earphones or headphones instead, as the super-thin slate has no room for a 3.5mm headphone jack. The model does have a mark on the right side where you can magnetically attach the included Wacom-powered stylus, though.
Display and reading comfort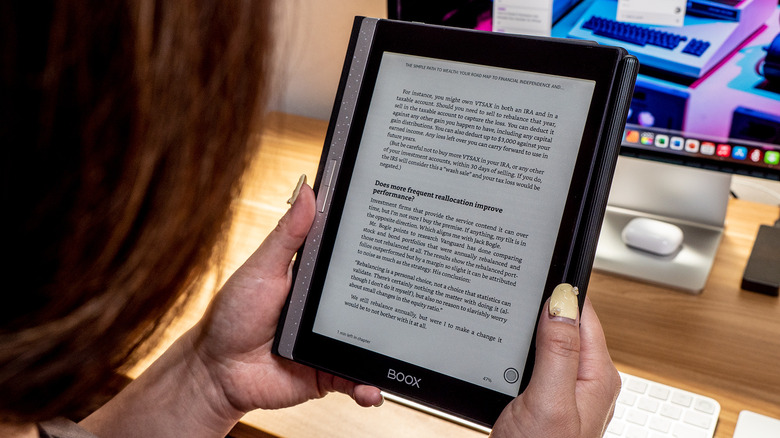 Ewdison Then/SlashGear
Just like any other screen-centric device, the display is the most critical part of an e-reader. It is even more important in the case of the Boox Nova Air C because of its relatively young innovation, bringing color to the table. In the past, e-paper displays have been limited to different shades of gray, which looked boring for some and unusable for books or magazines that required colors to be enjoyed. E Ink has been pioneering the move towards giving these battery-sipping, eye-saving displays some color, and you can see the fruits of its labor in this device.
To be clear, even the latest E Ink Kaleido Plus technology will be no match for an LCD screen, much less an OLED, but that's not really a shocker. E Ink uses a color filter in order to reflect different colors of light, unlike LCDs and OLEDs that actually emit colored light. What this means in practice is that colors won't be as bright and vibrant as you'd expect, but considering this is an E Ink screen, the 4,096 colors it can support is already astounding.
The 7.8-inch E Ink screen has a 1404x1872 resolution (300 ppi pixel density) when displaying black tones. That makes text and even images quite sharp, which is perfect for comfortable reading. The numbers drop sharply when the color filter is used, however, down to 468x624 (100 ppi). The drop in resolution isn't that noticeable unless you're very particular about seeing dots. In practice, it still makes colors very noticeable, so you can finally enjoy your magazines, comics, and colored manga on the same comfortable reading device.
The new E Ink Kaleido Plus that the Boox Nova Air C uses boasts a higher color contrast ratio and improved color saturation while also boosting black and white performance. This is mostly thanks to E Ink's new On-Cell technology that integrates the touch component directly into the E Ink display rather than as a separate, independent layer. Not only does it reduce the components and costs of producing the panel, it also removes unnecessary layers in between the E Ink and the user's eyes, making inks and colors look clearer.
E-Paper displays don't emit their own light and rely on front lights rather than backlights to allow for reading in the dark. The Boox Nova Air C takes this a step farther by including not only a white LED light but a "warm" amber light, as well. The latter is more comfortable when reading at night, and you can mix the ratio of white and warm lights to your satisfaction. When both lights are used, the Boox Nova Air C looks brighter than most e-readers that only have one color of light.
Performance and user experience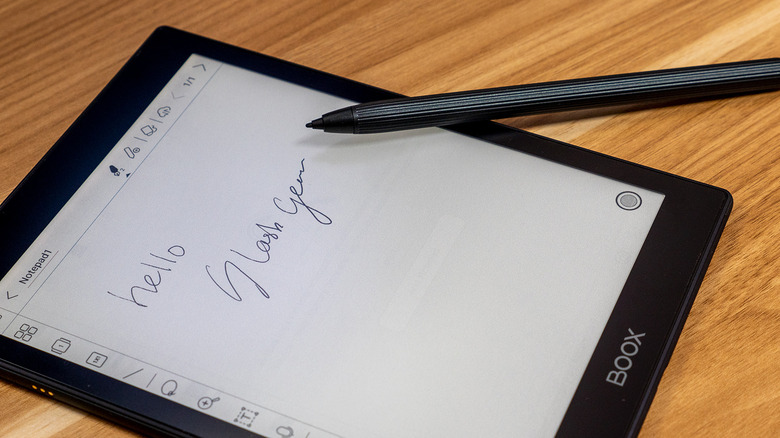 Ewdison Then/SlashGear
E-Readers are wading into tablet territory in both hardware and software. For example, the Boox Nova Air C runs on a Snapdragon 662 with 3GB of RAM and 32GB of expandable storage. That's more than enough for simply reading books (just look at Kindle), but it opens the door to more use cases, including running normal Android apps. The e-reader has enough muscle to handle any document, including memory-hungry PDFs. It can also play music and videos, though that's not going to be a pleasurable experience.
The bottleneck is, of course, the E Ink screen that has a lower refresh rate than normal LCDs or OLEDs. Onyx does have a few tricks to boost the refresh rate of the screen, which it calls "speed" in the settings. A2 is a step up from the default and is good when you're scribbling while Speed mode for fluid web browsing and app animations. X-Mode is the fastest and can mostly handle videos, but it naturally comes with a catch. These higher speeds sacrifice image quality, so it doesn't come without a cost. Your phone will probably still be a better way to watch a video, but the Boox Nova Air C will be able to handle one in a pinch.
The E-Reader comes with Wi-Fi for downloading apps and e-books, but unsurprisingly, no cellular support. The USB-C port is used for both charging the device and transferring files from a computer. The 2,000 mAh battery might sound small compared to tablets these days, but E Ink displays sip power rather than gulp it down, so battery life is never an issue. Onyx ships a stylus inside the box, one that's powered by Wacom's technology. That also changes the e-reader formula quite a lot, as we'll see next.
Software availability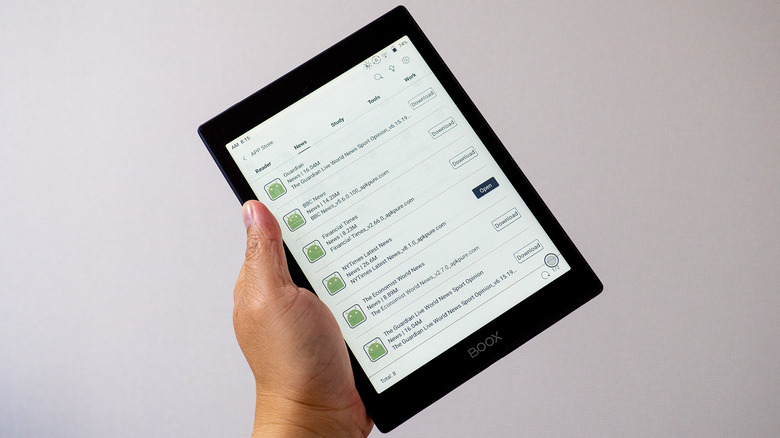 Ewdison Then/SlashGear
Many e-book readers today offer more than just reading capabilities; some have even started running Android, taking them into tablet territory. Onyx is included in that bunch but also does one better. The Boox Nova Air C runs Android 11 out of the box, which is actually impressive given e-reader standards.
Onyx has its own software and e-book library, but you will be able to install Google Play apps and services during the setup phase. That means you'll have access to all the content you can grab, from local files to Kindle, Kobo, and more. Of course, you also have access to Android apps not related to reading, like games. Your mileage may vary, but the option is at least available.
The Boox Nova Air C has its own built-in note-taking app that you can use not just for notes but also for a bit of light sketching. The available 16 colors might not bring out the artist in you, but it can do for those times when proper tools are not within reach. Inspiration might strike while you're reading a book, and it might be easier to just switch to a note-taking app rather than scramble for a paper notebook or a tablet.
Of course, Onyx's UI is unlike a normal Android tablet, and its home screen is designed to quickly drop you into the content you want. There's a Floating Action Button (FAB) that you can move around, giving you shortcuts to your most-used settings. Even the settings aren't your typical Android ones since they include the aforementioned speed modes and a way to manually refresh the screen. You can even run two apps at the same time when the device is in landscape, almost like a regular tablet. The device is still primarily an e-book reader, of course, but it has advanced far enough to go above and beyond the call of duty.
Is it worth buying?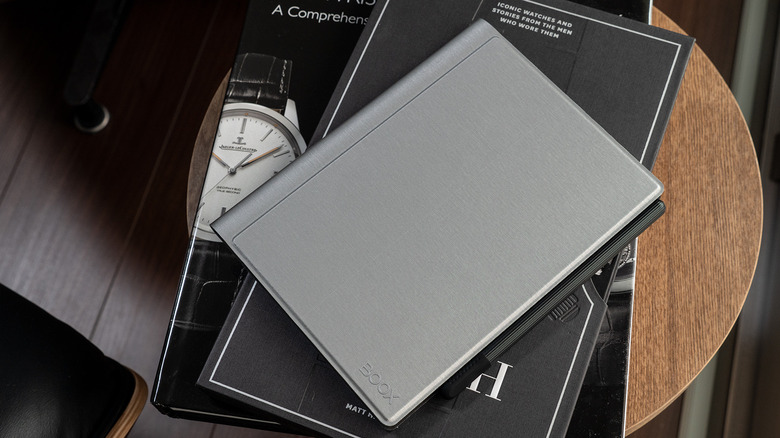 Ewdison Then/SlashGear
The Onyx Boox Nova Air C shows how far e-readers have come, even and especially without Amazon holding them back. These devices, which can go up to 13.3-inches in size, no longer limit themselves to just reading while still retaining the qualities that make them special. Lightweight, long-lasting, and easy on the eyes, the Boox Nova Air C brings the best of e-readers and adds a splash of color, too.
There is, of course, the issue of price, and this is where the Kindle still has a huge lead. The Onyx Boox Nova Air C currently retails for $420, which is near the price of a mid-range Android tablet. It might be able to do less than a tablet, but it can definitely do a lot more than some competing models, as well. 
Suffice it to say, you're definitely getting your money's worth with one of the best color e-readers in the market, at least until the next Onyx device comes along bearing the latest E Ink Kaleido 3 tech that was just launched last week.