Meet The 5G Advanced Modems Bringing Apple Emergency SOS-Style Satellite Features To Android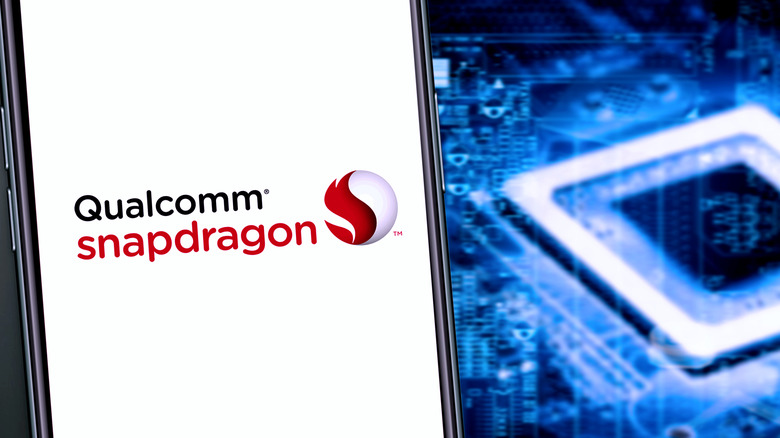 DANIEL CONSTANTE/Shutterstock
Qualcomm has just announced a new product that they claim will usher in a new era of 5G connectivity. According to a recent Qualcomm press release, the Snapdragon X75 modem-RF system, the latest in the Snapdragon line of integrated modem-RF systems used in smartphones and the Internet of Things, will hit the market in the second half of 2023.
The Snapdragon series of modem-RF systems has always been one of Qualcomm's showpiece product lines. The company innovated the modem-RF system concept, integrating the modem, RF transceiver, and RF front-end required for smartphone-style network connectivity into a single part. This reduces a product's connectivity needs to a single design element, shrinks its profile, and simplifies maintenance, making the modem-RF system a popular choice in smartphones and IoT-connected tools and appliances.
Qualcomm expects the X75 design to drive significant advances in consumer technology upon its release later this year. Here's what we know.
Bringing next-gen connectivity to digital shelves
The primary innovation in the new Qualcomm Snapdragon X75 modem-RF system is the ability to deliver 5G-Advanced connectivity, notably including Snapdragon Satellite. The inclusion of satellite internet options means that Qualcomm-powered Android devices will be able to compete with, and potentially surpass, Apple's Emergency SOS functionality by incorporating satellite connectivity more fully into the device. According to Durga Malladi, senior VP at Qualcomm, "5G Advanced will take connectivity to a whole new level, fueling the new reality of the Connected Intelligent Edge."
"Connected Intelligent Edge" is Qualcomm's term of choice for the growing realities of the 5G-enabled world. Per Qualcomm, the trend toward onboard device processing and away from conventional, centralized data centers will continue as processors get smaller and faster. The X75 as well as future Qualcomm products will be designed on the basis that most processing will happen "at the edge" – that is, inside the consumer device – rather than in the cloud or at a remote server facility.
Toward the goal of increasing devices' onboard processing power, the X75 improves basic benchmarks compared to its predecessors, including a 2.5-fold increase in AI processing and superior power efficiency. It will also include brand-new onboard architecture and support software. All that is in keeping with Qualcomm's intended expansion of its product implementation; the press release cites cars, industrial IoT, fixed wireless access, and private mobile networks as major market opportunities alongside the company's usual smartphone, computing, and broadband integration. All those systems could benefit from powerful onboard processing and connectivity.
In addition to the top-line X75, Qualcomm will be releasing the slightly less specced-up Snapdragon X72 for wider mobile adoption. Both are expected before the end of this year.