Snapdragon Satellite Is Android's Souped-Up Answer To Apple's Emergency SOS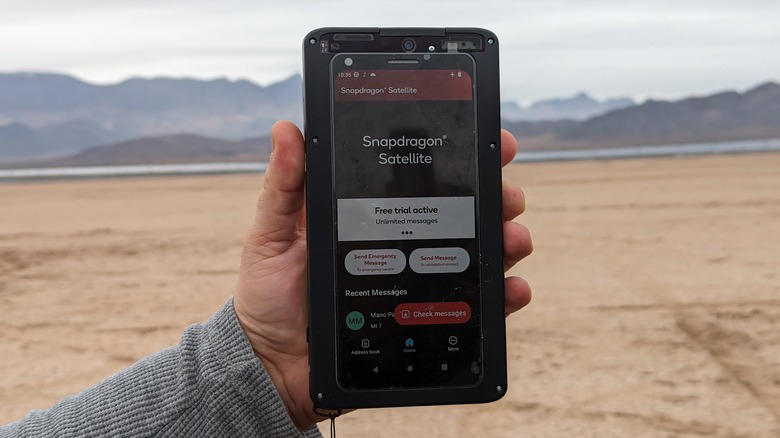 Adam Doud/SlashGear
Last fall, Apple rolled out a new feature in its top-tier phones, the iPhone 14 Pro and the iPhone 14 Pro Max, which enabled satellite communication in the event of an emergency. If you found yourself lost in an area with no cellular coverage but had a clear view of the sky, you could send for help. Considering 85% of the planet earth finds itself without adequate cellular coverage even today (via World Economic Forum) it's a feature that has been a long time coming and could be a literal lifesaver. This week, Qualcomm looked at that and said, "hold my beer."
Qualcomm announced a partnership with satellite company Iridium and GPS guru Garmin which enables not only emergency communication with satellite coverage, but also those "wish you were here" messages you'd love to send from the top of a mountain, or out on a sea voyage. The feature is called "Snapdragon Satellite" and it's coming in the second half of 2023.
I traveled to CES 2023 with Volkswagen to see the launch of the ID.7, but while I was there, Qualcomm took me out into the desert surrounding Las Vegas to show off this new feature. Overall it's fair to say that it duplicates Apple's effort and one-ups it in just about every way. But it also carried a few caveats as well.
Wish you were here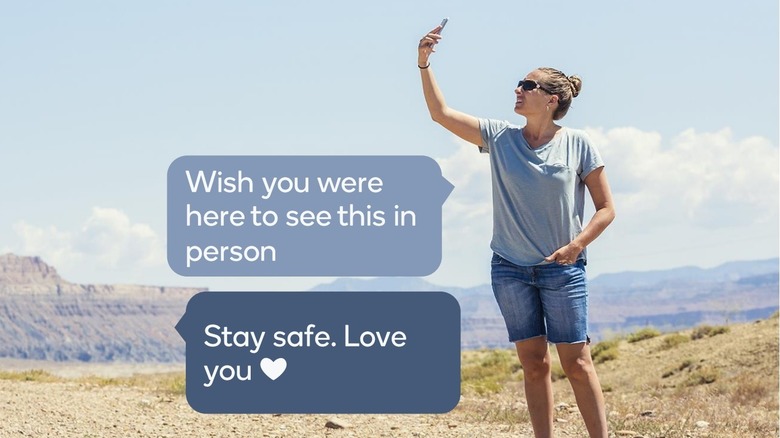 Qualcomm
Snapdragon Satellite enables what Qualcomm calls "pole-to-pole coverage" which is to say every piece of land between the North Pole and the South Pole (spoiler alert – that's everywhere). Iridium has a vast network of Low Earth Orbit (LEO) satellites that cover the entire planet with the capability of short-burst, two-way communications. The technology is built into Qualcomm's x70 modem which is integrated with the Snapdragon 8 Gen 2 processor which will be rolling out on flagship smartphones in the very near future, which brings us to one of the aforementioned caveats.
The capability is built into the modem which will come on every smartphone bearing the latest flagship processor, but Qualcomm doesn't expect to see smartphones with satellite communication capability until the second half of 2023. That's because while the capability to communicate is there, smartphones will need the radio frequency equipment on board to communicate with Iridium's L-Band equipment in the 1600 – 1626.5 MHz range. That is not a standard 3GPP band, so the phone will have to be designed with that capability in mind.
Qualcomm is only announcing this feature now, so it will take time for phone makers to get the right equipment on board, though Qualcomm did say that several phone makers are already working to make this possible. This is also a feature that will be limited, at least initially, to flagship-tier smartphones.
Here's why it's better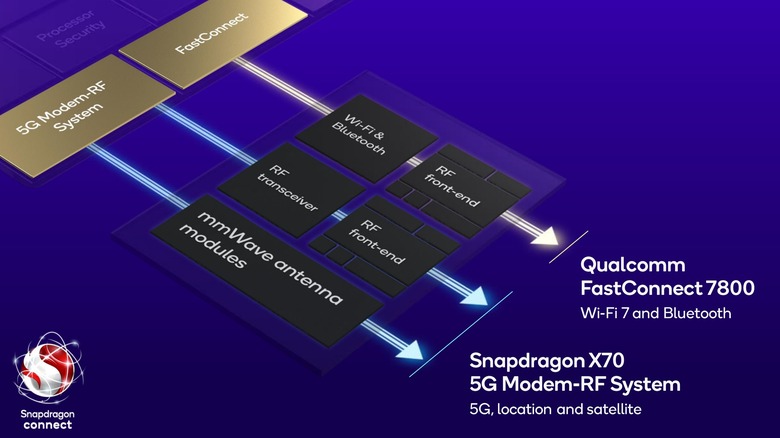 Qualcomm
Qualcomm was quick to point out that, unlike its competitors, its satellite communications are very quick and can contain lengthy messages. Communication takes place in seconds, rather than minutes and users do not have to have messages or contacts pre-programmed into the app to make those messages work. You can simply pull out your phone and text whoever you want, and it will go to them just like a normal SMS message would. While standing in the Nevada desert, Qualcomm's VP of Product Management, Francesco Grilli, texted another "normal" phone using Qualcomm's reference hardware and sent a message in seconds. After he typed the message, a prompt showed him where to aim the phone, and just like that, it went.
When a reply was ready to be delivered back to the reference phone, it once again prompted him to aim at a passing satellite and again within seconds the reply showed up on the phone. There was very little delay between message sending and receiving. What makes this better than Apple's implementation is that this can be used for emergencies, or it can be used just to stay in touch with a loved one. There are few limits to how you can communicate literally anywhere on the planet. That's pretty huge, but it, too, has its caveats.
It's very Android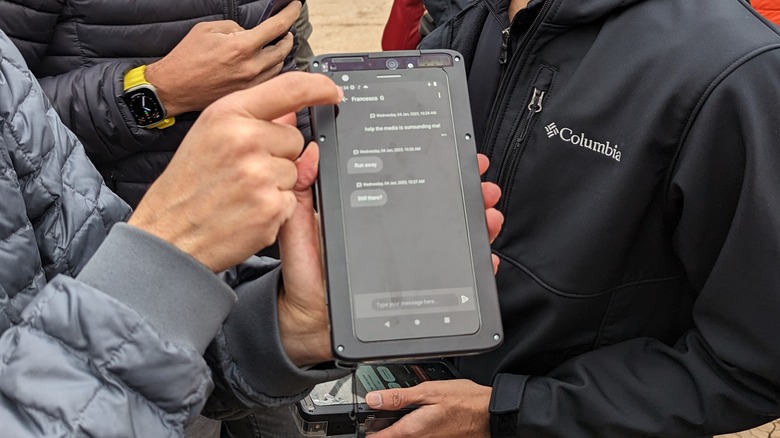 Adam Doud/SlashGear
One could argue, the biggest drawback to this technology is in the execution. According to Qualcomm, it has partnered with Garmin to use the call centers the GPS maker has in place for its inReach service. Garmin already has the manpower, training, and infrastructure in place to handle emergency messages, so it's a natural partnership. That emergency service will be available on every phone that supports Qualcomm Satellite, but how you can actually use it is up in the air (pun somewhat intended).
Qualcomm says that it is just providing the tools that phone makers need to enable non-emergency messaging, but it will be up to those phone makers how they actually implement it. Either the manufacturer can provide it themselves, or they can partner up with another company (in other words, carriers) to determine how the service will be implemented and, more importantly, how much it will cost.
The key difference between an Apple service and an Android service is this wishy-washy attitude that says "we'll give you the opportunity to do whatever you want and it's up to you to decide how to do it." Meanwhile, Apple just says, "This is what it does, and this is how it works. End of story."
So how this will all ultimately turn out is anyone's guess. On paper, this is a much better service than what Apple is offering, but how it will turn out in practice is a separate matter.