Apple's Satellite-Based Emergency SOS Feature Goes Live Later This Month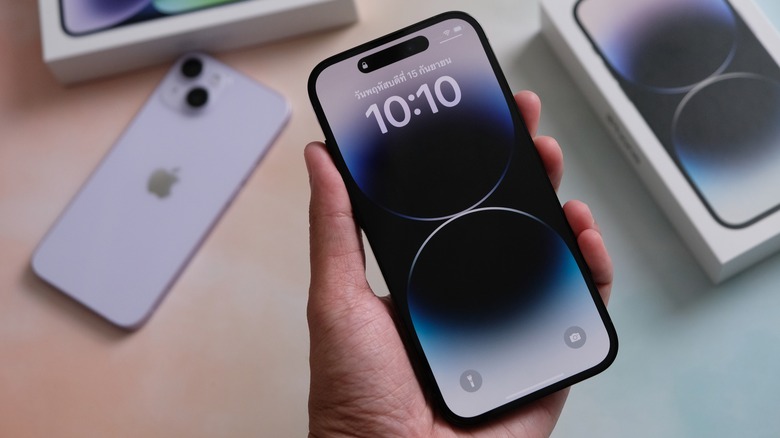 Framesira/Shutterstock
Modern flagship smartphones have become so capable that the room for feature improvements seems to be shrinking with each year. Take the case of Apple's previous-generation iPhone models, which do not look too different from the company's latest iPhone 14 offerings. Things have reached a stage where Apple found it okay to use last year's Apple A15 Bionic processor on the iPhone 14 and the iPhone 14 Plus, meaning the newer A16 Bionic chip is reserved for the Pro models. This also means that there aren't too many differences between the iPhone 13 and the new iPhone 14 — with the exception of several new safety-focused features.
While all iPhone 14 models support the potentially life-saving car crash detection feature, Apple reserved another feature — a satellite-based iPhone emergency SOS functionality — exclusively for its Pro models. The crash detection feature is already active on all iPhone 14s sold in the U.S., and has already been credited with saving lives. However, the same could not be said about the satellite connectivity feature from Apple, which continues to elude iPhone users. While Apple did talk about the feature at length during the iPhone 14 launch keynote, more than two months since the launch, the feature is yet to be enabled on the devices.
However, all this will change later this month when Apple users will finally be able to send texts and even make SOS voice calls without the need for cellular or Wi-Fi connectivity. In a detailed blog post, the company confirmed that the iPhone's satellite-based SOS service is expected to go live "later this month."
Still no confirmed date for iPhone SOS
If you re-read Apple's press release to figure out the actual launch date of its satellite-based SOS service, you'll likely be disappointed. Nevertheless, it is a good thing that Apple confirmed that the satellite-based SOS system should be up and running without further delays. For now, the feature shall only be available to iPhone 14 Pro and Pro Max customers living in the U.S. and Canada, with a gradual rollout happening elsewhere in the coming months.
Apple's press note also confirms that it invested $450 million to ensure the feature works as intended. A big chunk of this investment went to a company called GlobalStar — famous for its satellite communication services. With the help of Apple's investment, GlobalStar was able to form a team of more than 300 people working around the satellite-based SOS service.
GlobalStar currently has 24 satellites circling the planet in a low earth orbit. In addition to the satellites, the company also has an extensive network of strategically placed ground stations. Apple also confirmed that it's been working on making even more ground stations for GlobalStar — with the newest ones coming up in Nevada and Hawaii.