2023 Mazda CX-9 Review: Bowing Out Gracefully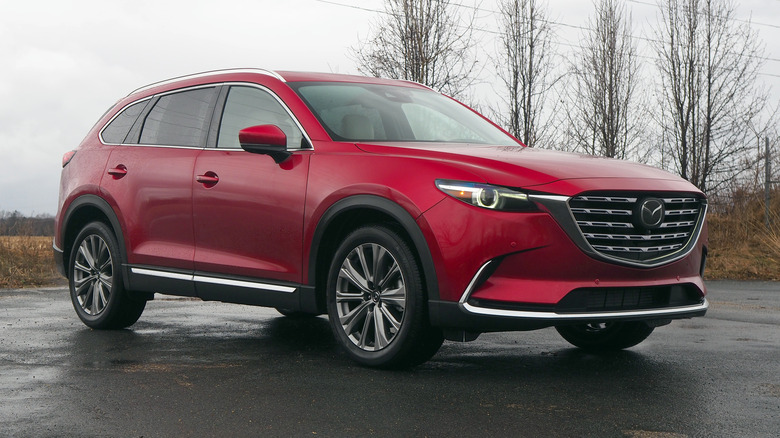 Chris Davies/SlashGear
The Mazda CX-9 is stylish, surprisingly engaging to drive, and boasts an upscale cabin design, but that isn't enough to save it. The three-row family SUV segment is fiercely competitive: "good" simply isn't sufficient and faced with increasingly capable rivals the order has been clear. The 2023 model year will be the CX-9's last.
The CX-9 has long been the flagship of Mazda's range — or, at least, the largest model the Japanese automaker offers — but that crown is being taken away. The 2024 Mazda CX-90 will take its top spot, a larger, more luxurious, and generally more competitive three-row SUV. Later in 2023, we'll see the 2024 Mazda CX-70 revealed, meanwhile, a midsize two-row model more similar in size to the CX-9.
That range readjustment means that, while the CX-5 and CX-50 were allowed to coexist, sales of the CX-9 will only continue through the end of this year. The CX-90 will arrive in the spring, with some compelling boots to fill.
Still sharp after all this time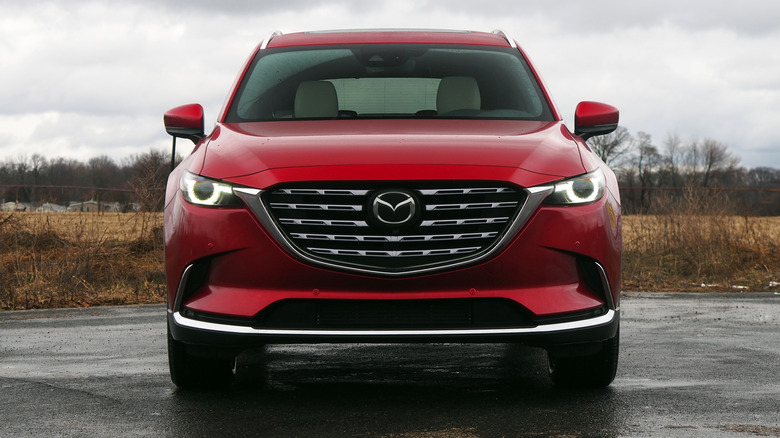 Chris Davies/SlashGear
Given the styling of the CX-9 hasn't much changed since this second-generation model launched in 2016, it's impressive just how fresh it still looks. Where the competition has embraced sharp edges and aped true off-road machines with their (often love-it-or-hate-it) aesthetics, the Mazda feels more tasteful. Those smooth curves mean the CX-9 seems neither as vast nor as monolithic as many of its current rivals.
Some sharp detailing helps, too. The rakish angle to the grille leaves the fascia looking purposeful, while the judicious application of chrome elevates it without getting old-fashioned in the process. Sharp sculpting to the sides highlights how slab-like the CX-90 is between the wheels in contrast. The contrasting black wheel arch trim gives a dash of rakish go-anywhere flare, even if I suspect few owners of this particular Mazda will ever roam more untamed territory than the Costco parking lot.
At the rear, you could be forgiven for almost mistaking the CX-9's trunk as that of one of Mazda's hatchbacks. The whole thing is sleek and still eye-catching, particularly in the optional Soul Red paint ($595) and with the Signature trim's standard 20-inch alloy wheels.
Aggressively priced, aggressively equipped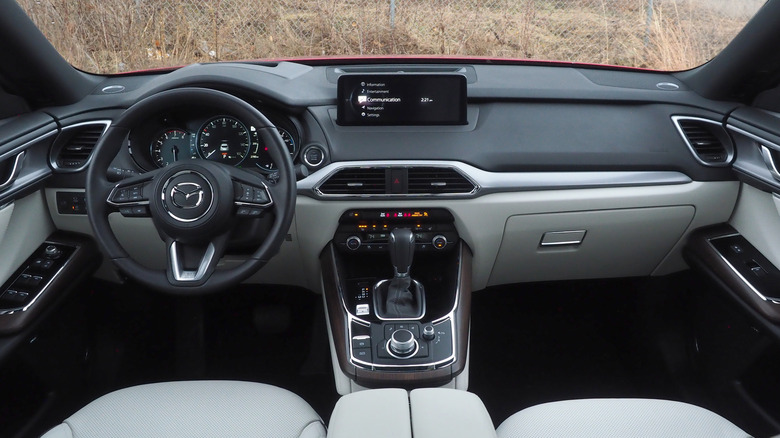 Chris Davies/SlashGear
Standard equipment levels are high, and despite its age, the Mazda's cabin looks and feels more premium than the price tag suggests. Everything from the base-spec $38,750 (plus destination) CX-9 Touring trim and up get auto LED headlamps, three-zone climate control, adaptive cruise control, keyless entry and push-button start, a power liftgate, and a power moonroof. Leather seats, front seat heating, wireless phone charging, four USB ports, and both wired Apple CarPlay and Android Auto are also standard, with a 10.25-inch infotainment display which Mazda forces you to navigate with a jog-wheel in the center console.
Higher trims add things like second-row window shades, two extra USB charge ports for the third row, ventilated front seats, a heated steering wheel, and a Bose 12-speaker audio system. They also increase the size of the driver's display, from 4.6 inches to 7 inches, and by the time you get to the $48,460 Signature trim, you're getting Nappa leather with quilting and piping on the first and second rows. 
How many seats you get also depends on trim level, though unlike most three-row SUVs it's not automatically the case that the lowest trims accommodate the most people. The Touring and Carbon Edition have space for six, courtesy of second-row captain's chairs and a center walkthrough; Touring Plus and Grand Touring have seven seats as standard, with the captain's chairs an option. Finally, the Signature trim gets six seats and a center console with storage between the captain's chairs. Conspicuously absent from Mazda's option list is any sort of rear-seat entertainment package, so make sure the kids bring their own tablets and phones. 
No hybrids here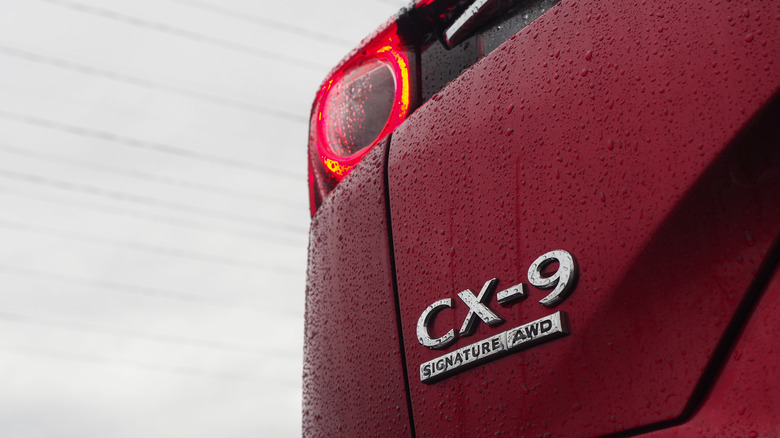 Chris Davies/SlashGear
Mazda's upcoming CX-90 may have a choice of engines, including a mild-hybrid and the hotly-anticipated plug-in hybrid, but there's only a single drivetrain option for the CX-9. That's the Skyactiv-G 2.5 Turbo, a 2.5-liter turbocharged four-cylinder engine good for 250 horsepower and 320 lb-ft of torque. That's assuming you feed it premium gas, mind: it dips to 227 horsepower and 310 lb-ft of torque with regular fuel.
All-wheel drive is standard, as is a six-speed automatic transmission. Upper trims have paddle shifters to play with, though there's not really much impetus to take over things yourself. Even switched into Sport mode — the sole drive mode that the CX-9 offers — the Mazda isn't going to convince you that it's a Miata.
That's not to say it underwhelms from behind the wheel; far from it. In fact, the CX-9 errs further toward engaging driver dynamics (or as much as you can in a three-row family SUV) than most of its counterparts. It may not have the Kinematic Posture Control system that Mazda developed for the MX-5 — like the CX-90 will benefit from — but it's an excellent example of the automaker's core expertise at overall tuning.
Tuned for eager drivers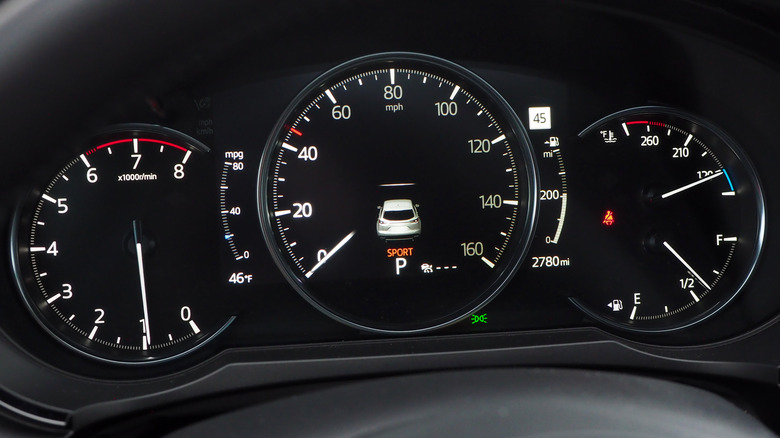 Chris Davies/SlashGear
There's no trick adaptive suspension here, or adjustable dampers. Instead, Mazda opts for a fairly stiff tune overall, which helps avoid undue lean in corners. Its exterior dimensions mean it's not exactly compact for an SUV in its class, but the way it drives leaves it feeling much smaller: poised and perky.
The downside is, unsurprisingly, that the firm ride can be less pleasing on poor-quality roads. The CX-9 avoids crashiness, and it's not like you'll instantly need to book an appointment with your chiropractor, but it definitely prefers smoother asphalt. Rival SUVs with a more comfort-focused slant, like Kia's Telluride or Hyundai's Palisade, handle rough surfaces with a little more decorum.
The result is an SUV that looks grand and feels more rewarding for whoever gets to drive. The flip side of that is less cabin space for people and cargo.
Rivals have the edge on practicality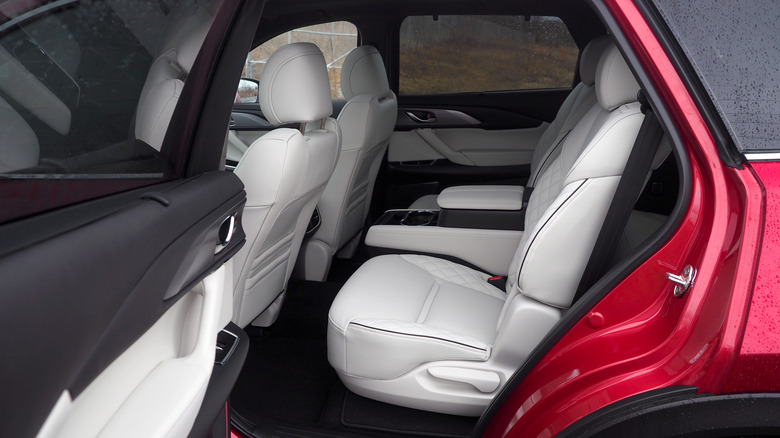 Chris Davies/SlashGear
The first and second rows are fine, with the captain's chairs in the latter sliding forward and back to balance legroom with the rearmost seating. Still, it's a snug place to sit for adults in the very back, with the sloping roofline eating into headroom, and a fairly high floor pushing your knees up. Mazda has called out a more spacious third row as being a key advantage of the larger CX-90, and that's a welcome thing.
Trunk space, too, takes a dip compared to the obvious rivals. With all seats up, you're looking at 14.4 cu-ft in the CX-9. Drop the third row, and that expands to 38.2 cu-ft; fold the second row, and it expands to 71.2 cu-ft.
Kia's Telluride, in contrast, offers almost 3 inches more third-row headroom, and 21 cu-ft of cargo space with all the seats up. Drop them, and that expands to a maximum of 87 cu-ft, or almost 16 cu-ft more than the Mazda. It'll also out-tow the CX-9, with a 5,000-pound rating compared to the Mazda's 3,500 pounds.
The CX-9 does claw back some advantage when it comes to economy. The EPA says it should do 20 mpg in the city, 26 mpg on the highway, and 23 mpg combined. That's two points ahead of the Telluride in each category.
2023 Mazda CX-9 Verdict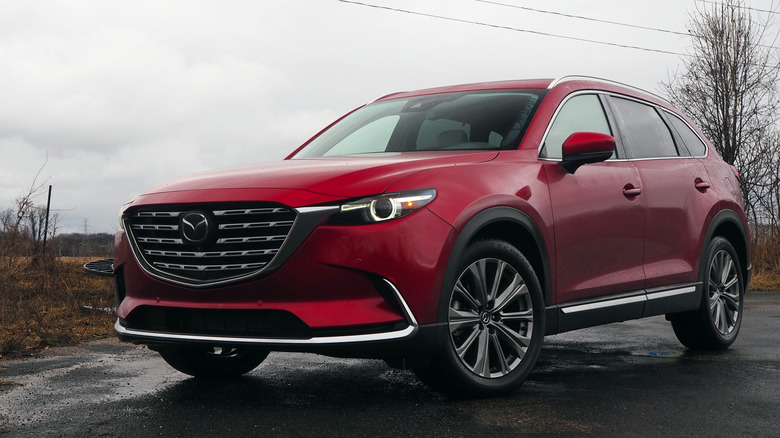 Chris Davies/SlashGear
It's easy to be dismissive of what the CX-9 offers based on paper specs. Sure, rival SUVs are more spacious, can hold more cargo, and tow more. They don't have annoying joystick-controlled infotainment systems, can handle wireless smartphone projection, and offer a variety of drive modes for different road conditions; all things beyond this Mazda.
Nonetheless, it's also difficult to avoid being charmed by the CX-9's personality. Most three-row family haulers aren't designed to please an enthusiastic driver; those that are, tend to be super-horsepower luxury behemoths from Mercedes-AMG and similar, with six-figure price tags only adding to their profligacy. The fact is, Mazda's SUV is engaging from behind the wheel in a way that none of its direct competition simply can't match.
Like so many cars in the automaker's line-up, then, it really comes down to who gets the deciding vote: the driver, or everyone else. However that argument gets settled, though, best do it quickly. The 2023 CX-9 is on borrowed time and, like the Mazda6 before it, we may not realize what we had until it's gone.