Here's How To Get Access To Microsoft's New Bing Chat AI Preview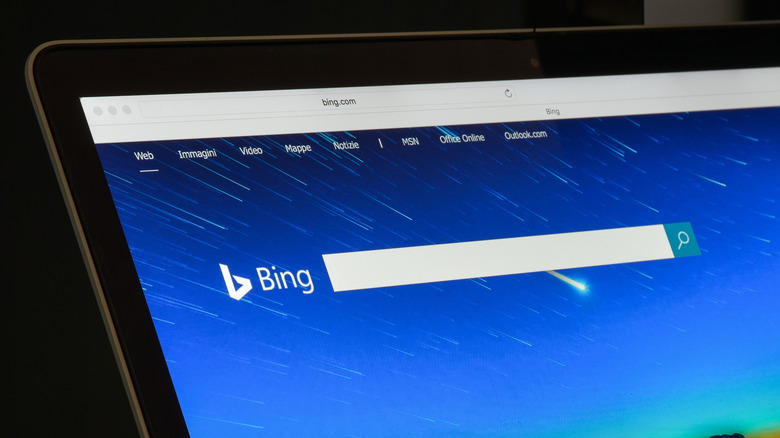 Casimiro PT/Shutterstock
Have you heard? Microsoft is coming for all of the search and AI marbles with what it's calling "the new Bing." This huge update to the company's search engine integrates a chatbot powered by a new version of OpenAI's GPT. In other words, it's extremely smart and responsive to natural language search commands of any sort, sort of like how ChatGPT operates today.
Bing takes things a step further with informative responses that are fueled by much more relevant information than was previously possible. You can ask it something like "I need to throw a dinner party for 6 people who are vegetarian. Can you suggest a 3-course menu with a chocolate dessert?" In addition to showing you relevant, ordinary search results, you'll often get a personalized response from Bing Chat that can help you research, plan, ideate, and even create brand-new content.
Unlike Google's upcoming Bard, you can actually give the new Bing a try on your own today. However, there are some limitations. For starters, you can't have a conversation with Bing Chat yet. While it can offer responses to certain natural language queries entered into the Bing search engine, you won't be able to ask any follow-up questions at this time. You'll be able to test Bing Chat out in its entirety when it hits open preview by joining the waitlist. Stick with us, and we'll show you everything you'll need to do to jump in line and be among the first to use it.
How to use the new Bing and Bing Chat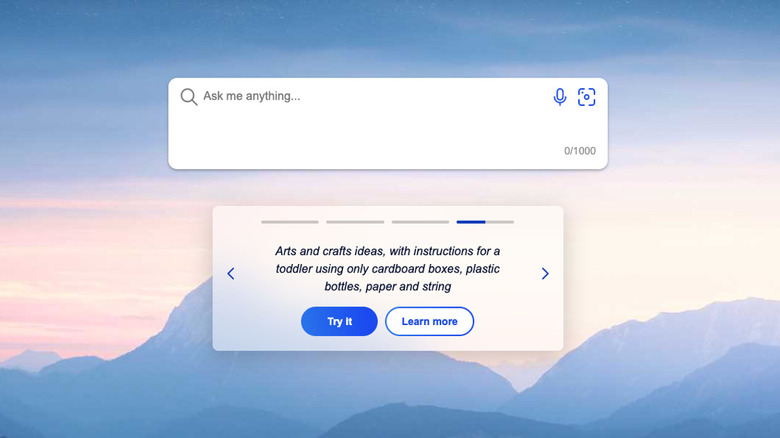 Microsoft
It couldn't be easier to try the new Bing: just go to Bing.com using a desktop browser. Immediately, you'll see the newly expanded search box that lets you enter queries up to 1,000 characters long. Beneath it, you'll find several examples you can try with one click.
Sadly, this preview is very limited in that Bing doesn't seem to respond to every search query with a Bing Chat response. The example queries provided work for sure, but none of the custom queries we tried returned anything but typical search results. Even some of the shortened versions of the examples Microsoft provides on its waitlist page don't work without the full example queries.
Furthermore, If you click one of Bing Chat's automatic follow-up responses generated from the example queries, you don't actually get any further interaction with the bot — it just takes you to a signup page for the waitlist. As it stands, the new Bing preview seemingly only serves as a visual, conceptual representation of what you can expect once the full update goes live.
Sign up for the Bing Chat waitlist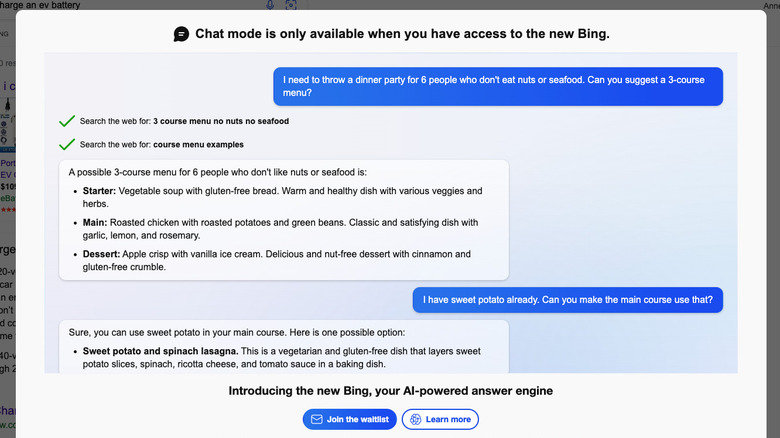 Brittany Roston / SlashGear
Thankfully, it's extremely easy to sign up for the waitlist. You'll also be able to get faster access by taking a few additional steps:
In a web browser, go to Bing.com/new

Tap "Join the waitlist."

If you're not already signed in, sign into your Microsoft account.
From here, you should be on the waitlist. Microsoft will send an email confirming your status. You'll also get another email once you've made it through the floodgates, and then you'll be able to try it in all its glory simply by heading to Bing.com. Want to improve your chances to get in well ahead of the pack? Here's what to do, according to Microsoft:
Go to Bing.com/new and sign in.

If you're already on the waitlist, you should see a big blue button that says "Access the new Bing faster." Click it.

Click "Microsoft Defaults." Depending on the browser you're using, this will prompt you to change your default search engine to Bing. For instance, if you're using Google Chrome, it will take you to the Chrome store to download an extension that adds a shortcut to Bing, as well as changes your default start page and the default search engine used when typing queries into the address bar.

Download the Bing app to your Android or iOS device and sign in using your Microsoft account.
With luck, you'll be among the first to try out all these features, unmitigated and unabated.