5 Of The Best Hidden Samsung Phone Features You Need To Try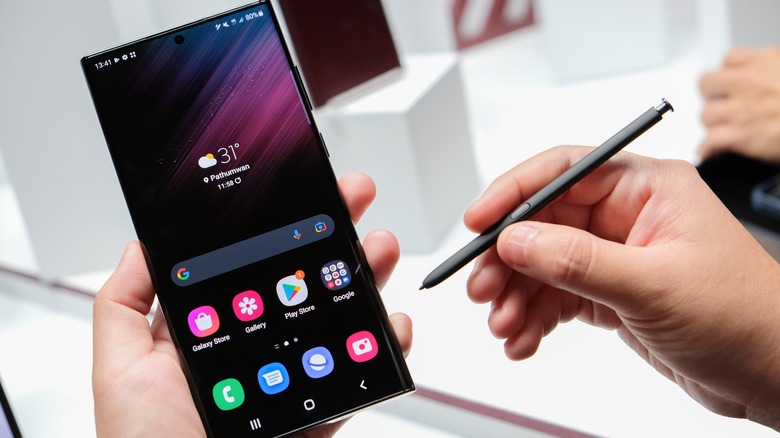 Framesira/Shutterstock
Samsung makes some of the best Android phones on the market. Whether it's a more dated model or the latest Samsung Galaxy S22 Ultra, the devices have a lot to offer both to casual and more demanding users. However, some may not know that they're not making the most of a Samsung phone?
Digging through Android settings can often feel like a chore, but there are so many fun little features hidden away within Samsung's menus. These features can simplify the way people use phones on a daily basis, add more security to files, and even enable interesting options that aren't on by default. Admittedly, some of these things are difficult to find and might not be stumbled upon naturally.
If you want to make sure you're not missing out, it's a good idea to look through some of the less-than-common settings in your Samsung phone — there are a lot of hidden gems waiting to be unearthed. Make sure your phone is running the latest Android version available to you before you begin, and then dive into the top five features that you may not know about, but you certainly should.
Taking selfies with voice commands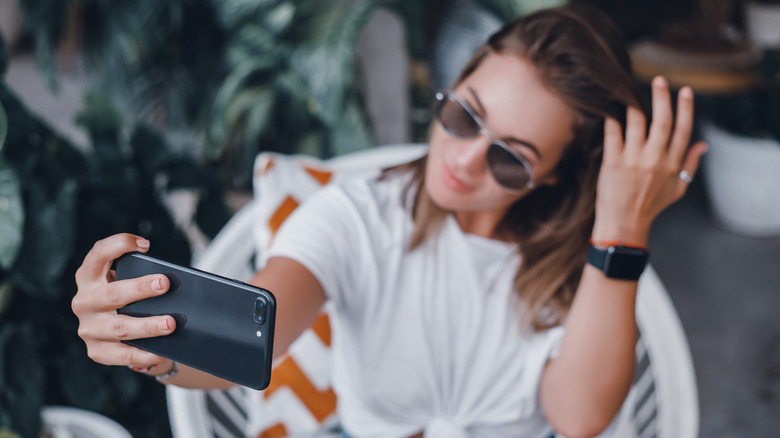 sergey causelove/Shutterstock
Did you know that you don't need to hold your phone in order to snap a selfie? And no, you also don't need a selfie stick. Many Samsung phones give you the option to take photos and record videos hands-free through the use of voice commands or hand gestures. Here's how you can try it out.
Launch the Camera app.
Tap on the cog wheel icon in the top left corner of the app and open the Settings.
Scroll down until you find Shooting Methods.
Toggle the options "Voice Commands" and "Show Palm" to on.
Set the phone somewhere safe and get in frame. To take a selfie or record a video, say "cheese," "capture," "smile," or "shoot" for photos, and "record video" for videos. For the latter, you will first need to swap your phone into video mode before it begins recording, according to the official Samsung website. 
Controlling the process with your palm is even simpler — simply hold up your palm until the timer starts. You can use both the front-facing and the rear camera for this. The top-right corner will display a timer letting you know when to strike a pose.
Add extra protection with the Secure Folder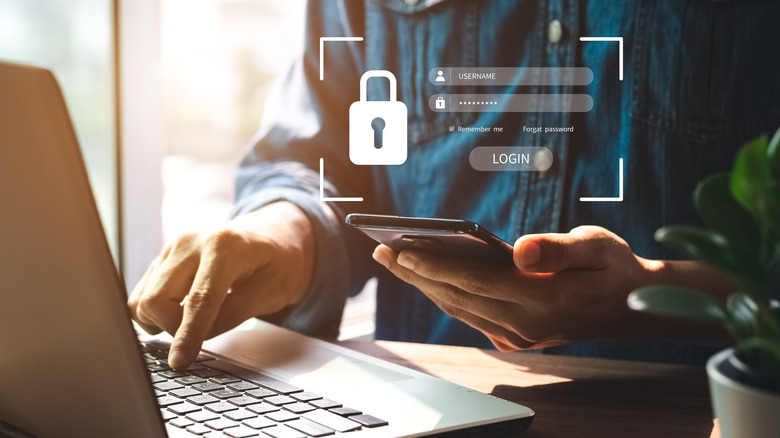 Thapana_Studio/Shutterstock
These days, be it photos, videos, or even mobile banking apps and personal email accounts, there's just too much at stake to risk having a stranger peer into personal files and apps. With photos, it's simply a case of privacy, but if your phone falls into the wrong hands and the thief manages to access your banking app, the consequences could be brutal.
Samsung helps protect users by adding a Secure Folder. It's an encrypted folder that is protected by Samsung's proprietary Knox security platform. This adds a much-needed extra layer of security and encryption to the most important files. Below is how to enable the Secure Folder on your Samsung phone:
Launch the Settings.
Scroll down to find Biometrics and Security.
Tap on "Secure Folder."
In order to use the folder, you need a Samsung account. Your phone will prompt you to create one or log on to your existing one.
Samsung states that the Secure Folder will need a lot of permissions, including access to your Calendar, Contacts, Storage, and Phone apps. Grant them all to proceed.
Choose the way you want to lock your Secure Folder. You can use a pattern, PIN, or password, as well as biometrics.
Enter the lock method twice, and then confirm it.
With your folder set up, launch the app from your App screen or Home screen.
Tap the plus sign or the three vertical dots and then Add Files.
You can choose any files you wish and then add them all to the folder. In the case of apps, a copy of the app will be created and put into the Secure Folder.
Swipe left and right on your contacts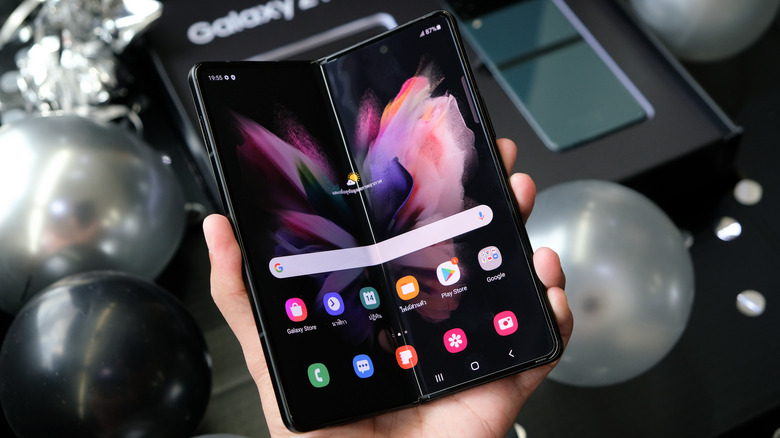 Framesira/Shutterstock
Making calls and texting on a Samsung phone is easy enough as it is; whether that's through the Phone app, through the texting app, or even through Contacts. However, one thing many people don't realize is that they're taking a lot more steps to make that call than they need to.
Samsung has a built-in functionality that lets users make calls and send texts with just the swipe of a finger, and you don't even need to enable any special settings to use this feature. All you have to do is launch your Contacts app and then find the contact you want to try this out on. Next, swipe left on their name to send them a text message, or swipe right to call them. Be aware that this will immediately launch a phone call, so if you're just trying this out for fun, don't do it in the middle of the night.
Enable the cue light for notifications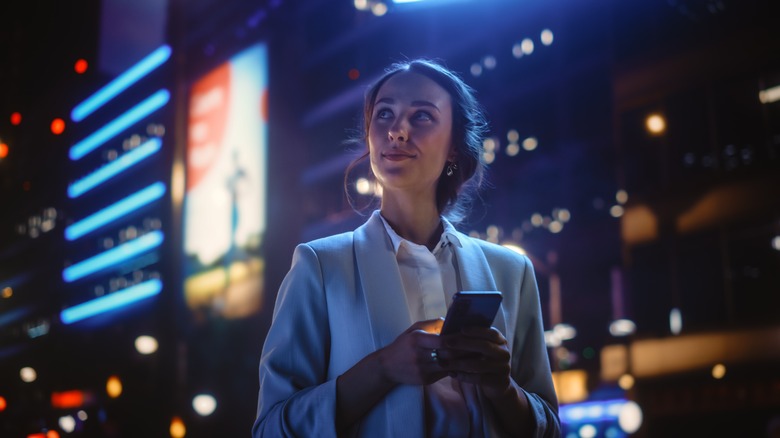 Gorodenkoff/Shutterstock
Some phones have a so-called cue light by default. This is a tiny little light that lets you know you have new notifications even when the phone is locked. It's a handy reminder that doesn't drain your battery life and doesn't distract you too much. Unfortunately, not all Samsung phones have a separate cue light, but you can replace it with a different feature. 
You can choose to use the camera flash to alert you of an incoming notification; similarly, you can toggle the option for the screen to flash. As detailed on the official Samsung website, this will alert you when you have unread notifications, missed alarm sounds or calls, and when your battery is low. To enable this, follow the steps below.
Enter the Settings.
Scroll down until you find Accessibility.
Tap on "Advanced Settings" and then Flash Notification.
Enable Camera Light and/or Screen Flash depending on your preference.
Flip your phone over for some peace and quiet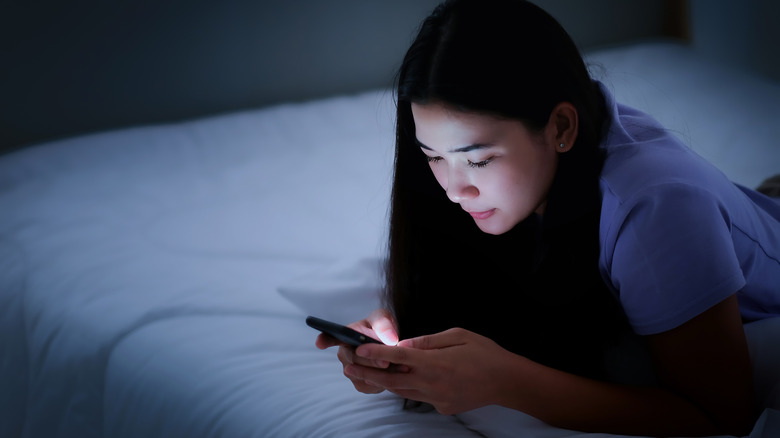 Pongchart B/Shutterstock
Are you in the habit of turning off your phone when you go to sleep, or at the very least, muting it? If not, then you probably know the pain of being woken up by a phone call that wasn't all that important. You're probably also no stranger to hearing the alarm blaring in your ears when all you want is five more minutes of sleep. Samsung phones make it easy to avoid these disruptive sounds when you don't want to hear them.
With this feature enabled, all you will need to do is flip your phone over to silence the alarm or an incoming call. It's good to note that you're just silencing the call, not canceling it, so whoever is calling you won't know that you chose to ignore their call on purpose. You can turn this feature on in a few quick steps, although Samsung notes that it's not available in all models.
Open your Settings.
Head to Advanced Features.
Tap on "Motions and Gestures."
Toggle on "Easy Mute."
Simply turn your phone over so that it's face down to mute incoming alarms and calls from this point on.