Here's How Fast A 1971 Plymouth Hemi Cuda Really Is
The late 1960s and early 1970s were the heyday of American muscle cars. Every manufacturer worth its salt was hard at work making a car that could rip the tires off the competition and look good doing it. In this era, cars like the Ford Gran Torino, Chevy Chevelle, Dodge Charger, and AMC Rebel reigned supreme. Plymouth, a subsidiary of Chrysler made the epitome of muscle cars with the Plymouth HEMI Cuda. The Cuda name is an "artfully" abbreviated form of the word "Barracuda." The Barracuda line of cars started off small, debuting in the form of a sporty trim level on the Plymouth Valiant in 1964 (via Bring a Trailer). By 1971, the 'Cuda grew in size and could be painted in a wide range of frightening colors and was available with the father of all muscle car engines, the 426 HEMI. 
In the early 1970s, Chrysler was responsible for of the fastest cars on the market. Some cars, like Dodge Charger Daytona and Plymouth Superbird were so fast that NASCAR banned the cars from competition. But how fast is the Barracuda? It shares an engine with the cars that angered the entire motorsports world, after all.
HEMI Power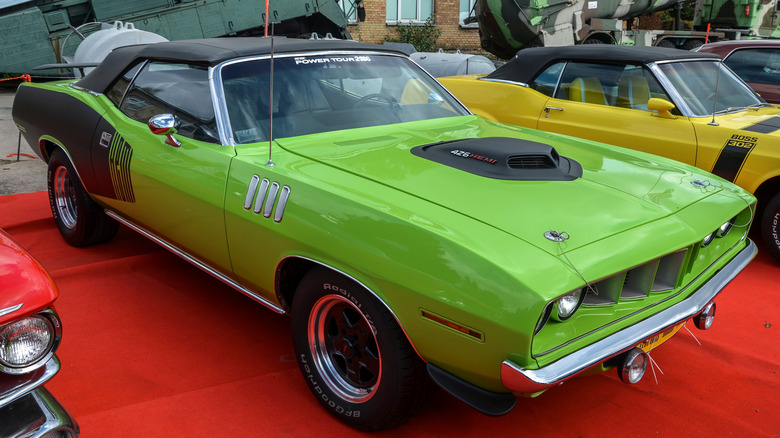 Dmytro Stoliarenko/Shutterstock
Context is important when discussing the speed of vehicles from the golden era of muscle cars. For the time, the 1971 HEMI Cuda was fast. It had the meanest engine, the 426 HEMI rated at 426 horsepower and 490 pound-feet of torque and could be configured with a rear differential specially suited for racing. Plus, it had a huge optional decal package because as everyone knows, stickers add horsepower. It had a top speed of 140 miles per hour and could accelerate from zero to 60 miles per hour in 5.2 seconds (via the Audrain Auto Museum). A Ford Mustang Mach 1 from the same year achieved a 6.3 second 0-60 time if it was fitted with a massive 429 cubic inch "Cobra Jet" V8, according to Hemmings. 
Compared to cars from today, the famed 'Cuda might look a little dated. Just about any modern muscle car can trounce the Cuda without breaking a sweat when it comes to acceleration. And the 140 mph top speed looks almost slow compared to the 200-plus mile per hour top speed of its muscle car grandchild, the Dodge Challenger SRT Hellcat. To make matters worse for the HEMI-powered Cuda of yore, the 2021 Honda Accord 2.0T Sport can hit 60 miles per hour in 5.5 seconds (via MotorTrend).