Amazon Echo Auto (2nd Gen) Review: Alexa's Riding Shotgun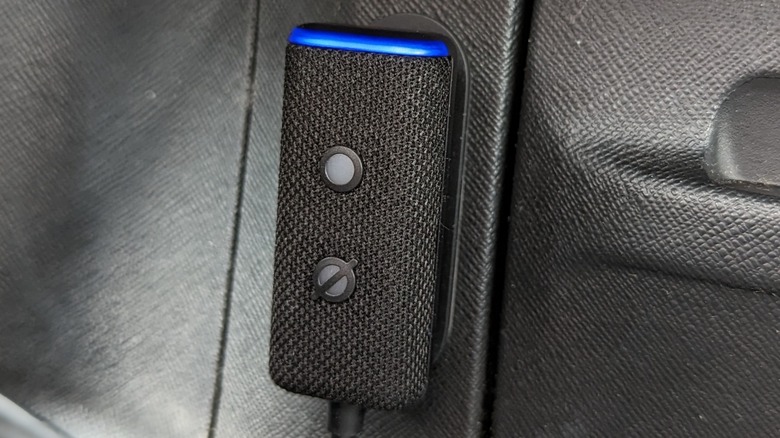 Steve Smith/SlashGear
We may receive a commission on purchases made from links.
The Amazon Echo Auto (2nd Gen) is a compact USB-powered Bluetooth dongle that aims to bring the power of Alexa inside your car. Being able to control your car with your voice is great. Especially for those who don't already have the capability to do so.
It's a compact device that is easy to store and get set up. It has a clean design that doesn't jump out at you and blends into your car easily. Alexa is also useful when you need her to perform a variety of tasks. These tasks include making calls, sending messages, or getting directions.
The issue is that the Echo Auto is in an odd position in the market where I'm not entirely sure who it was designed for. I could think of a few situations where adding something like the Echo Auto could be beneficial, but they are niche situations. Far too often it seems to just add an additional layer of complexity that may not be needed.
Design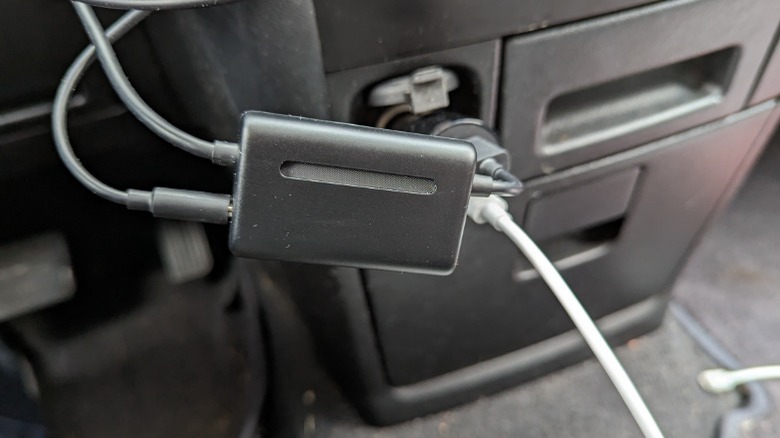 Steve Smith/SlashGear
Amazon redesigned the 2nd Gen Echo Auto to take up less space than the original, allowing it to fit into tight spaces. It's made of a few different pieces to give you maximum flexibility during installation. The microphone module is tiny, measuring 2.05 inches x 0.91 inches x 0.6 inches, and weighs in at 2.15 ounces. It has five microphones that are tuned specifically to hear you over just about any road noise. The mic module also has an action button and a mute button. Continuing with its recent design trend, Amazon wrapped the microphone in a textured fabric, similar to what is seen on the 3rd Gen Fire TV Cube.
At the top of the microphone module is a light bar that shines different colors depending on the situation. It glows blue whenever Alexa has been activated, red if the microphone is muted, orange if it lost connection to the internet, green for an incoming call, yellow for new notifications, and purple means the initial setup has failed. It's nice to know what's going on without having to look at your phone.
The microphone is connected by a non-removal cable that runs to the speaker module. The other end of the speaker module has a USB-A cable for power. Amazon includes an auxiliary cable for cars that don't already have Bluetooth, a fast car charger, and an adhesive-backed car mount. An optional vent mount that can be purchased with the Echo Auto for $62.98.
Installation
Steve Smith/SlashGear
Installing the Echo Auto is mostly pain-free, but there were a few issues. All you have to do is attach the car mount to a hard surface that is within reach, place the microphone module on top of it (it's held in place by a strong magnet), and plug the USB-A cable into a USB-A port in your car or the included fast car charger. That's the easy part, the difficult part is making it look nice.
That non-removable cable that runs from the microphone down to the speaker, it's almost three feet long. That 35.4 inches of cable left me figuring out how to hide the cable or at least keep it from getting tangled in the car. I ultimately gave up and wrapped the cord as best I could around my vehicle's dashboard-mounted emergency brake. I could have routed it underneath some panels, but it shouldn't have been this difficult.
Had Amazon used standard removable cables, this could have been avoided and its customers wouldn't have had to deal with the hassle. Maybe it's my 2004 Honda CR-V's fault, but there wasn't an easy way for me to hide the cable. On the flip side, depending on where you install it, I can see that cable quickly running out of length if you do your best to hide it. Make sure you do some planning before you attach the mount. I also wish the Echo Auto came with additional cable management for a cleaner look.
Setup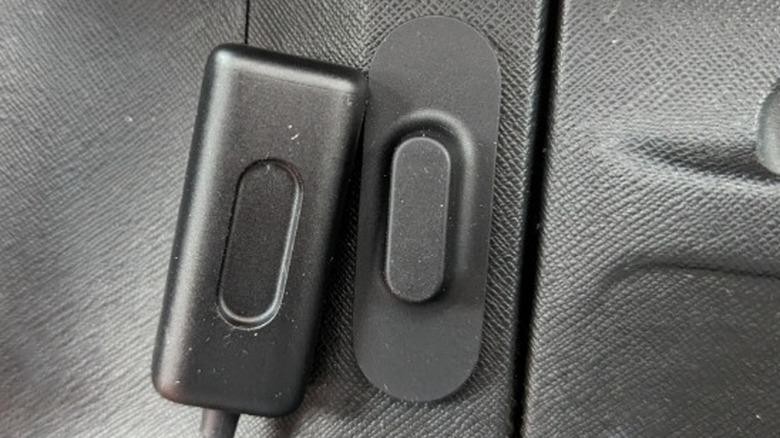 Steve Smith/SlashGear
Once you have the Echo Auto installed in your car, you can download the Alexa app if you don't already have it. The setup for this device is painless and you just have to enable a few permissions for it to work with your phone. As a quick note, if you don't have the Alexa app installed on your phone, you won't be able to speak to your device or use it for much.
Once you verify that you aren't driving and get past the installation tips, you will be asked how you play music in your car. There are a couple of options, but you will likely select either Bluetooth or AUX. It'll then have you play some sounds to sync the car with the device. The final screen gives you some options to select what you are using the device for. I'm not sure why the device would need to know this information — or, at least, it wasn't made evident at this point in the installation process — but it sure seems to me like it was a part of a survey meant to deliver data to Amazon.
That's the installation process in a nutshell. Just make sure you enable permissions on Android otherwise Alexa will ask for it when you go to call someone or send a message. It didn't prompt me to allow it. I instead had to go through the settings and enable the permissions manually for the Alexa app.
Features and functionality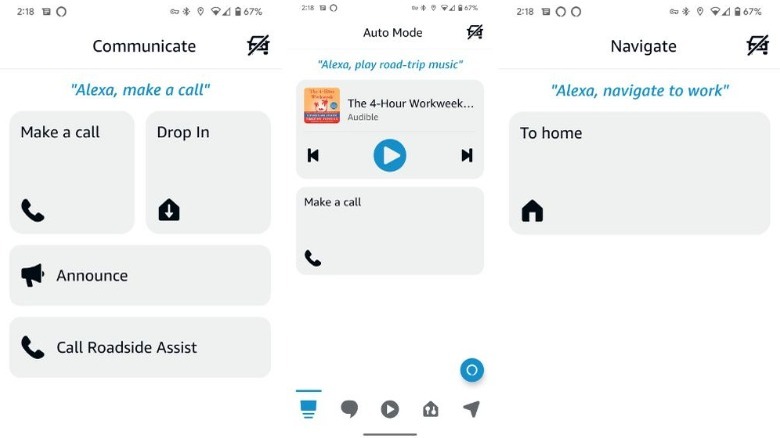 Steve Smith/SlashGear
Amazon tapped the power of Alexa to bring some smarts to the device. Alexa can listen to your requests and perform routine tasks. It enables you to listen to your favorite music, make phone calls, send messages, and listen to podcasts or audiobooks. Just don't forget to set your primary source or it will default to Amazon products. I quickly swapped out Amazon's services and connected Spotify for my music and podcasts.
If you are deep in the Alexa ecosystem, you will be happy to know that you can control smart devices in your home — lights, locks, and your thermostat — directly from your car. Alexa is also capable of giving you turn-by-turn directions. You're given the option to use Google Maps, Apple Maps, or Waze as the default GPS system so you know you can use it with one that you trust.
Using the Alexa app with the Echo Auto puts the app in Auto Mode. Auto Mode is a simplified version of the standard Alexa app equipped with large touch targets, easy-to-read text, and quick-access shortcuts. If you prefer not to use the Alexa app, you don't have to. It is more than happy to play content directly from your favorite apps once you have the device set up.
Performance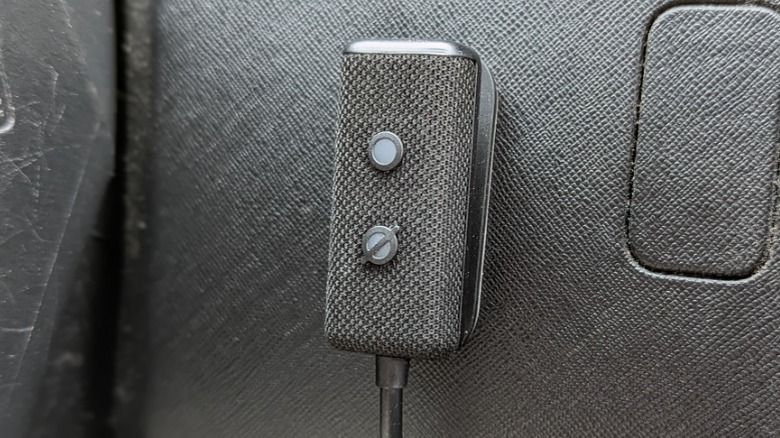 Steve Smith/SlashGear
Performance has been both good and disappointing. Alexa has been quick to respond to my requests and hasn't given me any trouble. When I ask it to play music or a podcast, it quickly loads Spotify and starts playing. The same goes for navigation, Alexa taps Google Maps to get me from place to place. When asked, it also had no issues finding the nearest gas station or restaurant.
The sound quality has also been great. While I have an aftermarket audio unit installed in my car that has Bluetooth built-in, it is lackluster for voice calls. The Echo Auto solved that issue for me, but not in the way that I had hoped. I originally connected the Echo Auto by Bluetooth and was hoping to route my calls and music through Alexa. Unfortunately, it defaulted to my car's Bluetooth and my terrible call quality ensued.
I then disconnected from Bluetooth and tried it with the included auxiliary cable. Not only was it successful this time, but it improved the sound quality quite a bit. Callers on the other end had no issue hearing me, regardless of the road noise. Not having to go through Bluetooth, also improved the sound quality of my music, so that was just icing on the cake. 
The issue with this method is that I lost the ability to display information on the audio unit's main display which is a lot easier to read than my phone. This isn't the Echo Auto's fault, but it does suggest that the device would potentially be better off with its own dedicated display to work with.
A niche product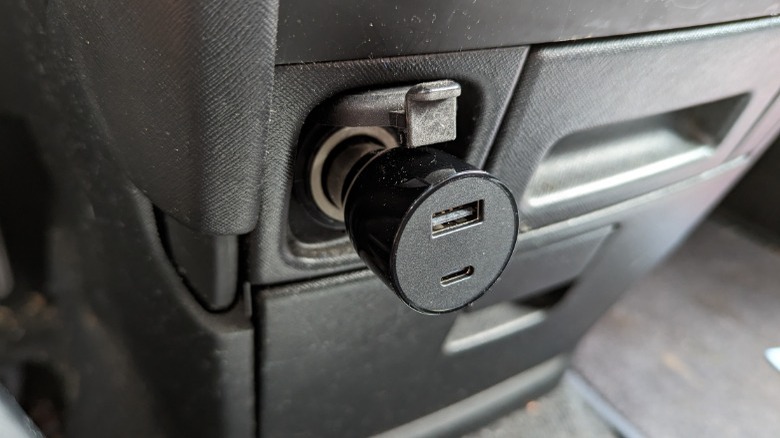 Steve Smith/SlashGear
The Amazon Auto Echo (2nd Gen) is a niche product designed for two different types of buyers. It's an easy recommendation for people who rely on Alexa for home automation. Being able to quickly control your lights and locks from your car without the need to pull out your phone can be a satisfying experience.
It's also perfect for people with older cars. While it's not the only Bluetooth receiver on the market, its small size, and ease of use make it stand out. It allows you to add some modern comfort to a vehicle that may be in desperate need of additional comfort. Adding Bluetooth and being able to perform commands with your voice will let you keep your eyes on the road and off your phone's display.
Everyone else, especially those who already have a decent functioning Bluetooth audio system in their car, can probably look elsewhere. I don't see the point in reinventing the wheel and adding a device that adds similar capabilities to most modern phones. This is especially true if your car is equipped with Android Auto or Apple's CarPlay.
Final verdict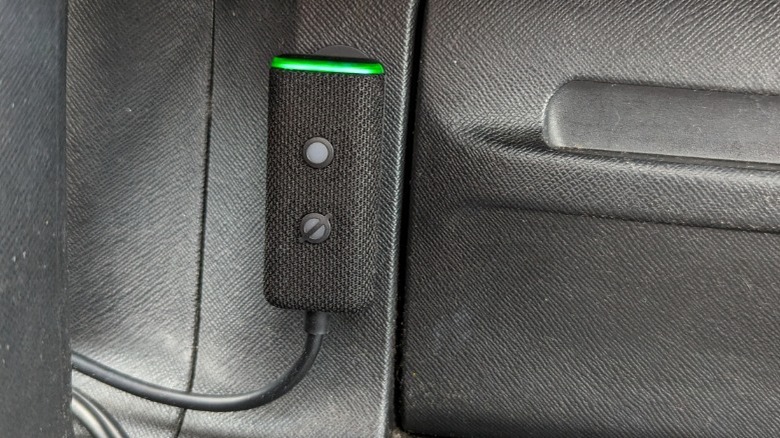 Steve Smith/SlashGear
My time with the Amazon Echo Auto (2nd Gen) was a bit of a mixed bag. I can see the value for people who don't already have some of its capabilities in their vehicle. For me, it solved my biggest gripe with the audio experience in my car, while removing functionality that I enjoyed, namely seeing content information on the car's audio display. It is possible that my use case is unique and not one that designers had in mind, but it was disappointing, to say the least.
If you are a heavy Alexa user, then it may make sense, but a lot of Alexa's functionality can be accomplished with the Alexa app — on your phone, which is also required to make this device work. The Echo Auto does look great and it blends into the car's dashboard easily. This is especially true if you have a black interior.
Knowing what the Echo Auto is and isn't will go a long way in determining if you actually need it. If you fit in one of the use cases outlined above, then you will probably love this product. For everyone else, it may just add clutter to your car that isn't needed. The 2nd Gen Echo Auto is available from Amazon for $54.99.