Amazon Echo Auto gives your car an Alexa copilot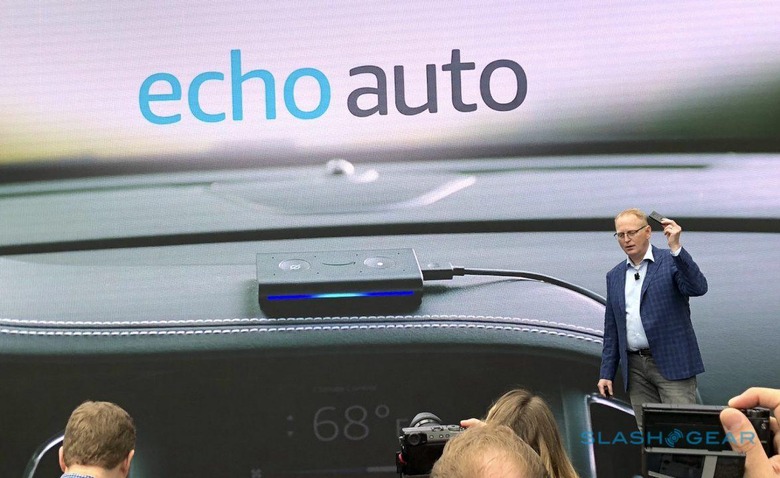 Amazon has revealed its first Alexa product for the car, with the Echo Auto set to add the voice assistant to your dashboard. The new gadget may be tiny – smaller than a smartphone, in fact, or a radar detector – but it still manages to fit in the eight microphone array from the new second-generation Echo Show.
That, Amazon says, was required because the cabin of a car is a much tougher place to pick out voices than anywhere in the home. Background road noise, the sound of the radio, and other people talking can get in the way of Alexa understanding, hence the need to squeeze eight microphones inside.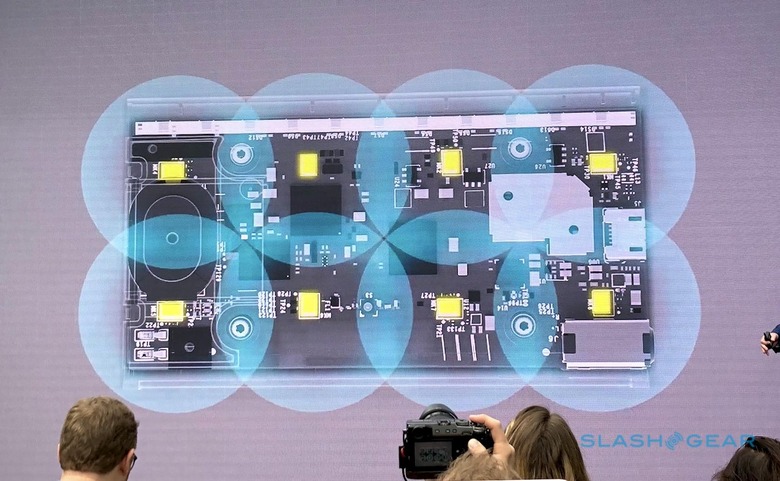 It comes complete with a dashboard mount, so that Echo Auto can be positioned right on the top. It connects to your car's audio system either via Bluetooth LE, or using an old-school aux-in cord. Your phone will supply the data connection that Amazon needs to communicate with the cloud.
Since it can't rely on being powered up – and connected – 24/7 like a home Echo smart speaker might, Amazon has switched to a new operating system. This real-time OS is designed to open up "incredibly quickly," so that you can get going with Alexa without having to wait in the garage.
There's the ability to ask for Audible audiobooks, which will resume from where you last left off listening on another device. There's navigation built in, too. Alexa will be able to call up local results after a voice search, and then give turn by turn directions. The Echo Auto will deep link into Waze, Apple Maps, and other third-party mapping apps; if you have your smartphone mounted on a dashboard cradle you'll be able to see those directions on-screen, too.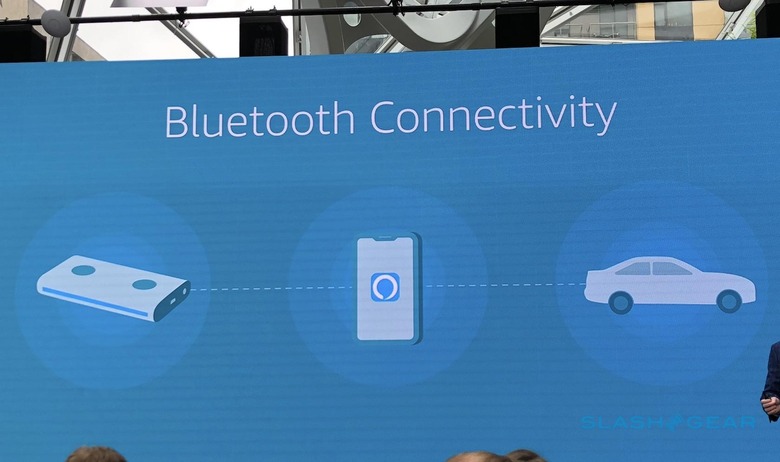 In addition, Amazon is adding location-based routines. For instance, you could have the lights at home turn on as your car approaches. Routines will also support delayed actions, too: you could have the lights stay on for a set period after you leave the house, and only then shut off.
Finally, there'll be Drop In support, so you can make quick voice calls to an Echo at home. Of course, there'll also be the usual ability to get general knowledge and trivia results from Alexa, together with streaming music.
Amazon has made great progress over the past 18 months, getting automakers to add Alexa support in various ways to their dashboards and infotainment systems. Earlier this week, in fact, it announced a deal with Audi: the new e-tron electric SUV will have Alexa integrated so that you don't even need a smartphone. Echo Auto, though, will allow drivers to upgrade their own cars.
Amazon Echo Auto will be priced at $49.99, though the retailer is operating an invite scheme for early access. That'll begin offering devices to customers later this year, priced at $29.99.