Solar Makes This Retro Bowlus RV An Epic Off-Grid Adventure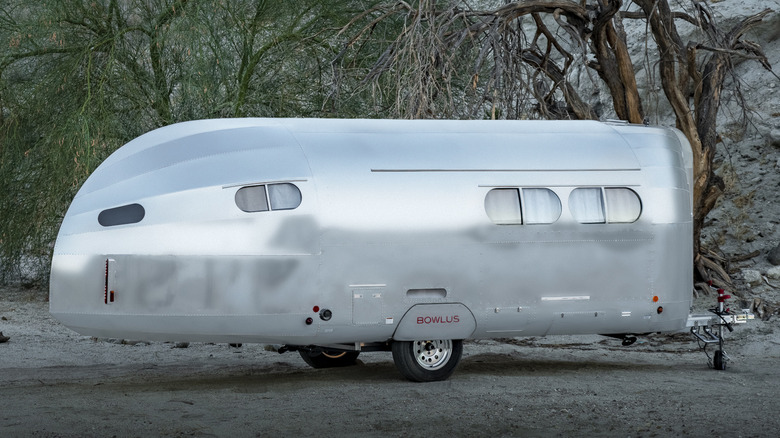 Bowlus
Driving around the country with an RV in tow is a classic American pastime. You get to essentially bring your house with you and enjoy all the amenities of home right in the middle of a campsite, national park, or the beach. Wherever you can fit the trailer, you can be in comfort. Unlike traditional camping, you don't have to find a nearby body of water if you want to clean up, so that's always a plus. Playing Xbox and sleeping on a comfortable bed in the middle of Yellowstone is never a bad thing.
As automotive technology gets more advanced and EVs get more and more range, electric vehicles are slowly becoming viable for long road trips. Multiple EVs have some sort of fast charging capability that can get the battery topped up in just a few minutes. Like cars, luxury RV maker Bowlus has made a new RV with the ability to run all your amenities off the grid.
Camping in the 21st century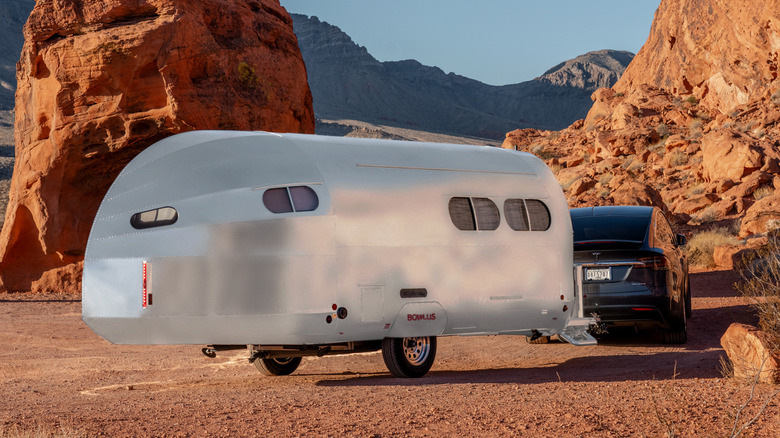 Bowlus
Bowlus already made waves with its all-electric RV, the Volterra, last year. The new 2023 Bowlus Heritage Edition RV is a 27-foot-long trailer that mimics the looks of classic Airstream trailers from the 1930s, but is packed with technology from today. The trailer comes standard with a 2-kWh battery, but that be upgraded to a 6-kWh with the ability to recharge through solar panels. 
Plus, the trailer can be optioned out with a 5G cell booster and Starlink internet. With all the bells and whistles, the RV can run off its batteries and solar panels for up to a week and a half without the need to plug in, according to a press release from Bowlus. 
The trailer can comfortably sleep four people, and the price starts at $159,000 before options. Per Bowlus, the RV is the lightest full size trailer in production, weighing only 2,900 pounds. Weight savings can have a huge impact on fuel efficiency if you're towing it with a gas or diesel-powered vehicle, and can tremendously affect your electric range if you're using an EV as a tow vehicle.