This All-Electric RV Packs Luxury, Solar, And Starlink For Off-Grid Glamping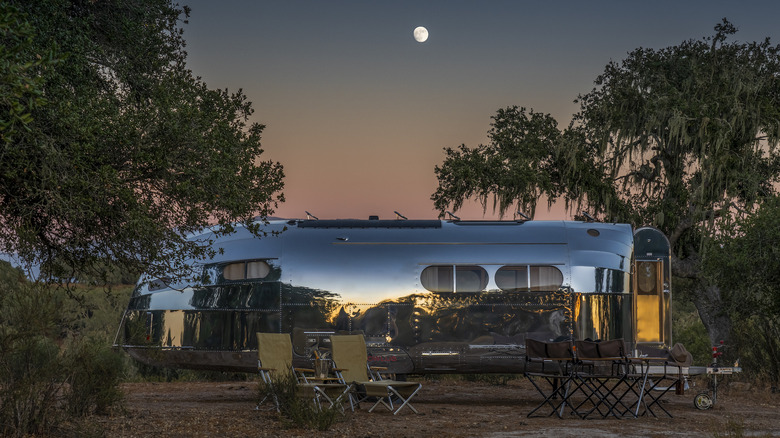 Bowlus
Bowlus recently unveiled its newest Volterra RV, the world's first production all-electric camper. It features 100% more battery capacity than the Bowlus Terra Firma, and it comes with ingenious perks and luxurious features that allow for indefinite, off-the-grid camping. Moreover, the Volterra has enough power to emergency charge your EV while basking in the sights and sounds of nature.
"The new Volterra will benefit customers as the perfect complement to an electric vehicle. You can charge your Bowlus while you drive and have a fully electric experience once you arrive," said Geneva Long, Bowlus founder and CEO. "...you can live off-grid indefinitely and sleep confidently knowing you're helping preserve the great outdoors while you enjoy its splendor."
Bowlus started making aviation-inspired campers in 1934. Company founder and aircraft builder Hawley Bowlus made the original Road Chief trailer that became the design inspiration for the equally iconic Airstream of Wally Byam. Bowlus travel trailers are world-renowned for their eye-catching and aerodynamic designs. Still, the company has a sterling reputation for building the most robust and reliable trailers money can buy.
Vintage design, modern features
The newest Volterra has a recognizable, streamlined aluminum body shell reminiscent of Bowlus' vintage Streamline Moderne design philosophy. But despite its retro vibe, Volterra is a thoroughly modern RV with advanced features like heated floors, remote temperature control, and a luxury interior with quality bedding and accessories.
And since Volterra is all-electric, Bowlus gave it a modest 17kWh lithium-ion phosphate battery system alongside 20A outlets to recharge an electric vehicle, good enough to replenish about 65 miles of emergency driving range. Volterra is also the first RV to utilize the AeroSolar system with PERC technology that recharges the battery while you're driving or living off the grid.
It has monocrystalline solar panels on the roof that are 12% more efficient and three times lighter than traditional solar-absorbing panels. The system recharges the Volterra passively all day using an advanced MPPT solar controller that optimizes communication between the battery pack and the solar panels. Moreover, there's an optional pair of suitcase panels in case you need more juice to recharge smartphones or other electrical gadgets.
Advanced connectivity & peerless luxury
The Bowlus Volterra is the first commercial RV to feature Elon Musk's Starlink high-speed satellite internet connection that offers up to 250Mbps download speeds anywhere in Canada and the United States. The system includes a backup LTE SIM card for reliable urban connectivity. Volterra is compatible with over-the-air updates, too.
Inside, the 27.1-foot Volterra electric RV features a La Cumbre design theme that mimics the colors and hues of the mountain peaks near Santa Barbara, California. The full-vegan seating features "Ynez" seats with "Rafael" piping, duvet bed covers, blankets, and 100% linen throw pillows in black and old rose striping. The bedroom has enough space for a king-size mattress, while the hotel-style bathroom and shower include 50-gallon freshwater tanks. Volterra is also the first RV to have a standard two-burner induction cooker so you can prepare meals using all-electric power. In addition, Volterra has a backup camera with a full-color night vision system with a wider 120-degree field of view.
You won't be seeing a lot of Bowlus Volterras on a typical camping site, given their hefty $310,000 base price. But if you fancy a zero-emissions EV camper that has all the bells and whistles technology has to offer, the Volterra certainly fits the bill.