Peugeot's E-Lion Project Promises 5 EVs Over Next 2 Years, Including E-3008 And E-5008 SUVs
It was just a few short years ago that electric vehicles were a neat prospect, but far from practical. Fast-forward to today, and just about every automaker on the face of the planet — except for Toyota, nobody really knows what Toyota is doing — is hard at work either electrifying its lineup, like Hyundai, or developing an all-new electric lineup, like Polestar. Some brand-new companies, like Rivian, are even popping up to challenge Tesla for the EV throne. 
Earlier this year, during CES 2023, Peugeot launched its Inception Concept, along with a new vision and commitment to electrify 100% of the brand's range by 2025. Now, at the 2023 E-Lion Day, it's recommitting to its goals — one of which is to have the entire lineup be all-electric by the end of 2023. While the tech from the Inception Concept is nowhere to be seen in the newly-announced lineup, the next few years look promising for Peugeot fans. 
Five new Peugeot EVs by 2025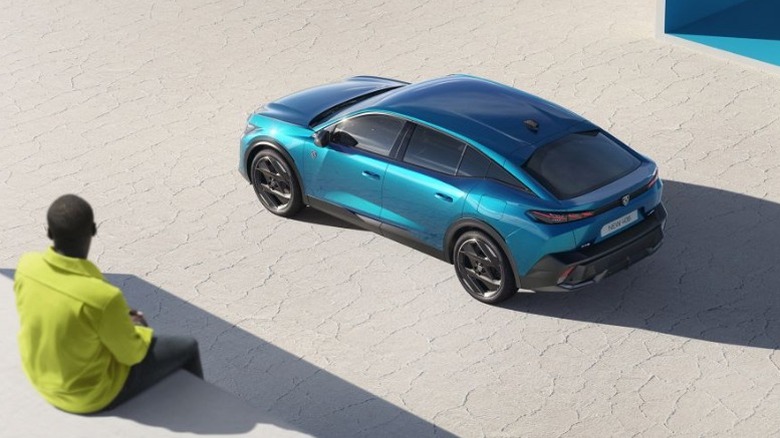 Peugeot
Peugeot already announced at CES 2023 that it aims to electrify its entire vehicle lineup in 2023, and introduce five new EVs by 2025. Now, the French automaker with the E-Lion Project reveals what exactly this entails. The five new EVs the company plans to release by 2025 are the compact E-308, E-308 SW, E-408, and larger E-3008, and E-5008.
The E-3008, an electrification of Peugeot's handsome crossover SUV, will be fully revealed late in 2023, but the currently released details include a range of up to 700 km (around 435 miles) and a choice of three different powertrains that will be based on the STLA Medium platform. 
The presence of a dual-motor version indicates that AWD will be an option, which, combined with the excellent range, puts the E-3008 in good standing to compete with the likes of the Tesla Model 3 and Y. Details on the E-5008 and 408 are scant, but you can expect the E-5008 to be larger than the E-3008, and the E-408 to fall between the E-308 and E-3008.
The smaller E-308 and E-308 SW — "SW" meaning "Station Wagon" — will launch with an all-new 156 brake horsepower powertrain, and will supposedly be able to travel 400 km (around 248 miles) on a single charge. This is less impressive than what's expected for the E-3008, but aligns with the ambitions of a smaller vehicle that will probably compete with something like the Hyundai Ioniq 5.